Ryanair: Michael O'Leary's new cuddly approach is rewarded with 66% profit growth
Analysis
Ryanair's FY2015 net profit jumped 66%, a return to profit growth after a rare dip in FY2014. It was helped by lower fuel prices, but, unlike many other European airlines, Ryanair would still have reported improved FY and 4Q results with no change in its average fuel cost per seat versus last year.
Average fares barely changed (up 1%), but load factor jumped to 88%, from 83% in FY2014, driving up revenue per seat, even in Q4 when average fares fell sharply. Ryanair's new customer service initiatives and improved airport network may not yet be attracting consistently higher fares, but they are persuading more passengers onto its aircraft. What's more, revenue per seat growth outpaced the resultant increase in cost per seat.
Ryanair is being cautious about fares into FY2016, but still expects another 10% growth in profit. Moreover, the combination of product and service improvements and a wide discount to competitor fares should benefit pricing in the longer term, even as further load factor gains become less dramatic.
See related reports:
Ryanair lags easyJet on business traveller & customer service initiatives; both have great potential
Ryanair SWOT: low costs remain the key strength, even as customer service enhancements take root
Net profit jumps 66%; first ever operating profit above EUR1billion
In FY2015 (year to Mar-2015), Ryanair increased its net profit by 66% to EUR867 million. Although this result received a boost from lower net interest charges, the strength of underlying operations was demonstrated by a 58% increase in operating profit to EUR1,043 million. With its first ever operating profit ahead of EUR1 billion, Ryanair has joined the ranks of IAG and Lufthansa Group in posting a result in excess of this threshold.
Ryanair FY2015 financial and operating highlights
| EUR million except where stated | FY2014 | FY2015 | Change |
| --- | --- | --- | --- |
| Revenue | 5,037 | 5,654 | 12% |
| Operating profit | 659 | 1,043 | 58% |
| Operating margin | 13.1 | 18.4 | +5.4 ppts |
| Net profit | 523 | 867 | 66% |
| Gross cash | 3,242 | 4,796 | 48% |
| Gross debt | 3,084 | 4,432 | 44% |
| Net debt/(cash) | (158) | (364) | 130% |
| Passengers million | 81.7 | 90.6 | 11% |
| Load factor % | 83% | 88% | 5 ppts |
| Average fare EUR | 46 | 47 | 1% |
| Total rev/pax EUR | 62 | 62 | 1% |
| Cost per pax EUR | 53.6 | 50.9 | -5% |
| Cost ex fuel per pax EUR | 28.9 | 28.9 | 0% |
Ryanair has achieved this with much smaller revenue than either of IAG or Lufthansa. Its FY2015 revenue grew by 12% to EUR5,654 million (versus IAG revenue of around EUR20 billion and Lufthansa Group revenue in the region of EUR30 billion). Ryanair's operating margin (operating profit as a percentage of revenue) increased by 5.4ppts to 18.4%, its highest since FY2008 (when it reached 20.2%) and higher than any other airline in Europe.
Ryanair operating profit* and net profit* FY2004 to FY2015 (EUR millions)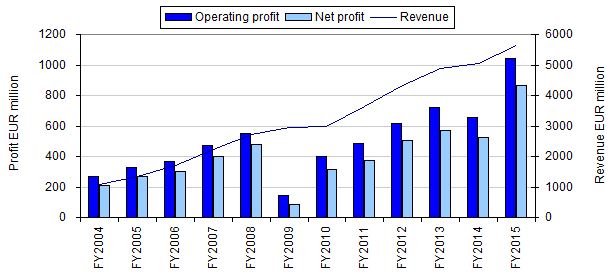 Ryanair's 4Q operating profit of EUR38 million reversed a EUR35 million loss a year earlier and was its first positive result in what is the seasonally weakest quarter since FY2008.
Ryanair 4Q2015* financial and operating highlights
| | 4Q FY2014 | 4Q FY2015 | Change |
| --- | --- | --- | --- |
| Seats | 18.7 | 21.2 | 14% |
| Passengers million | 14.2 | 18.5 | 30% |
| Load Factor | 76% | 87% | 11.2 |
| Avg. Fare (incl. bag) EUR | 37 | 34 | -9% |
| Rev. Per Pax. EUR | 58 | 53 | -8% |
| Revenues EUR million | 817 | 984 | 20% |
| Operating profit EUR million | -35 | 38 | -208% |
| Operating margin % | -4.3 | 3.9 | 8.2 |
| Profit after Tax EUR million | -44 | 23 | -152% |
Ryanair's cash pile continues to grow
Ryanair remains strongly cash generative, increasing its net cash balance over the year by EUR206 million to stand at EUR364 million at 31-Mar-2015, even after paying EUR520 million in special dividends to shareholders and EUR112 million of share buybacks.
In addition to strong operating cash flow, Ryanair raised EUR1.7 billion from Eurobond issues during the year. The gross cash balance of EUR3,242 million was more than EUR1.5 billion up on the previous year and was equivalent to ten months of revenues, a huge reserve of liquidity.
Ryanair gross debt, gross cash and net debt at year end FY2004 to FY2015 (EUR millions)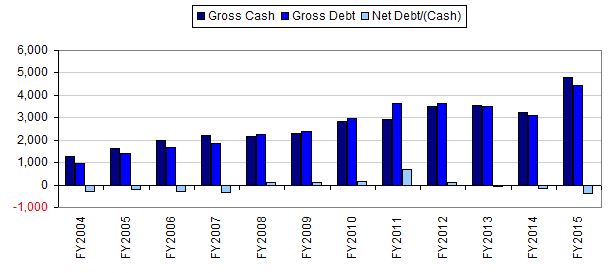 Double digit passenger growth for the first time since FY2010
Ryanair's passenger numbers increased by 11% to 90.6 million in FY2015, reversing a trend of slowing growth that had lasted for eight years and taking it into double digit growth for the first time since FY2010. Ryanair has not reported seat numbers, but load factor increased by 5ppts to 88%, from which we calculate that seat capacity grew by just 4%.
Ryanair annual growth rates in passenger numbers FY2004 to FY2015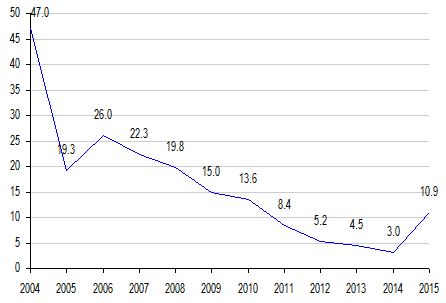 Load factor improvement especially in winter quarters
Ryanair's decision to increase load factor, virtually at the flick of a switch, has been much more successful than anticipated. At the time of its FY2014 results announcement in May-2014, the airline said that it was targeting a 2ppt increase to 85% in FY2015. The 88% load factor achieved, after many years in the low to mid 80s, reflects the good reception in the market of its improved customer service initiatives.
Ryanair has been particularly successful in bringing its winter load factor close to it summer load factor. Every quarter of FY2015 recorded load factors of 86% or more, making its weakest quarter stronger than its FY load factor in any previous year.
Ryanair load factor FY2004 to FY2015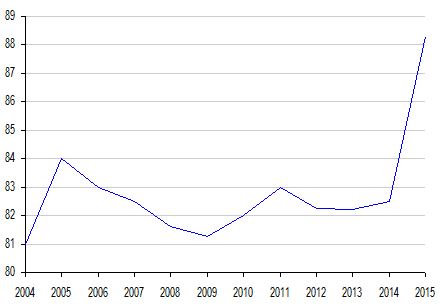 Ryanair's revenue up 12%; revenue per seat up 8%
Revenue grew by 12%, faster than seat growth, with both scheduled fare revenue and ancillary revenue increasing at a similar rate. Average fares were up by 1%, but this disguises a weakening trend through the year. Whereas 1Q average fares had grown by 8% and 9M cumulative average fares were up 4%, they fell by 9% in 4Q.
Ryanair revenues FY2014 and FY2015
| EUR million | FY2014 | FY2015 | Change | % of FY2015 total |
| --- | --- | --- | --- | --- |
| Scheduled revenues | 3,790 | 4,260 | 12% | 75% |
| Ancillary revenues | 1,247 | 1,394 | 12% | 25% |
| Total revenues | 5,037 | 5,654 | 12% | 100% |
The drop in 4Q average fares was the result both of faster capacity growth in the quarter (seat numbers grew by 14% in 4Q, compared with flat capacity in 1H and 6% growth in 3Q) and of a greater increase in load factor (4Q load factor jumped by 11ppts to 87%, bringing it close to Ryanair's year-round level).
Ryanair revenue per passenger (EUR) and load factor by quarter FY2014 and FY2015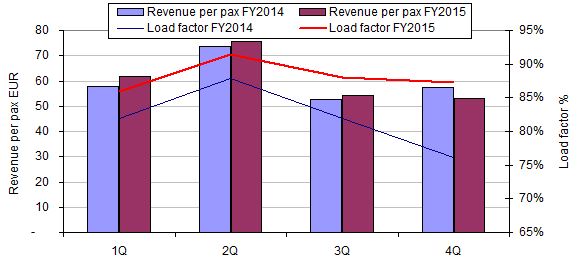 Revenue per seat, which is the result of both revenue per passenger and load factor, increased by 8% in FY2015. Although average revenue per passenger grew by only 1% in FY2015, the strong load factor gain drove this improvement in revenue per seat (unit revenue). The performance of unit revenue was fairly consistent across the year, up 9% in 1H and up 7% in 2H (although in 1H it was driven more by revenue per passenger and in 2H load factor gains were the main driver).
Ryanair revenue per seat (EUR) by quarter FY2014 and FY2015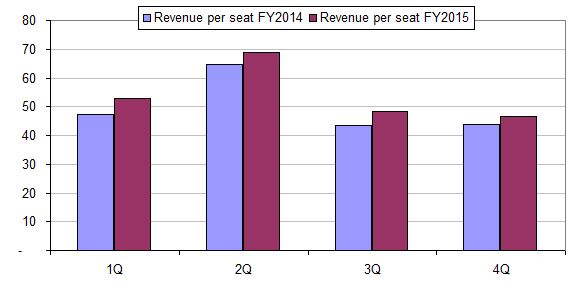 Ryanair's costs up 5%, cost per seat up 2%
Costs increased by 5%, less than the increase in revenues and in capacity. Fuel costs fell by 1%, although Ryanair's fuel hedging programme limited the benefit of lower prices. The proportion of fuel costs in total costs fell to 43% in FY2015 from 46% in FY2014. We calculate that Ryanair's fuel bill would have been EUR94 million higher if fuel cost per seat had remained at its FY2014 level.
Ex fuel costs increased by 11%, which was faster than seat growth and in line with passenger numbers, but less than revenue growth. Labour costs were up by 8%, partly reflecting a 2% pay increase in addition to capacity growth. Marketing and distribution costs jumped by 21%, mainly because of higher spend in support of Ryanair's "Always Getting Better" customer service programme. Airport and handling charges were up by 15%, faster than passenger growth due to a higher proportion of routes from primary airports.
Total cost per passenger fell by 5%, but was flat excluding fuel costs. Total cost per seat increased by 2% and ex fuel cost per seat was up by 7%.This demonstrates that Ryanair's improved customer services and greater use of primary airports has increased its unit costs, but, as noted above, it has also helped it to higher unit revenue.
Ryanair operating costs FY2014 and FY2015
| EUR million | 2014 | 2015 | Change | % of 2015 total |
| --- | --- | --- | --- | --- |
| Fuel and oil | 2013.1 | 1992.1 | -1% | 43% |
| Airport & handling charges | 617.2 | 712.8 | 15% | 15% |
| Route charges | 522.0 | 547.4 | 5% | 12% |
| Staff costs | 463.6 | 502.9 | 8% | 11% |
| Depreciation | 351.8 | 377.7 | 7% | 8% |
| Marketing, distribution & other | 192.8 | 233.9 | 21% | 5% |
| Maintenance, material and repairs | 116.1 | 134.9 | 16% | 3% |
| Aircraft rentals | 101.5 | 109.4 | 8% | 2% |
| Total costs | 4378.1 | 4611.1 | 5% | 100% |
| Costs ex fuel | 2,365 | 2,619 | 11% | 57% |
Market share gains in six out of ten key countries
Data presented by Ryanair in its FY2015 results presentation, compared with its FY2014 presentation, show that it has increased its market share in six out of ten key countries (UK, Italy, France, Portugal, Belgium, Ireland).
Its share has held steady in Germany and Spain, while it has fallen slightly in Poland and Morocco. Ryanair is number one in Spain, Italy, Portugal, Belgium, Ireland and Poland. Overall, it has number one market share across Europe.
Ryanair seat share and market rank in selected countries

Fleet to reach 520 and passenger numbers to reach 160 million in FY2024
Ryanair's fleet plan will take its year end number of aircraft from 308 in FY2015 to 420 in FY2019 with Boeing 737-800s. Deliveries under its 737MAX order will then take the fleet to 520 in FY2024.
The airline plans to almost double passenger numbers to 160 million by FY2024 relative to FY2014. This will see another year of double digit passenger growth in FY2016 (+10%), but its plan mainly aims for annual growth rates in the region of 5% to 7%.
Ryanair planned fleet and passenger numbers to FY2024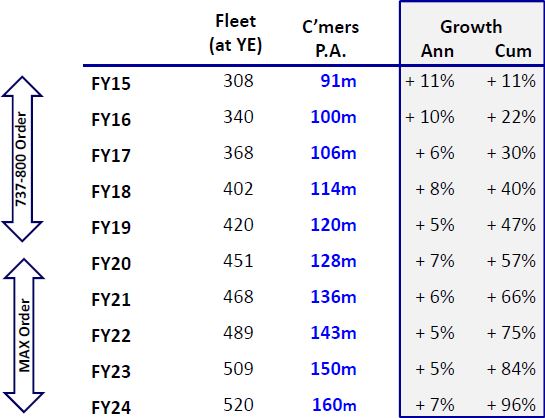 Ryanair FY2016 outlook: net profit up 8% to 12%
For FY2016, Ryanair expects passenger numbers to reach 100 million, an increase of 10% (with the same growth in both halves of the year), and for load factor to gain a further 2ppts to 90%. This would put it in line with easyJet's load factor and among the leaders in the industry. Ryanair expects average fares to be flat to down 2% in 1H and to be down 4% to 8% in 2H, as lower fuel prices may filter through to lower fares from competitors.
Ryanair has hedged 90% of its fuel and currency needs for FY2016, with the result that it expects its average fuel price in EUR to be down 2% year on year, driving a 2% reduction in total cost per passenger. It expects ex fuel cost per passenger to be flat.
Ryanair's net profit guidance range for FY2016 is EUR940 million to EUR970 million, which would be an increase of 8% to 12% on the FY2014 figure of EUR867 million. This would be considerably slower growth in net profit than the 66% increase just reported, but it is worth noting that Ryanair is often very conservative with its guidance at this stage of the year. This time a year ago, its net profit target for FY2015 was in a range of EUR580 million to EUR620 million.
Yield improvements should come as new strategy matures
Ryanair's very low cost base has made it harder for it to drive unit costs down further and this has motivated its moves to improve customer service and to operate from more primary airports in a search for better unit revenues. In the year just reported, weak winter fares were offset by load factor gains to provide improved revenue per seat.
However, in FY2016, further load factor gains will be of a smaller magnitude and Ryanair's guidance suggests that fares remain weak and may become even weaker next weaker. It seems that a combination of Ryanair's new route portfolio and some prolonging of competitor capacity as a result of lower fuel prices may be weighing on fares in the short term.
Nevertheless, Ryanair remains well positioned to drive yield improvements as its evolving product and network strategy start to mature.
Ryanair index of revenue per ASK and cost per ASK FY2001 to FY2015* (indexed to 2009 = 100)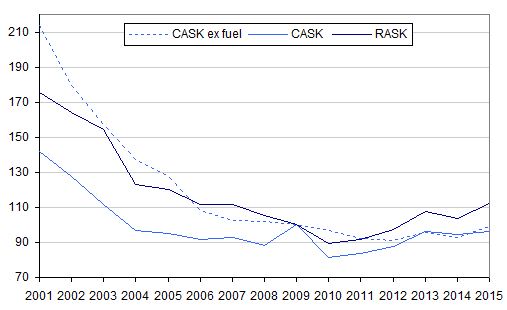 See related report: easyJet & Ryanair: squaring up to each other as head to head competition increases