Ryanair lags easyJet on business traveller & customer service initiatives; both have great potential
Analysis
Ryanair recently raised net profit FY2015 guidance (year to March) for the second time. It now expects EUR810 million to EUR830 million, up from its previous range of EUR750 million to EUR770 million. This was thanks to faster passenger growth, stimulated by lower fares, but also reflecting improved customer service and new routes.
The largest carrier of passengers within Europe, Ryanair has rebounded very strongly from last year's profit warnings. Almost at the flip of a switch, it has raised its load factor and profit margins. It is opening new routes from more primary airports and with greater frequencies, increasing its appeal to business passengers.
Ryanair lags easyJet in its initiatives towards business travellers and regarding wider customer service improvements. Moreover, revenue per passenger is set to dip in 2HFY2015 as it absorbs strong capacity growth. Nevertheless, Ryanair has a significant opportunity to grow revenue per passenger as it follows easyJet up the yield curve. In this report, we compare the two on frequencies, presence in major airports and unit revenues. There is still room for both.
Positive net result is now anticipated in 2HFY2015
In 1HFY2015 (six month period to Sep-2014), Ryanair's net profit increased by 32% to EUR795 million, driven by a 4% increase in passenger numbers and a 4% increase in revenue per passenger. New routes and anticipated load factor gains meant that it always expected traffic growth to be higher in 2H, but stimulated by lower revenue per passenger.
See related report: Ryanair: Europe's most profitable airline "not cheap and nasty". FY target raised after strong 2Q
Its new guidance implies passenger growth of 19% and revenue per passenger down around 6% in 2HFY2015. Ryanair now expects 90 million passengers for FY2015, up from 89 million previously. At the mid point of the net profit guidance range, it also implies a positive 2H net result of EUR25 million, compared with a loss of EUR79 million in 2HFY2014.
Ryanair: year on year growth in passenger numbers and revenue per passenger 1HFY2015 and estimates for 2HFY2015*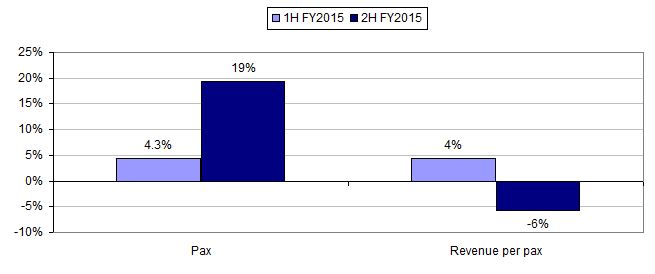 Ryanair has ten months of load factor gains
This improved profit outlook, and reduced earnings seasonality, owes much to load factor gains and the success of new routes opened at the start of the winter 2014/2015 schedule. Load factor gained 7 ppts in Nov-2014 in spite of several new routes and overall 13% increase in seat capacity.
The 88% load factor achieved in the month was ahead of Ryanair's target for the first month of the new winter schedule and continued a 10 month stretch of year on year load factor improvements. The focus of much of the new capacity is on routes designed to appeal to business traffic.
Ryanair monthly load factor 2011 to 2014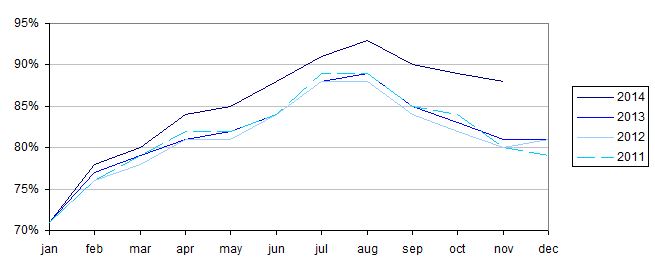 Ryanair's new higher frequency routes
Two features important to business passengers are high frequencies and major airports, areas where Ryanair has traditionally not been the strongest. Addressing the first of these features, Ryanair opened 15 new routes this winter with a frequency of at least once daily (see table below).
Ryanair's new operation between Dublin and Brussels Zaventem is a new airport pair, although it has been flying Dublin-Brussels Charleroi for a long time, and addresses both of the features that are important to business travellers. Previously, the Charleroi operation was twice daily, but this has been reduced to five times weekly, while the new service to the Belgian capital's primary airport is three times daily. This now places Ryanair ahead of Aer Lingus in total seat capacity on the city pair.
On Dublin-Glasgow, Ryanair has replaced its daily service to Glasgow Prestwick with a three times daily to Glasgow International. Ryanair's entry on Manchester-Shannon coincided with Aer Lingus' withdrawal, making it the only airline on the route.
Highlighting Ryanair's tendency to enter new routes with significant capacity, it is ranked one by number of seats offered on six of these 15 new routes and number two on a further six (on a city pair basis).
Not all of these new routes involve so-called primary airports (although the definition of a primary airport is far from standard), but the frequency of operation is intended to appeal to business travellers.
New Ryanair routes in winter 2014/2015 with a daily frequency or more
| Route | Ryanair daily frequency | Ryanair share of seats on city pair | Ryanair rank by seats on city pair | Competitors on city pair |
| --- | --- | --- | --- | --- |
| | 3 | 59% | 1 | |
| | 3 | 70% | 1 | |
| | 1 | 75% | 1 | |
| | 3 | 14% | 3 | |
| | 3 | 9% | 4 | |
| | 2 | 28% | 2 | |
| | 2 | 27% | 2 | |
| | 1 | 46% | 2 | |
| | 1 | 22% | 2 | |
| | 1 | 27% | 2 | |
| | 1 | 74% | 1 | |
| | 1 | 26% | 3 | Brussels Airlines, CSA Czech, Ryanair |
| | 1 | 45% | 2 | Aegean, Ryanair |
| | 1 | 100% | 1 | |
| Rome-Crotone | 1 | 100% | 1 | |
There are also four existing routes where Ryanair has raised its frequencies to more than a daily flight (see table below), increasing their appeal to business travellers.
Ryanair routes in winter 2014/2015 with frequency increased to more than daily
| Route | Ryanair daily frequency | Ryanair share of seats on city pair | Ryanair rank by seats on city pair | Competitors on city pair |
| --- | --- | --- | --- | --- |
| | | | | |
| --- | --- | --- | --- | --- |
| | From 1 to 2 | 42% | 2 | |
| | From 1 to 2 | 37% | 2 | |
| | From 2 to 3 | 23% | 2 | |
| | From 1 to 2 | 22% | 3 | |
Ryanair is the number one airline intra-Europe
Ryanair is now comfortably the largest airline by number of seats on intra-European routes, followed by easyJet. There is a significant gap between these two and the next ranked LCC, Norwegian, in ninth place. The legacy carriers that occupy the places in between tend to be based in their national markets, rather than operating on a truly pan-European basis.
This means that Ryanair and easyJet are not only the largest intra-European carriers, but they also have the most extensive networks across the continent. Ryanair operates to/from 152 airports on routes within Europe this winter (week of 15-Dec-2014, source: OAG), significantly more than easyJet's 103. In summer 2015, Ryanair will operate from 168 airports in Europe, compared with easyJet's 121 (week of 25-May-2015, source: OAG).
Top 10 Airlines ranked by seats within Europe 15-Dec-2014 to 21-Dec-2014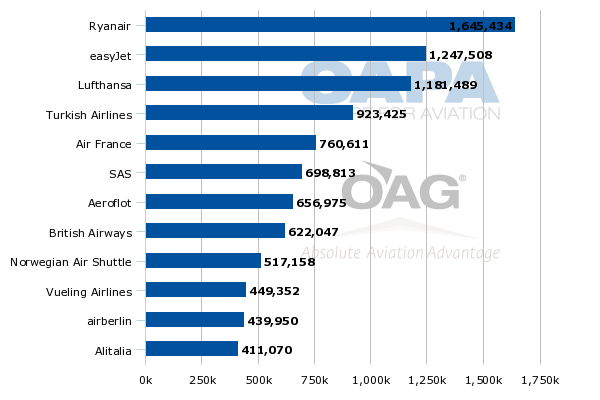 easyJet has more routes with high frequency than Ryanair
Nevertheless, easyJet has had more experience with customer service improvements and with initiatives aimed at attracting business travellers. We have previously highlighted easyJet's potential in taking further market share from FSCs.
See related report: EasyJet SWOT: you must be getting things right if Stelios has gone quiet
In particular, easyJet's network has a higher proportion of higher frequency routes, with 41% of its routes operating with at least a daily service, compared with 28% for Ryanair (according to OAG data for the week of 15-Dec-2014).
Ryanair and easyJet routes served by frequency/week 15-Dec-2014 to 21-Dec-2014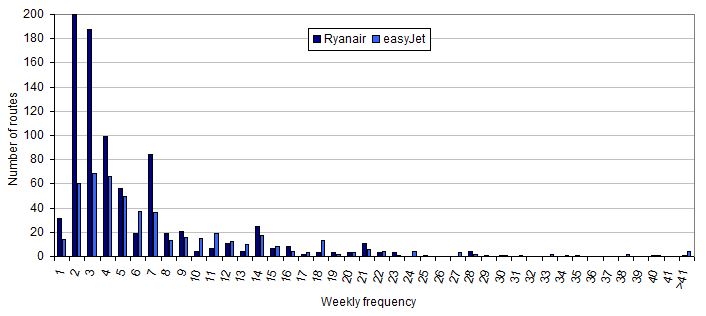 Ryanair and easyJet percentage of routes served by daily frequency, week of 15-Dec-2014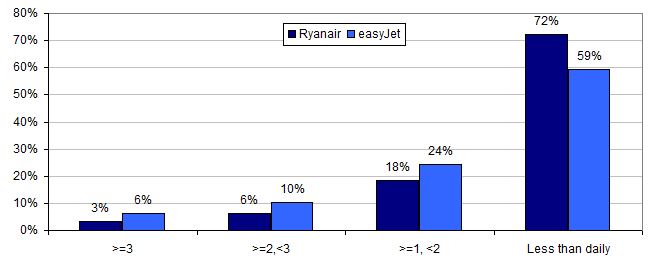 easyJet is also in more of the top airports
Moreover, easyJet is present in more of the top 100 airports for Europe to Europe capacity. Defining a primary airport is not straightforward and often depends on who is giving the definition, but size is a key element of judging the importance of an airport.
Based on schedule data for summer 2015, easyJet operates in 71 of these airports, compared with Ryanair's 54, and easyJet is also in more of the top 25, top 50 and top 75 than is Ryanair (week of 25-May-2015, source: OAG, see chart below).
Ryanair and easyJet presence in top 100 European airports ranked by number of seats to/from Europe 25-May-2015 to 31-May-2015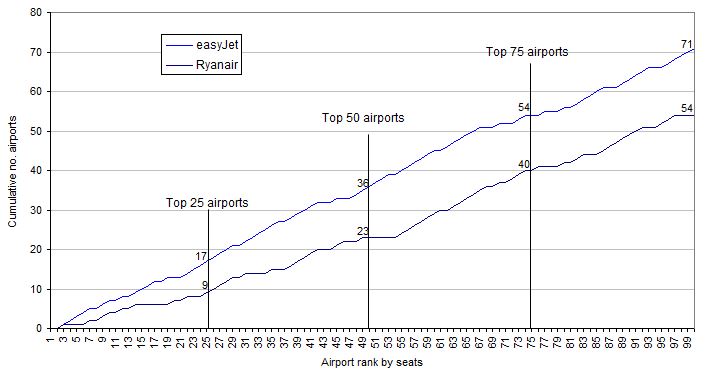 Ryanair's revenue per passenger discount is around 30% vs other LCCs
Ryanair's lower frequencies and lesser presence in the major airports generates lower revenue per passenger. Of course, this has been a deliberate strategy, based on having the lowest unit costs (CASK).
Looking at total revenue per passenger, and thereby bypassing the debate about additional charges for bags and other unbundled product features that are not included in fare revenue, only Pegasus is lower priced than Ryanair among European airlines (see chart below). However, Pegasus does not compete with Ryanair and, moreover, it has a lower average trip length.
Moving into more primary airports may add to Ryanair's cost base, but its network as a whole, and its entire approach to costs, should ensure that it continues to have a significant cost advantage. With a well established reputation for low costs, the opportunity now is for Ryanair to narrow the gap in revenue per passenger, while retaining the discount that attracts passengers to it.
At the lower end of the range of average sector length, ultra-LCCs such as Ryanair achieve a discount of roughly 30% compared with the LCCs, who, in turn, have a discount of a similar order to the FSCs. This gives Ryanair a significant opportunity to compete directly with both LCCs and FSCs.
Passenger revenue* per passenger (USD) 2013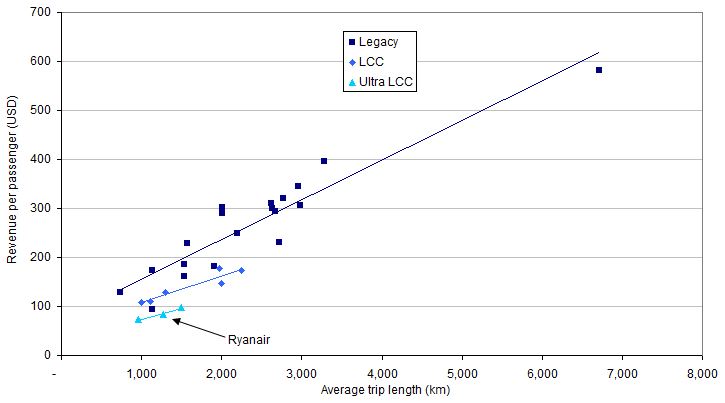 easyJet revenue per passenger is helped by business fares and other initiatives
Ryanair only announced its customer service improvement programme and its return to allocated seating around a year ago. Its 'Business Plus' bundled fare was launched as recently as Aug-2014.
By contrast, easyJet introduced its flexi fare, aimed at business travellers, in Nov-2010. Allocated seating, which easyJet trialled in Apr-2012, was rolled out across the network in Nov-2012. Between 2000 and 2010, before the flexi fare was introduced, easyJet's average revenue per passenger increased by 30%, roughly in line with a 34% increase in its average sector length. From 2010 to 2014, its revenue per passenger increased by a further 15%, in spite of a 1% drop in average sector length.
Although there are many factors that affect its revenue per passenger (including improvements in on-time performance since FY2010), this suggests that easyJet's business traveller initiatives and its customer service improvements have had a positive impact on pricing.
easyJet average revenue per passenger (GBP) versus average sector length (km), FY2000 to FY2014*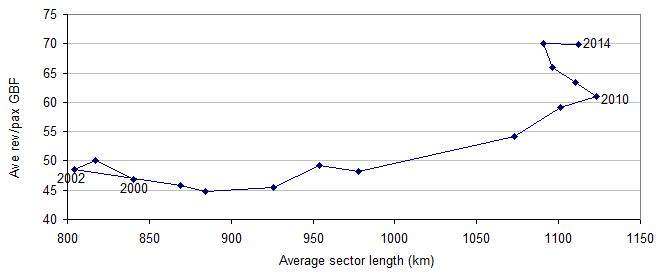 Over the 10 year period from FY2001 to FY2011 (March year end), Ryanair's average revenue per passenger fell by 17%, in spite of a 74% increase in average sector length.
It attracted discretionary spend by keeping its fares down and much of its growth was in secondary airports on price sensitive routes, where distance was not a feature that could command a premium.
From FY2011 to FY2014, Ryanair's revenue per passenger increased by 22%. This may partly have been driven by an 8% increase in average sector length over this period, but, as noted, distance had not previously driven revenue per passenger in any consistent way. Ryanair's price improvements from FY2011 to FY2014 reflect slower capacity growth, but may also reflect the already growing proportion of primary airports in its network.
Ryanair average revenue per passenger (EUR) versus average sector length (km) FY2001 to FY2014*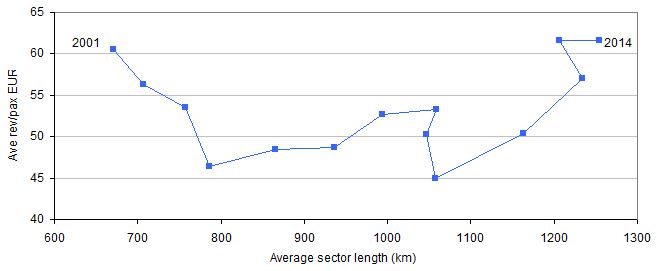 Changes in revenue per passenger have moved in sync for both Ryanair and easyJet
There may also be another factor that helped Ryanair's revenue per passenger from FY2011 to FY2014. Although Ryanair is priced well below easyJet, changes in revenue per passenger for both airlines have been broadly in step with each other over the longer term (see chart below). This suggests that the increase in easyJet's pricing in recent years may have made it easier for Ryanair to raise its own unit revenue.
Although the two rarely compete head to head on airport pairs, they are both significant players whose pricing strategies have an impact across the market. For Ryanair passengers, it may be that the discount to other airlines is more important than the absolute price. Thus, as market prices increase, so Ryanair's prices may increase without any negative impact on volume.
Ryanair's discount to easyJet's revenue per passenger (converted into EUR) has widened from 22% to 26% over the past two years, possibly reflecting easyJet's head start on customer service initiatives, but also highlighting the opportunity for Ryanair.
Ryanair and easyJet average revenue per passenger (EUR) 2001 to 2014*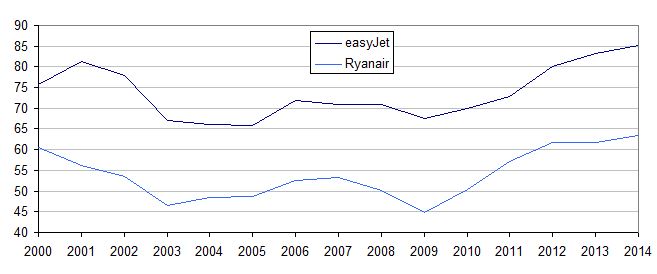 Ryanair's margin upside potential is significant - perhaps a 10% cost-neutral improvement
CEO Michael O'Leary told analysts on a conference call to discuss 1HFY2015 results in Nov-2014 that around 25% of Ryanair's passengers are already flying for business purposes. This is higher than the 19% claimed by easyJet, in spite of the differences in their networks explored above.
While these two figures may not be based on precisely the same definition, this suggests that Ryanair's network currently attracts business travellers from smaller enterprises, who are more price sensitive and more geographically spread than those from large corporations. Many of Ryanair's secondary airports are distant from major business centres, but its network allows small businesses in those regions to connect with other similar businesses across Europe. Such travellers probably already pay a higher average fare as they are more likely to book at short notice than leisure travellers.
The combination of network improvements to include more primary airports, increased frequencies, the new Business Plus product and Ryanair's embracing of GDS and TMC distribution channels should lead to a higher penetration of business travellers from larger enterprises. Mr O'Leary also said that he hoped to convert half of Ryanair's business travellers to Business Plus "over a few years".
Making the assumption that average yields on Business Plus could be around twice the average yield for the company as a whole, Ryanair could add 10% to its revenues if 10% of passengers take up the new fare category, with very little additional cost. The wider customer service improvements (for example allocated seating, relaxation of baggage limits, enhanced website, mobile app, reduced penalty charges) should also lead to revenue growth.
Ryanair's operating margin in the rolling 12 months to Sep-2014, at 16.5% (2.1 ppts higher than the same period a year earlier), was already the highest among European airlines.
If it can increase revenues by 10% or more, with little additional cost, the upside to its bottom line is very significant.
See related report: Ryanair SWOT: low costs remain the key strength, even as customer service enhancements take root