Norwegian Air, Ryanair talk bilateral interline. A good match but Kjos' alliance case less clear
Norwegian CEO Bjørn Kjos hopes to have an interline agreement in place with Ryanair before the end of 2017. Discussions between the two airlines have been taking place for many months, and both have publicly talked about the benefits of facilitating connecting passengers with a single ticket for a trip involving both airlines at airports where Norwegian operates long haul.
Mr Kjos told CNN Money on 1-Feb-2017 that he also envisaged an alliance formed of Europe's four leading independent LCCs: Ryanair, easyJet, Norwegian and Wizz Air. There is mileage in pursuing bilateral interlining, focusing on connections between Norwegian's long haul and the other three's short/medium haul.
However, the case for intra-Europe connections among the four LCCs, let alone for something as developed as an alliance, is less clear.
Ryanair and Norwegian expected to conclude interline agreement in 2017
As early as Apr-2016, Ryanair CEO Michael O'Leary said that the two had reached agreement in principle. The main outstanding point to be resolved is the IT interface.
Previous discussions of a similar nature between Ryanair and FSC long haul operators, such as British Airways, Aer Lingus, Virgin Atlantic and TAP Portugal, were reported to have stumbled over the issue of who takes responsibility for missed connections and baggage transfer. Meanwhile, Ryanair has also been experimenting with offering its own connecting tickets.
See related report: Ryanair transfer traffic & interlining; closing the gap with FSCs on product, but not on costs
Nevertheless, Ryanair is now expected to be close to agreeing interline arrangements with Aer Lingus at Dublin, as well as with Norwegian at London Gatwick.
The advantage to the passenger from such an arrangement would be wider access to a larger network, combining the routes of both airlines. As Mr Kjos said to CNN, "Not only from Norwegian, but...from Ryanair. So they can fly cheap not only from A to B, but also from A to B to C to a variety of areas that we would never serve".
Norwegian needs feed for its long haul network
A crucial difference between Ryanair and Norwegian is that Norwegian has a long haul network from a growing list of bases across Europe, whereas the Irish airline only has short/medium haul operations (the largest in Europe). Moreover, the rapid expansion of Norwegian's long haul network risks outpacing its ability to feed this with its short/medium haul traffic.
The advantage to Norwegian of interlining with Ryanair and other European LCCs is to supplement the long haul feed that it gets from its own short/medium haul network.
Norwegian has a significant European network but, if judged by the number of routes, it is smaller than those of each of the other principal independent LCCs in Europe.
By seat numbers, Norwegian is the fourth largest LCC in Europe. In the subset of independent LCCs, it is number three by seats, behind Ryanair and EasyJet, and ahead of Wizz Air.
Nevertheless, it has fewer routes within Europe than Wizz Air (and Ryanair and easyJet), according to OAG data for summer 2017. The chart below ranks European LCCs by intra Europe seat capacity in the week of 17-Jul-2017.
Top 10 European LCCs by number of seats within Europe and number of routes within Europe: week of 17-Jul-2017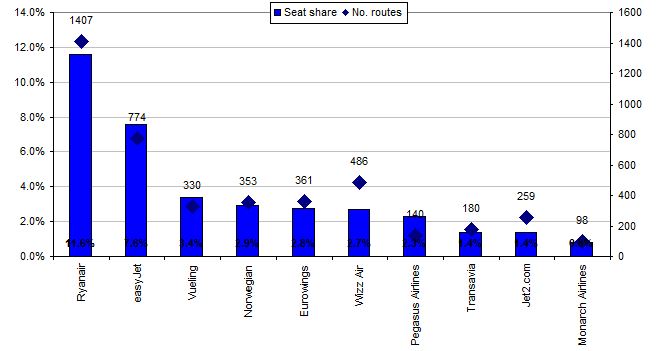 Norwegian is only the number five airline at its new long haul base – Barcelona
Norwegian's relative size disadvantage may become more important as it rolls out its long haul network across Europe, setting up new bases. In Scandinavia, particularly Oslo, it is a major player and has a large number of short haul connections. It has also built up a strong presence in London Gatwick, where it is number three airline behind easyJet and British Airways.
At Barcelona – which will become Norwegian's newest widebody base in summer 2017 with services to Los Angeles, New York Newark, Oakland and Fort Lauderdale – Norwegian is only the fifth biggest airline by seats, with a share of 4.1% and 22 short/medium haul routes (source: OAG, week of 17-Jul-2017).
However, Ryanair is the number two airline at Barcelona, where it is three times the size of Norwegian by seats (its share is 12.3%), and its total of 42 routes is almost twice Norwegian's short/medium haul total this summer.
The size of the Barcelona market and Norwegian's low fares on its long haul routes mean that it is likely to create a new point-to-point market for its trans Atlantic services. However, feed into these routes remains an important success factor, particularly as IAG is also planning long haul low cost routes from Barcelona, where its LCC Vueling is the biggest airline.
See related report: IAG plans long haul low cost from Barcelona and mulls a new dedicated brand
According to Mr Kjos in the CNN interview, Ryanair's presence in Barcelona and Irish cities make it ideal for flowing passengers to its growing fleet of long haul airliners. Norwegian does not currently operate long haul routes from Dublin, but plans trans Atlantic flights from Cork and Shannon this summer, after receiving a US foreign carrier permit for its Irish subsidiary Norwegian Air International in Dec-2016, after a two year wait.
See related report: Norwegian Air's NAI at last gets final approval of US rights in a boost to long haul growth
Norwegian's Kjos sees potential for an LCC alliance
Mr Kjos does not see an interline agreement with Ryanair as being the end of the story. According to CNN, he said, "If we can do it with Ryanair, we can cover lots of routes, but we don't cover all the routes and we should definitely like to do it with easyJet as well".
For now, the likelihood is that any commercial partnerships that Norwegian agrees with other LCCs will be on a bilateral basis. Moreover, Norwegian is not currently developing any interline or other cooperative agreements with low cost airlines outside Europe, although this could change in the future.
Nevertheless, Mr Kjos envisages a possible low cost alliance in the future, embracing all four of Europe's leading independent LCCs. "Ryanair, easyJet or Wizz Air...fly to a lot of cities we don't even know how to spell the names of", said Mr Kjos.
Ryanair, easyJet, Norwegian and Wizz Air are (in order) Europe's four largest independent LCCs by seat numbers (based on OAG data for the week of 17-Jul-2017). Among all LCCs, IAG's Vueling ranks between easyJet and Norwegian, and Lufthansa's Eurowings (including Germanwings) ranks between Norwegian and Wizz Air.
Mr Kjos told CNN Money that agreements with other LCCs would allow them to compete in the US, Europe, the Middle East and Asia for price conscious travellers.
Norwegian's interest in moving from bilateral LCC partnerships to an alliance
It is easy to see why Mr Kjos might be keen to float the idea of a low cost alliance, although what he has in mind is unlikely to look like any of the three global branded alliances.
Starting with the simple idea that Norwegian needs to beef up the volume of feed into its rapidly growing long haul network, the airline is talking to other European low cost airlines about interlining on a bilateral basis. Agreements of this relatively limited nature are still nonexistent between leading European LCCs.
If the LCC partners to such an agreement can solve the challenges of IT compatibility and can implement it without significant changes to schedules, bilateral interlining can be a relatively simple and low risk way to boost traffic volumes for both.
If Norwegian is interested in a series of these bilateral partnerships with other LCCs, there would be some appeal to it in developing the resultant agreements into a form of of alliance, potentially involving all of its bilateral partners, with itself at the centre.
For Norwegian and each of the other leading LCCs in Europe there would seem to be mutual benefit to agreements that focus on connections between long haul (i.e. Norwegian) and short/medium haul (i.e. Ryanair, easyJet and Wizz Air). This would help them to reach customers from regions outside Europe and customers from within Europe whose ultimate destination is elsewhere.
However, it is less obvious that they would each find much advantage in connecting to each other's intra-European networks, where they compete fiercely.
Asia Pacific already has two LCC alliances, designed to promote connectivity
LCC alliances are rare, but not unprecedented, on a worldwide basis. The Asia Pacific region has both the U-Fly Alliance and the Value Alliance – both established in 2016. However, they mainly consist of small and middle ranking LCCs, most of which have brands that are not well established across the region, and who regard the alliance as helping to address this.
Crucially, the Value Alliance could only proceed once a common technology platform for passenger software had been identified (led by Scoot, one of the alliance's principal architects). The chosen solution, Air Black Box (ABB), essentially allows the linking of websites and the cross selling of both fares and, importantly, ancillaries. U-FLY also uses ABB.
Although a common technology platform was crucial, these two alliances are looser then the big global alliances favoured by the majority of the world's leading full service airlines, and the costs and commitments of membership are lower.
At the Value Alliance launch event in May-2016 the founding members stressed that they wanted to add incremental passengers without incurring additional cost or adding any complexities. They also said that they would not have joined if they had not been able to retain their business models.
See related report: Asian LCC Value Alliance establishes a new direction, using a new connectivity technology platform
But the European context is different
However, the circumstances that led to the formation of the two Asia Pacific LCC alliances do not fully translate to the European context.
In the same way that Star, oneworld and SkyTeam were partly a response to the problem of achieving meaningful consolidation in an industry with restrictions on ownership and market access, the two Asia Pacific LCC alliances are also partly a response to cross border regulatory delineation within that region.
Another, more committed, response to these restrictions in Asia Pacific has been the holding company/minority equity affiliate branded approach followed by airlines such as AirAsia and Jetstar. Indeed, the Asian LCC alliances are also partly a response by the smaller LCCs to the strength of groups such as AirAsia and Jetstar, and the difficulties faced by many of the new alliances' members in building their brand and distribution across the region.
Within the European market there are essentially no barriers to ownership and market access. Largely as a result of this, the continent's leading LCCs have tended to favour organic growth over mergers or commercial partnerships.
Ryanair, easyJet, Wizz Air: size, unrestricted market access and brand strength reduce incentive to join alliance
Ryanair and easyJet are so much bigger than Norwegian (and than any other airline, LCC or FSC, ranked by seats within Europe) that they would have little obvious benefit from a multilateral LCC alliance.
Wizz Air, although smaller than Norwegian by seats, has significantly more routes within Europe and has unfettered access to its target market of Central and Eastern Europe.
Top 12 European airlines by number of seats within Europe and number of routes within Europe: week of 17-Jul-2017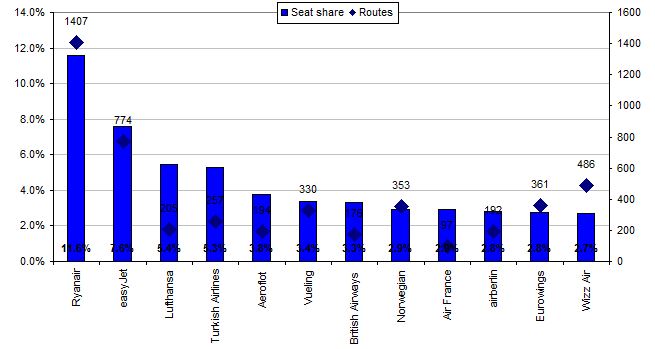 Ryanair and easyJet now have strong brands across the continent and Wizz Air's brand is gaining in power in its core market. None of these leading LCCs would be likely to see much gain from adding another brand, that of the alliance, to their own (unlike some of the smaller members of U-FLY and Value Alliance).
Nor would they be keen to add the complexity (and cost) that might result from the likely need to adjust schedules and develop baggage transfer systems to accommodate multiple alliance partners.
Alliances come into their own in helping members to reach customers in markets outside their own. This arguably gives Europe's larger (short haul) LCCs a greater incentive to join an alliance with network airlines that have large long haul networks, rather than with each other.
IAG or the Lufthansa Group, for example, would provide Ryanair with more long haul to short haul connections (and vice versa) than Norwegian would, although this may change over time. Nevertheless, Europe's LCCs have not joined any of the global alliances – deterred by the costs of membership and the more comprehensive integration needs, particularly with regard to IT and product/service quality.
An alliance of Europe's leading independent LCCs seems unlikely
Interlining, one of the simplest forms of commercial partnership, looks set to be embraced by Europe's leading LCCs, albeit gradually. Norwegian could drive a series of bilateral relationships with other LCCs, mainly to feed its long haul network.
In a recent analysis report, CAPA observed that Norwegian has a remarkable aptitude for innovative strategic thinking.
See related report: Norwegian Air part 2: long haul growth shows its strategic innovation, but increases debt burden
However, certainly in the near term, a European LCC alliance involving Ryanair, easyJet, Wizz Air and Norwegian seems unlikely. Perhaps Mr Kjos was merely thinking out loud, but there are risks to pushing too many strategic developments at once.