IAG plans long haul low cost from Barcelona and mulls a new dedicated brand
Analysis
IAG has detailed plans to start long haul low cost airline flights from Barcelona to the US, Latin America and Asia in Jun-2017. The project involves two Airbus A330s and will create up to 250 new jobs. Tickets for the first destinations are expected to be on sale by Feb-2017 or Mar-2017.
One of the key outstanding issues is which IAG airline brand will operate the flights. In an interview published on 22-Dec-2016 by La Vanguardia, the widely read and respected Barcelona newspaper, CEO Willie Walsh said that IAG may create a new brand for the project. British Airways, Iberia or even Aer Lingus – which has the lowest unit cost among IAG's long haul airlines – are also possibilities. However, Vueling "will continue in its strategy of European flights".
Among Europe's big three legacy airline groups, IAG is the only one not to have announced long haul low cost plans previously, although its LCC strategy has been the most successful in short/medium haul. Plans by the LCC Norwegian to launch long haul routes from Barcelona in 2017 may have had a catalytic effect on IAG's thinking. In the past IAG has been proactive in creating new platforms, while this move appears a little more reactive.
IAG has a track record of doing things differently
IAG's main LCC operation is Vueling, which is bigger and more profitable than Lufthansa's Germanwings and Air France-KLM's Transavia. Vueling had the advantage of being a successful pan-European LCC on a stand-alone basis before IAG acquired it.
See related report: Air France-KLM, IAG, Lufthansa LCC strategies: denial, submission, retreat, now counter-attack
Moreover, the creation of Iberia Express as a low cost feeder operation into Iberia's Madrid hub helped IAG to improve labour productivity across Iberia by demonstrating that it had an alternative platform.
On long haul IAG has acquired the cost-efficient (but not low cost) Aer Lingus and developed a promising commercial partnership with Qatar Airways.
See related reports:
These developments build on IAG member airlines' legacy membership of oneworld and the immunised North Atlantic JV at the heart of the alliance. In creating a new long haul low cost operation, IAG will have to balance the need for a genuinely low cost business, which typically involves doing things differently, with the need to take its employees with it.
In Spain it has successfully managed to do things differently before, but taking low cost into long haul routes just when Iberia is re-emerging as a growing long haul force may risk upsetting unions. Moreover, Norwegian's plans to launch long haul routes from Barcelona in 2017 add extra urgency.
If IAG does choose to establish a new brand with a new AOC it may first need to use another group airline on a wet-lease basis to get things going. Its lowest cost operator with long haul operations is Aer Lingus, which could serve as the initial platform if IAG chooses this option.
Barcelona is Europe's biggest LCC airport…
Barcelona El Prat is Europe's largest airport for low cost airline seats, ahead of airports that are perhaps better known for LCC operations, such as London Gatwick, Istanbul Sabiha Gökçen and London Stansted.
See related report: Barcelona El Prat: Europe's leading airport for LCCs a battleground in fight for business travellers
Top 10 airports in Europe for low cost airline seats: winter 2016/2017*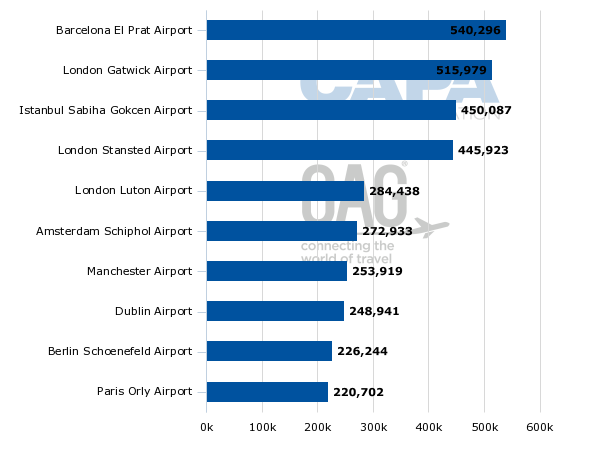 Barcelona's leading position among LCC airports holds firm in the winter 2016/2017 schedule and in the summer 2017 schedule.
Top 10 airports in Europe for low cost airline seats: summer 2017*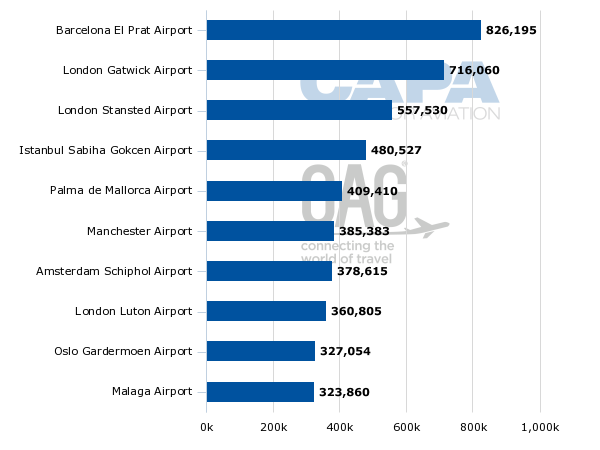 …and Europe's fastest-growing top 10 airport
Barcelona ranks as Europe's seventh largest airport overall by passenger numbers in the first 10 months of 2016. Moreover, among the top 10 European airports it has enjoyed the fastest growth in passenger numbers in 2016 so far, with YTD growth of 11.0%. The next fastest-growing airport is Amsterdam, with 9.0% growth in 10M2016.
Top 10 airports by passenger numbers 10M2016
| Airport | Pax million | Growth yoy |
| --- | --- | --- |
| | 63.8 | 0.5% |
| | 55.9 | -0.7% |
| | 54.2 | 9.0% |
| | 52.4 | -1.1% |
| Istanbul Atatürk | 51.2 | -1.8% |
| | 42.4 | 7.4% |
| Barcelona | 38.1 | 11.0% |
| | 37.2 | 6.4% |
| | 36.2 | 3.1% |
| | 35.9 | 3.1% |
IAG has a strong presence at Barcelona, led by Vueling…
IAG has a strong presence at Barcelona, although none of its airlines currently operates to long haul destinations from the airport. Vueling is the leading airline by seats at Barcelona with a share of 33.7%, while Iberia is fourth with 6.8%, and 10th ranked British Airways has 1.5% of seats (source: OAG, week of 19-Dec-2016).
According to OAG schedules data, Vueling currently operates 96 routes to/from Barcelona in the winter schedule (week of 19-Dec-2016) and this will rise to 121 in summer 2017 (week of 29-May-2017).
Although Vueling will not operate long haul routes itself, its strong presence at the airport will help to provide feed to the new IAG long haul operator, particularly if it can be co-located with Vueling in Terminal 1.
Barcelona El Prat Airport: airlines by share of seats, week of 19-Dec-2016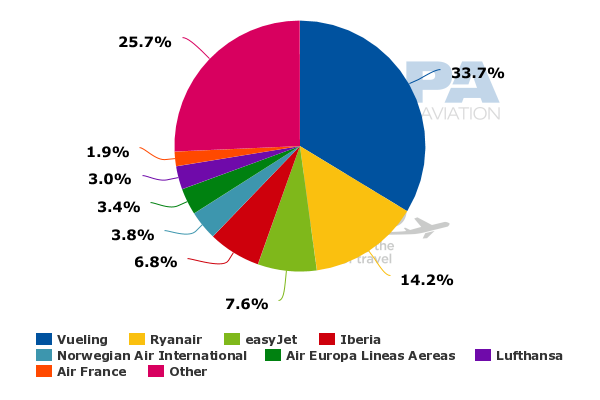 Iberia's main operation at El Prat is its Madrid A321 shuttle, operated with a daily frequency of more than 20 flights on weekdays. There are also Iberia-coded regional jet flights operated by Air Nostrum from Barcelona to the Spanish cities of Badajoz, León and (launching in Mar-2017) Valencia.
BA serves Barcelona from London Gatwick and from London Heathrow, from where it offers connections to its global network. Aer Lingus serves Barcelona from Dublin and (in the summer only) from Cork.
Barcelona currently offers a limited long haul network, but Norwegian will start long haul in 2017
According to OAG, the only long haul destinations available from Barcelona currently (week of 19-Dec-2016) are Islamabad, Lahore (both Pakistan International Airlines), Bogotá (Avianca), Buenos Aires (Aerolineas Argentinas), Lima (LAN), São Paulo (TAM), Miami (American), New York JFK (American and Delta), New York Newark (United) and Toronto (Air Canada and Air Transat, which operates summer only).
Barcelona El Prat Airport: international seat capacity by region, week of 19-Dec-2016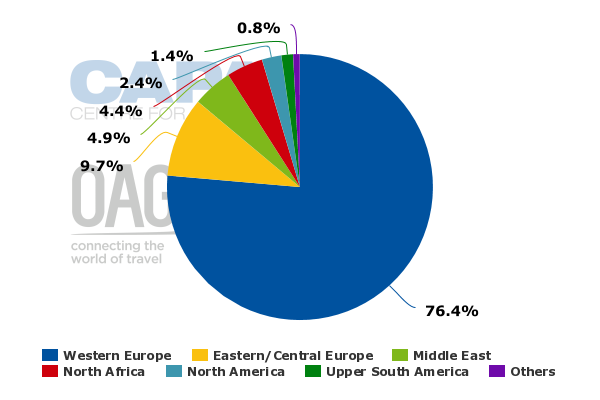 The low cost rival Norwegian has also announced plans to establish long haul operations from Barcelona in summer 2017. Based on its existing short haul operations Norwegian is Barcelona's fifth biggest airline by seats, with a share of 4.1% (source: OAG, week of 19-Dec-2016).
Barcelona will become Norwegian's sixth base for widebody aircraft. Norwegian plans services to Los Angeles, New York Newark, Oakland and Fort Lauderdale. It is also considering Barcelona to destinations in Argentina, including Buenos Aires, and in Chile.
IAG airlines do not operate from Barcelona to any of these destinations proposed by Norwegian, but Iberia flies to New York and Buenos Aires and Chile from Madrid, and BA flies to Los Angeles, New York and San Francisco (which is near Oakland).
The size of the Barcelona market and Norwegian's low fares mean that the LCC is likely to create a new market for its long haul routes, but there is also likely to be an impact on feed into Iberia's long haul network via its Madrid hub and, perhaps to a lesser extent, into BA's London hub.
IAG considering Barcelona to LA, San Francisco, Buenos Aires, Havana, Santiago, Tokyo
Low cost destinations typically require a relatively low-frequency service, so that each aircraft can serve more than one destination (depending also on the distance of the route). IAG plans to start with two aircraft and three or four destinations, but will add routes thereafter.
According to the interview with Mr Walsh in La Vanguardia, IAG is actively considering routes from Barcelona to Los Angeles, San Francisco, Buenos Aires, Havana, Santiago de Chile and Tokyo.
Iberia serves four of these destinations from MAD
Iberia currently serves four of these destinations from Madrid: Buenos Aires, Havana, Santiago de Chile and Tokyo. IAG does not want its new low cost long haul operation to compete directly with Iberia in Madrid, but expects good potential in the Barcelona market.
Iberia has been resurgent on routes from its Madrid hub to Latin America since its successful turnaround from losses to restored profitability in 2014. However, its Spanish rival Air Europa has also been growing on routes to Latin America and is providing increasing competition to Iberia.
See related report: Air Europa Part 1: Latin America drives growth. Iberia and new entrants provide challenges
Iberia only re-entered Asia in 2016, launching Shanghai in Jul-2016 and Tokyo in Oct-2016. It serves Tokyo three times weekly using an A330-200. The Catalan authorities are known to be keen to establish an air link between Barcelona and Tokyo.
See related report: Iberia to launch Tokyo & Shanghai in Asia return after many years. Another sign of approval from IAG
BA serves four of these destinations from Heathrow
British Airways serves four of the proposed new IAG Barcelona destinations from London Heathrow: Los Angeles, San Francisco, Buenos Aires, and Tokyo.
The IAG long haul project will involve "a significant financial commitment" for the group, according to Willie Walsh, who will have a staff of 250 in Barcelona for the operation.
IAG's plans are another step in the development of low cost long haul operations by European airlines and the first such development by IAG. It now joins Lufthansa and Air France-KLM in having plans and/or operations in this area (although the definition of low cost is sometimes loose).
Before IAG's plans emerged it was the only one of the big three European legacy airline groups not to have articulated some kind of vision for a long haul low cost operation. This was notable, not least because the UK (IAG's largest home market) has more long haul low cost routes than any other country in Europe.
Willie Walsh, IAG CEO, has in the past referred to Aer Lingus as IAG's 'low cost long haul' platform, although this is stretching the definition. It is certainly a cost-efficient long haul operation by comparison with Europe's larger legacy airlines, but not low cost in an absolute sense.
Norwegian has provoked others to respond
The first European airline to operate long haul low cost was Norwegian, which started to add long haul operations to its well established short haul LCC network in 2013. In 2014 it added London Gatwick to its three Scandinavian long haul bases and now has long haul operations in Paris and will have, imminently, in Barcelona.
It will also launch US routes from Ireland, after finally gaining US traffic rights for its NAI subsidiary.
See related report: Norwegian Air's NAI at last gets final approval of US rights in a boost to long haul growth
Norwegian seems to have gradually provoked a response by competitors. It was Europe's only independent LCC with long haul routes until the Icelandic LCC WOW air commenced widebody operations to the US west coast in 2016.
See related reports:
Lufthansa's Eurowings was the first legacy subsidiary to operate long haul low cost
Among the big three European legacy airline groups, the Lufthansa Group was the first to embrace long haul low cost when it added long haul routes to its Eurowings LCC in 2015.
Eurowings' long haul network is currently operated by SunExpress Germany with three A330 aircraft under wet-lease arrangements; SunExpress Germany is jointly owned by Lufthansa and Turkish Airlines. Lufthansa's acquisition of Brussels Airlines and its subsequent integration into Eurowings will bring nine more widebody aircraft under the Eurowings brand.
A detailed breakdown of Eurowings' cost base into long haul and short haul is not possible from publicly available data. However, as previous CAPA analysis has highlighted, its overall CASK is not consistent with the low cost tag.
See related report: Eurowings develops innovative partnership approach, but CASK reduction may not go far enough
In Nov-2016 Air France-KLM announced plans to launch a new long haul airline at Paris CDG within the Air France side of the group, and it was given the project name Boost. Constrained by Air France pilot unions, this entity will not be branded as low cost but will operate with lower costs.
Its launch is, at least in part, a response to new low cost competition on long haul routes to/from France by airlines such as Norwegian and French Blue.
See related reports:
All three of Europe's big legacy airline groups' long haul low cost plans are small-scale
Boost aims to have 10 long haul aircraft by 2020 – less than 10% of Air France's long haul fleet and less than 6% of Air France-KLM group's long haul fleet.
This compares with Lufthansa's pre-Brussels Airlines target of seven widebody aircraft in its Eurowings LCC brand by 2017. This represents only 5% of the total of 146 widebody aircraft in the Lufthansa Group fleet.
However, IAG's two aircraft make little more than 1% of the 184 widebodies in the group – much smaller in scale than the equivalent projects of both Air France-KLM and the Lufthansa Group. All three look timid by comparison with operators such as Norwegian. With 12 widebodies in operation and a further 41 on order for delivery by 2020, Norwegian's long haul low cost activities are significantly larger.
Barcelona has positive attributes for IAG to launch its long haul low cost
It is interesting that IAG is launching its first low cost long haul operation from Spain and not the UK, which is the biggest of its home markets and the most penetrated by long haul low cost competition.
But Barcelona has a number of features that make it attractive for IAG to launch low cost long haul operations (Mr Walsh prefers the term 'new generation long-haul'). It is one of the fastest-growing large airports in Europe; it is the largest airport in Europe for low cost airline seats; and it is the biggest base for IAG's low cost brand Vueling.
By establishing long haul low cost operations at Barcelona IAG can try to dampen the competitive impact that Norwegian might have on its long haul networks via its hub operations, while also tapping into latent demand for direct services to/from Barcelona without competing head-on with one of its own airlines.
IAG's decision shows some logic: based on the size and strength of Barcelona as an O&D market, particularly as a leisure destination in its own right; IAG's existing presence at El Prat, particularly through its LCC Vueling; the relative lack of long haul destinations, particularly none offered by other IAG airlines; and the small, but emerging competitive threat posed by Norwegian on long haul routes.
Whether through acquisition, the creation of new airlines, or the development of commercial partnerships, IAG has a successful history of innovating to give itself alternative growth paths. Nevertheless, for the first time in a while it feels just a little bit like IAG is playing a game of strategic catch-up, rather than its more habitual leadership role.