New Lufthansa CEO Christoph Franz starts work as challenges abound
Analysis
Lufthansa welcomed new CEO Christoph Franz on 01-Jan-2011 who will play an instrumental role in shaping European aviation over his term. Mr Franz will be key in integrating the Lufthansa family of airlines and will no doubt seek to reinforce the group's lead in European passenger volume and revenues in 2011.
In the short term, challenges at Europe's largest airline group abound. Restructuring efforts continue at newly acquired subsidiaries of Austrian Airlines, bmi and Germanwings and the group must continue defending its short-haul market share against Ryanair, easyJet and airberlin.
In the long-haul field, there are increasingly hungry eyes in the Middle East, looking at taking a larger slice of the German market. Emirates continues to evolve, price aggressively and push for more capacity into the market. Qatar Airways is also expanding into Germany, with more Munich service and new services to Stuttgart.
Lufthansa must also battle with the German Government's introduction of an air travel tax in 2011 as well.
Lufthansa follows German lead and outperforms peers in 2010
Mr Franz comes to the helm amid an impressive recovery phase at Lufthansa, which remains bullish. The carrier posted a very strong 3Q2010 performance, with net profit up 200% to EUR628 million on a 27.5% increase in revenue. Lufthansa attributed the improvement to "a recovery in intercontinental passenger and cargo traffic" and in-house cost-cutting and synergy within the group.
However, with IATA in Dec-2010 noting the aviation was "shifting gears in the recovery cycle" and slowing towards "normal" levels of growth, Lufthansa will need to leverage its scale advantages further and find more cost and revenue synergies from its family of airlines to outdo its 2010 performance.
Lufthansa Group EBITDA margin and net profit margin: 3Q2009 vs 3Q2010
Still looking at the neighbours
With a strong balance sheet and cash on hand, it emerged at the start of Jan-2011 that Lufthansa was looking at expanding the family by acquiring loss-making Star Alliance partner SAS, which remains one of the only airlines from a Germany-bordering country not part of the group. Lufthansa Chairman Juergen Weber stated in Nov-2010 the carrier "would gladly integrate SAS", but cautioned SAS carried too much debt and was "too expensive", saying he would take a "wait-and-see" stance. Lufthansa ownership of SAS would likely strengthen Lufthansa's dominance and rationalise services between Germany and Scandinavia. The acquisition would also provide feeder traffic for Lufthansa's hubs in Frankfurt and Munich and boost Lufthansa's north-south European dominance.
Lufthansa, which has a 19% stake in New York-based JetBlue, has previously expressed interest in inter-continental mergers, dependent on ownership restrictions. However with BA-led IAG having drafted an international shopping list, the German giant may need to move quickly.
Looks to emerging markets
As Lufthansa continues taking delivery of A380 equipment, the airline's expansion into emerging Asia will also continue. The airline alternates B747 and A380 equipment on its Frankfurt-Beijing A380 services, and has stated it hopes to gain approval to operate daily A380 Beijing service.
Lufthansa has also targetted daily services on all its Indian routes by end of 2011. The group plans to expand services to India through all three international subsidiaries; Lufthansa, Swiss and Austrian, and launch a new lounge at Delhi's T3. Axel Hilgers, Lufthansa's Director South Asia, stated the airlines would aim to provide a more comprehensive international network for the corporate segment. Mr Hilgers stated yields on the airlines Indian services increased over 30% year-on-year in 2010 and said Dehli is a likely future destination for the A380.
Lufthansa's international capacity by region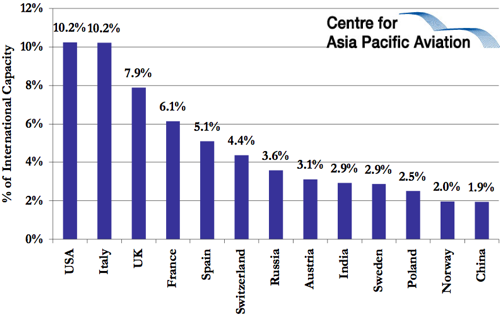 Latin America is another emerging market in Lufthansa's sight. The airline signed a codeshare agreement with Avianca in Nov-2010, strengthening Star Alliance's presence in this important battleground for alliance representation. Avianca passengers will be able to travel on Lufthansa's five-times weekly Frankfurt-Bogota services and the agreement opens six domestic destinations for Lufthansa passengers. Group chief Stefan Lauer in Nov-2010 said "South America is very much in focus in plans to expand our flight services", adding that Lufthansa hopes to expand the codeshare to include other European and South American destinations.
Lufthansa will also launch A380 services to New York JFK on 08-Feb-2011, with a daily service from Apr-2011. The carrier said it selected JFK ahead of Newark as to better exploit its relationship with JetBlue. Lufthansa operates its 526-seat A380s to Johannesburg, Beijing and Tokyo from Frankfurt. The airline, which has ordered the passenger variant of the Boeing 747-8, will be watching the development of that aircraft closely.
Expanding workforce and growing hub
Piggybacking on the strong German economic recovery, Mr Franz announced in Jan-2011 that Lufthansa will also keep pace. The airline will add 4000 new employees in Germany to meet expected growth in 2011, with the CEO stating: "With the increase of our capacity in terms of seats and with bigger aircraft carrying out regional and intercontinental flights with the A380, our need for personnel is increasing, both in the cockpit and the cabin."
Lufthansa is partnering with Munich Airport to jointly fund the expansion of Lufthansa's facilities there. The two announced plans to invest EUR650 million to raise the airline's capacity at Munich's T2 by more than 40% by 2015. Lufthansa will cover 40% of the construction costs.
New seats to cut costs and enhance experience
As part of plans to retain it's continued prosperity, the airline plans to install 32,000 new seats across its short and medium-haul fleet in 2011. The thinner seats weigh 11kg, a 4.3kg weight saving over current seats. The airline expects the seats to shave 131 tonnes off the weight of its fleet and will allow the installation of up to two additional seat rows per aircraft, savings which the airline hopes will flow straight to the bottom line. The new seats, which the airline says will be more comfortable and provide more legroom, will be fitted across the business and economy cabins of Lufthansa, Brussels Airlines and Swiss. The seating initiative keeps a lid on unit costs in the face of increasing fuel prices and competition in the region.
Lufthansa to test ways to lower reliance on jet fuel
Lufthansa has stated it expects jet fuel costs to rise in 2011, driven by the increasingly demand for crude which will drive up prices. CFO Stephan Gemkow said he expects its fuel bill to be EUR6 billion in 2011, up from EUR5.2 billion in 2010. The airline will be studying the effects of biofuel on engine maintenance and engine life when it conducts a six-month trial of a 50:50 mix of biofuel and conventional kerosene in 2011. The trial will involve an Airbus A321 aircraft flying between Hamburg and Frankfurt.