Lufthansa Group: the SCORE so far Part 2. Negotiating from a strong position, to find new partners
Analysis
In part two of our report on the Lufthansa Group's SCORE profit improvement programme, which aims to steer the group to a EUR2.3 billion operating result in 2015, we look at some of its major projects and consider its strategic importance.
SCORE follows many previous cost reduction programmes and several of the initiatives launched under the scheme, such as cutting admin costs and pooling procurement across the group, are incremental (and overdue) improvements. However, it has also seen more radical developments, such as 'New Germanwings', the transfer of Austrian Airlines operations to Tyrolean and the planned closure of Lufthansa's historic Cologne head office.
Perhaps the most significant legacy of SCORE may be to change the company culture away from one described by CEO Christoph Franz as "traditional" with a "syndrome of not invented here". Less than a year after its launch, SCORE co-project manager Josef Bogdanski said that "people understand the importance of what is currently happening. Change is no longer seen as a bad thing."
This is a vital foundation for survival. A changing world, where consolidation is around every corner, means that you need to be strong to drive the best partnership deals, says Dr Franz.
See related report: Lufthansa CEO Christoph Franz: the SCORE so far, as the carrier refocuses strategy and operations
SCORE projects in all the businesses and across the group
The SCORE programme has led to a number of major projects in every one of the group's business units. For example, in the Lufthansa Passenger Airline, these include the 'New Germanwings' projects and a project to raise long-haul profitability; SWISS is developing a new model for its point-to-point traffic from Geneva and in-sourcing line maintenance; Austrian has transferred its operations into subsidiary Tyrolean; the group head office has reduced the number of locations it occupies; and there are many projects in the other group companies Lufthansa Cargo, Lufthansa Technik, Lufthansa Systems and LSG SkyChefs.
Lufthansa Group major SCORE projects in the business units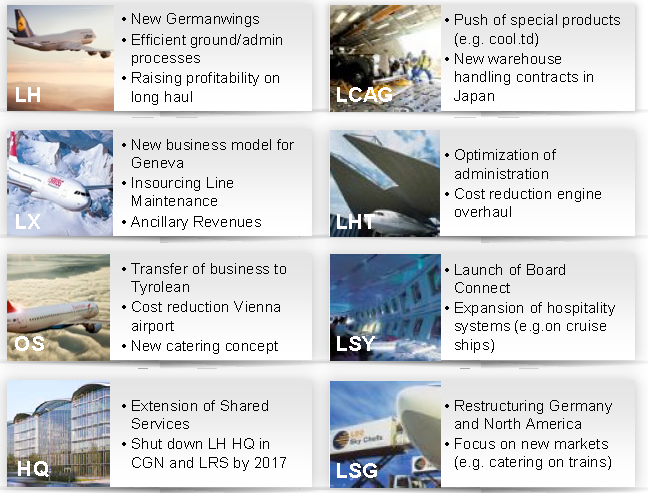 In addition to projects that take place within the group companies, there are SCORE projects across the group's airlines and across the whole group. At a presentation given in Frankfurt and London on 7 and 8-Jun-2013, Josef Bogdanski, co-project manager for the SCORE Programme, provided more detail on some of these projects. CEO Christoph Franz and Dr Joerg Beissel, co-project manager for SCORE, also took part in the presentations.
Lufthansa SCORE projects on three different levels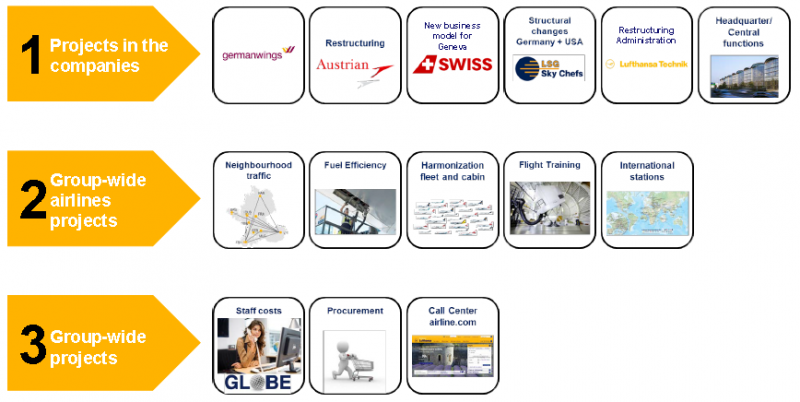 New Germanwings: a major SCORE project
One of the most significant SCORE projects, both in terms of its earnings contribution target and its importance in what Mr Bogdanski calls "changing Lufthansa's DNA", is the new Germanwings. The group targets a EUR200 million profit improvement as a result of this project, which sees the transfer of European non-hub (i.e. from/to airports other than Frankfurt and Munich) point-to-point traffic from Lufthansa Passenger Airline to LCC subsidiary Germanwings.
The Germanwings project has been analysed in some detail by CAPA elsewhere (see related report Germanwings rebrands: you say you want a revolution? To be led by cost and operations), but Mr Bogdanski re-iterated its importance to the group, calling it the "last chance to become competitive again in the point-to-point routes outside our major hubs".
He also provided a more detailed time line for the transfer, which has started in Hamburg and will progress to Berlin and Düsseldorf (see chart below) at the overall rate of two aircraft per month. Stuttgart is already served by Germanwings.
Transfer to new Germanwings: time line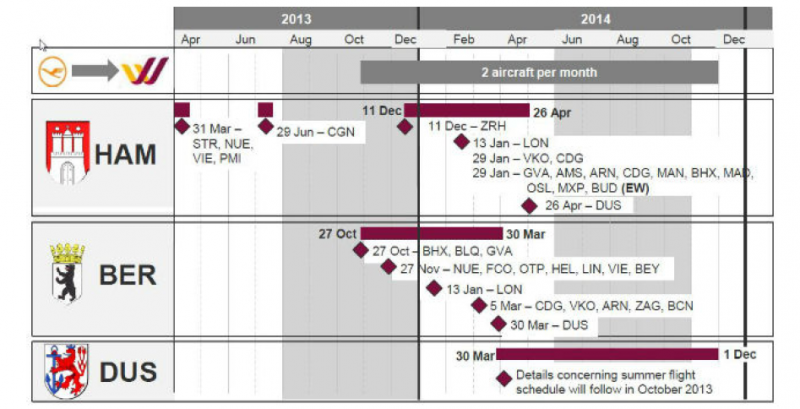 Germanwings will be a significant part of Lufthansa Passenger Airline's activities, generating 10% of its revenues, carrying 20% of its passengers and flying 30% of its aircraft. Germanwings' 2016 targets include a 15% increase in passenger numbers, with stable yield as capacity growth is compensated by growth in other revenues and longer flight distance.
The group expects Germanwings to have unit costs 20% below the existing Lufthansa Passenger Airline, from a combination of lower costs for passenger handling, cockpit and cabin crew (from 2014), administration and MRO and from higher load factor. Cockpit unit costs will be lower due to better productivity, while lower cabin crew costs will be the result of lower pay, fewer wage brackets and no pension scheme.
New Germanwings key operating targets versus Lufthansa Passenger Airline
Germanwings 2016 targets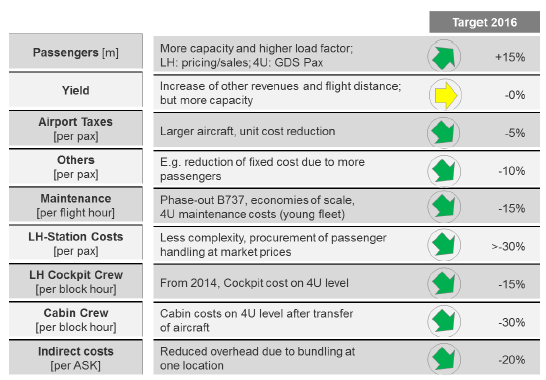 Streamlining of administrative functions
The second major example of a SCORE project, or really a collection of projects, is the streamlining of administrative functions. Relative to 2011 levels, the group's target in this area is to reduce overall staff costs by EUR500 million (EUR160 million of related restructuring costs were incurred in 2012).
Specific examples contributing to this target include almost EUR19 million of savings in headquarters' costs through cuts in personnel and materials costs; a EUR180 million project known as Shape!, which involves the streamlining, simplification and increased flexibility of processes at Lufthansa Passenger Airline; and NETwork, which groups more than 200 projects restructuring administrative functions at Lufthansa Technik, targeting 650 full time equivalents and EUR30 million in savings.
A further project in the area of administrative functions is GLOBE, which aims to pool all of the group's HR, purchasing, finance and revenue accounting processes. Targeted cumulative cost savings are EUR200 million from 2013 to 2018 and EUR75 million per annum from 2019 onwards. The first migration of SWISS finance processes to Krakow has already taken place in May-2013 and a new business unit, Lufthansa Global Business Services, has been established. In Germany, works council negotiations have started. This initiative will lead to the closure of Lufthansa's Cologne head office (365 jobs) and its revenue accounting centre (350 jobs) by late 2017.
Optimisation of neighbourhood traffic
A third example of a SCORE project, interesting strategically even if its profit improvement impact of EUR30 million is less than some other projects, is the optimisation of so-called "neighbourhood traffic". This refers to bilateral traffic between Germany, Switzerland, Austria and Belgium and involves greater levels of coordinated planning and steering than has previously been seen between Lufthansa, SWISS, Austrian Airlines and Brussels Airlines. The project focuses on routes with two operators.
The expected profit improvement of EUR30 million is mainly from cost reduction (EUR25 million), as a result of reduced frequencies on routes between the three countries, implemented from summer 2012. Overall seat capacity was not reduced as larger aircraft have been deployed. EUR5 million of increased revenues are expected through booking system optimisation (exchange of flight availability data) on relevant routes.
Lufthansa Group optimisation of neighbourhood traffic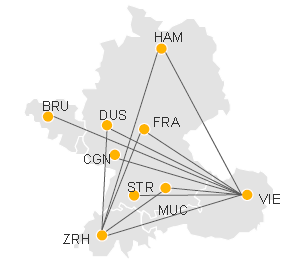 So far, this project has involved joint steering involving both airlines on country pair routes and the first results are that it has led to increased revenues and yields. Single steering by Austrian Airlines for both OS and LH operations is now being tested on Vienna to Hamburg and Munich. The group says that first results show that this approach is also leading to higher revenues and yields. It is evaluating the expansion of this approach onto more routes and is also looking at more detailed and coordinated steering.
Lufthansa Group test case for 'single steering'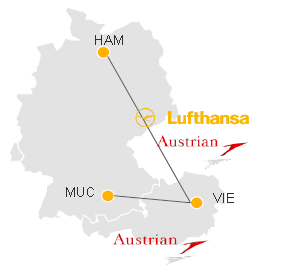 Fuel efficiency initiative shares best practice
A group-wide fuel efficiency project targets savings of around EUR90 million through more than 500 individual projects, with additional ideas yet to be evaluated. This entails sharing best practice among group airlines through putting the relevant people together. It includes actions implemented by each airline in addition to group-level projects and a new organisation within the group responsible for standards, communication and KPI monitoring in the area of fuel efficiency.
Lufthansa Group SCORE fuel savings project – gross savings target (EUR million)*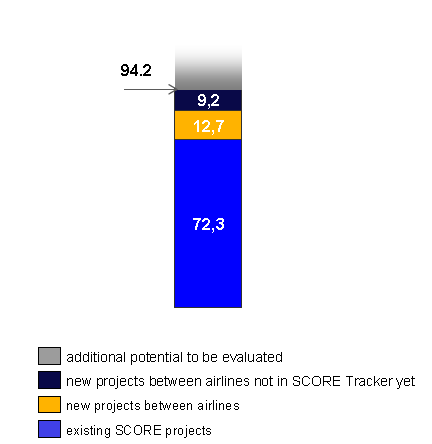 A SCORE contribution of at least EUR500 million is targeted in the area of procurement. Mr Bogdanski says that EUR200 million of this was already realised in 2012. This project involves evaluating and implementing procurement measures that overlap business units, improving processes between individual departments and procurement and the introduction of both corporate and 'lead buy' models for commodities where there is synergy potential.
Examples of measures already identified include joint cargo warehouse handling for Lufthansa and SWISS (EUR17 million), a new base maintenance contract for the Avro fleet (EUR9 million), a reduction in crew hotel rates (EUR9 million) and lower leasing rates for SWISS A340-300s (EUR8 million).
A wide range of other projects
Other SCORE projects include SPRINT, which aims to have an impact of EUR200 million through increasing the profitability of long-haul traffic; common economy class check-in across group airlines; a remote ticketing initiative; a review of station management arrangements; the development of a common cabin interior across group airlines; harmonisation of aircraft specifications; optimisation of call/service centres; the development of a common website for group airlines; and the "home market principle", which will involve the handover of station setup to the respective home carrier and align handling contracts with the home carrier.
Not just another cost programme
Seasoned Lufthansa observers will know that the SCORE programme, launched in 2012, is the group's eighth cost saving initiative of the past 20 years. Although Lufthansa is unique among major European legacy airline groups in having avoided operating losses throughout this period, it has not avoided the ups and downs of what is a highly cyclical industry. Moreover, whereas its peak operating margin in the 1990s was more than 9%, it has not bettered 6% since 2007 and it made only 1.7% in 2012.
See related report: Lufthansa juggles more balls more quickly as it reports unchanged 1Q2013 operating loss
Lufthansa Group operating results (EUR million) and cost management initiatives: 1991 to 2010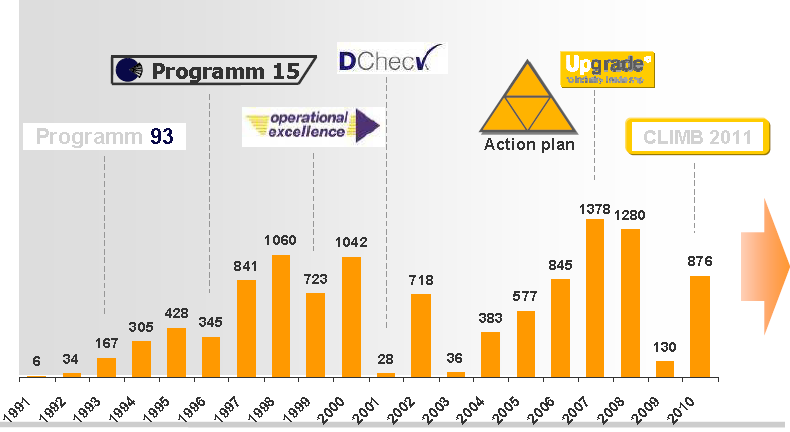 Mr Bogdanski is adamant that SCORE is not just another cost programme. Certainly, Lufthansa needs something more fundamental if it is to sustainably reverse the declining margin trend and achieve its 2015 target operating result of EUR2.3 billion (equivalent to a margin of around 7% if revenues were to grow at, say, 3% per annum). Avoiding operating losses and achieving higher margins than rivals IAG and Air France-KLM is not enough, but Lufthansa management seems to understand this.
As Lufthansa Group CEO Christoph Franz notes: "SCORE is not an aim on its own. Yes it is important to have a higher level of profitability, which will hopefully enable us in future economic cycles to avoid a loss-making situation, and not only because we own some very stable aviation services business, […] but we also want to have a situation where our core business, the airline business, stays profitable."
Dr Franz links a number of key priorities to the success of SCORE: the Group must pay for 236 firm aircraft orders to 2025; fund its employees' pension scheme; generate sufficient profits to allow a resumption of dividend payments; and rebuild its book equity after being dented by recent pension accounting changes.
The endgame in a world where consolidation is becoming king
There is a further, long term, strategic perspective that places even greater emphasis on the need to achieve a structurally higher level of profitability. The process of airline consolidation, even if there are few deals of significance left in Europe, is set to continue on a global scale, with trans-continental mergers a possibility at some point in the future. "In the endgame of global consolidation, it is extremely important to have a strong position[…] then you can pick your partners", says Dr Franz.
Dr Franz knows this only too well from his past experience as CEO of SWISS: "I was obliged to sell the company to the Lufthansa Group in a situation where we were in an extremely weak strategic position. […] I am absolutely committed that this is not going to happen on a larger scale with the Lufthansa Group in the future."
The world of airline consolidation through alliances is often described in similar terms to the plot of a cheap airport novel, where promiscuity and partner-swapping are commonplace. If Lufthansa's profit improvement programme can help it to beautify itself now, then this should not only help it to score in the future, but also ensure that it can build a lasting union.