Lufthansa CEO Christoph Franz: the SCORE so far, as the carrier refocuses strategy and operations
Analysis
Lufthansa Group CEO Christoph Franz gave what resembled a mid-term "state of the union" address to analysts and investors in Frankfurt and London on 7 and 8-Jun-2013. The presentations in Europe's two main financial centres were billed as an update on the group's SCORE programme, which aims to deliver EUR1.5 billion of profit improvement between 2011 and 2015.
Such an update was indeed provided, but Dr Franz also took the opportunity to recall the tumultuous environment in which he took the job in 2011, to review the strategic developments over which he has presided since then, and to give his vision of the Lufthansa of the future.
In part one of our Lufthansa report, we look at the Franz view of the world and the overall progress of SCORE. In part two, we will look at some of SCORE's major projects in more detail and assess its strategic importance to Europe's leading airline group.
The SCORE programme's comprehensive goals
The SCORE programme, initiated in 2012, is a profit improvement plan that attempts to derive P&L benefits from all aspects of the business, not only from costs. The acronym stands for Synergies, Costs, Organisation, Revenue, Execution, reflecting the areas from which it aims to derive improved profitability.
Lufthansa's SCORE programme – understanding the acronym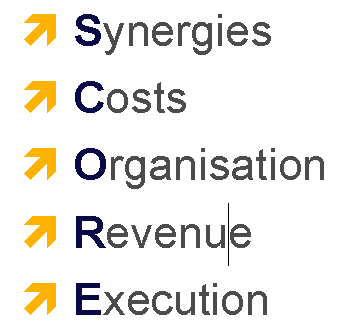 CEO Christoph Franz: the Lufthansa of 2011
Before going into detail on the SCORE programme and handing over the presentation to colleagues, chairman of the executive board and CEO Christoph Franz began by giving his view of what the group looked like in his first year as CEO in 2011.
Aviation markets had been experiencing a period of turmoil. The global financial crisis of 2008-2009 was fresh in everyone's minds, as was the H1N1 flu virus and the volcanic ash crisis of 2010. Ongoing structural change in the airline industry, in particular the emergence of the low-cost carriers and the Middle Eastern carriers as strong competitors, was becoming increasingly obvious and the industry was also feeling the impact of external cost shocks (for example fuel, fees and aviation taxes).
The Lufthansa Group had made some recent acquisitions – Austrian Airlines, bmi, and a minority stake in Brussels Airlines – but synergies had not yet been realised and, to some extent, the original deal logic had been "overruled by adverse market conditions". Moreover, the group still included loss-making entities such as Lufthansa Italia and Jade Cargo and its overall profitability was on a long-term negative margin trend. A number of businesses, such as bmi, Lufthansa Italia and Jade Cargo, were sold or closed.
Dr Franz summed up the challenge he faced then and now in how to establish the Lufthansa airline group structure in order to extract and maximise synergies: "There is no really similar structure in the industry. We are in no man's land, where we have to discover the best working recipes ourselves."
'...minor adjustments would not be enough...'. The SCORE so far
He arrived at a stark realisation at the end of 2011/beginning of 2012: "It became obvious that, with the new level of fuel price, minor adjustments or cutting some loss-making activities would clearly not be enough to safeguard the sustainable long term future for the company".
The SCORE programme was launched in 2012 in order to allow the group to achieve a different level of profitability in the future by questioning the traditional ways in which Lufthansa carried out its business. Dr Franz is determined that Lufthansa should retain its leadership position among European airline groups.
Summary of Lufthansa SCORE programme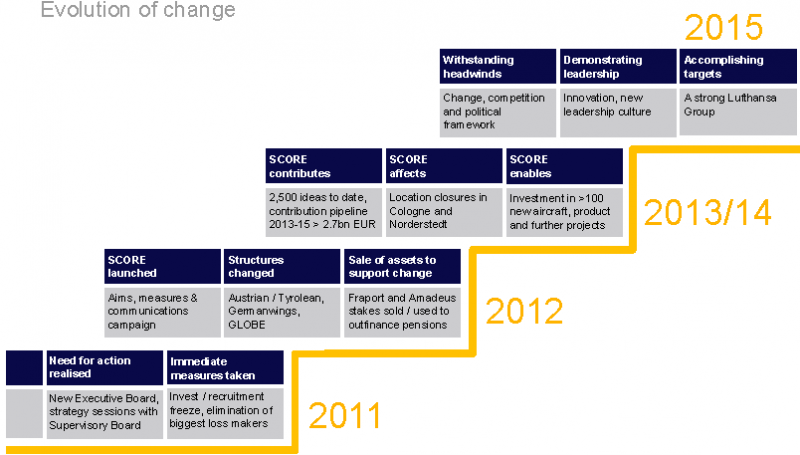 The first significant action under the programme, in 2012, was aimed at turning around the perennially loss-making Austrian Airlines (AUA). This involved the transfer of operations into AUA's subsidiary Tyrolean as a way to achieve a lower cost base after attempts to restructure AUA itself were thwarted by union opposition. This has enabled substantial cuts in labour costs and operational costs. The transfer into Tyrolean was a "Plan B", but "this has worked so far very nicely". Dr Franz is confident that AUA will make an operating profit in 2013 for the first time since it joined the Lufthansa Group.
See related report: Austrian Airlines: a perennial loss-maker undergoing radical restructuring
The second major SCORE initiative in 2012 was the decision to transfer all of Lufthansa's non-hub domestic and European point-to-point flights into its low-cost subsidiary Germanwings. This is the first time that a major European legacy carrier has so clearly separated the "classic hub business model" and the point-to-point business model (although previous CAPA analysis questions the low-cost credentials of Germanwings).
See related reports:
The reduction of the administrative workforce of the group was the third big project in 2012, a project referred to as GLOBE. This involves the "bundling" of certain administrative processes, in areas such as finance, revenue accounting, human resources and procurement, from the more than 200 subsidiaries and legal entities in the Lufthansa Group into a small handful of focused entities. Alongside this bundling process, the off-shoring and "near-shoring" of such activities is leading to personnel cost reductions.
More than 2,500 profit improvement ideas
The SCORE programme has generated more than 2,500 profit improvement ideas to date, with a EUR2.7 billion pipeline of measures. Although the group is open to further ideas, the focus in 2013 is on implementing the many measures that have been identified. The closure of Lufthansa's old Cologne administrative headquarters will mean the transfer of staff either into its global business services centres or to its headquarters in Frankfurt. The Norderstadt revenue accounting centre will also be closed.
The programme aims to improve the group's sustainable level of profitability, but Dr Franz recognises that Lufthansa will also always face "headwinds". These headwinds can come from many areas: market, strikes, labour cost growth, fuel price movements, yield pressure. The SCORE programme must cope with these headwinds, in addition to any under-delivery of specific initiatives developed within the programme.
EUR2.3 billion operating result target for 2015
The group's 2015 operating result target of EUR2.3 billion represents an improvement of EUR1.5 billion over the 2011 operating result of EUR820 million. Although the SCORE programme delivered more profit improvements in 2012 than planned, the group's operating result deteriorated to EUR524 million. Nevertheless, Dr Franz remains confident that Lufthansa can deliver its targets: "It is not every year that you have a fuel price increase of EUR1.1 billion", as seen in 2012. "There are some headwinds you can cope with and some that it is almost impossible, at least in the short term, to compensate." He added that, without SCORE, the group would have made an operating loss in 2012.
Product enhancement is a strategic imperative
An integral part of Lufthansa's strategy is the enhancement of its product, as illustrated by the updating of its business class and first class offers. This involves an investment of EUR1 billion over the next two and a half years to retrofit the entire long-haul fleet.
Dr Franz believes that, given Lufthansa's production costs in the heart of Europe, "only a premium positioning of the airline will continuously deliver the very high unit revenue, basically the price premium, that we need in order to cover our costs". He argues that it is not all about unit costs alone, but margin, and so Lufthansa has to sustain and improve its premium image in the market. This view has some validity in the long-haul markets, but the success of LCCs and the Middle Eastern carriers highlights the challenge faced by Lufthansa in maintaining a product-based competitive advantage in any market.
He cites the award earlier this year by Skytrax of five stars to Lufthansa's first class product – uniquely among European airlines – as evidence of the success of this approach. The product also benefits from Lufthansa's fleet investments enabling its replacement policy, keeping its average fleet age lower than those of major European full service rivals.
Nothing is possible without cultural change
Cultural change in Lufthansa is also a key theme and priority for Dr Franz. He identifies the need for "a culture which embraces change, […] where we, with our de-centralised business units, strengthen and foster entrepreneurship; […] a culture which is open to create and make use of synergies between similar businesses, […] and a culture which is open for taking up ideas invented maybe outside the Lufthansa Group".
He recognises that this takes time and cannot be "implemented by decree", especially as employees often see change as threatening. However, this should not prevent management from taking and implementing the right decisions and Dr Franz believes in leading by example.
Each business unit has its own target and managers' compensation is linked to SCORE
Dr Joerg Beissel, co-project manager for the SCORE programme, gave more detail on the way in which the initiative is organised and administrated and provided an update on its current status.
Each business unit in the Lufthansa Group has a target level of profit improvement that it must achieve by 2015 as a result of measures implemented through SCORE. In most cases, the targets are broadly proportional to the segment's share of group revenues, with Lufthansa Passenger Airline having the highest target of EUR920 million. However, Austrian Airlines' target of EUR140 million is higher than that of SWISS (EUR95 million) since it started from a position of losses and has more catching up to do, while SWISS has been the group's most profitable airline.
See related report: SWISS: is the star in the Lufthansa Group starting to fade?
The targets were set with reference to each division's 2011 result and in collaboration with the management of each business unit. The process included reference to peak levels of profitability in the past and what was considered to be achievable in the future.
SCORE has been embedded into the Lufthansa Group's management structure. The SCORE programme team, which coordinates the programme and monitors progress, reports directly to the group's executive board. Each business is responsible for delivering against its own target and has its own SCORE team. SCORE progress is assessed as part of the fixed compensation of all managers in the group. Consideration of SCORE projects and targets pervades the strategic planning, budgeting and reporting processes of the group.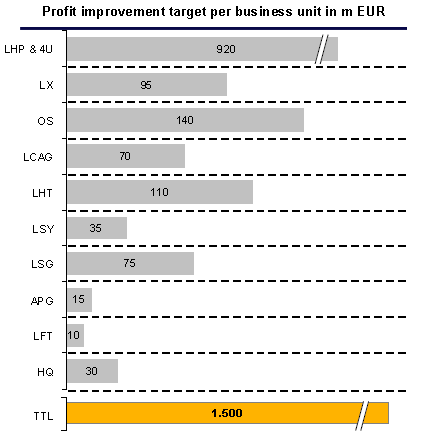 SCORE measures must be sustainable and measurable
SCORE measures must be incremental to existing trading activities in order to be included. The key criteria for inclusion are that they are sustainable (not one-off) and measurable. For example, the conversion of the A340 fleet from three class to two class leads to lower unit costs and improved revenues and is included as a SCORE project. By contrast, the higher yield on the North Atlantic is current trading and, while it will contribute to improved profitability, it is not a SCORE measure, but is treated as a "positive headwind".
A headwind is defined as anything that has a negative impact on profits. Examples include increases in fuel prices, wages, fees and taxes; any worsening of the trading environment, decreases in yield, emissions trading impacts and general cost inflation. If changes in any of these items lead to a positive impact on profits, they are netted against the headwinds and do not add to the SCORE pipeline.
SCORE's 2012 target was exceeded
In 2012, SCORE delivered a gross contribution to the group operating result of EUR618 million, against an initial target of EUR280 million, after its launch midway through the year. Ideas that are generated by the programme are given a status level describing their degree of implementation (DI).
For example, DI1 is an idea that has only been generated, with no further work yet done, while DI5 status describes a project where all measures have been implemented and the resulting profit improvement gained.
SCORE project status levels (Degree of Implementation, DI)

The monthly progress of SCORE through 2012 is shown in the chart below. In its first month, July, a total of EUR563 million of profit improvement ideas were identified, but the majority were only at the DI1 stage. As the year progressed, DI5 status was achieved by more and more projects. The slight fall in the total value of projects in the programme between Oct-2012 and Dec-2012 was due to the postponement or cancellation of some measures, but the year's total of EUR618 million of profit improvements was more than double the EUR280 million target.
Monthly Development of grades and SCORE contribution (EUR million): 2012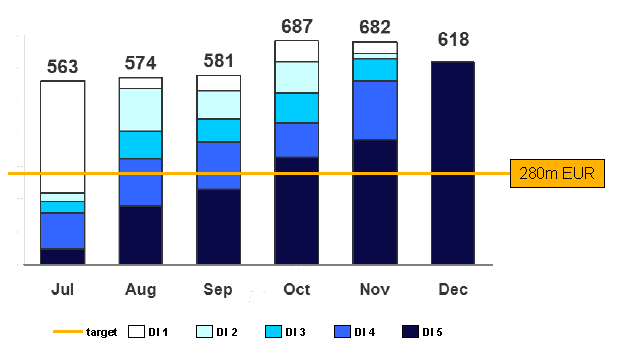 SCORE improvements outweighed by headwinds in 2012
In spite of SCORE's out-performance against its target, the group operating result fell in 2012 mainly as a result of external headwinds. The principal headwind was a EUR1.1 billion increase in the fuel bill, but there was also a EUR100 million price inflation impact and EUR70 million from higher salaries. The net figure of EUR902 million of external headwinds included offsetting positive external factors.
See related report: Lufthansa: why being the best of the Big Three is not good enough
Lufthansa also separately identifies two other items that influence the operating result, namely restructuring and project costs. Restructuring costs relate to redundancy costs or provisions (EUR160 million in 2012 and expected to be similar in 2013) and project costs are one-off expenses related to fleet roll-over and product enhancement (expected to be low three digit EUR million in 2013 and mid three digit million in 2014).
Lufthansa operating result bridge (EUR million): 2011 to 2012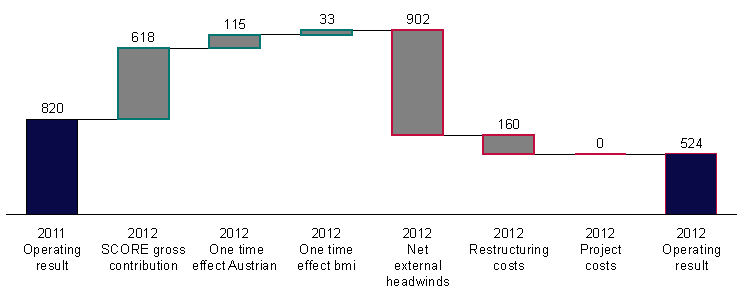 747" height="299" />
A EUR2.7 billion pipeline to 2015
For 2013, Lufthansa's SCORE target is EUR740 million and it had identified a pipeline of projects with the potential to contribute EUR954 million by the end of Apr-2013. Of course, the majority had not yet been fully implemented, but year to date progress suggests that there is headroom to achieve or exceed its 2013 SCORE target.
2013 Monthly Development of grades and SCORE contribution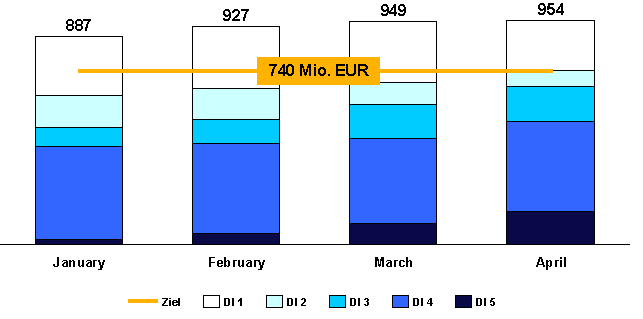 Over the full time horizon of the programme to 2015, the current gross SCORE pipeline amounts to a total of EUR2.7 billion for 2013, 2014 and 2015. Lufthansa's 2015 operating result target of EUR2.3 billion requires a net improvement of EUR1.8 billion over the 2012 operating result of EUR524 million.
The SCORE pipeline gives Lufthansa some headroom, around EUR900 million, to cope with any additional headwinds that it may face over the three years to 2015 and reach its operating profit target. This gives some comfort, but, given that it faced around EUR900 million of headwinds in 2012 alone, it may need to find additional measures for its SCORE pipeline.
Lufthansa SCORE pipeline: 2012-2015