SWISS: is the star in the Lufthansa Group starting to fade?
Analysis
Since its takeover by Lufthansa in 2007, SWISS has outpaced its parent's passenger growth and has been the most profitable carrier in the Group. SWISS' long-haul network, significant for a carrier of its size, reflects the combination of a small domestic market with an affluent population. Moreover, its long-haul market position is strong.
Playing to its strengths, ASK growth of 2.7% in 2013 will focus on long-haul, specifically driven by SWISS' new Singapore route and additional capacity on New York and Beijing, while short/medium-haul capacity is reduced.
On the other hand, operating profit has been on a declining trend since 2007. For some years, unit costs have been falling, but unit revenues have been falling faster. Moreover, analysis of its unit costs reveals its CASK to be among the highest in Europe. While the Lufthansa Group expects to beat 2012's operating result this year, SWISS is only targeting a similar result to last year, suggesting that its period of over-achievement may be ending.
SWISS has grown passenger numbers more rapidly than Lufthansa
From 2007, when it was fully consolidated into the Lufthansa Group, to 2012, SWISS saw compound average growth in passenger numbers of 5.3% p.a. This was faster growth than for Lufthansa itself, which saw average growth of 3.0% p.a. from 2007 to 2012 (including Germanwings). Although SWISS' growth has halted in 2013 year to date (passenger numbers just below flat at -0.2% for Jan-2013 to Apr-2013 cumulative), it is still outperforming Lufthansa (-1.8% year to date).
This healthy passenger growth has not been matched by revenue development, which grew at a CAGR of 0.6% between 2007 and 2012. This weaker revenue performance over the period owes much to the collapse in revenues in 2009, when they fell by 17%). From 2009 to 2012, both passenger numbers and revenues grew at an average of just under 5% p.a.
SWISS passenger numbers (million, left hand axis) and revenue (CHF million, right hand axis): 2005 to 2012
Average ASK growth matched average passenger growth between 2007 and 2012, but has outpaced it since 2009 as load factor has picked up strongly and average sector lengths have also edged forward. Between 2009 and 2012, passenger load factor gained almost 3ppts to reach 82.9%.
SWISS development of ASK (million, left hand axis) and load factor (%, right hand axis): 2005 to 2012
Operating profit is on a falling trend, but SWISS is still Lufthansa Group's most profitable airline
In 2005, when Lufthansa took a minority stake in SWISS, the company was not profitable, losing CHF14 million (EUR9 million) at the operating level. Operating profit then recovered to reach a peak of CHF571 million (EUR348 million) and a margin of 11.7% in 2007, the year in which Lufthansa completed its takeover of SWISS. Since then, operating profit and operating margin have been on a downward trend.
They both tumbled heavily in 2009 (but, unlike many other airlines, remained positive) and partially recovered in 2010, but have fallen in both 2011 and 2012. This reflects a similar pattern to that followed by the Lufthansa Group overall.
SWISS operating profit (CHF million, left hand axis) and operating margin (% of revenues, right hand axis): 2005 to 2012.
Although margins have declined, SWISS was the Lufthansa Group's most profitable airline business and the second most profitable (after the MRO segment) of all the business segments in 2012.
See also related reports:
Adjusted operating margin* for Lufthansa Group businesses: 2011 and 2012
SWISS margin deteriorated in 1Q2013
In 1Q2013, when all the passenger airline businesses made their usual seasonal losses, SWISS still had a narrower margin of loss than either Lufthansa Passenger Airlines or Austrian Airlines.
Its 1Q revenues grew by 2% on ASK growth of 2.1%, while load factor was up 1.8ppts to 77.8%.
SWISS 1Q2013 results summary
CHF million except
where stated

1Q2012

1Q2013

change

Revenue

1,167

1,191

2.1%

Operating profit

-4

-24

500.0%

Operating margin

-0.3

-2.0

-1.7 ppts

Passengers million

3.6

3.6

0.1%

ASK million

9,686

9,890

2.1%

RPK million

7,533

7,871

4.5%

Load factor %

77.8

79.6

1.8 ppts

RASK CHF c

12.0

12.0

0.0%

CASK CHF c

12.1

12.3

1.6%
However, it was the only major business of the group to see its margin deteriorate year-on-year in 1Q2013, with the reported operating loss widening from CHF4 million to CHF24 million. Non-fuel costs were contained, so the wider loss was mainly due to higher fuel costs, which could not be sufficiently offset by higher revenue. Unit revenue (RASK) was flat year-on-year, while overall unit costs (CASK) were up by 1.6%.
See related report: Lufthansa juggles more balls more quickly as it reports unchanged 1Q2013 operating loss
Adjusted operating margin* for Lufthansa Group businesses: 1Q2012 and 1Q2013
SWISS expects 2013 operating profit 'on par with' 2012
As part of its focus on more cost efficient operations, SWISS is redeveloping its organisation and flight operations in Geneva to provide "greater flexibility and align this business more closely to local and regional needs." It has begun recruiting pilots and cabin crew for its new crew base in Geneva and says that the first sales and marketing activities are due to start in 2Q2013. The airline has not elaborated on this, but it seems likely to mean a more seasonally adjusted schedule, more flexible working practices and, perhaps, a product that moves more in the direction of no-frills and unbundling.
In addition, some accounting functions in Basel have been transferred to a shared services centre and jobs have been cut in revenue accounting. SWISS is also working on the optimisation of fuel management. Overall for FY2013, SWISS plans ASK growth of 2.7%. It forecasts FY2013 revenues to be higher than last year and anticipates that the operating result will be "roughly on par with last year's". For the Lufthansa Group as a whole, the target is to improve on last year's operating result, suggesting that SWISS' superiority within the group may be further eroded.
As CAPA has previously reported, the management board agreed (10-May-2013) to 5% salary cuts from 01-Jul-2013 to the end of 2015. The action is being taken "in light of the persisting extreme difficulties that are being faced by the airline business".
Zurich hub dominates network of Switzerland's leading airline
SWISS' network is dominated by its Zurich hub, where it has more than six times the seat capacity that it has at its second base in Geneva (source: Innovata, week of 27-May-2013).
It has a dominant position at Zurich, with almost 56% of seats, way ahead of second placed airberlin with almost 7%. Adding in fellow group companies Lufthansa and Austrian gives a combined 62% of seats at Zurich.
SWISS top 10 hubs by seats: 27-May-2013 to 2-Jun-2013
Zurich Airport seat capacity by carrier: 27-May-2013 to 2-Jun-2013
SWISS' position at Geneva, Switzerland's second biggest airport, is much weaker. Here its 15% share of seats rank it at number two to easyJet's 37% share. Combining SWISS with Lufthansa gives a 22% share and adding affiliated company Brussels Airlines (49% owned by Lufthansa) brings the combined total to almost 26%. easyJet is also the number one carrier at Switzerland's third biggest airport, Basel Mulhouse, with a 54% share. SWISS is fourth on 5%, although adding Lufthansa brings this to almost 13%.
Overall, SWISS is the largest carrier in Switzerland, with 36% of seats, with easyJet number two on 19%. This is a relatively high share compared with other European flag carriers in their home country. The Lufthansa Group has a share of 45% of seats in Switzerland.
Geneva Airport seat capacity by carrier: 27-May-2013 to 2-Jun-2013
Top 20 airlines in Switzerland ranked by seat capacity: 27-May-2013 to 2-Jun-2013
Rank

Airline

Share
of total

1

36%

2

19%

3

6%

4

4%

5

3%

6

3%

7

2%

8

2%

9

1%

10

1%

11

1%

12

1%

13

1%

14

1%

15

1%

16

1%

17

1%

18

1%

19

1%

20

1%

Others

13%
Lufthansa Group's number two, with strong international capacity focus
Lufthansa has almost five times the seat capacity of SWISS, which is the Lufthansa Group's second biggest carrier. SWISS has one third more seats than Austrian Airlines, but fewer in its domestic market than Austrian, reflecting the importance of international markets to air travel in Switzerland.
SWISS' seat capacity is dominated by Western Europe, which accounts for almost 62% of all its seats. Including domestic capacity, Europe as a whole accounts for 79% of its seats, the same as for Lufthansa and less than the roughly 86% for both Austrian and Brussels Airlines. SWISS is much stronger in Western Europe than Austrian, while in Eastern/Central Europe, the latter has more than twice the capacity of SWISS. With 21% of its seats on intercontinental markets, the same as Lufthansa, it is more of a long-haul operator than Austrian or Brussels Airlines.
In the intercontinental markets, SWISS has a similar distribution of seats across the different global regions as Lufthansa. For both, North America and Asia are the two most important regions, accounting for around 9% and 6% of total seats respectively, while the Middle East and Africa represent around 3% and 2% respectively for both airlines.
SWISS has a lower proportion of seats in Latin America than does Lufthansa, although it is a small region for both, with less than 1% for SWISS and just under 2% for Lufthansa. SWISS has more seats on all the intercontinental markets than does Austrian, while Lufthansa Group associate Brussels Airlines has more capacity than the latter two combined on routes to Africa.
Weekly seat capacity by region for Lufthansa Group airlines: 27-May-2013 to 2-Jun-2013
Weekly seats by region (% of total) for Lufthansa Group airlines: 27-May-2013 to 2-Jun-2013
The dominance of Western Europe in SWISS' schedule is reflected in its top 10 international routes. Nine of these are between Zurich and major Western European cities, and the 10th is between Geneva and London Heathrow. None of them involves another Lufthansa Group or Star Alliance hub, with the exception of fifth ranked Zurich to Brussels.
SWISS top 10 international routes by seats: 27-May-2013 to 2-Jun-2013
SWISS' top 10 routes by ASKs reflect the importance of North America and Asia in its intercontinental network. Five of these routes are to Asian destinations, four to the US and only one is to Latin America (Sao Paulo, which is SWISS' only Latin American destination and where it is the sole operator from Zurich). Star Alliance partner hubs feature strongly in this list (see chart below).
SWISS top 10 international routes by ASK: 27-May-2013 to 2-Jun-2013
Will SWISS become more integrated into Lufthansa?
The Brussels route gives SWISS passengers access to Brussels Airlines' African network, but the absence of links to other Lufthansa Group hubs in SWISS' list of top 10 international routes by seat capacity highlights a relative lack of integration of SWISS with Lufthansa. This reflects Lufthansa's more arms length approach to its acquisitions than that adopted by, say, Air France-KLM, and also SWISS' strength on its long-haul network (see below).
The appointment in Apr-2013 of Roland Busch, formerly head of finance and information management at Lufthansa German Airlines to be CFO of SWISS may signal a move to a more integrated approach as SWISS' financial results no longer provide such a compelling argument in favour of being left to its own devices.
Year-to-date passenger growth is flat, but intercontinental up 4.5%
In Apr-2013, SWISS total passenger numbers declined by 1.4%, but its intercontinental traffic grew by 2.8%. Year-to-date (Jan to Apr-2013) passenger traffic growth is just below flat (-0.4%), while intercontinental routes have seen growth of 4.5%.
Although load factor gains of recent years have taken SWISS into very high levels, year-to-date load factor is up by 1.5ppts to 81.0% overall, with intercontinental load factor up 0.9ppts to 84.8% and Europe load factor up 2.0ppts to 73.0%
SWISS monthly passenger numbers
SWISS monthly passenger numbers (intercontinental)
North America and Asia will drive capacity growth in 2013
SWISS does not further break down its intercontinental traffic figures by region, but seat capacity data from Innovata based on published schedules show that it added capacity to North America and to Northeast Asia in 1Q2013 relative to 2012. Its capacity to the Middle East, South Asia and Southeast Asia was broadly flat in the first quarter, but its re-launch of the Singapore route in May-2013 (see below) will see Southeast Asia growing in 2013.
SWISS has said that 2013 ASK growth will be 2.7% and Innovata data suggest that this will be driven by long-haul capacity growth more than offsetting short/medium-haul capacity cuts. The data also show that SWISS has strong market positions on the majority of its intercontinental destinations.
New York capacity growth
On North America, SWISS' summer 2013 capacity to New York JFK is up around 2% on the year earlier and its winter 2013 capacity is up by around 30%. SWISS is the leader on Zurich to New York (it also operates the Newark route), with more than the combined seat capacity as the three other players United, American and Delta, giving the Start Alliance a dominant position.
According to Innovata, SWISS is the sole operator on its other North American routes: Zurich to Boston, Chicago, Los Angeles, Miami, Montreal and San Francisco.
Switzerland to North America weekly seat capacity (one way): 19-Sep-2011 to 17-Nov-2013
Beijing will drive SWISS growth in Northeast Asia, with capacity up 9%

On Northeast Asia, SWISS' peak summer capacity is around 9% higher in 2013 versus 2012.
Growth to this region is mainly driven by the Beijing route, where SWISS increased capacity through the winter of 2011/2012 from 213 seats initially to 1,095 seats by Mar-2012 and then operated up to 1,533 weekly seats through the winter of 2012/2013.
Summer 2013 capacity, with 1,652 weekly seats operated by a daily A330-300 service, will be around 8% higher on the Beijing route relative to summer 2012. However, current Innovata data suggest that this will be reduced to a five times weekly service in the winter 2013 schedule. The only other operator on Beijing to Zurich is Hainan Airlines, with well under half of SWISS' capacity on the route.
According to Innovata, SWISS is the monopoly operator on its other Northeast Asia routes: Tokyo Narita, Shanghai and Hong Kong.
Switzerland to Northeast Asia weekly seat capacity (one way): 19-Sep-2011 to 17-Nov-2013
On Southeast Asia, SWISS recently (May-2013) launched Zurich to Singapore, now at number three in its top 10 international routes by ASKs. This marks SWISS' return to Changi after a four year absence. It had previously served Singapore via Bangkok and had expressed reluctance to return, given Singapore Airlines' significant capacity on the direct route.
Singapore Airlines operates a daily A380 with roughly twice the seat capacity of SWISS' daily A340-300 service. However, SWISS' late night departure in both directions should be more attractive to business customers than its Star Alliance partner's 11:45 departure from Zurich.
SWISS' other Southeast Asian route, Bangkok, is a duopoly between it and Star partner Thai Airways.
Switzerland to Southeast Asia weekly seat capacity (one way): 19-Sep-2011 to 17-Nov-2013
On South Asia, SWISS operates to Delhi and Mumbai and is the sole operator on both of these routes. On routes to the Middle East, Emirates dominates the Dubai route, with more than three times SWISS' capacity. On Tel Aviv, SWISS is the leader, with around twice El Al's seat capacity, while on Muscat Seeb, SWISS operates a daily A330 service against Oman Air's four times weekly. SWISS is the sole operator on its three African routes: Cairo, Johannesburg and Nairobi.
SWISS has a strong market position on most of its long-haul routes
Out of 23 intercontinental destinations operated by SWISS from its Zurich hub, it is the leader by seat capacity on 20 and the monopoly carrier on 15 (17 if Star Alliance partners are included). The strength of SWISS' position on these routes helps to explain why Lufthansa has not pushed SWISS to close these routes in favour of feeding its own long-haul network at Frankfurt.
Lufthansa only has a monopoly position on three of these destinations from its Frankfurt hub (Los Angeles, Miami and Mumbai).
SWISS' long-haul capacity growth in 2013 is being driven by additional capacity on New York and Beijing and by the new Singapore route. As a high cost legacy carrier (see below), it is likely to retain a cautious approach to capacity growth, focusing on markets that are sufficiently large and where its market position is strong enough to maintain or increase unit revenues following any additional capacity.
SWISS market position on intercontinental routes
Region

Total non-stop
passenger
destinations

SWISS
number one
positions

SWISS
monopolies

Star
Alliance
monopolies

3

3

3

3

8

6

5

7

Latin America

1

1

1

1

Middle East

3

2

0

0

North America

8

8

6

6

Total

23

20

15

17
Long-haul fleet renewal from 2016
At the end of 1Q2013, SWISS had a fleet of 92 aircraft, including 31 widebodies, 41 narrowbodies and 20 regional jets. It plans to renew its long-haul fleet in 2016 and ordered six Boeing 777-300ER aircraft at the beginning of this year. SWISS' first quarter aircraft order book consisted of 30 Bombardier CS100s (plus a further 30 options), two Airbus A330-300s, two Airbus A321s and six Boeing 777-300ERs.
Its Airbus A340s will be phased out from 2016 onwards.
SWISS fleet as at 31-Mar-2013
| Aircraft | In Service | On Order |
| --- | --- | --- |
| Avro RJ | 20 | 0 |
| Airbus A319-100 | 6 | 0 |
| | 28 | 0 |
| Airbus A321-100 | 6 | 0 |
| Airbus A321-200 | 1 | 2 |
| | 18 | 2 |
| | 13 | 0 |
| On order | | |
| | 0 | 6 |
| Bombardier CS100 | 0 | 30 |
| Total: | 92 | 40 |
RASK has been falling faster than CASK
The chart below shows the development of SWISS' unit cost and unit revenue from 2005 to 2012, calculated by CAPA based on CHF-denominated figures reported by SWISS. Note that these differ from those reported in EUR by the Lufthansa Group when treating SWISS as a unit within the group.
Since SWISS' last operating loss in 2005, it has reduced its unit cost (cost per available seat kilometre, CASK) by almost 17%, while its unit revenue (RASK) has fallen more slowly, by around 13%. From 2005 to 2007, there was healthy growth in RASK, while CASK fell, generating an operating margin of 11.7% by 2007. However, in 2008 and 2009, while CASK continued to fall, RASK fell more quickly so that margins contracted once more. 2010 saw RASK bounce back, but its decline since then has outpaced the decline in CASK.
As is often the case, RASK trends are volatile and subject to changing market conditions. In 1Q2013, RASK stabilised, but CASK grew due to higher fuel costs. SWISS owes its ongoing annual profitability since 2006 to good control over unit costs, but the narrowing gap between RASK and CASK means it cannot let up in its cost reduction initiatives.
SWISS total revenue per available seat kilometre and cost per available seat kilometre (CHF c): 2005 to 2012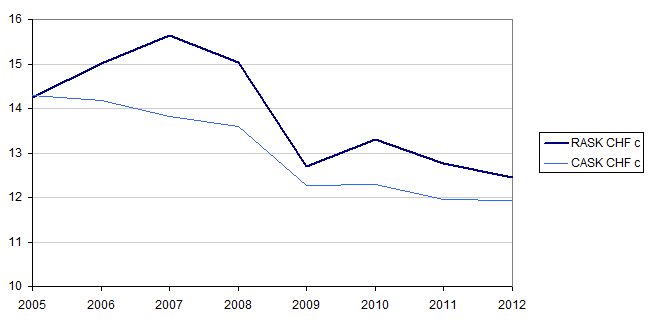 SWISS is a typically high cost legacy airline
Using data from SWISS' own 2012 financial results press release (reported in CHF and converted to EUR by CAPA) and its traffic reports, we can place it on the chart below, which shows unit costs versus average sector length for a number of European and other carriers.
This positions SWISS as a typically high cost legacy carrier. It is fortunately also a relatively high RASK carrier, but, as noted above, its RASK trend has been declining faster than its CASK trend in recent years.
With 40 aircraft on order at the end of Mar-2013, representing investment of CHF1.5 billion according to SWISS, the gap between RASK and CASK will need to widen once more.
Its German parent will certainly be keeping a closer eye on developments now. Whether consolidation is on the cards is another matter, although the fatherly arm will be around SWISS' shoulder a little more tightly.
Unit costs (cost per available seat kilometre, EUR cent) and average sector length for selected European legacy and low-cost carriers: 2012*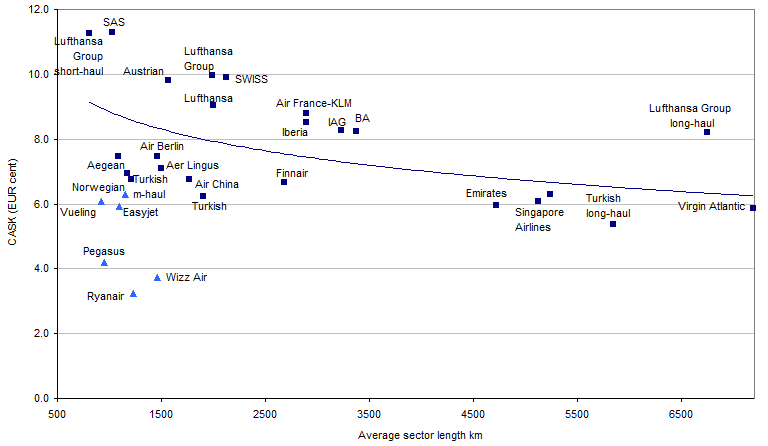 See related reports: