LOT Polish Airlines seeks Star Alliance flexibility as it grows long haul to Bangkok, Seoul & Tokyo
Analysis
LOT Polish Airlines, completing a restructuring, is planning to double in size by 2020 and launch additional service to North America and Asia, where new routes to Bangkok, Seoul Incheon and Tokyo Narita have been announced. Two more long-haul routes will be announced in autumn 2015 and by 2020 LOT plans to have 10-12 long-haul routes as it becomes the hub for "the new Europe" across Eastern and Central Europe, where there is growth but no clear domination yet by Aeroflot, Air France-KLM, IAG or Lufthansa. Yet LOT's "new" world is actually an old, restrictive world where fellow Star Alliance carriers can veto even internal partnerships, which will hurt LOT's long-haul performance. LOT's position is reflective of other carriers feeling constrained from larger members across all of aviation's global alliances.
LOT prefers to remain in Star but provided it gains greater participation. It hosted the bi-annual board meeting in late Jun-2015 in hopes of gaining leverage. LOT needs a few years to prove its new strategy to potential strategic and equity partners but an alliance decision may be needed in the short-term: a change in alliance rules means Star carriers can leave by 31-Dec-2015 without paying exit fees, which can be very substantial.
The oneworld alliance is an obvious next option for LOT, which believes oneworld's IAG offers its best prospect of an airline investor. Private equity is more likely in the short-term as LOT looks to place orders in 2015 to increase its fleet of E-jets or take CSeries; 737s or A320s; and finally more 787s or A330neos. A possible government change adds colour to LOT's tasks for the year.
LOT plans to double in size by 2020, including 30% growth in 2016
LOT was loss-making following the global financial crisis, provoking a structuring and government loans of approximately USD144 million between 2012 and 2014. Financial details have been limited, but LOT reports an operating profit of PLN99 million (USD27 million) in 2014; net figures not supplied. It is understood 2013's net profit was achieved through the sale of divisions to the government, which cleverly avoided restrictions on direct state aid.
LOT Polish Airlines operating profit and net profit (PLN million): 2008 to 2013
See related reports:
LOT has become smaller, but not drastically so. It carried 4.9 million passengers in 2012 but 4.6m in 2013 and 2014, putting it back on 2011 levels. The gains were in network, as LOT went from 70 routes in 2012 (including five long-haul) to 49 in 2014 and 41 in 2015 (including four long-haul routes; Newark was cut). LOT has been required to stay under a certain size due to European state aid limitations, so LOT has cut routes in 2015 it would not have wished to.
LOT passenger numbers (millions) 2008-2014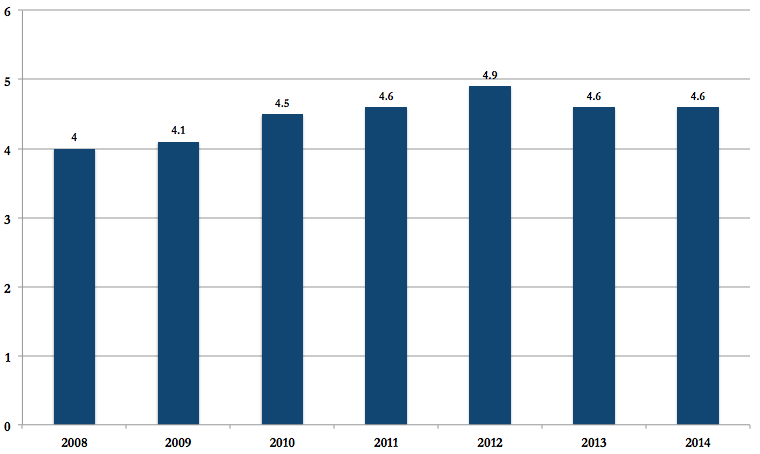 Having returned to profitability at the operating level and free of European size restrictions from 2016, LOT is undertaking a plan to double in size by 2020. This includes 30% growth in 2016 measured against 2014 (not 2015) levels.
LOT strategic developments: 2014-2020
Development
2014
2016
2020
Commentary
Passengers
4.49m
n/a
10.0m
Grow 2.2 times, becoming larger than Aer Lingus, Austrian, Finnair and TAP
ASKs
9.17m
12.0
27.0m
Grow 2.9 times
Annual movements
68,500
85,000
115,000
Increase 68%
Destinations - Total
49
65
75-80
Additional 26-31 destinations
Destinations - Long-haul only
4
9
10-12
Double to tripling of long-haul destinations
Polish marketshare
24%
n/a
39%
+6ppt
Share of New Europe traffic
4.8%
n/a
8.6%
+4ppt

Annual revenue (PLN billion)

Annual revenue (USD mllion)

<3.5

<939

n/a

9

2,415

More than double
LOT seeks to make its Warsaw home the hub of "new Europe", a loosely-defined area including Eastern and Central Europe as well as former communist states. LOT sees Poland accounting for a quarter of the bloc's population and LOT's catchment area potentially growing to 175m people (population, not necessarily passengers).
LOT forecast of the "new Europe" population (Poland on bottom of bar graphs, rest of new Europe population on top): 2009-2020F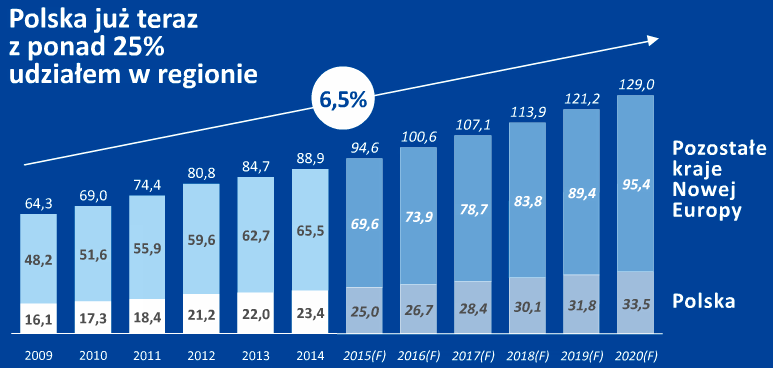 LOT sees its catchment area lacking a clear market leader.
LOT view of division of European aviation: 2015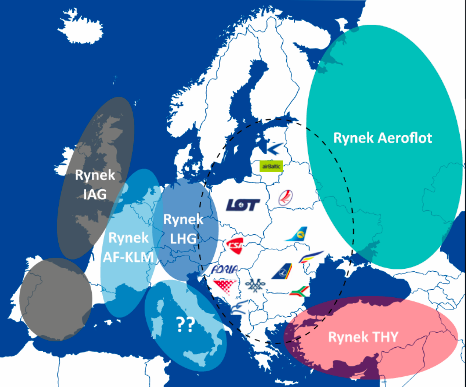 As a result, there is no airport in its catchment area that has a significant long-haul operation, which LOT views as over 1,000 flights a year. Istanbul, Helsinki and Vienna are nearby its catchment area, however, and those hubs and their local airlines will be competitors. LOT expressed a wish to move from being an "ethnic" carrier to a hub airline, but transfer traffic is already significant at 41%. LOT expects this to grow to 50% of traffic.
European airports with over 1,000 long-haul movements a year: 2015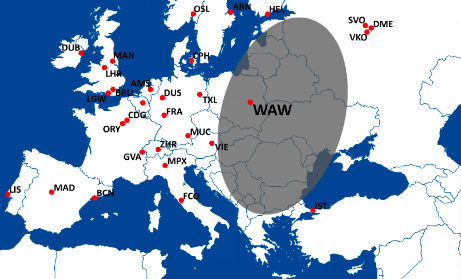 Gulf carriers will also be a competitor to Asia as they have grown in Eastern and Central Europe. Prague will be an interesting market to watch given Korean Air's investment in Czech Airlines, which has seen Czech Airlines fly to Seoul, although this is understood to be under financial pressure. Gulf carriers have particularly sought a strong position in Prague, and LOT's ability to crack this market could be important.
With the exception of Turkish Airlines, LOT sees its stage-length adjusted CASK lower than Europe's major airlines. (Note Aeroflot is not included on LOT's chart below.) CASK and general financial information is unavailable and cannot be independently verified.
LOT stage-length adjusted CASK comparison: 2014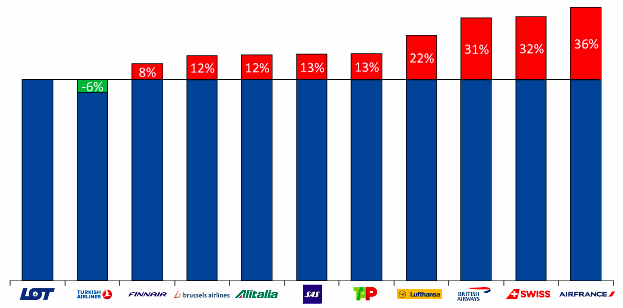 LOT believes that it has taken most of the possible fat out of its cost base and further efficiencies must come through scale (growth). This is particularly relevant given LOT's average flight distance being less than 1,000km (or about 1 hour 45 minutes flying time).
LOT Polish Airlines average sector length based on seats: 22-Jun-2015 to 28-Jun-2015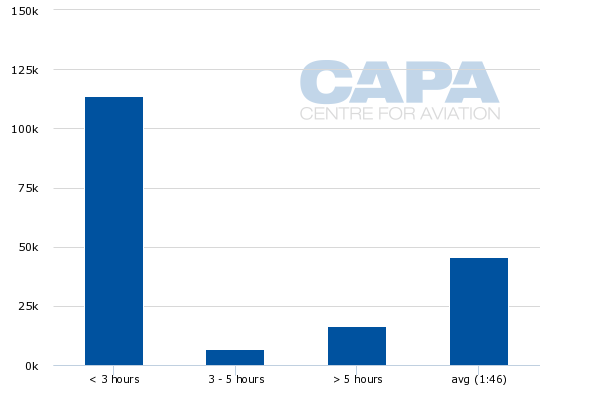 LOT to add Bangkok, Seoul and Tokyo to Beijing in Asia
LOT is planning Asian growth as it seeks to capitalise on growing investment and cultural interest between the region and Poland, as well as the broader "new Europe" and Western Europe. LOT's Polish geography makes it a geographically efficient hub carrier from Asia to Europe. To Western Europe Finnair is more efficient, but to Eastern Europe LOT often has the shorter flight path.
LOT schedules its network to connect from Asia to Europe whereas North American services are scheduled to connect only with Eastern/Central Europe and not Western Europe. Connections from Asia to Western Europe will often be more competitive, but LOT notes it has carved a small niche in Beijing-London Heathrow transfer traffic over Warsaw.
Earlier in Jun-2015 LOT announced plans to serve Tokyo Narita from Jan-2016 three times a week. LOT will be able to launch the service with its existing 787 fleet. LOT expects to have higher point-to-point traffic on its Tokyo route than other Asian services given Tokyo being especially popular culturally with Poles.
LOT on 22-Jun-2015 announced service from Oct-2016 to Seoul Incheon and Bangkok. Bangkok will initially be served seasonally. Bangkok is a competitive market, especially due to Gulf carriers, which are growing throughout LOT's Eastern/Central Europe backyard. Connections to Southeast Asia via the Gulf are more efficient than Gulf connections to North Asia.
SAS has pulled out of Bangkok while other European carriers have also felt pressure, especially in the off-peak northern summer season when Bangkok is very warm and Europeans have other options for a sun holiday. LOT's initial seasonal service will reduce risk.
LOT long-haul network (blue served destinations, red announced): as of Jun-2015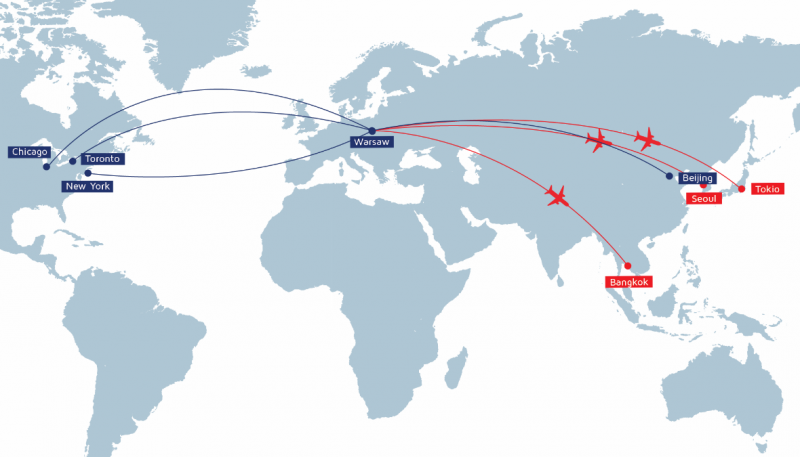 LOT intends to announce two more long-haul routes in northern autumn 2015. The existing seven long-haul routes announced or served plus two more will bring long haul services to nine. LOT plans 10-12 long-haul routes by 2020, and LOT has not provided a breakdown by geography but growth will be kept within North America and Asia, the obvious target markets.
There could on average be up to one new long haul route announced per year. Substitution of destinations that may not work could increase announcements. Long haul routes could also grow beyond 10-12 if LOT finds more seasonal-only services. The majority of LOT's long-haul network has been announced to commence service before LOT potentially doubles its widebody fleet. Aircraft growth will enable a few more all-new destinations but also frequency increases; LOT plans to serve its long-haul routes daily as it builds up awareness, European feed and general economic conditions grow.
LOT to grow in Asia without full trans-Siberia overflight rights – yet
LOT has six return trans-Siberia overflight rights and has been unable to grow the allotment but will grow in Asia anyway. Bangkok naturally will not need trans-Siberian airspace but Seoul and Tokyo are an issue. Given Tokyo's distance and the 787's range, Warsaw-Tokyo will have to use trans-Siberian rights in both directions. However, for Beijing and Seoul, LOT will fly the southern track from Warsaw to Asia and use its remaining trans-Siberian rights for Asia to Warsaw, the longer leg.
LOT expects the additional fuel needed to fly the longer southern route to be approximately the same as trans-Siberian charges, and even some increase in fuel price will keep the equation balanced (a return to more expensive fuel would change the comparison). LOT does not expect a longer flying time to impact customer choice, although indirectly connection options will be limited in some instances.
LOT fully intends to launch and operate with southern tracks, but there is an element of negotiation. LOT intends to signal to Russia that lack of overflight rights will not stop its growth, and thus Russia is missing out on a revenue stream at a time it could do with cash.
Ultimately LOT will need more overflight rights as it increases North Asian destinations and grows frequency. Increases in fuel prices could accelerate the need of over-flight rights.
LOT also seeking growth in North America, critical to balance Asian network
LOT's strategy has similarities to Finnair, which is using its geography to link Europe with Asia. But LOT will have key differences: a lower cost base, larger catchment area and better balance. LOT reckons Finnair's network is too exposed to Asia, creating swings in performance. LOT aims for a more balanced Asia v North America network although specifics are not disclosed. (LOT does not intend to carry North America-Asia traffic over Warsaw.)
LOT in North America serves Chicago, New York JFK and Toronto (Newark was suspended 2012). New destinations are expected but frequency is also a priority. In the northern summer peaks LOT can approach double daily services but in winter can drop to three weekly (and in 2012/2013, twice weekly and even once weekly).
LOT wants to serve its North American points at least daily in the off-peak periods to help with scale. While LOT wants North America to balance Asia, the same applies in reverse: Bangkok will initially run over the northern winter season, when there will be lower frequency to North America.
LOT weekly frequency of North American services: Oct-2012 through Dec-2015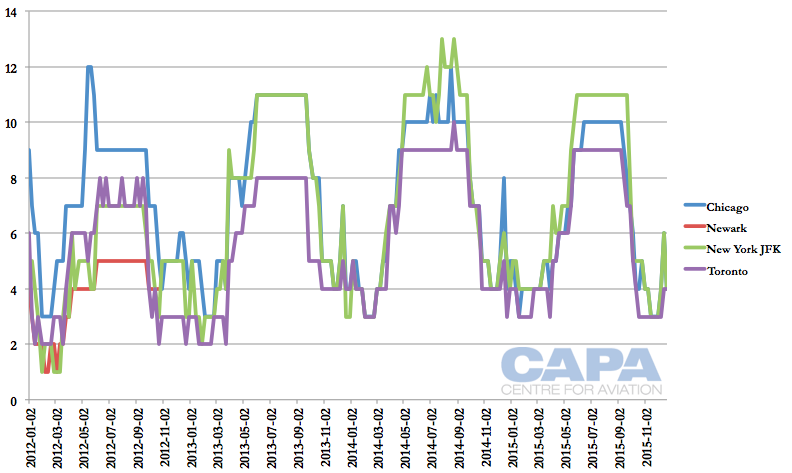 LOT feels restricted in terms of partnership options as JVs and Star Alliance limit solutions
LOT wants and needs partners to support its long haul growth. It has felt some difficulties before: LOT is not included in the Star trans-atlantic joint-venture. The accelerated long-haul growth, and growing number of JVs, is making the partnership environment more difficult for LOT. For example, it is understood LOT would like All Nippon Airways to codeshare on its forthcoming Warsaw-Tokyo Narita service but Lufthansa has vetoed the codeshare. Under the Lufthansa-ANA JV, the parties can veto codeshares with other carriers.
Lufthansa's likely issue is that it would prefer ANA to sell Warsaw and beyond traffic under the ANA-Lufthansa JV rather than on LOT. LOT could look at alternative partnership solutions outside of Star carriers, but the alliance could object to these. LOT is likely to gain ANA codeshares beyond Tokyo to other Japanese points, but this is considered small.
LOT expects partnerships to not be immediately critical for its long-haul growth. As its grows frequencies and increases the share of transfer traffic, partnerships will be more important. LOT sees itself partially to blame as the last few years were occupied with critical internal restructuring and firefighting. Partnerships were not a priority and LOT feels it needs to communicate its growth plan and prove it in order to gain acceptance and ultimately partner cooperation. But LOT has been disappointed with initial reactions and worries there may not be change as the increasing number of JVs supersede alliance-level cooperation such as basic codeshares. LOT joins a number of carriers across multiple alliances worried that alliances will continue to be effectively controlled by a few large carriers, limiting options for smaller airlines like LOT.
For the first time in its 13 year history in Star, LOT has hosted the bi-annual chief executive meeting at Star as a way to gain awareness, promote its strategy and even leverage for flexibility from the alliance. LOT is building on previous talks, including some held at the IATA AGM in Miami earlier in Jun-2015.
Normally partner support would be a medium term objective. LOT is still building awareness, one new long-haul route will launch in Jan-2016 and two others are more than a year away. But LOT will need to evaluate in the short-term – and to be precise, over the next six months – its big partnership strategy. This includes its membership in Star Alliance.
The urgency is that LOT has the option of leaving Star by 31-Dec-2015 without paying hefty exit fees. LOT and all other Star carriers are understood to have this option following an internal alliance change that grants airlines influence and votes based not on membership tier (which corresponds to membership fees) but strictly on the size of the airline.
Before smaller members could theoretically gain more influence by paying a larger membership fee (although this was often prohibitively expensive) but now airlines no longer have this option; their passenger volume size is the determinant. LOT sees Star being effectively run by Lufthansa and United Airlines, which LOT feels have not supported it so far. LOT's long-haul growth will bring competition to Lufthansa as well as Eastern/Central European-focused Austrian Airlines, which is part of the Lufthansa Group.
LOT's alternatives are an independent, alliance-free strategy or joining oneworld. oneworld has long sought an Eastern European member since the collapse of Malev. airberlin's addition has brought only some network gains to the alliance. oneworld is also flexible on outside-alliance partnerships. oneworld is also intriguing due to LOT's search for a strategic investor.
LOT is likely to have private equity investor but ultimately seeks an airline suitor – IAG?
LOT is owned by the Polish government, and in particular the Treasury. European bailout conditions have required Portugal to privatise TAP, but there is no requirement for Poland to privatise LOT. The airline feels it faces too many restrictions and bureaucracy as a state-owned enterprise. Privatisation will not fully 100% remove government influence (as is too often the case, unfortunately), but it will drastically help.
There are three likely scenarios. First is a private equity investor, second is an airline investor and third is an IPO. LOT says one scenario would not exclude another. LOT can use its existing fleet for 2016 growth but will need equity to reach its 2020 goals.
LOT reckons private equity is the likely short/medium-term scenario with the investors to later sell out to an airline. However, LOT would prefer an airline to be its suitor from the start. LOT wants to see the government lose majority ownership and control so needs an investor or consortium to take a majority stake. This starts to limit the options to European carriers owing to the EU barring non-EU companies from holding more than 49% of a European carrier. It is possible a foreign carrier could partner with EU companies to jointly take a majority position with the foreign airline holding 49% or less of LOT.
LOT believes oneworld's IAG is its best match, although IAG's attitude is unknown. IAG has been busy with its Aer Lingus acquisition. The difficulty with a short term airline suitor is that few airlines are willing to take the risk of investing in an airline that has not proven its strategy yet. Etihad has in the past shown risk tolerance, but LOT would conflict with Etihad's airberlin stake, and Etihad would like to pause its airline purchases. China's HNA has been mentioned as a candidate, but this has not been confirmed by LOT – although it is believed LOT has approached most possible parties.
LOT would ideally like to be privatised by the time of general elections expected in Oct-2015. The consensus in Jun-2015 is that the opposition party is favoured, and victory would likely see changes at the management of state-owned companies. LOT does not believe a change in government could halt its strategy: aircraft orders and new routes would be difficult to be unwound, and management believes LOT's new strategic growth plan is the airline's only realistic plan. The question becomes what aspects a new government might influence at the airline in a 2016 and beyond.
Concluding privatisation in the next few months, which includes the slow European summer, could prove too difficult. LOT's privatisation could also become an election issue if the public perceives the current party is under-selling the airline, for example at a token sum. It is not believed the current government is willing to have a fire sale of LOT in order to privatise it before the election. Ultimately, Poland's prime minister must sign off on the privatisation plan.
LOT's growth story is easily pinned on long haul services, but European and Central Asia will contribute to growth. LOT plans to add three new destinations and resume 11. Some of the 11 destinations were cut because LOT needed to meet EU requirements on how big the airline could be. The suspensions were temporary and ultimately hurt the airline strategically but it needed to comply.
Further growth is expected to Central Asia, where LOT sees itself having an advantage since it can serve points with narrowbody aircraft, which cannot be done from Frankfurt, for example. Tashkent and Astana could be possible new destinations in Central Asia.
LOT new European destinations: 2016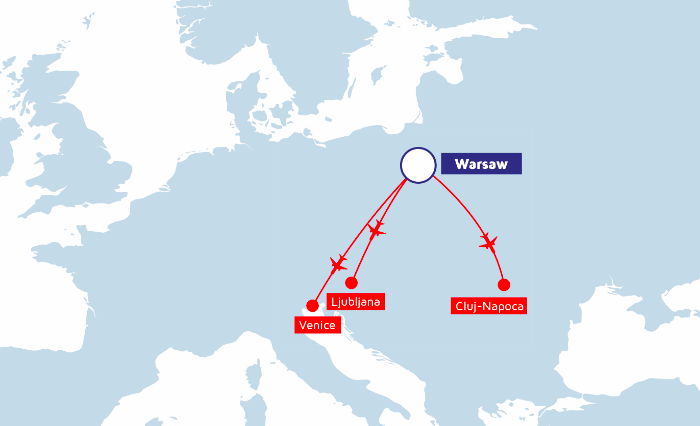 LOT resumed European destinations (light blue) and new European destinations (red): 2016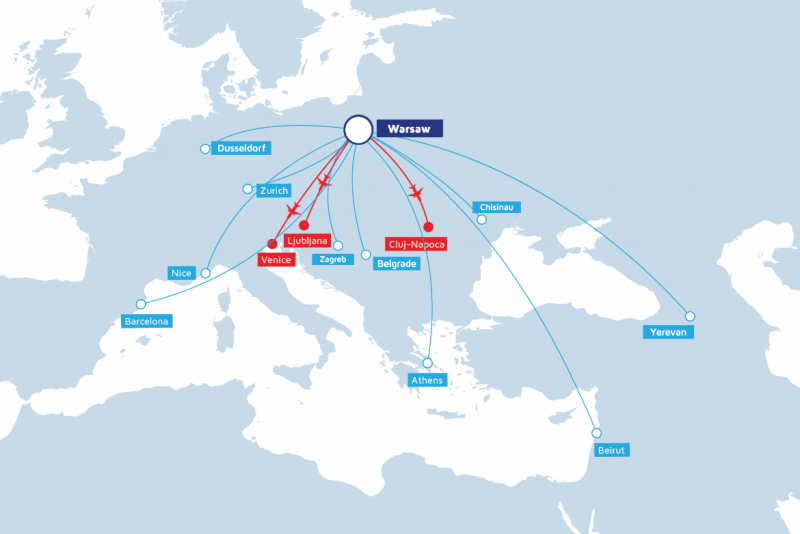 LOT existing European destinations (dark blue), European destinations (light blue) and new European destinations (red): 2016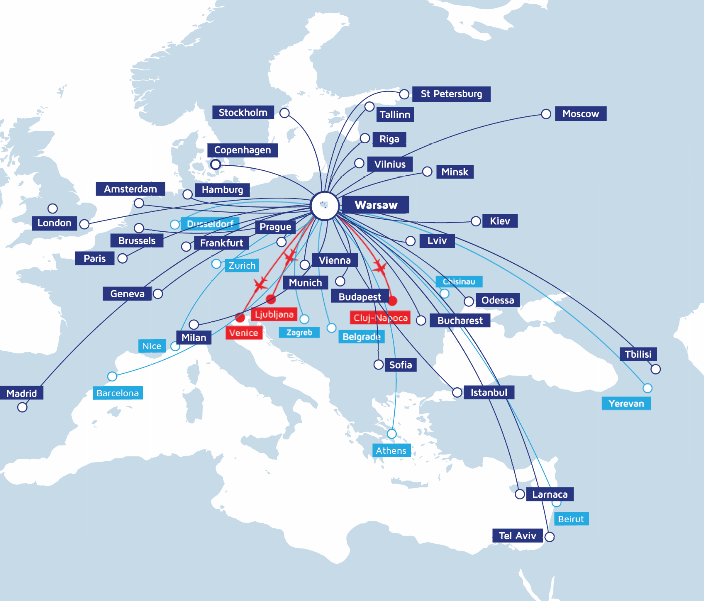 The additions are mostly in Western Europe, continuing LOT's predominant focus in that region (as opposed to Eastern Europe).
LOT international seat capacity by region: 22-Jun-2015 to 28-Jun-2015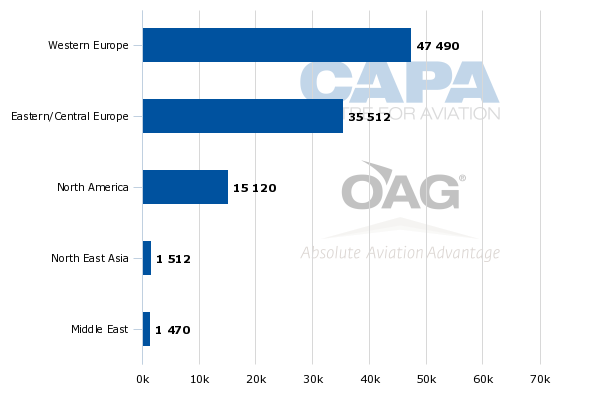 LOT intends to grow its fleet to 62-78 aircraft, mostly through A320s/737s and A330neos/787s
LOT currently operates 41 aircraft, according to CAPA's fleet database. Its only aircraft on order are two 787s, due for delivery in Nov-2016 and May-2017. Like LOT's existing 787s, the two on order will be -8s. LOT considered converting them to -9s. LOT's 2016 growth will be possible through better utilisation of its fleet; European growth restrictions have contributed to the under-utilisation. One 787 will return to the fleet in Apr-2016 after being on lease for 12 months.
LOT Polish Airlines Fleet Summary: as at 23-Jun-2015
LOT projects a fleet of 62-78 aircraft by 2020, a significant increase from its present size. There will be additions or replacements across the entire fleet.
LOT projected fleet: 2020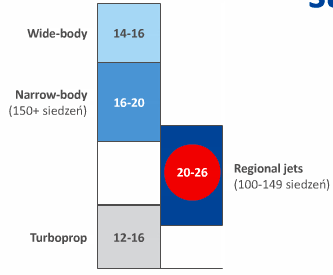 LOT's widebody fleet is planned to grow to 14 to 16 aircraft. After its eight 787-8s, LOT will consider more 787s (-8s or -9s) or A330neos. A350s are not being considered. New aircraft could join in 2017, or possibly late 2016, but temporary acquisitions of aircraft such as through wet leases could see LOT bulk up in 2016. Lessors could provide earlier delivery dates than airframers but LOT is talking to both groups.
LOT plans to once again have a narrowbody 150-seat sized aircraft; it has just two 737-400s. LOT had previously considered removing its regional jets in favour of a 737-800 fleet but now believes the two types can be complementary. LOT will look at both the 737 and A320 families.
LOT's fleet plan indicates it will keep its regional fleet size approximately the same as today while turboprops will see small growth; LOT's fleet growth is primarily with A320s/737s and then widebodies. For regional jets, LOT is considering more Embrarers or the CSeries. LOT's regional jets are ageing and could use re-fleeting by the end of the decade. LOT's Q400s will remain.
LOT Polish Airlines average fleet age: Jun-2015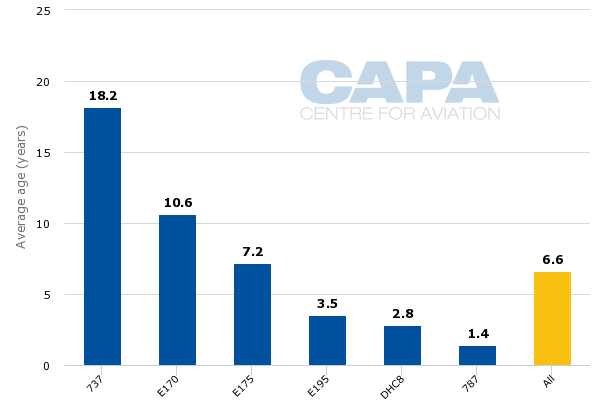 LOT hopes to complete deals before the end of the year. As with its general strategy, it is pressing ahead irrespective of elections and potentially a new investor.
LOT outlook: a relatively steady strategy with significant short-term considerations
LOT's planned 30% ASK growth in 2016 is significant, but partially the result of previous contraction – and before that, missed opportunities. Growing economic activity and a leaner LOT will facilitate growth, including capturing back traffic from other hubs. LOT could not only given Eastern/Central Europe the hub carrier it has lacked since Malev's collapse, but will surpass Malev's achievements. There is a growth push in 2016, but then the strategy becomes relatively steady, although it is overall bold.
There is some risk of competitors responding and fuel requiring trans-Siberian over-flight charges. Further LCC inroads could affect short-haul performance. LOT's aim to grow passenger numbers 2.2 times and ASKs 2.9 times indicates a shift towards longer sector lengths, but short-haul will continue to define LOT and this puts it in LCC competition territory.
What stands out are the tasks LOT wants to complete by the end of 2015. It will be a tall order to conclude privatisation, aircraft orders and a partnership strategy in six months. Completing all three, while beneficial, would be a challenge. Even completing one of those would normally be sufficient in terms of development.
Moving out of the doldrums, LOT is planning for a future. This is largely down to CEO Sebastian Mikosz. Entering LOT not from an aviation but management background, he has turned the airline around. In doing so he has generated pushback from employees, who generally support the opposition party. But some are finally recognising Mr Mikosz's work has secured LOT a future – and theirs.
The airline needs to continue with a commercial mandate, which Mr Mikosz has proven capable of setting out. Yet it seems with the opposition being favoured in the election, politics will run its course and interfere with the airline, possibly strategically but almost certainly with management. This would be no way to acknowledge the airline's change, nor to prepare for a successful future.
An ideological reversal could delay the government and Polish people seeing a return on LOT. Worse is the risk political interference would bring a departure to the clearer air LOT has finally found.