LOT Polish Airlines starts to look beyond restructuring to improve its lot
Analysis
LOT Polish Airlines CEO Sebastian Mikosz said recently that profitability must be developed through passenger retention, expansion of its customer base and the introduction of new options for travel, services and comfort (Future Travel Experience, 20-Jun-2014). Its recent focus has been on the restructuring plan submitted last year to the European Union, involving cuts to capacity and costs.
LOT awaits final approval from the EU for its restructuring plan, which was required in connection with state aid provided by the Polish government in Dec-2012. The airline has said that it will not consider a second tranche of state aid before Sep-2014. It needs EU approval before it can decide its longer term future, including the possibility of seeking new investors, although it has reportedly started to develop a new five year strategic plan. Meanwhile, the privatisation process has gone very quiet.
Mr Mikosz is right to plan for the post restructuring world, but is faced with the need also to continue to make LOT's cost base more competitive against the LCCs that operate the majority of seats in the Polish market.
Route network cut by six destinations over past 12 months
LOT's network is dominated by short-haul destinations, with 71% of its seats on flights of less than two hours and 88% less than four hours. The domestic market accounts for 25% of its seats.
Compared with one year ago, LOT has reduced its short and medium network from 49 routes to 44 routes (cutting Warsaw-Berlin, Gdansk-Frankfurt, Krakow-Vienna, Wroclaw-Frankfurt, Wroclaw-Munich. It has also cut its single Africa route (Warsaw-Cairo), but otherwise maintained its intercontinental destinations (Beirut, Tel Aviv and four long haul destinations: Beijing, New York, Chicago, Toronto).
LOT - Polish Airlines Network Summary: Jun-2014 versus Jun-2013
Region

Number of destinations Jun-2013

Number of destinations Jun-2014

Change

Domestic

9

8

-1

40

36

-4

1

0

-1

1

1

0

0

0

0

2

2

0

3

3

0

Total non-stop
passenger destinations

56

50

-6
Within the short-haul network, LOT's capacity reduction over the past year has focused on Western Europe, down 26% year on year, while it has grown the number of seats in Eastern/Central Europe by 10% (week of 23-Jun-2014, source: OAG/Innovata). Nevertheless, Western Europe remains its most important region by number of seats.
In Jun-2013, Western Europe accounted for 58% of LOT's international seat capacity and Eastern/Central Europe for 25% (week of 10-Jun-2013, source: Innovata). By Jun-2014, these shares had become more even at 47% and 35% respectively.
LOT - Polish Airlines international seat capacity by region 23-Jun-2014 to 29-Jun-2014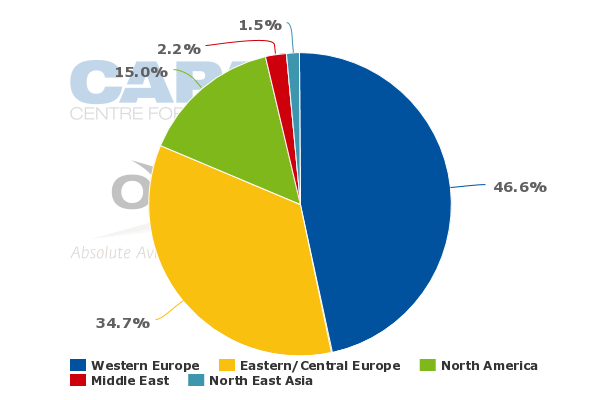 Growth of regional competitor Eurolot
The second largest Polish airline is the regional carrier Eurolot, which has almost quadrupled its seat capacity to Western Europe and more than doubled its capacity to Eastern/Central Europe, including an increase in its domestic capacity of more than 2.5 times.
Eurolot's strategy is to use smaller aircraft on thinner routes, where demand cannot support a Boeing 737, but where frequencies need to be maintained. This logic may be challenged if Ryanair adds to the number of domestic routes where it competes with Eurolot head to head (see below) as the unit costs of the larger aircraft operated by the LCC are much lower.
In total, LOT has cut seat numbers by 5% as a result of its restructuring programme. Eurolot has taken advantage of its competitor's capacity cuts to increase seat numbers by 144% over the past year (comparison for the second week of Jun-2014 versus the same week of Jun-2013), but the regional carrier is still only a little more than 10% of the size of LOT by number of seats.
Above average proportion of economy cabin seats
LOT has a higher proportion of economy class seats than the world average, with 98% (world average of 92.5%) in the week of 23-Jun-2014. Premium economy accounts for 1.1% (world average 1.6%) and business class only 0.9% (4.3%), while LOT has no first class seats (world average 1.6%). This focus on the economy cabin reflects the short-haul dominance of its network and the strength of LCC competition in its markets.
Poland: LCC capacity share (%) of total seats: 2001 - 2014*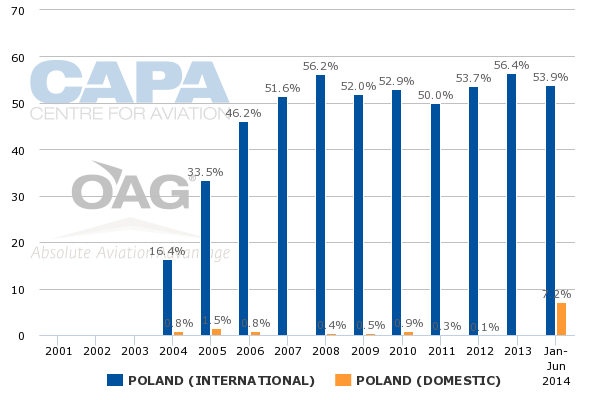 LOT's main hub is Warsaw Frederic Chopin Airport, where it has a seat market share of 53% and operates almost 20 times the number of seats as its next most important domestic airports (Gdansk, Krakow and Wroclaw, each with a similar number of LOT seats). It no longer operates any routes that do not have Warsaw Chopin at one end of the route.
Its regional competitor Eurolot's biggest bases are Gdansk, Krakow and Wroclaw and Eurolot's biggest routes are in the domestic market, Warsaw-Bydgoszcz, Gdansk-Krakow and Gdansk-Wroclaw. Eurolot's international network is focused on Western Europe and its biggest international routes are Krakow to Zurich and Amsterdam).
LOT's top 10 international routes are dominated by major European hubs and three North American destinations
LOT's list of top 10 international routes by seats includes major European long-haul hubs London Heathrow, Paris CDG and Amsterdam and the hubs of fellow Star Alliance carriers at Brussels and Frankfurt. This reflects LOT's lack of a significant long-haul network of its own. It does have a fairly significant North American network and all three of its destinations on that continent feature in its top 10 international routes. Budapest and Prague are LOT's biggest routes in Central/Eastern Europe.
LOT Polish Airlines top 10 international routes by seats: 23-Jun-2014 to 29-Jun-2014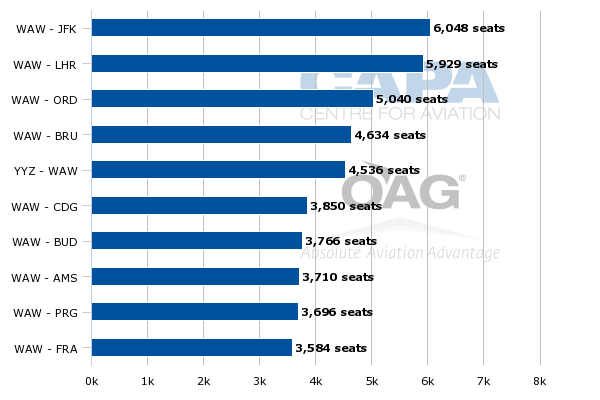 Strong long-haul market positions; more mixed on international short-haul
LOT is the monopoly carrier on its three North American routes from Warsaw to New York JFK, Chicago and Toronto. On the key routes in its European international network, its competitive position is more mixed.
LOT is the number one airline by seats on three of the seven European routes in its international top 10 and competes only with codeshare partner and fellow Star member Lufthansa on Warsaw-Frankfurt. However, on two of the three routes where it is number one (Brussels and Budapest), it faces LCC competition on a city pair basis. It also competes with LCCs on the London and Paris routes. Both Ryanair and Wizz Air are competitors on London, Brussels and Paris (again, on a city pair basis). In addition, Norwegian plans to enter the London route in Sep-2014 with a six times weekly 737-800 service from Gatwick, according to data from OAG.
Although not in its list of top 10 international routes by seats, LOT also has a leading position on its fourth long-haul route (in addition to the three North American routes) as the monopoly supplier on Warsaw-Beijing. In addition, it is the only operator on the summer only Warsaw-Beirut service and is the number one airline by seats on Warsaw-Tel Aviv, but faces competition on this route from both El Al and Wizz Air (source: OAG).
LOT Polish Airlines competitive position on top 10 international routes by seats: 23-Jun-2014 to 29-Jun-2014
| Warsaw Chopin to | LOT ranking by seats on city pair | Competitors on city pair |
| --- | --- | --- |
| New York JFK | 1 | Monopoly |
| | 3 | 1 Ryanair (WMI to STN), 2 Wizz Air (to LTN), 3 LOT, 4 BA, 5 Norwegian (to LGW from Sep-2014) |
| Chicago O'Hare | 1 | Monopoly |
| | 1 | 1 LOT, 2 Ryanair (WMI to CRL), 3 Wizz Air (to CRL), 4 Brussels Airlines (from Sep-2014) |
| | 1 | Monopoly |
| | 2 | 1 Air France, 2 LOT, 3 Ryanair (WMI to BVA), 4 Wizz Air (to BVA) |
| | 1 | |
| | 2 | |
| | 1 | |
| | 2 | |
Five domestic monopolies out of seven routes, but Ryanair now competes on the other two
On its domestic network, LOT is the number one operator on all seven routes operated and has a monopoly on five of these. However, its competitive position in the domestic market faces a new threat, following Ryanair's entry this summer.
Ryanair is based in Warsaw Modlin, but is now competing with LOT on Warsaw to Gdansk and Wroclaw on a city pair basis. Ryanair will also operate Gdansk-Krakow and Gdansk-Wroclaw, in competition with Eurolot, in the peak summer period this year.
Ryanair deploys 189 seat Boeing 737-800 aircraft on all routes, whereas LOT is operating much smaller Embraer regional jets and De Havilland Dash 8 turboprops on the routes that Ryanair is entering. This gives Ryanair a significant unit cost advantage and, although LOT has a superior schedule in terms of frequencies, this is likely to place heavy downward pressure on LOT's unit revenues on these routes.
LOT Polish Airlines top domestic routes by seats: 23-Jun-2014 to 29-Jun-2014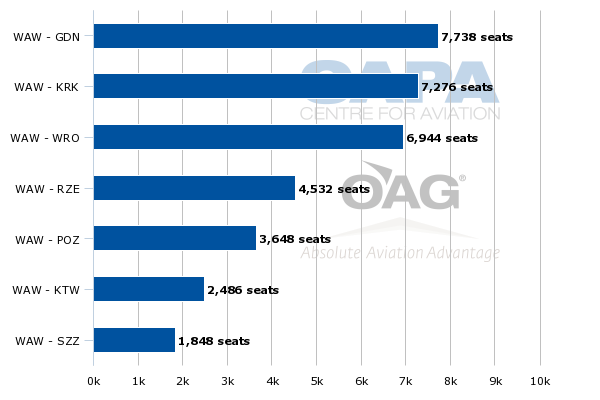 LOT Polish Airlines competitive position on top domestic routes by seats: 23-Jun-2014 to 29-Jun-2014
| Warsaw Chopin to | LOT ranking by seats on city pair | Competitors on city pair |
| --- | --- | --- |
| | 1 | |
| Krakow | 1 | Monopoly |
| | 1 | |
| Rzeszow | 1 | Monopoly |
| | 1 | Monopoly |
| | 1 | Monopoly |
| | 1 | Monopoly |
LOT's fleet of 37 aircraft is one less than 12 months ago
According to the CAPA Fleet Database and LOT, LOT's fleet consists of 37 aircraft, with 28 Embraer regional jets, three Boeing 737-400s and six Boeing 787-8s (and two more on order for delivery in 2016 and 2017). The average age of LOT's fleet is 7.6 years, while its 737 fleet has an average age of 17.2 years.
The fleet is smaller by one aircraft than 12 months ago, following the exit of one Boeing 737-500, one Airbus A330, three Boeing 767s and the addition of four Boeing 787s. The most significant development in the fleet has been the increased use of the 787 Dreamliner, which operates all of LOT's four long haul routes.
Regional competitor Eurolot has 11 Bombardier DHC-8Q-402 aircraft (and a further three on order), with an average age of 1.9 years. This compares with a fleet of eight Dash 8s and 12 ATR aircraft one year ago. Eurolot operates under ACMI contracts for LOT on its domestic routes and on two regional international, using five of its Dash 8s. These routes are Warsaw to Gdansk, Katowice, Poznan, Rzeszow, Szczecin, Wroclaw, Riga and Vilnius.
LOT Polish Airlines Fleet Summary as at 25-Jun-2014
| Aircraft | In Service | On Order |
| --- | --- | --- |
| | | |
| | | |
| | | |
| | | |
| | | |
| | | |
| | | |
| | | |
LCCs Ryanair and Wizz Air remain LOT's biggest competitors and are respectively ranked number one and number three by seats in Poland (with LOT at number two), but capacity for both in Poland is down in Jun-2014 versus Jun-2013 (week of 23-Jun-2014, source: OAG).
Ryanair's seat capacity between Warsaw and Western Europe is down 10% year on year for the week of 23-Jun-2014, but is down by approximately 50% for the July to September peak summer season. However, Ryanair is more than tripling its capacity between Poland and Eastern Europe this summer and has also launched domestic Polish routes. This indicates that Poland remains an important market for Ryanair, an airline that is well known for rapidly switching capacity around its extensive network.
Wizz Air's capacity between Poland and Western Europe is down 15% year on year for the week of 23-Jun-2014, but up 5% for the peak summer months. It is down 8% between Poland and Eastern/Central Europe this summer, according to OAG data.
Ryanair and Wizz Air are the two lowest cost airlines in Europe by CASK (cost per available seat km) and will continue to be formidable competitors to LOT, regardless of the short term fluctuations in their capacity growth in Poland.
See related report: Wizz Air: London share listing planned after three-fold profit increase for the ultra-LCC
Top 15 airlines in Poland, ranked by share of seats: 9-Jun-2014 to 15-Jun-2014
| Rank | Airline | Seat growth vs Jun-2014 | Share of seats | Change in share ppts |
| --- | --- | --- | --- | --- |
| 1 | | -16% | 26% | -5 |
| 2 | | -5% | 24% | -1 |
| 3 | | -2% | 19% | -0 |
| 4 | | 11% | 8% | 1 |
| 5 | | 23% | 3% | 1 |
| 6 | | 144% | 2% | 0 |
| 7 | | 5% | 2% | 0 |
| 8 | | 15% | 2% | 0 |
| 9 | | -18% | 1% | -0 |
| 10 | | -2% | 1% | 0 |
| 11 | | 3% | 1% | 0 |
| 12 | | 588% | 1% | 0 |
| 13 | | 13% | 1% | 0 |
| 14 | | 1% | 1% | 0 |
| 15 | | -7% | 1% | 0 |
| | Others | | 7% | |
LOT passenger numbers fell in 2013, but its operating loss narrowed and net result turned positive
LOT has not published detailed financial results for a few years, but a reasonable view of the development of its annual passenger numbers and profits can be pieced together from its press releases and other media reports.
It reported an operating loss of PLN4 million (EUR953,000) for 2013, the lowest operating loss for at least six years. It also reported its first net profit in a number of years, at PLN26 million (EUR6.2 million), although no details are available regarding how this was achieved.
LOT said in early Apr-2014 that the operating result was PLN138 million (EUR32.9 million) better than forecast in its restructuring plan. According to some media reports, LOT made an operating loss of PLN200 million (EUR48 million) in 2012 and so the 2013 result was also much better than the previous year.
Passenger numbers in 2013 were 4.6 million, 5% below the 2012 figure. Looking ahead, LOT is forecasting core business profit of PLN70 million (EUR16.7 million) in 2014. Mr Mikosz said that he was happy with 1Q2014 results, although LOT did not publish any figures (The Wall Street Journal, 29-May-2014).
LOT Polish Airlines passenger numbers (million): 2008 to 2013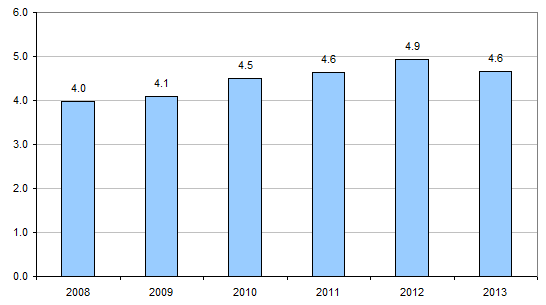 LOT Polish Airlines operating profit and net profit (PLN million): 2008 to 2013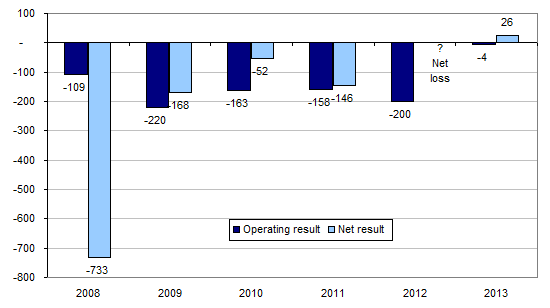 Unit cost reduction must remain a priority
Insufficient data is available to allow the extension of CAPA's previous unit cost and unit revenue analysis of LOT. Its narrowing of operating losses in 2013 suggests that it closed the gap between unit revenues and unit costs, but the operating loss demonstrates that LOT was still unable to generate sufficient revenues for its cost base.
See related report: LOT majority stake attracts airline interest, but restructuring and potential synergies will be key
LOT's restructuring programme has involved capacity cuts over the past year, particularly to Western Europe. Its limited long-haul network enjoys some strong market positions, but is small and LOT must continue to rely on codeshare partners, mainly in the Star Alliance, for intercontinental destinations.
On short-haul, which is the most important part of its network, it seems highly likely that its unit costs remain significantly above those of the LCCs with which it competes. Capacity cuts and network pruning may have given support to unit revenues in 2013, although we do not know if this is the case.
Mr Mikosz's product and service initiatives (including the new 'LOT Economy Plus' and 'LOT Economy Simple' fare classes and ancillary services, such as extra luggage, preferred seating, seating upgrades and travel insurance) may give further substance to unit revenues, but unit cost reduction must remain a priority if sustainable profitability is to be achieved.
LOT will then be better placed to attract new investors, facilitating the funding of its long-haul fleet orders and the need to address its ageing narrowbody fleet.