LOT majority stake attracts airline interest, but restructuring and potential synergies will be key
Analysis
Recent legislation allows the government of Poland to sell a majority stake in state-controlled national carrier, LOT Polish Airlines (LOT). According to media reports, LOT has appointed Rothschild as its privatisation adviser and a number of carriers have indicated their interest in investing. A lifeline loan from the government in Dec-2012 has been approved by the European Commission, partly conditional on a new restructuring plan expected in Jun-2013.
With losses for each of the four years 2008 to 2011 and a fifth loss expected for 2012, LOT's cost base is too high for its revenue-generating capabilities. Moreover, it is inefficient versus the LCCs that compete on short/medium-haul, which accounts for 88% of LOT's seat capacity and where its ageing 737 fleet needs replacing.
A handful of long-haul monopoly routes are finally benefitting from new 787s, but it is difficult to find many other features for LOT's advisers to highlight. Interest in buying LOT will depend very much on the pricing and potential synergies a buyer might bring to the table.
A gathering track record of losses
Public information on LOT's finances is limited: its website shows revenues, operating results, net results, passenger numbers and cargo tonnes carried for the years 2008 to 2011. There is no balance sheet data, but persistent annual losses and anecdotal evidence suggest its balance sheet may be marginal at best.
According to some media reports, LOT made an operating loss of PLN200 million (EUR48 million) in 2012. If confirmed, this would be its fifth successive annual loss, in spite of reportedly cutting headcount by 9.8% and increasing passenger numbers by 7% (source: Bloomberg 4-Jun-2013).
In 2008, LOT nearly went bankrupt after misjudging its fuel hedging strategy and it then faced another fight for survival in late 2012. It received a PLN400 million (about EUR100 million) loan from the state in Dec-2012 and this was temporarily approved by the European Commission in May-2013.
Hungarian national carrier Malev was not so fortunate when the Commission refused to allow it government aid in 2012. However the LOT approval is conditional and the Commission needs to review the airline's latest restructuring plan, which must be submitted by 20-Jun-2013.
LOT Polish Airlines operating profit, net profit (left hand axis) and revenues (right hand axis), (PLN million): 2008 to 2011
LOT Polish Airlines passenger numbers: 2008 to 2011
Returning CEO may seek further state aid in new restructuring proposal
CEO Sebastian Mikosz, who returned in Feb-2013 after holding the job in 2009-2010, aims to restore profitability in 2014. Interestingly, LOT's press release announcing Mr Mikosz's appointment gave an overview of his CV, but failed to mention his previous tenure at the carrier. Some media commentators have suggested that his previous attempts to cut costs angered labour unions. His predecessor, Marcin Pierog, left after failing to deliver a planned return to profit in 2012. Mr Mikosz is LOT's 13th CEO in the past 10 years.
LOT's new restructuring may include a request for additional government aid, according to Polish media, which have suggested LOT may seek a further PLN350-400 million loan to sustain it until a buyer can be found, although Poland's Prime Minister Donald Tusk said in January that Poland will not save LOT at any price, and that it won't let the airline become a "bottomless pit".
Ryanair has complained to the European Commission about what it considers artificial support to LOT at Warsaw Chopin Airport by allowing the Polish carrier to delay payments for airport services, while Ryanair is forced to accept "unreasonable and discriminatory" payment terms.
LOT has been going through an almost permanent state of restructuring for some years. In Nov-2012, the European Commission concluded that LOT's sale of its Services, Catering and Airport Maintenance units did not contravene EU rules on state aid.
There has been no shortage of speculation about what might be involved in the latest restructuring. It is clear that ongoing fleet modernisation will remain an important element, as LOT replaces its 767s with 787s. It has also been reported that it may withdraw its Embraer regional jets from the fleet and replace them with Boeing 737-800 aircraft. In Jan-2013, it was proposed that LOT reduce its fleet to 25 from 40 and reduce headcount by 30%, something that might not sit well with its unions.
It has also been reported that the Polish government proposed to transfer its domestic and European routes to regional carrier Eurolot (38% owned by LOT shareholder TFS and 62% by the Polish State Treasury), leaving LOT with routes to North America and Asia.
LOT privatisation law passed in May-2013
LOT is currently 68% owned by the Polish State Treasury and 25% by Regional Economic Fund Towarzystwo Finansowe Silesia, or TFS ('Silesia Financial Company'), with employees holding 7% and, until recently, Polish law has required majority state ownership. On 10-May-2013, the Polish parliament approved legislation to allow the privatisation of LOT. As an EU-based carrier, it will still be bound by the requirement to be majority owned by EU nationals.
Turkish Airlines considered investing in LOT in 2012, but did not proceed, partly because THY is not EU-based. As CAPA has previously reported (1-May-2013), Norwegian Air Shuttle may be interested in making an investment in LOT, although it has also been suggested that Norwegian was interested in taking over LOT's 787 order. Norwegian is the fifth biggest operator into Poland, ranked by seat capacity (week of 10-Jun-2013, source: Innovata), but has relied more on organic growth for its rapid expansion. It would be very unusual for an LCC to buy a legacy carrier, but Norwegian is not a "usual" LCC.
A number of other airlines, including Air France-KLM, Lufthansa, SAS Scandinavian Airlines, airberlin, British Airways and Singapore Airlines have also reportedly previously shown interest. Lufthansa has long been thought of as a potential acquirer of LOT since both are Star Alliance members and Lufthansa has the strongest balance sheet among Europe's Big Three legacy flag carrier groups. Poland is a large market and has attractive growth potential, but Lufthansa is likely to want to see evidence that LOT can return itself to profitability before considering an investment.
The other two groups in the Big Three, Air France-KLM and IAG (parent of British Airways) are focusing on their own restructuring programmes. SAS and airberlin are also occupied with significant turnaround programmes and do not seem likely acquirers.
LOT is short/medium-haul focused, but has four long-haul monopolies
According to Innovata, LOT currently has nine domestic destinations, 43 international short/medium-haul destinations (including two in the Middle East and one in North Africa) and four long-haul routes. LOT is the monopoly carrier on all four of its long-haul routes (Chicago, New York, Beijing and Toronto) and has operated the three trans-Atlantic routes for more than 40 years.
The domestic market accounts for 22% of LOT's seats (week of 10-Jun-2013). Its international seat capacity is dominated by Western Europe (58% of international seats), followed by Eastern/Central Europe (25% of international seats). Short/medium-haul accounts for 88% of its total capacity (domestic and international) and long-haul (North America and Asia) accounts for 12%. LOT's regional associate Eurolot, whose seat capacity is around 4% that of LOT, operates to five domestic and eight international European destinations.
LOT Polish Airlines network summary: as at 16-Jun-2013
Region

Number
of destinations

Domestic

9

1

1

Schengen Europe

24

Other Europe

16

0

2

3

Total non-stop
passenger destinations

56
LOT Polish Airlines international seat capacity by region: 10-Jun-2013 to 16-Jun-2013
LOT's main hub is Warsaw Chopin Airport, where it operates more than 10 times the number of seats as its next two most important domestic airports (Wroclaw and Krakow).
Its regional associate Eurolot's biggest bases are Gdansk and Krakow. (Eurolot's biggest route is between Gdansk and Krakow; its biggest international routes are Krakow to Zurich and Amsterdam). Eurolot also operates some domestic and European routes from Warsaw on behalf of LOT.
LOT Polish Airlines top 10 bases by seats: 10-Jun-2013 to 16-Jun-2013
The route network is heavily towards Western Europe
LOT's top 10 international routes by seat capacity include six Western European cities, three in North America and only one in Central/Eastern Europe (Prague). Four Star Alliance hubs – Chicago O'Hare, Frankfurt, Brussels and Munich – feature in the top 10 routes, as do London Heathrow, Paris CDG and Amsterdam.
The European routes in LOT's top 10 are competitive: on Warsaw to London, LOT competes with Ryanair, Wizz Air and British Airways; on Warsaw to Paris, it competes with the two LCCs and Air France; the Amsterdam and Prague routes have only one competitor, KLM and CSA Czech respectively; while Warsaw to Frankfurt has Star Alliance partner Lufthansa and Ryanair (to Frankfurt Hahn).
On other European routes, such as Madrid, Milan and Stockholm, LOT is the only operator. The four long-haul routes are monopolies for LOT.
The country's reliance on Europe's economies has started to show through as Poland's previously booming economy has slowed significantly, with only 0.5% growth in the first quarter of 2013, albeit still higher than many EU partners. This alone may force a re-examination of the flag carrier's route network.
LOT's relatively low capacity in Central/Eastern Europe is perhaps surprising, given Poland's status as one of the most populous nations in the region, but its focus on major Western European hubs reflects LOT's lack of a significant long-haul network as well as Poland's strong links with other member states of the EU. This shortcoming does however suggest an opening for a partner airline which can exploit the potential hub role now absent.
The airline describes business destinations as "one of the pillars" of its network. In addition, it positions its Warsaw hub as a transfer point from Eastern European cities such as Budapest, Prague, Bucharest, Sofia and Ukrainian destinations to its North American destinations.
In Feb-2013, shortly after his appointment, CEO Sebastian Mikosz made an early decision to cut unprofitable routes from the summer 2013 schedule, including Warsaw to Yerevan, Donetsk and Cairo and Krakow to Paris.
LOT Polish Airlines top 10 international routes by seats: 10-Jun-2013 to 16-Jun-2013
LCC competition in Poland is growing
LOT is the largest carrier at Warsaw Chopin, with 47% of seat capacity (source: Innovata, week of 10-Jun-2013). The Star Alliance is the dominant alliance, with around 58% of seats at the airport.
However, LCCs Ryanair and Wizz Air have 15% and 8.5% respectively. Moreover, both Ryanair and Wizz Air have significantly more capacity than LOT between Poland and Western Europe and, in the case of Ryanair, this is growing rapidly.
Warsaw Chopin Airport seat capacity by carrier (% of total): 10-Jun-2013 to 16-Jun-2013
Poland to Western Europe weekly seats (one way): 19-Sep-2011 to 1-Dec-2013
Competition from LCCs is intense in Poland, where Ryanair is the biggest airline by seat capacity, with a share of 30%, compared with number two-ranked LOT's 25% (26% including its regional subsidiary Eurolot). LCCs Wizz Air, easyJet and Norwegian are third, fifth and eighth respectively.
See related reports:
Market shares (seats) of the Top 11 airlines in Poland
Rank

Airline

% of
total seats

1

30%

2

25%

3

19%

4

8%

5

2%

6

2%

7

2%

8

2%

9

1%

10

1%

11

1%

Others

8%
Fleet undergoing widebody renewal, but narrowbodies are also ageing
According to the CAPA Fleet Database, LOT's fleet consists of 39 aircraft (11-Jun-2013). This does not include the 20 regional turboprop aircraft of Eurolot (four ATR 42-500, eight ATR 72-202 and eight Bombardier DHC-8Q-402). LOT now has three Boeing 787 Dreamliners (the first European carrier to operate this aircraft) and a further five on order. It expects to receive its fourth 787 at the end of Jun-2013 and its fifth by the end of Aug-2013.
Chicago was chosen as the first route for LOT's 787 operations, because it has historically been its number one US destination. According to Tomasz Dakowski, LOT's director of sales, "the support of the largest Polish population outside of Poland in this region has especially contributed in making our flights a success."
LOT currently operates the Dreamliner to Chicago, New York JFK and Toronto (the latter also uses the 767 to complement the service) and flies its fourth long-haul destination, Beijing, with 767 equipment (eventually to be replaced by the 787). LOT's Dreamliner has 18 seats in Elite Club (business class), 21 in Premium Club (premium economy) plus 213 seats in economy class. Its domestic and European operations are single class.
LOT Polish Airlines fleet summary: as at 11-Jun-2013
| Aircraft | In Service | In Storage | On Order |
| --- | --- | --- | --- |
| | | | |
| | | | |
| | | | |
| | | | |
| | | | |
| | | | |
| | | | |
| | | | |
| | | | |
| | | | |
| | | | |
LOT Polish Airlines projected delivery dates for aircraft on order being purchased directly from manufacturers*: as at 10-Jun-2013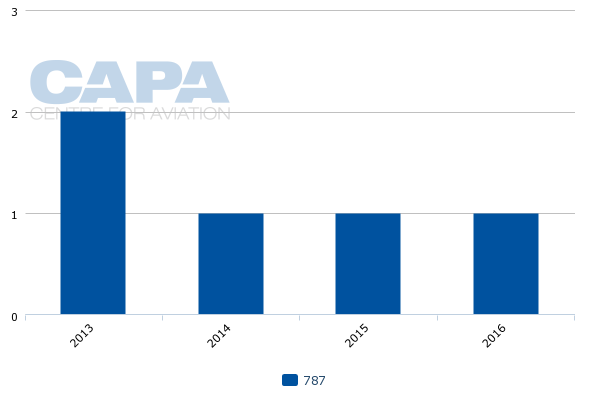 The long-haul fleet replacement programme will make a significant impact on average fleet age. LOT's 767s, which are being replaced by 787s, have an average age of 22 years.
Its narrowbody fleet of 737s has an average age of almost 18 years and will also need replacing soon. The majority (54%) of LOT's aircraft are leased and, given its financial difficulties, it seems likely that leasing will continue to be the preferred means of funding new aircraft.
LOT Polish Airlines average fleet age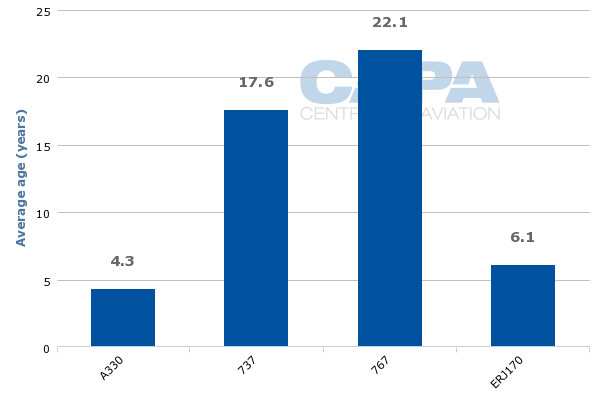 The US Federal Aviation Administration's decision to ground all Boeing 787s came just hours before the scheduled departure of LOT's first Dreamliner service from Chicago O'Hare on 16-Jan-2013. The 787 grounding reportedly led to a USD50,000 daily loss. Mr Mikosz reportedly has said that LOT will seek compensation from Boeing. During the grounding, LOT extended leases on its 767s and wet-leased capacity in order to maintain its long-haul network. Its 787 operations resumed on 1-Jun-2013.
The negative gap between revenue per passenger and cost per passenger won't go away
LOT has not published any financial or traffic data since 2011 and, even then, it published insufficient data for a detailed RASK/CASK analysis. Nevertheless, available data on revenues, operating results and passenger numbers allow the chart below to be derived, showing the development of total revenue per passenger and operating costs per passenger between 2008 and 2011.
Between 2008 and 2011, LOT reduced operating costs per passenger by 5%, in spite of an increase in 2011. Unfortunately, revenue per passenger fell more rapidly, by 6%, over this period.
Even more unfortunately, revenue per passenger remained lower than costs per passenger throughout. If reports of a PLN200 million (EUR48 million) loss in 2012 are correct, then the gap between unit cost and unit revenue may well have increased.
Although LOT's long-haul monopoly routes and its focus on business destinations in Europe may give some support to pricing, growing competition from LCCs on short/medium-haul (88% of its seat capacity) is likely to place downward pressure on unit revenues.
LOT Polish Airlines total revenue per passenger and costs per passenger (PLN): 2008 to 2011
Major restructuring challenges still lie ahead
The chart below compares LOT's costs per passenger and average sector length in 2011 with other European airlines (in 2012).
This places LOT in the middle of the pack of legacy European carriers in terms of costs per passenger, adjusting for average distance. However, there are a number of more efficient legacy carriers and LOT's cost base is significantly higher than those of the LCCs which it is increasingly having to face. The two most cost-efficient LCCs, Ryanair and Wizz Air, are LOT's two biggest competitors in the Polish market (by seat capacity).
Cost per passenger versus average sector length for European airlines: 2012*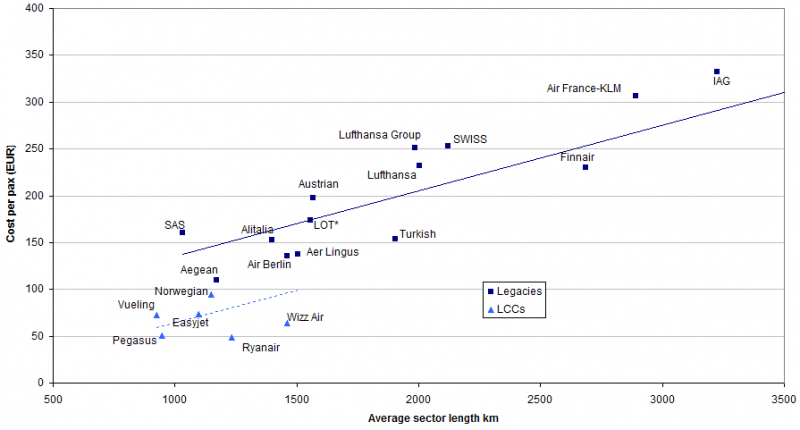 A substantial challenge for LOT - but opportunities for the right partner?
LOT's challenge is substantial: to lower its cost per passenger, not only below its revenue per passenger (which itself is likely to come under downward pressure), but also to be more competitive versus other lower cost airlines.
It must also fund its long-haul fleet replacement programme and address its ageing short-haul fleet. The next restructuring programme will need to be a very thorough overhaul. Whether LOT's unions accept the urgency of the need for radical change will be an important part of this process. The reality of Malev's recent demise may help in this perception.
But while the obvious eastward gaps in LOT's network, along with other potentials, may offer opportunities for an airline purchaser with synergies in mind, a major overhaul of LOT's operational profile will not just be a luxury. It will be very much a firm precondition.