LATAM Airlines Group #1 in Peru: domestic & regional markets promising
Analysis
Summary
Peru's passenger market continues to log steady growth as LATAM maintains its dominance in the country's domestic sector.
LATAM is ending its long haul flights from Lima to Washington DC as it makes a push from Lima to more regional destinations in Colombia, Brazil and Argentina.
Peru's passenger market continued its steady growth in 2017
Peru's airlines transported 11.7 million passengers in 2017 and international passenger levels reached 10.9 million. The growth is fuelled by Peru's solid economic performance, which is driving an expansion of the country's middle class. Peru's GDP expanded by 4% in 2016, before slowing to 2.5% in 2017.

From 2009 to 2013 Peru recorded double-digit increases in domestic air passenger growth, but the nearly 9% increase in passengers in 2017 was still a solid performance. Significant upside exists for air travel within Peru. Recently the LATAM Airlines Group calculated that the frequency for trips per capita in the country was 0.6, compared with 2.9 for the US.
Peruvian Airlines has been charting growth within Peru's domestic market during the past few years, and is now the country's second largest domestic airline based on passenger share, after LATAM Airlines Peru.
The start-up Viva Air Peru, which debuted in May-2017, transported 305,948 domestic passengers in 2017 and achieved a 2.6% share.
Domestic passenger share for Peru's airlines during 2017
During 2017 LATAM Airlines Group launched domestic seasonal flights from Cusco to Trujillo and year-round flights from Lima to Jauja.
LATAM may hold off on Peru-US expansion until clarity for AA JV emerges
Peru is LATAM Airlines Group's third largest market measured by ASK deployment, behind Brazil and Chile.
During the past few years the company has built Lima up into a hub connecting Northern and Southern destinations. LATAM's North American destinations from Lima include Los Angeles, Miami, Orlando International and New York JFK.
LATAM Airlines Group ASKs by country for the 12M ending Sep-2017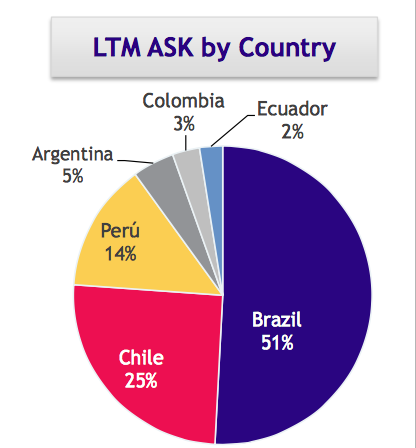 LATAM launched services from Lima to Washington Dulles in May-2016 with three weekly flights, but ended the service in early Mar-2018. Washington is not a hub for LATAM's major alliance partner American Airlines, and the less than daily schedule was likely not appealing to business travellers.

Aside from the short-lived service to Washington Dulles, LATAM's service footprint from Peru to North America has remained consistent during the past few years. LATAM Airlines Peru remains the largest operator between Peru and the US, holding a 45% seat share on routes between the two countries for the week of 5-Mar-2018.

LATAM and American Airlines outlined plans in early 2016 to establish a joint venture between the US and several Latin countries, including Peru. There's been a slow trickle of approvals, and the joint partnership has yet to materialise. Colombia and Brazil have approved the tie-up, whereas the previous government of Chile expressed some competitive concerns about the proposed tie-up.

At this point, LATAM has not outlined any specific plans to introduce additional service from Peru to the US, but the company could be waiting for specific guidance over when it might receive approval from authorities for its JV with American covering Peru. The JV would allow the two companies to coordinate on prices and scheduling, essentially operating as a single airline between the two countries.
CAPA will convene a conference in Houston on 16/17 April to discuss this and other high level aviation issues in the US and the Americas. For information please see CAPA Americas Summit
LATAM makes a regional international push from Lima during 2017
During 2017 LATAM focused on regional international growth from Lima, launching flights to Cartagena, Tucumán, Mendoza and Rio de Janeiro. The services to Tucumán and Mendoza, Argentina were made possible by a more liberalised government in Argentina allowing the launch of international services by LATAM, Copa and Avianca.

See related report: Argentina Aviation Part 1: Avianca, Copa & LATAM promote international traffic at secondary cities

Cartagena and Rio are more local markets, and demand within Latin America is continuing to grow as the region emerges from an economic recession. LATAM can also flow passengers from those destinations through Lima to its network within Peru. LATAM Airlines Peru represents nearly 57% of Lima's domestic ASKs for the week of 5-Mar-2018.
Lima Jorge Chavez International Airport percent of domestic ASKs by airline for the week of 5-Mar-2018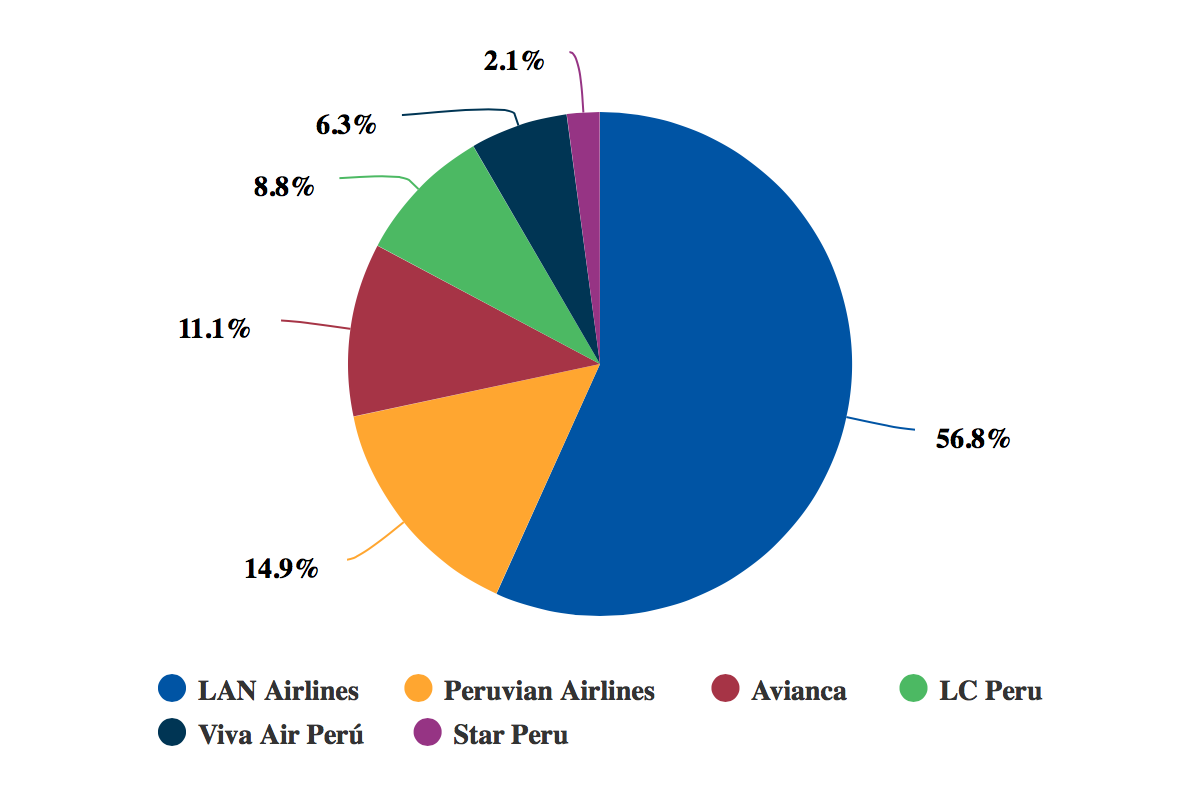 In Feb-2018 LATAM launched new service from Medellín to Lima, operating three weekly services on the route. LATAM is breaking rival Avianca's monopoly on the route, and continuing to expand connections between Peru and Colombia beyond Lima to Bogotá.
LATAM Airlines Colombia launched domestic flights from Santa Marta and Barranquilla to Medellín in 2017, so the Group's flights from Lima to Medellín offer connection opportunities to Peru.
Peru's prominence in LATAM 's network is a mainstay
Lima will continue to play a major role in LATAM Airline Group's North-South connectivity and regional connections within Latin America.
For now – in 2018 the company is focussing long haul growth from its hub in São Paulo to Rome, Lisbon and Boston, as Brazil emerges from a recession and its GDP for 2018 is forecast to grow more than 2%. LATAM Airlines Group is forecasting capacity growth of 6% to 8% in its Spanish-speaking markets in 2018, compared with flat growth in 2017.
Given that Peru is the company's third largest market measured by ASK deployment, LATAM will deploy a solid proportion of that growth in the country, working to capitalise on stimulating more domestic traffic to feed regional and long haul routes to North America.
CAPA will convene a conference in Houston on 16/17 April to discuss this and other high level aviation issues in the US and the Americas. For information please see CAPA Americas Summit
Agenda Extract:
Serving Latin American markets
Latin America has long been the backyard for US airlines of all sizes. As a high potential growth market, its outlook is quite different from the Asian profile. Already US airlines have secured significant equity holdings and partnerships, in attempting to subdue some of the more difficult elements of competition.
This has been possible as several key Latin American countries, such as Mexico, Brazil, Chile and now Argentina have adopted relatively liberal aviation policies.
Ownership and control and foreign equity ownership have been significantly relaxed in several cases. Only a small number of states including those of central America have resisted this trend. As the main Latin economies emerge from the difficult times they have experienced in this decade, there is the potential for US airlines to establish even stronger ties
How do limits on open skies and infrastructure constraints inhibit growth?
Are Latin American governments likely to pursue liberal market regimes, including market access and foreign ownership?
Are more cross border equity investments likely as partnerships evolve?
Are there opportunities for multilateral liberalisation that would benefit US airlines?
Which markets are underserved and have the most potential?
Moderator: IATA, Regional Vice President, The Americas, Peter Cerdá
Panel: