Korean Air sees success from CSA Czech Airlines acquisition while growing its Etihad partnership
Analysis
Korean Air, in one of the still-rare international airline acquisitions, bought a 44% stake of CSA Czech Airlines in 2013 for a relatively light EUR2.64 million. The Korean flag has been rewarded by growth of over 200% in the number of passengers transiting in Prague, Czech's hub. But also light are details on the strategic rationale of the acquisition. Hub cooperation – and this boosting of transit passengers – could theoretically have been achieved without equity.
While Korean Air has detailed how transit passengers in Prague have risen from about 600 a month in 2012 to a peak of 2,000 in Sep-2013, Korean has not stated what volumes it has lost in Frankfurt. Korean Air and Lufthansa had a successful interline agreement that was terminated in advance of Korean's acquisition of Czech.
Korean is touting the benefit of reaching additional European cities from Prague, but again it is unclear how much of this is growth versus replacement from Lufthansa. It is also unclear what further synergies exist between the carriers.
Also in the partnership spectrum – small but more rationale – Korean Air is expanding a deal with Etihad Airways, now a global leader in cross-border purchases and partnerships. Korean Air will code on Etihad's services to Johannesburg and Muscat while Etihad will code on Korean's services to Honolulu and Vancouver.
Prague connections grow to 2,000 passengers in Sep-2013
Korean Air's number of connecting passengers in Prague jumped in Jun-2013. Since 2011 monthly connecting passengers have seldom gone above 900, but in Jun-2013 Korean saw about 1,700 transfer passengers.
The figure dipped in Jul-2013 (July historically saw more connecting passengers than June) and climbed in Sep-2013 to just over 2,000 passengers.
Korean Air transit passengers in Prague: 2011-2013*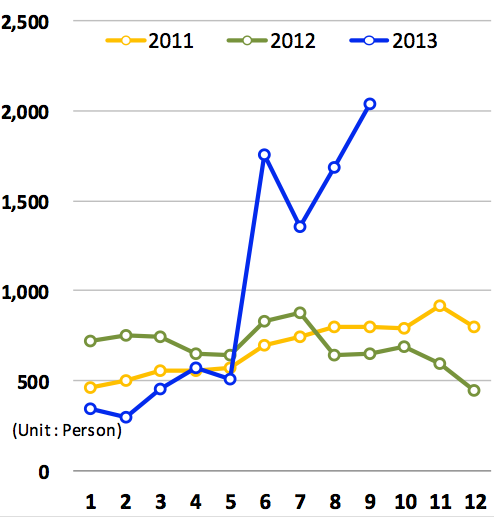 The additional transit passengers came on the back of flat to down capacity on the Seoul-Prague route, meaning there were not additional transit passengers because there was a larger pool to start with. Korean's capacity towards the end of 2013 is dipping due to using smaller A330s in the off-peak season compared to 777-200ERs in past years.
Korean Air Seoul-Prague seat capacity: 2011-2013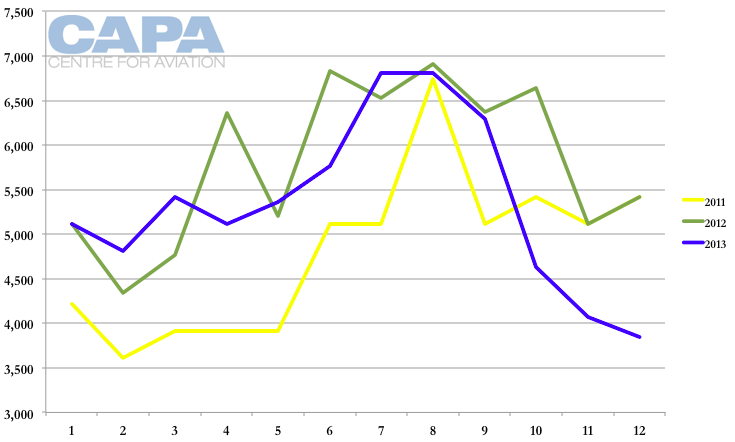 However, Korean Air's data is relatively unspecified and requires definition to extract greater meaning from. Assuming Korean's figures are transfers in either direction and Korean operated at an 80% load factor, about a fifth of passengers were connecting. If anything, this is perhaps low given the limited nature of the Prague market. It is unclear if a passenger who spends a few days in Prague and then takes a flight elsewhere in Europe is counted as a transit passenger. If such passengers are not counted as transit passengers, that would help explain the relatively low transit figure.
Irrespective of the exact details of the data, Korean Air is hoping to convey that more transit passengers – by whatever calculation – justify its stake in Czech Airlines, which has so far left most people confused and dubious of benefits. Equity investment should not have been required for Korean Air to have a larger number of connecting passengers. Since Czech Airlines did not serve Seoul (it started services after Korean's equity stake) and thus did not have any notable competitive conflict, it should have been receptive to incremental passengers. But these are still early days.
Korean Air's strategy for the Czech Airlines stake is vague at best, but there are a number of motives some speculate existed.
One was the souring of relations between Korean Air and Lufthansa that culminated with the cancellation of their interline agreement. Korean Air had depended on Frankfurt for onward connections around Europe. It is not entirely clear which side pushed for the cancellation of the interline agreement, which is surprising given how basic an interline agreement is and how some airlines have hundreds of such agreements. Nor is it clear if moods started to change before or after it became evident (if not yet public) Korean Air was interested in Czech Airlines.
Lufthansa's relations in Korea were awkward, with some seeing the German carrier closer to Korean Air but relatively uninterested in fellow Star Alliance carrier Asiana. Asiana does not have any codeshares on Lufthansa or Austrian Airlines and Swiss (which Lufthansa owns) or Brussels Airlines (which Lufthansa partially owns). These carriers stand out given their large and relevant presence to Asiana. Asiana codeshares with every other Star Alliance carrier except SAS as well as small Adria Airways, Aegean Airlines and Croatia Airlines and Avianca, Copa and TAM where synergies between them and Asiana would be limited due to distances between Asia and Latin America.
Some see that one partial motive from Korean Air to invest in Czech Airlines was to secure onward European traffic opportunities for a relatively cheap price. Korean's investment also ensured a carrier from another alliance did not take Czech Airlines, which may be small now but has long-term potential. While Korean Air may be able to say it has grown transit volumes in Prague, this has been only due to a likely decrease in Frankfurt, although Korean Air has not stated this. Indeed, the growth in Prague with Czech Airlines may not be enough to offset the loss in Frankfurt with Lufthansa.
In addition to promoting the value of the transit passenger volume growth, Korean Air has pointed to the virtual expansion in Europe it was able to achieve with Czech Airlines, adding points from Barcelona to Warsaw and Berlin to Stockholm. But once again this "additional" growth may be replacement (and perhaps only partial replacement) for what Korean Air lost with Lufthansa.
Expanded Korean Air network: Oct-2013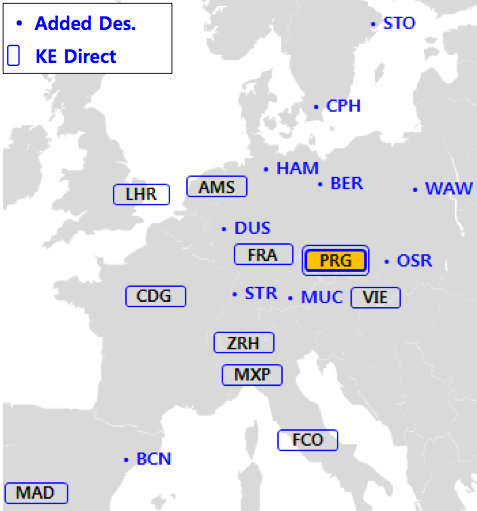 Korean Air and Etihad's partnership dates back to 2009 when the carriers launched SPA and interline agreements. Korean Air in Jul-2013 commenced codesharing on Etihad's Abu Dhabi-Seoul Incheon service. Etihad flies daily, and until the commencement of the northern winter schedule operated the route with an A340-600 but switched to A340-500 in northern winter. Korean Air does not fly to Abu Dhabi but does serve Dubai five times weekly with a 777-200ER.
Korean and Etihad in Sep-2013 expanded the partnership to include their first beyond hub codeshares with Korean codesharing on Etihad's Muscat and Johannesburg services. This was not formally announced until Oct-2013, when the two also said Korean would code on Etihad's Khartoum service subject to approval from the Sudanese government.
Both Korea and Oman speak of objectives to increase the number of tourists between their countries, but this is a small flow: 1,000 Omanis visited Korea in 2012, and most of this traffic would have been for business, which is the overwhelming driver for the codeshare. Korea has become Oman's third-largest export partner and fourth-largest import partner. Oman primarily exports oil to Korea, which gets about 2% of its nationwide needs from Oman. Imports from Korea – which understandably are much smaller due to the volume and price of oil – are high-end manufactured goods, such as cars and televisions. Oman does not rank on Korea's top 30 export partners, but by imports Oman is Korea's 15th largest partner.
Relations between the two are warm. Oman hopes to attract Korean investment in fisheries as part of its plans to diversify its economy. A Jan-2013 cooperation agreement MoU signing between Bank Muscat and Korea's Shinhan Bank was attended by numerous Korean politicians. Korean construction firms are also involved in projects in Oman. Korea is even sponsoring a week-long Korean cultural festival in Oman.
Prior to the codeshare, Korean Air was relatively unable to benefit from the small but growing Korea-Oman ties. The codeshare is beneficial for Etihad since it will enhance its penetration of Korean point of sale, which would be looking to book under the Korean Air code wherever possible. Etihad also gains an advantage over Emirates and Qatar Airways, which also serve Seoul with greater frequency: double daily A380s for Emirates and double daily 777-300ERs for Qatar.
Ties are not as deep between Korea and South Africa, but South Africa imports more goods by value from Korea than Oman does (largely a reflection of South Africa's much larger size than Oman). It is expected Korean companies will grow their presence in Africa and in particular South Africa, but the conditions for a non-stop service are likely not present. Korean Air is struggling with its relatively new Seoul-Nairobi service, the hub of SkyTeam partner Kenya Airways. While Johannesburg is a larger destination than Nairobi, Korean Air would lack partnership opportunities and connections would be circuitous.
Korean would have to depend on connections, and despite its booming China-North America market that transits in Seoul and though China-Africa flows are growing, Seoul lacks the geography to be a convenient connecting point. Connections are much stronger from Bangkok, Hong Kong and Singapore, which have Johannesburg services from Thai Airways, Cathay Pacific and Singapore Airlines respectively (as well as South African from Hong Kong). Thai, Cathay and SIA would also have much larger networks to pool from whereas Korean Air would be limited to the small Japan and Northeast China markets.
Southern China and other parts of Asia are far more convenient for Thai, Cathay and SIA than they would be for Korean Air. Any traffic from China could prove temporary if Chinese carriers follow-through with thoughts to serve Johannesburg. So partnering with Etihad to Johannesburg is logical – especially if Korean Air grows the partnership, and its value from it, by having a service to Abu Dhabi.
South Africa to North East Asia (seats per week, one way): 19-Sep-2011 to 27-Apr-2014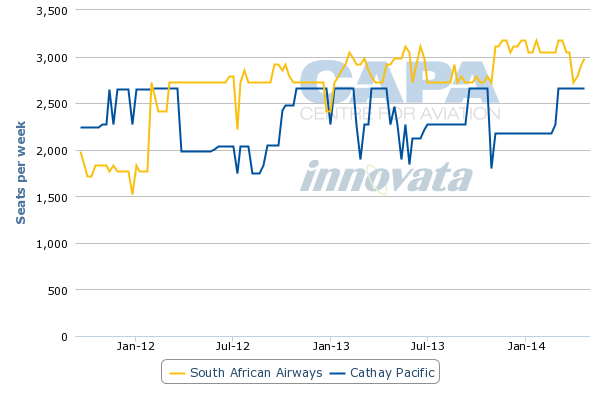 South Africa to South East Asia (seats per week, one way): 19-Sep-2011 to 27-Apr-2014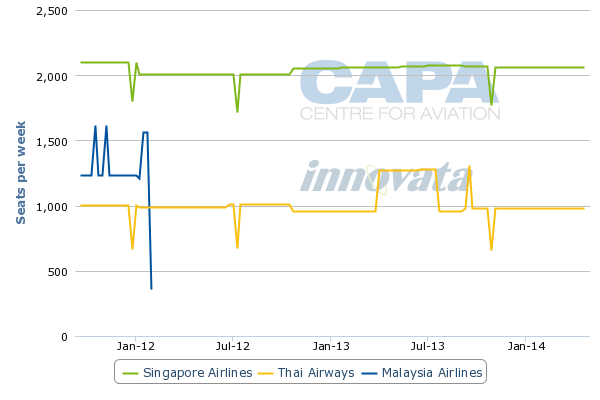 Ties between Korea and Sudan are even lower but also growing as Korea looks to secure a foothold in the changing Sudanese economy. Korea is involved in a limited railroad project.
While Korean Air will receive some codeshare revenue, its benefit is limited as it does not have metal into Abu Dhabi. Etihad would likely welcome a Korean Air service (in addition of or in lieu to Dubai) as the two could offer a combined double daily service. Scheduling the flights at different times would allow the two to tap into different scheduling banks and present greater competition to Emirates' and Qatar's double daily flights.
The presence of Gulf carriers is there to stay in Korea – and grow, pending air traffic rights – so for Korean Air the end game has to be the same as it was for likes of Air France and Qantas: if you can't beat 'em, join 'em. And in an environment like Korea, which keeps a close watch on air traffic rights, a partnership with Korean Air would enhance the rationale to hand out additional traffic rights.
But both Etihad and Korean are hard negotiators, and while Korean Air in some respects is innovative, it can also be very old-fashioned. While Etihad has secured airlines flying into its Abu Dhabi hub, it has had lower success around Asia, where inertia is still rife and protectionism is still instinctive. Garuda partners with Etihad, and launched Abu Dhabi flights, but other partners around the region are less visible compared to the large potential.
As Korean Air sees the volumes it puts on Etihad with just two (perhaps soon three) points, it will be too enticing to forgo the traffic opportunity.
South Korea to Middle East (seats per week, one way): 19-Sep-2011 to 27-Apr-2014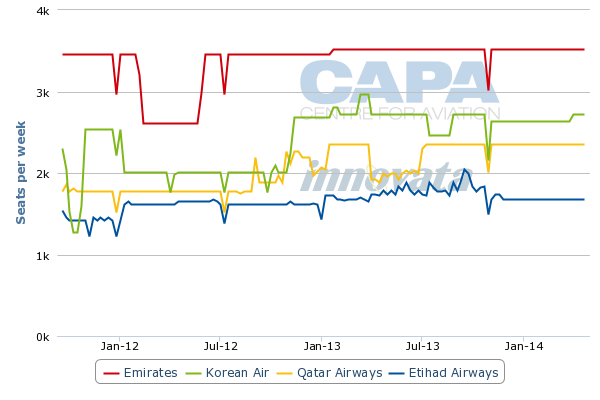 Etihad for its part is extending its relationship with Korean Air by codesharing on Korean's services to Honolulu and Vancouver. These are interesting as they do not fit Etihad's general approach to partnerships. When having beyond-hub codeshares, Etihad usually looks for short-haul points. Honolulu and Vancouver are 7300-8300km from Seoul – not short-haul points at all. A notable exception are Europe-US codeshares on Aer Lingus, but here Etihad is able to tap into Aer Lingus' notable US network, where Etihad sees demand but does not have enough long-haul aircraft to serve on its own. But in this instance Dublin-US flights are closer to 5,000km, much shorter than Honolulu and Vancouver are from Seoul.
Reaching Honolulu from Abu Dhabi is marginally longer via Seoul (3%) than a non-stop flight, which would be unviable in the foreseeable future due to limited demand, especially in the corporate/premium sector. However, Abu Dhabi to Vancouver via Seoul is 27% longer than a non-stop service from Abu Dhabi. Etihad, like its Gulf siblings, has encountered regulatory restrictions in Canada, limiting organic growth and making the quest for alternatives more pressing.
Etihad has an impending service to Los Angeles, but the distance from Abu Dhabi to Vancouver via Seoul is about the same as via Los Angeles, and Etihad will likely be able to attract sufficient demand for Los Angeles-terminating passengers. Etihad may struggle with connections beyond Los Angeles due to Delta and Airlines For America recently challenging Etihad in both its codeshare application with JAT/Air Serbia and pre-clearance in Abu Dhabi. United has also recently spoken out against Gulf carriers. Given this atmosphere, it is challenging to see a US carrier want to break rank and launch new cooperation with a Gulf carrier.
Etihad could potentially partner with Korean Air elsewhere in the western part of the US, where it would be geographically efficient to do so. Regulatory matters should be smooth owing to the open skies agreements between the US and UAE, and the US and Korea.
Another factor – and more nuanced to Vancouver – is that Korean Air may be facing some yield pressure in Vancouver following Canada's expansion of air rights with China, which saw near instant increases in Canada-China capacity. Korean Air relies heavily on Chinese passengers for its trans-Pacific services. The China-Vancouver market will grow from about 8,000 one-way weekly seats in Jan/Feb-2013 to about 12,000 weekly seats in Jan/Feb-2014 – an increase of around 50% – with most of these seats being in Vancouver. So with the increase in capacity, Korean Air may be able to attractively offer a Vancouver seat to Etihad.
China to Vancouver (seats per week, one way): 19-Sep-2011 to 27-Apr-2014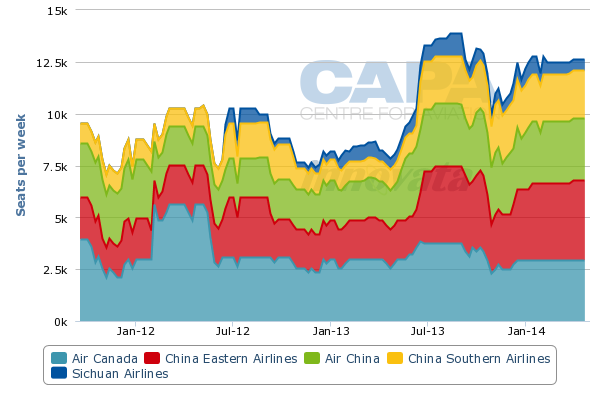 The efficiency of Etihad's connections on Korean Air could be made better – or worse – depending on where a passenger is originating or terminating since most of Etihad's passengers are in transit and not going to/from Abu Dhabi.
It is difficult to pinpoint what markets would be particularly strong for Etihad to Honolulu and Vancouver, but that may be beside the point: Etihad's success with extensive partnerships enables it to locate spare capacity in the system, attractively price it and then gain incremental passengers. One day an Etihad/Korean combination ticket may be the most expensive but another day it may be the cheapest. Codeshares come with relatively limited cost and low risk. Even if these destinations are not the most attractive for Etihad, they will help lay the ground for it to secure more growth with Korean Air.
Korean Air is taking a mixed approach to partnerships in a dynamic world
The limited nature of Korean Air's partnership with Etihad – where there are clear-cut benefits – contrasts to Korean Air's much bolder but less clear equity stake in Czech Airlines. The rationale of the latter may not be high, but nor was the price.
Still, Korean Air's involvement with Etihad amounts to an embrace compared to the very limited relationships other Asian carriers have with those in the Gulf.
Korean in some areas is seen as a laggard; in others it is seen as an innovator. It is this latter category Korean will likely fall into with Etihad as it surely expands cooperation and even flies into Abu Dhabi. That will provide comfort – and provoke some urgency – for other Asian carriers to follow suit.
So with the value of the Czech Airlines partnership still inconclusive but relatively limited, with uncertain upside, while Etihad cooperation opportunities loom large, perhaps the priority should be to focus less on the past and more on the future.
Provided, of course, Korean Air is able to develop a convincing and comprehensive strategic rationale for the future.