Jin Air expanding and receiving greater recognition from parent Korean Air. Maybe Australia next
Analysis
The success of independent Jeju Air, which went public in 2015 and for a time had a higher market capitalisation than AirAsia, galvanised Jin Air into higher growth so the Korean Air subsidiary would become Korea's largest LCC. Overall Jeju Air remains larger, but Jin Air is catching up, establishing itself firmly as second-largest and narrowing the gap with Jeju Air.
Jin Air SVP/Director of Marketing Emily Cho told CAPA's LCCs in North Asia Summit (6/7-Jun-2016) at Tokyo Narita that Jin Air will grow to a fleet of 22 aircraft in Jul-2016. Jin Air is finally entering the trunk route between Seoul and Tokyo as other LCCs grow and enter the market. If Jin Air is to be Korea's leading LCC, it will need to take the initiative in more markets. Jin Air is Korea's – and Northeast Asia's – only widebody LCC operator. Its first long haul route, to Honolulu, has stimulated previously flat Korean visitor numbers to Hawaii. Jin Air has increased codeshares with Korean Air and established interlines, including with the Jetstar Group, which could hint at a future long-haul service from Seoul to Australia, where non-stop Korea-Australia capacity is down but visitor numbers are up due to stronger sixth freedom traffic.
Jin Air taking on prominence as Korean Air recognises its LCC
Jin Air has become Korea's second largest LCC, the only Northeast Asian LCC to operate widebodies, and has one of the most extensive, but still relatively small, partnership networks for a Northeast Asian LCC. Jin Air has also entered more first tier routes. This is all largely due to blessing from owner Korean Air.
Korean Air is recognising Jin Air's value but also wants Jin Air to catch up to competitors (Jeju Air) and take the lead in the LCC sector (as seen with partnerships and widebody growth). Jeju Air has a fleet of 24 all-737s while Jin Air has a fleet of 20 aircraft, comprising 17 737s and three 777-200s. The fleet is expected to grow to 22 in Jul-2016.
Jin Air is one of two dual-brand LCCs in Korea. The other is Asiana's partially-owned Air Busan. Asiana also plans to launch wholly-owned LCC Air Seoul.
Jin Air SVP/Director of Marketing Emily Cho addressed CAPA's LCCs in North Asia Summit (6/7-Jun-2016) at Tokyo Narita and discussed the opportunities and challenges of dual-brand strategies. Ms Cho said there are disadvantages for airlines with large parent companies, as there are multiple layers of management; however this can also be an advantage, as they have the experience and knowledge to advise the LCC.
Speaking to CAPA TV in Tokyo, Ms Cho noted Jin Air uses Korean Air's maintenance and is able to leverage this in the safety-conscious Korean marketplace.
Jin Air SVP/Director of Marketing Emily Cho discusses growth at CAPA's LCCs in North Asia: Jun-2016
Jin Air is now Korea's second largest LCC
Korea's compact market is served by two full service airlines (Asiana and Korean Air) and five LCCs with a sixth – Air Seoul from Asiana – on the way. By 2011 it became clear Air Busan (partially owned by Asiana) and Jeju Air (independent of any other Korean airline) were the leaders, although Air Busan's position was helped by taking over domestic routes from Asiana.
Jin Air was about the size of Eastar Jet (independent), with the market's fifth LCC, T'way, the smallest. In 2014, Jin Air began an effort to increase growth, wanting to become Korea's largest LCC. Jin Air ended 2014 larger than Eastar, and in 2015 overtook Air Busan to be Korea's second-largest LCC behind Jeju Air.
Jin Air carried 5.3 million passengers in 2015, 47% growth over 2014's 3.6 million passengers. International grew slightly faster (49.5% to 2.0 million) than domestic (45.7% to 3.3 million) but from a lower base.
Annual System Traffic Comparison for JEJU air, Air Busan, Jin Air, EastarJet, T'way Air: 2008-2015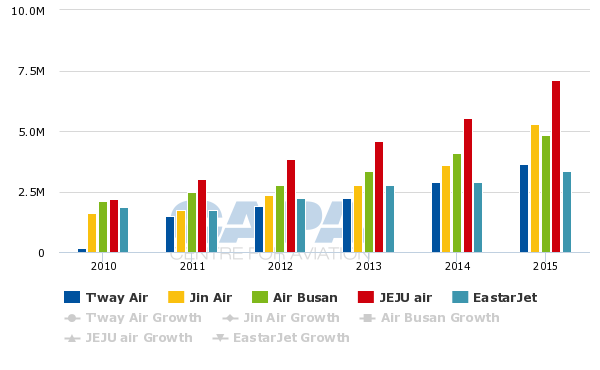 Jin Air's growth has been focused on international opportunities. In 2015, Jin Air was only slightly larger than Air Busan in the domestic market. Jeju Air is the largest LCC in the domestic, international and overall Korean market. The domestic market is the majority of traffic for Korean LCCs. Routes are limited by mostly comprised of services from Seoul and Busan to Jeju, an island without easy access. The rest of the country is relatively accessible by road or efficient and inexpensive high speed rail, eliminating the need for significant peninsular domestic routes.
In 2011, Jin Air's domestic traffic was 58% of the size of Jeju Air's. In 2014, Jin Air had 66% as much domestic traffic as Jeju Air despite Jeju Air's own growth. In 2015, this further narrowed to Jin Air being 78% the size of Jeju Air.
Growth is challenging as Jeju Airport – where all Jin Air domestic flights go to or from – has reached capacity and a new airport is still a few years out. Jin Air has been able to grow capacity by deploying its widebody 777-200s.
Annual Domestic Traffic Comparison for JEJU air, Air Busan, Jin Air, EastarJet, T'way Air: 2008-2015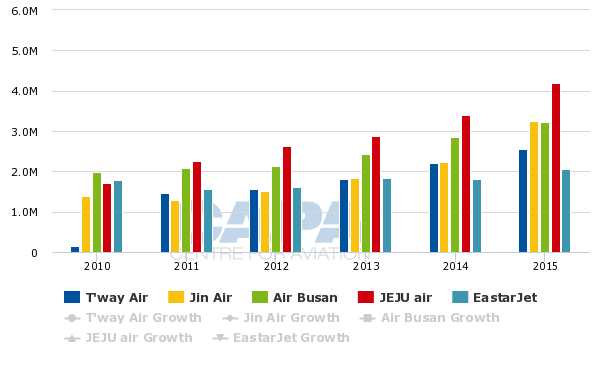 Jin Air still closing gap with Jeju Air for international
Jin Air is still closing the gap with Jeju Air for international passengers. In 2012, Jin Air carried 69% as many international passengers as Jeju Air. Faster growth at Jeju Air in 2013 and 2014 saw the gap widen, but in 2015 Jin Air narrowed the gap and carried 70% as many international passengers as Jeju Air. This compares to Jin Air carrying 78% as many domestic passengers as Jeju Air.
Jin Air's use of widebodies on domestic routes helps grow domestic figures, but the widebody usage on international flights – especially Jin Air's sole long haul flight, to Honolulu – does not reflect distance (RPKs) in passenger numbers.
Annual System Traffic Comparison for JEJU air, Air Busan, Jin Air, EastarJet, T'way Air: 2008-2015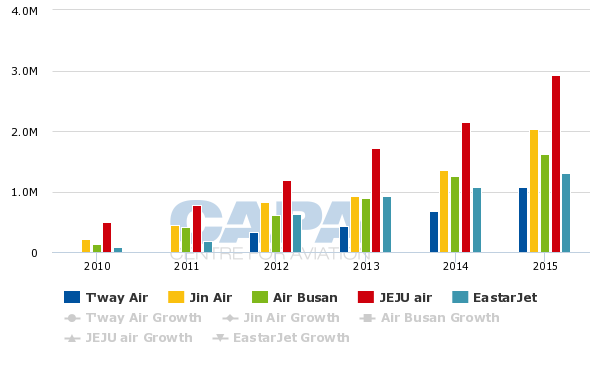 Jin Air opened 11 new routes in 2015, including three in Dec-2015: Kalibo, Hanoi and Phuket, all served from Seoul Incheon. In 2016, Jin Air is opening more prominent routes, likely a combination of Korean Air loosening the reigns around Jin Air and Korean Air wanting to see Jin Air mount a competitive response. Jin Air launched daily Seoul Incheon-Taipei Taoyuan service in Mar-2016, which preceded Jeju Air's daily May-2016 launch on the route. The Seoul-Taipei bilateral had been constrained and was expanded but remains significantly smaller than market demand.
There are no air services restrictions in the Seoul Incheon-Tokyo Narita market. Jin Air is launching a double daily Seoul Incheon-Tokyo Narita service on 01-Jul-2016, Jin Air's first presence in the Tokyo market. The Seoul-Tokyo market is expanding; Jeju Air is introducing a third daily flight, EastarJet maintaining a second daily flight, and both Peach and T'way are entering the market. Jun-2016 LCC seat capacity is approximately 9,100 weekly one-way seats, up from 3,100 in Jun-2015. With such growth, Jin Air could not afford to sit out of the market.
Seoul Incheon International Airport to Tokyo Haneda and Narita (LCC seats per week, one way): 19-Sep-2011 to 31-Oct-2016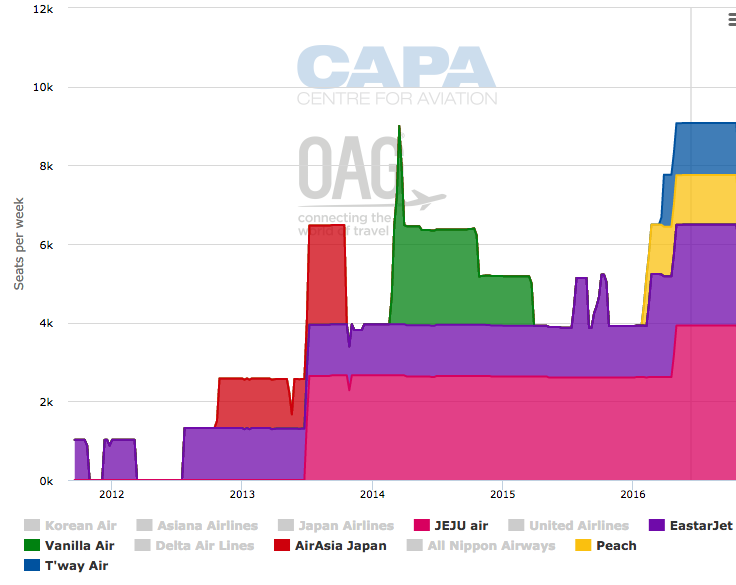 The increasing presence of LCCs between Japan and Korea is a challenge for full service operators.
See related report: LCCs rapidly grow to account for 30% of Japan-Korea market. Full-service airlines need new strategy
Jin Air is Northeast Asia's first widebody LCC operator. Inaugural route to Honolulu generating growth
Jin Air in Dec-2014 became Northeast Asia's first widebody LCC operator. Jin Air took 777-200s from Korean Air and after domestic/regional usage, commenced long-haul flights in Dec-2015 with a Seoul Incheon-Honolulu service.
Korean Air serves the route but had reduced capacity in recent times. Other incumbents Hawaiian Airlines and Asiana have kept flat capacity since mid-2014.
See related report: Jin Air launches 777, becoming first North Asian widebody LCC. Jeju Air plans for 40 aircraft fleet
Honolulu International Airport to South Korea (seats per week, one way): 19-Sep-2011 to 31-Oct-2016
The result has been flat Korean visitor arrivals to Hawaii. 2014 arrivals were up 0.6% and then shrank 3.7% in 2015. Hawaii forecasts record growth in 2016 and subsequent years as Jin Air grows the market. Visitor arrivals are forecast to expand 16.2% in 2016 and then grow 5.0% in each of 2017, 2018 and 2019. (Jin Air has not announced any expansion plans.)
Hawaii expects Chinese visitors to overtake Korean visitors in 2018 as Hawaii receives 220,000 Chinese visitors. This is well below the 1.5m Japanese visitors Hawaii has received since 2012 and expects to be mostly flat through 2019.
Korean visitors to Hawaii: 1989-2019F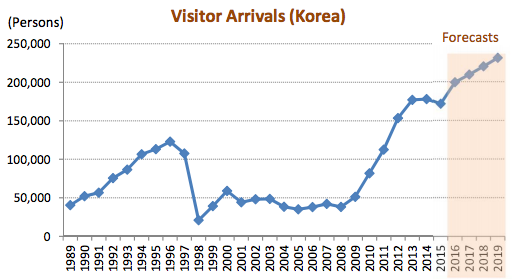 Jetstar interline agreement could suggest Jin Air interest in leisure Australian markets
Jin Air on 20-May-2016 signed an interline agreement with Island Air to enable connections beyond Honolulu. Jin Air signed MoUs with Cambodia Angkor Air (02-Jun-2016) and Lao Airlines (03-Jun-2016). As in Hawaii, Jin Air serves the main airport of Laos (Vientiane) but not other airports in the country. Honolulu is a destination in its own right, but in Laos, visitors tend to travel to other points like Luang Prabang.
The interline can help Jin Air develop traffic to those tourist markets. Jin Air has not announced service to Cambodia, so the MoU for an interline is a strong indication of future service, likely to Siem Reap, the gateway to Angkor Wat. Existing LCC service to Siem Reap consists of Air Busan serving Siem Reap twice a week from Busan and EastarJet daily from Seoul Incheon, according to OAG data.
A larger hint of a route development is Jin Air's Apr-2016 signing of an interline agreemnt with the Jetstar Group, which was announced with an aim to take affect in 3Q2016. Although the agreement could link Jin Air to various Jetstar Group routes at points outside Australia, a likely scenario is Jin Air commencing 777 service to Australia.
Korean Air is eager to see its group presence restored: Korean Air cancelled its Seoul Incheon-Melbourne service in Mar-2013, leaving its only Australian services as Brisbane and Sydney, both served from Incheon. Asiana only serves Seoul Incheon-Sydney. Qantas has not regularly served the market in over 10 years.
Jin Air however is more likely to enter a Queensland leisure point, such as the Gold Coast (OOL) or Cairns (CNS), both of which are among Jetstar's largest bases, facilitating connections and the ability to reach multiple destinations in Australia (and New Zealand).
Update: since this report was issued, Jin Air executive director Cho Hyun-min said the carrier is "working hard to prepare for flying to Cairns" on 14-Dec-2016, to be served twice weekly on a 777-200ER from Seoul Incheon.
Tourism Australia is eager to growth in Korea-Australia non-stop capacity. Korean visitor arrivals are well below their 2006 peak. After dipping again in 2011, Korean visitor arrivals to Australia are showing growth: 197,500 in 2013, 204,100 in 2014 and 230,100 in 2015.
Visitors from South Korea into Australia: 2001-2013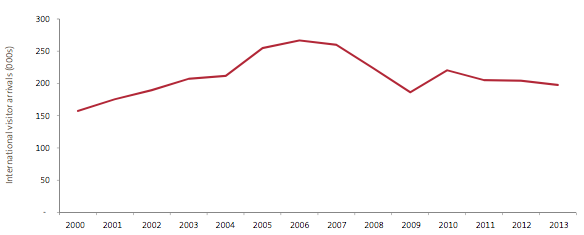 In addition to Korean Air suspending Melbourne service, Asiana and Korean Air make seasonal reductions, reflecting the seasonal nature of the market and the decreased load factors they see. The current model and marketing support for full service airlines to link Australia and Korea is not working. Unlike Korean neighbour Japan, Korea is a growing outbound market.
Most Korean visitors to Australia are in the holiday category, and it is this segment that has seen the sharpest changes of Korean visitor profiles to Australia. Jin Air's lower fares could stimulate the market.
Visitors from South Korea into Australia by purpose of visit: 2001-2013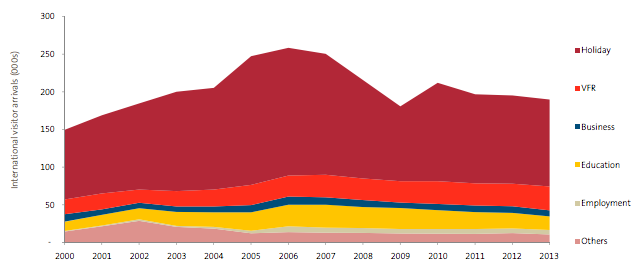 Growth in Korean visitors to Australia has occurred despite a reduction in non-stop capacity. Growth is largely attributable to intermediary operators. AirAsia X and Cebu Pacific for example push connections to Northeast Asia.
Tourism Australia analysis of Korean visitor arrivals found approximately only 55% of visitors travel on Asiana and Korea Air. Approximately 11% travel on Qantas and Jetstar, which could indicate a connection in another country or a passenger on a Qantas codeshare operated by Asiana.
Cathay Pacific and Singapore Airlines carried 13% of passengers in 2013. Decreased Korean capacity since this analysis has likely seen a shift to intermediary operators.
Visitors from South Korea into Australia by airline flown: 2009-2013

Jin Air looking to overtake Jeju Air, and there are growth opportunities – if Korean Air allows
Jin Air was galvanised into growth and entry on blue chip routes only after Jeju Air demonstrated success, which was rewarded by the market in 2015 with a strong IPO debut that saw it, for a time, valued more than AirAsia. Jin Air's widebody project is perhaps an effort to one-up Jeju Air. With three 777-200s, even if acquired at a low cost from Korean Air, it has so far been an expensive project.
There are opportunities for Jin Air in short- and long haul markets if it can leverage Korean Air's support. Growing codeshares may indicate warming relations.
Jin Air and Korean Air codeshare: May-2016
Widebodies and their routes can however have a disproportionate financial cost compared to short haul flying, where there are more numerous opportunities. Asiana is studying how to hand secondary routes to new LCC Air Seoul. Although this may not be the best growth path for a start-up LCC, it could be an example for Korean Air and Jin Air to follow.
Overall Jin Air is seeking a clear strategy to move to overtaking Jeju Air. Jin Air was established in response to growing LCC presence in Korea but it now needs a future vision shaped by opportunities - rather than by responding to what competitors are doing.
Shorthaul is where opportunity remains and Jin Air, if it is to be Korea's flagship LCC, needs to take the initiative. It was long overdue for Jin Air to enter Tokyo, a market (and country) dominated by Korean Air. Korean Air may like having its LCC become the largest, but, like others before it in the region, it will need to refine a dual brand strategy that compromises between growing Jin Air and encroaching on Korean Air's markets.