Interjet's international passengers soar with new US transborder push against Mexican and US rivals
Analysis
International passenger numbers for the Mexican low cost airline Interjet skyrocketed more than 50% in the first seven months of 2016, reflecting the launch of more than 10 new international routes during that period, and with US transborder routes representing the bulk of Interjet's international expansion.

Interjet is no doubt positioning itself to seize on opportunities created by a new, finalised bilateral between the US and Mexico that lifts restrictions on the number of airlines operating on specific routes between the two countries. Interjet's rival Volaris has also grown its US transborder passengers in 2016, but it has a different route profile from that of Interjet. Generally, Interjet is subject to higher levels of competition on some of its transborder routes than Volaris, given that Interjet and Volaris offer different products to their passengers.

During the past two to three years Interjet and Volaris have been essentially tied for the coveted position of Mexico's second largest domestic airline. But for the seven months ending Jul-2017 Volaris logged 22% domestic passenger growth, while Interjet's passenger numbers inched down slightly, resulting in Volaris assuming full command of the second place ranking.
Interjet's international passengers growth outpaces its rivals for the 7M ending Jul-2016
Data from Mexico's SCT show that Interjet's international passenger numbers jumped nearly 52% year-on-year from Jan-2016 to Jul-2016 – to 1.1 million. As a result, the company's share of international passengers among Mexico's airlines grew from 13% to 17% year-on-year.
International passenger share among Mexico's airlines: Jan-2015 to Jul-2015 vs Jan-2016 to Jul-2016
| | |
| --- | --- |
| 2016 | 2015 |
With the exception of VivaAerobus, all of Mexico's largest airlines recorded growth in international passengers transported year-on-year for the first seven months of 2016. Volaris grew its international passenger numbers 28% and Grupo Aeromexico posted 7% growth.
VivaAerobus' passenger numbers plummeted 72% year-on-year. The low cost airline made a brief transborder push in 2014-2015, launching flights to Dallas from Guadalajara and Monterrey and to Houston from Cancún and Guadalajara. VivaAerobus also resumed previously served routes from Monterrey to Las Vegas and San Antonio during that time. But the airline has subsequently cut all those routes, and has hinted it would resume international growth in 2017 after completing a fleet renewal in 2016.

Data from CAP and OAG for the week of 12-Sep-2016 show that VivaAerobus' seats on offer between Mexico and the US have fallen 79% year-on-year.
Mexico to United States of America (seats per week, one way): 14-Sep-2015 and 12-Sep-2016
| Airline | Week of 14-Sep-2015 seats | Week of 14-Sep-2015 percentage share | Week of 12-Sep-2016 seats | Week of 12-Sep-2016 percentage share |
| --- | --- | --- | --- | --- |
| Aeromar | 255 seats | 0.11% | 306 seats (20%) | 0.12% |
| Aeromexico | 43,567 seats | 19.23% | 46,005 seats (5.6%) | 18.07% |
| Alaska Airlines | 11,875 seats | 5.24% | 13,769 seats (15.95%) | 5.41% |
| American Airlines | 43,923 seats | 19.39% | 49,362 seats (12.38%) | 19.39% |
| Branson Air Express | 840 seats | 0.37% | N/A | N/A |
| Delta Air Lines | 22,616 seats | 9.98% | 22,247 seats (-1.63%) | 8.74% |
| Frontier Airlines | 3,211 seats | 1.42% | 3,626 seats (12.92%) | 1.42% |
| Interjet | 11,205 seats | 4.95% | 17,850 seats (59.3%) | 7.01% |
| Southwest Airlines | 8,772 seats | 3.87% | 14,872 seats (69.54%) | 5.84% |
| Spirit Airlines | 1,971 seats | 0.87% | 3,739 seats (89.7%) | 1.47% |
| Sun Country | 776 seats | 0.34% | 780 seats (0.52%) | 0.31% |
| Sunwing Airlines | 187 seats | 0.08% | N/A | N/A |
| US Airways | 9,358 seats | 4.13% | N/A | N/A |
| United Airlines | 36,941 seats | 16.3% | 41,371 seats (11.99%) | 16.25% |
| Virgin America | 1,332 seats | 0.59% | 1,332 seats (0%) | 0.52% |
| VivaAerobus | 1,569 seats | 0.69% | 329 seats (-79.03%) | 0.13% |
| Volaris | 23,868 seats | 10.53% | 32,112 seats (34.54%) | 12.62% |
| jetBlue Airways | 4,311 seats | 1.9% | 6,850 seats (58.9%) | 2.69% |
| Total | 226,577 seats | 100% | 254,550 seats (12.35%) | 100% |
See related report: VivaAerobus pulls back on US routes as the Viva Group takes aim at Costa Rica
Interjet leverages its position in Mexico City to launch competitive US routes
Interjet's international growth has been fuelled by the launch of several new transborder routes in 2016, culminating in the launch of services between Mexico City Juarez-Chicago O'Hare, Los Angeles, Las Vegas in late 2016. Interjet's competitors on the new route to Chicago are its Mexican rivals Aeromexico and Volaris, as well as United, which has a hub at O'Hare. Interjet is also competing with Volaris and Aeromexico on service to Las Vegas, and with Aeromexico, American, United and Volaris on flights from Mexico City to Los Angeles.

The profile of Interjet's new transborder routes follows the same pattern of new US routes that the airline has launched earlier in 2016 – competition from both its main Mexican rivals and large US global network airlines.
The latest route additions from Interjet reflect its strategy of capitalising on the lifting of restrictions on the number of airlines serving key markets between Mexico and the US. Competition will be fierce on those new routes, but Interjet has an advantage as Mexico City Juarez's second largest airline, which gives its some point of sale leverage in Mexico on the new US transborder routes.
Mexico City Juarez International Airport capacity by airline (% of seats): 12-Sep-2016 to 18-Sep-2016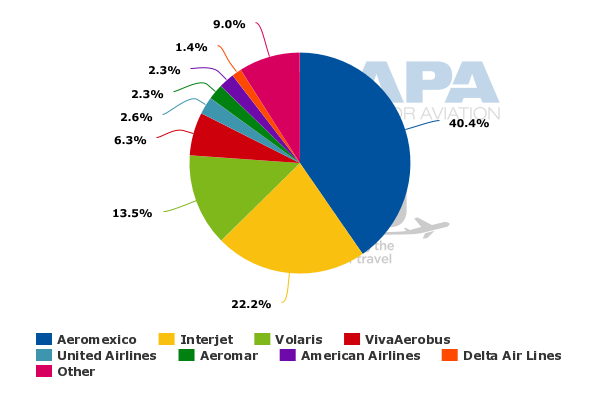 Interjet's product position falls between Aeromexico and ULCC Volaris: targeting business travellers with a slightly more upscale product than Volaris, but presumably at a cheaper price point than Aeromexico's. Some of the larger markets are key targets for Interjet as it works to expand its US transborder presence. The airline is uncontested on two other international markets it has launched during 2016 – from Mexico City to Santa Clara, Cuba, and between Mérida and Havana.
Airline seat share on previous US transborder routes launched by Interjet in 2016
See related report: Mexico-US transborder airline market Part 1: Interjet and Volaris capitalise on new US opportunities
Interjet and Volaris deploy the same number of seats onto international routes
Volaris has also charted solid international passenger growth in 2016, stemming largely from a continued transborder push. The US transborder market has been a key pillar of Volaris' ultra-low cost strategy for many years, and in 2016 it has added new flights: from Guadalajara to Austin, Seattle and San Francisco; Monterrey to Dallas and Chicago O'Hare; Durango to Los Angeles, and Culiacán to Phoenix. On four of those routes – between Guadalajara and Austin and Seattle, between Durango and Los Angeles, Culiacán and Phoenix – Volaris is uncontested.

Volaris' focus is targeting the VFR (visiting friends and relatives) passenger segment in its transborder routes, many of which do not have high levels of competition. In late 2016 the airline is adding service from Monterrey to Denver – a route Aeromexico appears to be exiting in early 2017 (according to data from CAPA and OAG). Volaris is also adding flights from Mexico City Juarez international to San Francisco, competing with Aeromexico and United.

According to the CAPA fleet database, Volaris and Interjet have similarly sized aircraft fleets. As of 15-Sep-2016 Volaris' operating fleet consisted of 62 Airbus narrowbodies, and Interjet's fleet of 64 aircraft was composed of 21 Sukhoi Superjet 100s and 43 Airbus A320s.
Volaris fleet summary as of 15-Sep-2016
Interjet fleet summary as of 15-Sep-2016
Before, its transborder push in 2016 Interjet's international growth was more measured, and not as rapid as that of Volaris. But both airlines presently (week of 12-Sep-2016) deploy approximately 20% of their system seat capacity into international markets, reflecting Interjet's swift expansion into several US markets.
Volaris international vs domestic capacity (% of seats): 12-Sep-2016 to 18-Sep-2016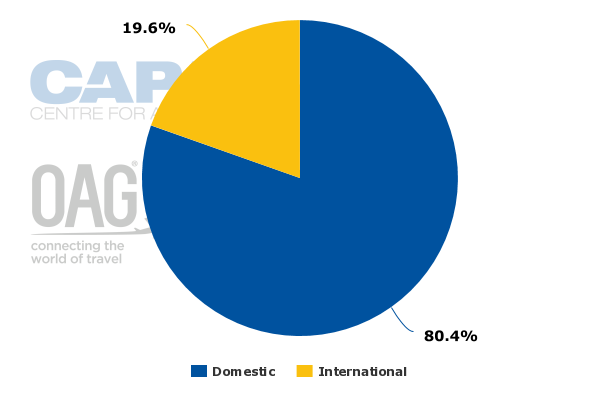 Interjet international vs domestic capacity (% of seats): 12-Sep-2016 to 18-Sep-2016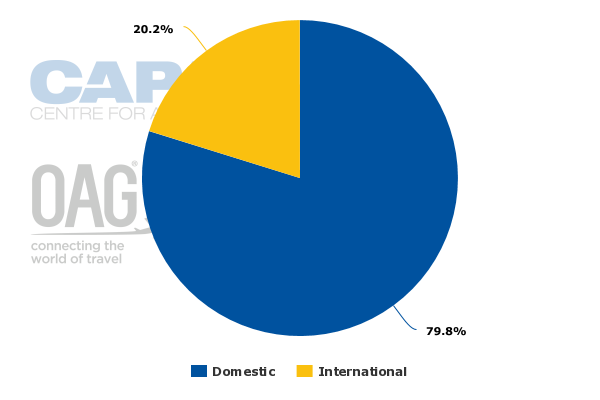 Interjet's domestic passenger growth tempers as it focuses on a transborder push
Interjet was the only airline among Mexico's four largest airlines that posted a slight decline in domestic passenger numbers for the first seven months of 2016. Its passenger levels notched lower by 0.4% during that period, whereas Volaris logged a 22% increase in domestic passenger levels. Aeromexico posted 2% domestic passenger growth for the seven months ending Jul-2016, and VivaAerobus recorded a 31% increase.

The growth by Volaris and VivaAerobus resulted in those airlines increasing their domestic market share year-on-year from Jan-2016 to Jul-2016. VivaAerobus' share grew from 11% to 13%, and Volaris increased its share of Mexico's domestic market from 25% to 28%. Interjet's share fell from 25% to 22% year-on-year, and Grupo Aeromexico held a 32% share for the first seven months of 2016 – compared with a 35% share the year prior.
Mexican airline domestic market share: Jan-2015 to Jul-2015 vs Jan-2016 to Jul-2016
| | |
| --- | --- |
| 2016 | 2015 |
Interjet's growth in international passenger numbers and its tempered international position reflect its focus on expanding its presence in the US transborder market in 2016. Data from CAPA and OAG show that Interjet's international seat growth has far surpassed its domestic seat deployment throughout most of 2016.
Interjet international seats per week: 2015 through early 2017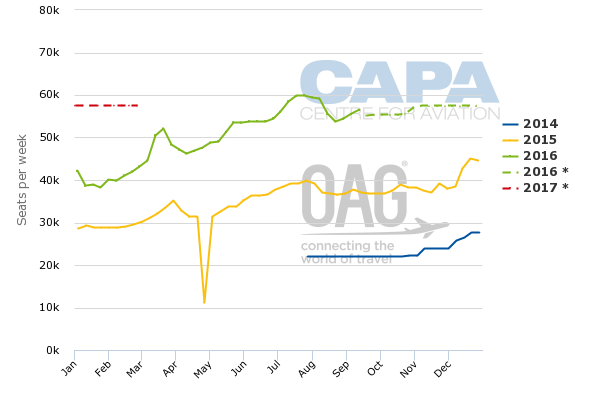 Interjet domestic seats per week: 2015 through early 2017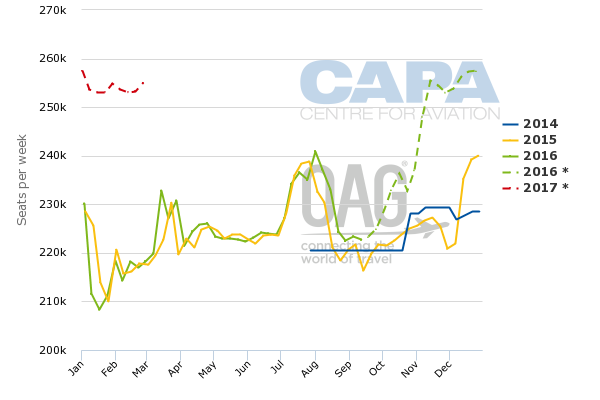 Obviously the Mexican domestic market remains prime for Interjet, and it will no doubt defend and grow its position in Mexico's domestic market in 2017.
Interjet works to change the competitive US transborder landscape in 2016
Interjet has logged impressive growth in the US transborder space during 2016, increasing competition both with its Mexican rivals and new US competitors. It is too early to determine Interjet's success on the new routes, but the lifting of artificial restrictions on the number of airlines serving certain routes should ultimately benefit consumers travelling in those markets.

Over the course of the next year the competitive dynamics in the US transborder space will change as Interjet and Volaris continue to expand and Aeromexico works to establish a joint venture with SkyTeam and its equity stakeholder Delta. VivaAerobus remains an unknown quantity in US transborder growth among Mexico's airlines, but it will likely add new competitive dynamics on routes between Mexico and the US in 2017.