Mexico-US transborder airline market Part 1: Interjet and Volaris capitalise on new US opportunities
Analysis
Mexican low cost airlines Volaris and Interjet are engaged in a significant transborder push in 2016. Combined, the airlines will launch a dozen routes to the US as an upcoming new bilateral lifts restrictions on the number of airlines operating routes between the US and Mexico. With many countries in Latin and Central America experiencing economic weakness, the US is a safer bet for expansion in the near term.

Volaris and Interjet target different passenger segments, and the airlines have little overlap on the new flights that they are launching to the US. Volaris cites numerous route opportunities in the US transborder market, and has grown rapidly in that space during the past several years. Interjet has grown more slowly but has quickly broadened its US reach in 2016, entering some markets that already have ample service.

Although US airlines still dominate the transborder market Mexican airlines are working to chip away at the sizeable gap between them, growing their international passenger numbers 10% year-on-year for the first five months of 2016.
(This is Part 1 of two reports examining the Mexico-US transborder market. Part 2 will focus on the proposed joint venture between Aeromexico and Delta).
Volaris believes numerous route opportunities still exist in the US transborder space
Volaris plans to grow system capacity 17% to 19% in 2016, with the bulk targeted to international markets, and mostly to the US.
Data from CAPA and OAG for the week of 18-Jul-2016 to 24-Jul-2016 indicate that 95% of Volaris' international seats are deployed to the US.
Volaris international capacity by country (% of seats): 18-Jul-2016 to 24-Jul-2016
So far in 2016 Volaris has added flights from Guadalajara to Seattle and San Francisco, Monterrey to Dallas and Chicago O'Hare, Durango to Los Angeles and Culiacán to Phoenix. On three of those routes, Volaris is uncontested.
It will also face no competitors on new flights from Guadalajara to Austin that are set to launch in Aug-2016.
Competitors and seat share on Volaris transborder routes launched in 2016
Volaris' transborder strategy is to target the VFR (visiting friends and relatives) passenger segment on routes that have low levels of competition. There is an opportunity to serve more than 100 transborder routes, Volaris has estimated, in addition to the approximately 50 it currently operates.
Volaris estimated international growth opportunities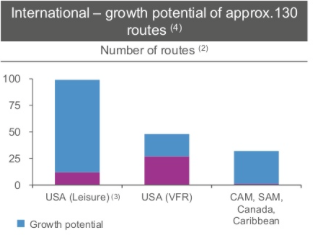 Executives at Volaris have concluded that its US transborder routes require more capacity, and those markets are performing well due to the resiliency of VFR traffic in a weak exchange rate environment – during 2Q2016 the MXP depreciated 18% against the USD.
Interjet turns its attention to the US in 2016, with several new route launches
Interjet's new transborder routes launched in 2016 include Cancun and Guadalajara to Los Angeles and Mexico city to Dallas and Orlando Sanford International. It has outlined plans to introduce new flights from Cancun to New York in Sep-2016. Data from CAPA and OAG show Aeromexico, American, Dynamic Airways and jetBlue operate service from New York JFK to Cancun. United and Volaris operate service from Newark to Cancun.

Interjet's new Cancun-Los Angeles route also features numerous airlines – Delta, Dynamic, United and Virgin America. It is competing with codeshare partner American and rival Aeromexico on flights to Dallas/Fort Worth.
Volaris is Interjet's competitor on flights to Las Vegas. No other airline serves Orlando Sanford, but Aeromexico, Volaris and jetBlue operate flights from Mexico City Juarez to Orlando International airport.
Competitors and seat share on Interjet transborder routes launched in 2016
Interjet's US transborder growth has been slower than that of its rival Volaris, but it has taken the path of significant growth in the market during 2016. Its seats on offer between Mexico and the US have grown 44% year-on-year for the week of 18-Jul-2016.
Mexico to United States of America: seats per week, one way, 20-Jul-2015 and 18-Jul-2016
| Airline | Week of 20-Jul-2015 seats | Week of 20-Jul-2015 percentage share | Week of 18-Jul-2016 seats | Week of 18-Jul-2016 percentage share |
| --- | --- | --- | --- | --- |
| Aeromar | 357 seats | 0.11% | 357 seats (0%) | 0.1% |
| Aeromexico | 45,310 seats | 13.87% | 51,199 seats (13%) | 14.78% |
| Alaska Airlines | 13,560 seats | 4.15% | 15,975 seats (17.81%) | 4.61% |
| American Airlines | 51,176 seats | 15.67% | 70,554 seats (37.87%) | 20.37% |
| Branson Air Express | 840 seats | 0.26% | N/A | N/A |
| Delta Air Lines | 35,852 seats | 10.98% | 33,180 seats (-7.45%) | 9.58% |
| Dynamic Airways | N/A | N/A | 2,133 seats | 0.62% |
| Frontier Airlines | 4,978 seats | 1.52% | 4,210 seats (-15.43%) | 1.22% |
| Interjet | 12,591 seats | 3.85% | 18,129 seats (43.98%) | 5.23% |
| Southwest Airlines | 17,179 seats | 5.26% | 20,803 seats (21.1%) | 6.01% |
| Spirit Airlines | 6,618 seats | 2.03% | 6,374 seats (-3.69%) | 1.84% |
| Sun Country | 3,240 seats | 0.99% | 4,010 seats (23.77%) | 1.16% |
| Sunwing Airlines | 187 seats | 0.06% | N/A | N/A |
| US Airways | 23,520 seats | 7.2% | N/A | N/A |
| United Airlines | 65,314 seats | 20% | 69,649 seats (6.64%) | 20.11% |
| Virgin America | 2,487 seats | 0.76% | 2,664 seats (7.12%) | 0.77% |
| VivaAerobus | 3,333 seats | 1.02% | 720 seats (-78.4%) | 0.21% |
| Volaris | 34,044 seats | 10.42% | 37,744 seats (10.87%) | 10.9% |
| jetBlue Airways | 6,030 seats | 1.85% | 8,700 seats (44.28%) | 2.51% |
| Total | 326,616 seats | 100% | 346,401 seats (6.06%) | 100% |
Among Mexican airlines, Interjet had a 16% share of the 4.3 million international passengers travelling on those operators from Jan-2016 to May-2016. Volaris had a 25% share and Aeromexico captured a 58% share.

Interjet and Volaris target different passenger bases. Interjet attempts to capture business travellers with a slightly more upscale product. In addition to codesharing with American, Interjet also has a codesharing agreement with American's fellow oneworld partner LATAM Airlines Group. Interjet's new US route additions in 2016 feature a mix of business and leisure markets.

Although Interjet operates international routes to Latin America and the Caribbean, the US represents the airline's largest country of international seat deployment.
It has capitalised on the loosening of restrictions on the number of airlines serving Mexico-US routes.
However, Interjet also faces higher levels of competition on many of its transborder routes, given that it targets the same type of passengers as do its rival Aeromexico and its US competitors. It may take time for its routes to spool up, considering the higher levels of competition and Interjet's lack of brand awareness compared with other airlines. Still, the US cross border opportunity is one that Interjet can ill afford to ignore.
Interjet international capacity by country (% of seats): 18-Jul-2016 to 24-Jul-2016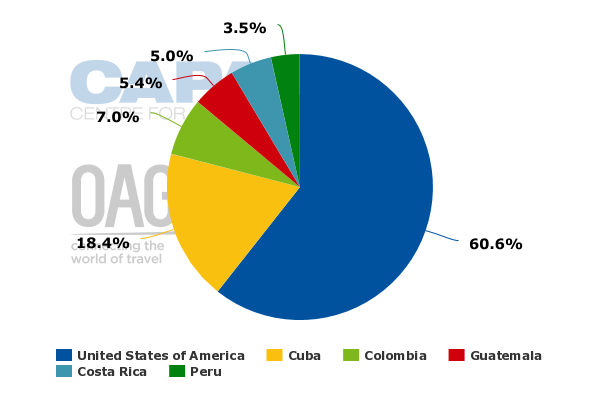 VivaAerobus could return to the US transborder market in 2017 to create more competition
International passenger growth among Mexican airlines grew 10% year-on-year from Jan-2016 to May-2016. Passengers transported by foreign airlines on routes to Mexico grew 7% to 12.3 million from Jan-2016 to May-2016, with US airlines representing the lion's share. There is still a wide gap in international passengers transported by foreign and Mexican airlines to Mexico, but Mexican airlines are making strides to expand their transborder presence, reflected in the double-digit growth that they posted in the first five months of 2016.

Mexico's airlines could expand their transborder push further if VivaAerobus resumed international growth in 2017. The LCC made a short-lived transborder push in 2015. VivaAerobus completing a fleet renewal in 2016 and is likely crafting its strategy to re-enter the transborder market once the more liberalised Mexico-US biltaeral is finalised.

See related report: VivaAerobus pulls back on US routes as the Viva Group takes aim as Costa Rica
Real opportunities for the transborder market should materalise
Volaris and Interjet have made interesting moves in the transborder space during 2016. Volaris has stuck to its strategy of tapping some uncontested markets to stimulate VFR traffic while Interjet has entered more contested routes, competing with both fellow Mexican airlines and US airlines.

During the next few years the US-Mexico transborder opportunity created by the more liberalised bilateral should fully materialise for Mexico's airlines. Volaris and Interjet are in the process of crafting their strategies, and VivaAerobus seems to be working to add new transborder flights within the next year.
Mexico's more stable economy, the growth prospects for air travel for the country, and a more liberalised operating environment are coalescing to create inroads for Mexican airlines to tap the valuable transborder market.
Part 2 of this Report will review the potential Aeromexico-Delta Airlines JV