India negotiating with African nations on fifth freedom rights to Latin America
Analysis
India is negotiating with African nations for fifth freedom rights to enable the nation's airlines to operate to destinations in Latin America. If such a freedom were permitted, Indian airlines would be able to operate from a destination in Africa to Latin American destinations, while African airlines would be able to operate to Southeast Asia destinations via India with full traffic rights. Jet Airways would likely be a key beneficiary of the potential right liberalisation from the Indian side as it is the only Indian carrier operating to Africa. No airlines operate between India and Latin America at present, creating considerable growth opportunities between two emerging and fast growing regions.
At the International Civil Aviation Negotiations Conference in Mumbai from 17-Oct-2011 to 22-Oct-2011, India's Civil Aviation Minister, Vayalar Ravi stated a special session was held to discuss connectivity between India and Africa. Mr Ravi also said India has offered to establish an aviation training academy in Africa, in order to help capacity building by training African personnel in India. "Given the potential for growth in future we could explore the possibility of special group to discuss co-operation in the civil aviation sector under the umbrella of our co-operation with the African union," Mr Ravi stated.
Traffic flows between India and Africa to grow at annual rate of over 7% p/a over next 20 years
According to Airbus forecasts, traffic flows between sub-Saharan Africa and India are expected to grow at a rate of 7.1% p/a over the 2011 to 2030 period, with growth between sub-Saharan Africa and South America forecast at 8.6%. Growth between the Indian subcontinent and North Africa is forecast at 7.1% and to South Africa at an average annual rate of 7.2%.
According to bilateral air service agreement information on the DGCA website, India has bilateral air service agreements with one destination in South America (Brazil) and 16 countries in Africa – Algeria, Djibouti, Ethiopia, Ghana, Kenya, Lesotho, Madagascar, Mauritius, Morocco, Nigeria, Seychelles, South Africa, Tanzania, Uganda, Republic of Yemen and Zambia.
Five African and one Indian operator between India and Africa with around 8100 weekly seats
At present, six carriers operate between India and Africa, led by Ethiopian Airlines, Air Mauritius and Kenya Airways. Ethiopian Airlines is the sole operator of passenger services from Addis Ababa to Delhi and Mumbai, and also operates freight services to Mumbai, Delhi and Chennai. The carrier's services to Mumbai are codeshare services with Air India, but operated by Ethiopian aircraft. Air India also codeshares with Air Mauritius and South African Airways.
Airlines operating international services between India and Africa: Week ended 30-Oct-2011 vs week ended 01-Apr-2012
| Rank | Airline | Seats: Week ended 30-Oct-2011 | Seats: Week ended 01-Apr-2012 |
| --- | --- | --- | --- |
| 1 | | 2412 | 2684 |
| 2 | | 1698 | 1973 |
| 3 | | 1512 | 1512 |
| 4 | | 1125 | 1125 |
| 5 | | 888 | 888 |
| 6 | | 486 | 810 |
Air Mauritius, operates service to Bengaluru, Chennai, Delhi and Mumbai and is the sole operator on each sector. Kenya Airways, which operates Nairobi-Mumbai service, is similarly the sole operator between the two cities. Egyptair, the only operator between India and North Africa, is the sole operator on the Cairo-Mumbai sector, with 486 weekly seats at present, to increase to 810 weekly seats from the winter 2011/12 schedule.
India to East Africa (seats per week, one way): 19-Sep-2011 to 14-Apr-2012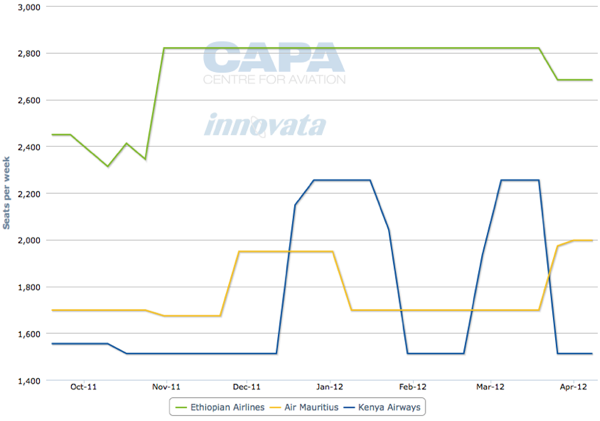 India to North Africa (seats per week, one way): 19-Sep-2011 to 14-Apr-2012
Jet Airways, the largest operator between India and South Africa, is the sole Indian operator between India and the African continent, with five times weekly Mumbai-Johannesburg service with A330-200 equipment (1125 weekly seats). The carrier launched the service ahead of the World Cup in Jun-2010. Jet competes with South African Airways, which operates four times weekly A330-200 service (888 weekly seats) codeshared with Air India, on the sector.
India to South Africa (seats per week, one way) and Mumbai Airport to Johannesburg Oliver R Tambo International Airport (seats per week, one way): 19-Sep-2011 to 14-Apr-2012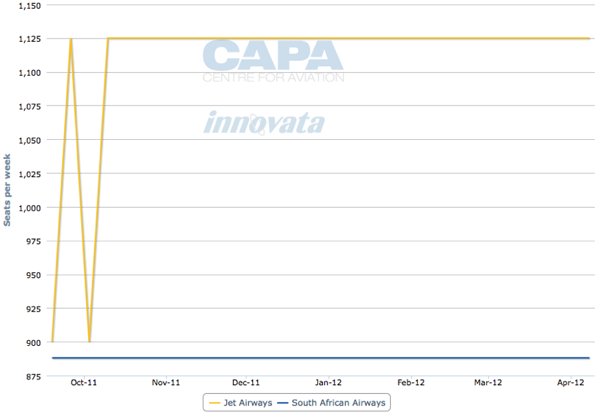 Jet Airways, in Jul-2010, also entered a codeshare agreement and network-wide frequent flyer partnership with Kenya Airways, effective 22-Jul-2010. The agreement covers Kenya Airways' daily services between Mumbai and Nairobi allowing Jet Privilege members to earn Tier Points, Tier JPMiles and Tier Bonus JPMiles. Commenting on the agreement, the carrier noted that "Africa is an important market for Jet Airways and in addition to our direct service to Johannesburg, there is significant demand from our customers to travel to Kenya and beyond. We are confident that this partnership will translate into greater air traffic between India and Africa".
It has also been reported that Jet Airways plans to launch daily Mumbai-Dar es Salaam service by the end of 2011, according to the Indian High Commissioner to Tanzania, Kocheril Bhagirath, and as reported by The Citizen in Aug-2011. However, this development has not been confirmed by Jet Airways.
At the same time as the ICAO Conference, India's Prime Minister Manmohan Singh took part in a three-day visit to South Africa where he attended the India-Brazil-South Africa (IBSA) Summit. Dr Singh held trilateral talks with South African President Jacob Zuma and Brazilian President Dilma Rousseff, discussing ways to enhance relations, particularly in trade.
Trade between India, Brazil and South Africa (IBSA) is set to grow to USD25 billion by 2015, as the three key emerging economies remove non-trade barriers and improve maritime and air connectivity. The leaders have tasked the Working Group on Trade and Investment to examine all issues related to trade holistically, including non-tariff barriers, maritime and air links and opportunities for investments. Direct air connectivity is expected to give tourism a major boost and the trade ministers agreed to look at visa related issues so that the process for business visas is simplified.
Trilateral trade is already close to USD20 billion, having crossed the target set for 2012 three years earlier than envisaged, following USD10 billion trade in 2009, in the midst of the global economic recession. Trade is expected to increase to USD16.1 million in 2010, according to South African Trade and Industry Minister Rob Davies. India's trade with its trade partners in IBSA accounts for a majority of this trade. The leaders at the IBSA summit felt that the trends indicated that the target of USD25 billion trade by 2015 would be achieved early, and "this gave reasons to be optimistic and more ambitious".
However, the three leaders, addressing the Fifth IBSA Summit, cautioned that the economic crisis in developed countries could affect developing nations and pressed for urgent steps by Europe and other advanced economies to prevent a "double-dip" recession. It was, however, noted that trilateral trade has performed well despite the 2008 economic slowdown and current economic concerns.
South Africa is India's second largest trading partner in Africa. A revised bilateral trade target of USD15 billion by 2014 was set in Jan-2011. The total trade between the two countries in FY2011 was USD10.6 billion, higher than the bilateral trade target of USD10 billion by 2012, set during the visit of South African President Jacob Zuma to India in Jun-2010.
India strengthening bilateral cooperation with other African countries
Meanwhile, India is also seeking to strengthen bilateral cooperation with other nations in the continent, including Tanzania, following a visit by Dr Singh in May-2011.
Indian companies and businesses in Tanzania are valued at around USD1.3 billion, creating about 32,000 jobs in Tanzania through direct investments and JV projects. India-Tanzania bilateral trade stood at USD1.1 billion, as at the end of 2010, with the nation seeing around 40,000 Indian tourists p/a. In addition, about 8000 Indian nationals live and work in Tanzania, mainly in tourist hotel services, IT and travel services. Meanwhile, Indian medical tourism has in recent years attracted big numbers of Tanzanian medical tourists.
India calls for widening of trade agreement with MERCOSUR
India, in May-2011, also called for the widening of its trade agreement with the MERCOSUR bloc comprising Brazil, Argentina, Uruguay and Paraguay as part of aims to reach USD500 billion in exports in the next three years. The Government is targeting African and Latin American countries to increase exports and is also providing certain fiscal incentives to exporters to explore these markets.
According to Inter-American Development Bank trade economist Mauricio Mesquita Moreira, bilateral trade between India and Latin America/Caribbean has grown at an annual rate of 22% since 2000. Bilateral investment, which was negligible a decade ago, is also showing "promising signs", driven by the establishment of Indian IT companies in the region and Indian investments in sugar refining and biofuels in Brazil, and in mining in Bolivia. Latin American companies are also beginning to establish footprints in India, particularly companies from Brazil and Chile.
India has bilateral air services agreement with 108 countries and 72 international airlines
India has bilateral air services agreements with 108 countries and 72 foreign airlines are currently operating to/from various destinations. At the ICAO conference, India held bilateral aviation talks regarding potential expanded flight access from 35 countries including the US and the UK. At present, three Indian carriers are operating to 35 destinations in 25 countries. As of Apr-2010, Indian carriers were eligible to sell 711,356 seats per week on flights to/from 104 countries. They utilised only 170,914 seats per week, compared with 326,705 seats by overseas airlines.
India's Civil Aviation Secretary Nasim Zaidi also stated India will likewise try to increase capacity utilisation already offered to Indian and foreign carriers. He stated the aim was to "uphold India's interests". Meanwhile, India's private airlines have reportedly urged the Indian Government to permit them to operate to several international destinations tapping unutilised bilateral rights. The private carriers argued they should have the right to utilise rights not being used by Air India.
See related article: Foreign airline competition impacts Air India; Indian LCCs expand internationally