Gulf airlines in Australia/New Zealand: Auckland non-stops as Qatar Airways disrupts the status quo
Analysis
The market between Australia and the Gulf witnessed significant strategic developments in Mar-2016. Emirates launched a non-stop Dubai-Auckland flight, taking the mantle of world's longest flight. Significantly, Emirates beat Qatar Airways to it. Qatar's public musing in Jan-2016 about opening a Doha-Auckland service prompted Emirates to put on the Auckland flight at short notice: the service was announced a week after Qatar's mention and flown a mere five weeks later.
Qatar was looking to have another oneworld one stop option between Auckland and Europe, as well as looking to boost its presence in the region, where it has significantly lagged Emirates and Etihad. Emirates' Auckland non-stop has indirectly seen Emirates cancel Panama City service, which was less strategically important and believed to be encountering difficulties as Lufthansa tried to prevent Copa from codesharing with Emirates.
The second development was Qatar Airways' long-awaited service to Sydney. Combined with an Adelaide flight in May-2016, Qatar's size in Australia will double in 2016. Qatar is now considering – traffic rights permitting – a second daily Sydney flight and a new service to Brisbane. The growth disrupts what Etihad, but especially Emirates, were hoping would be a cooling of Gulf-Australia capacity after years of fast growth.
Qatar is disrupting the status quo, and market growth occurs against the further challenge of a weakening Australian dollar. Gulf-Australia seat capacity on the three Gulf airlines is forecast to increase a further 15% in 2016 as Etihad and Qatar take market share from Emirates, which for the first time has slipped below 60% share in that market.
The Gulf airlines have doubled their Australian seat capacity between 2010 and 2016. The three Gulf carriers between them offer approximately 8,300 seats a day from Australia to their hubs.
A Qatar Airways service between Doha and Auckland would have delivered two primary benefits to the airline. First is a strategic and symbolic component: the service would have boosted Qatar Airways' profile in the Australia/New Zealand region. Etihad does not directly serve New Zealand, instead codesharing with Virgin Australia and Air New Zealand. Emirates' New Zealand flights are all served via Australia, requiring a two-stop journey from Auckland to Europe, the main market to/from Auckland.
Qatar would have gained attention from a non-stop Doha-Auckland service that meant Auckland-Europe could be travelled with one stop, unlike Emirates' two-stop, but comparable to other itineraries (one-stop through Asian hubs, or Air New Zealand's Auckland-Los Angeles-London Heathrow service). The title of world's longest flight would have put Qatar further in the spotlight, giving the airline needed recognition in the region.
In the region, Qatar has been a quieter brand compared to Emirates and Etihad. Qatar Airways was the last of the three Gulf airlines to enter Australia, and until Mar-2016 had only two daily flights to the region compared to a half dozen from Etihad and 11 from Emirates. This under-presence in Australia has created an imbalance for Qatar's global network, as CAPA previously reviewed. Qatar is also at a partnership disadvantage: Etihad has a JV with Virgin Australia, and Emirates with Qantas. Etihad also has a limited codeshare relationship with Air New Zealand.
See related report: Australia is a key market for Emirates and Etihad, and is the missing link for Qatar Airways
The second main benefit would have been network value, although there were questions whether this benefit could offset the high costs of the ultra-long haul service, even at low fuel prices. Qatar saw an opportunity in providing a oneworld one-stop Auckland-Europe option. Fellow oneworld airline Qantas requires two stops from Auckland to Europe (one in Australia and another in Dubai). Malaysia Airlines, following a reduction in its European network to all but one destination – London Heathrow – has alleviated some one-stop competition.
Cathay Pacific has been providing a one-stop Auckland-Europe option, but Qatar saw itself providing more online European destinations (36 in summer 2016 compared to Cathay's 11). Then again, the bulk of Auckland's Europe traffic goes to a handful of European points. Further, a Cathay Pacific-Air New Zealand joint venture is generally understood to have reduced competition; the JV was narrowly renewed by New Zealand regulators.
See related report: China Southern Airlines exceeds 55x flights target to Australia/NZ. Competition regulators query JVs
Theoretically LAN (and soon American Airlines, once it commences Auckland- Los Angeles services) could provide oneworld one-stop Auckland-Europe options via transit points in the Americas but such traffic is insignificant to them. Further, Auckland-Los Angeles and Auckland-Santiago (the hub of LAN) fetch a high enough yield that the airlines would have to significantly discount to offer a competitive connecting fare to Europe.
Auckland non-stop was too strategically important for Emirates to hand to Qatar
Qatar Airways CEO Akbar Al Baker disclosed his intent to open non-stop Doha-Auckland and Doha-Santiago services in an interview published by Bloomberg on 22-Jan-2016. His comments were likely premature: Qatar Airways had periodically evaluated a Doha-Auckland route but the service was far from being implemented. Nonetheless, Mr Al Baker's remarks saw Emirates spring into action. On 28-Jan-2016, less than a week after the Bloomberg article, Emirates announced it would open Dubai-Auckland non-stop services in just over a month on 01-Mar-2016.
Like Qatar, Emirates had evaluated Auckland non-stop service over the years but never closed the business case. That changed with Qatar's apparent intent to serve Auckland non-stop: Emirates and Qatar are friendly at times but still rivals (although less than Etihad versus the two of them). Qatar had not served New Zealand at all and had an essentially token presence in Australia - but it would be the first to open a non-stop Gulf-Auckland flight.
New Zealand international seat capacity by airline: 29-Feb-2016 to 6-Mar-2016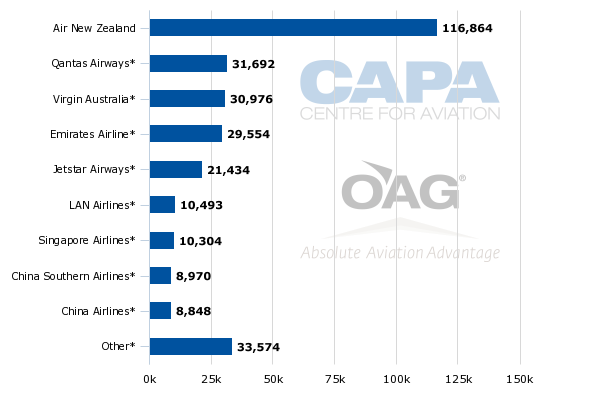 This was too much of an incursion for Emirates to allow. Emirates has three daily A380 flights to Auckland (one each via Brisbane, Melbourne and Sydney) plus a daily 777-300ER Sydney-Christchurch service. Emirates' size makes it the fourth-largest airline in New Zealand, and second in Auckland, based on international seats.
Auckland international seat capacity by airline: 29-Feb-2016 to 6-Mar-2016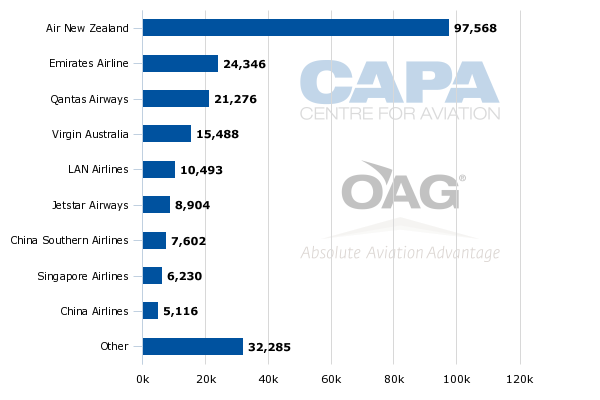 Thus Emirates opened the Auckland non-stop service with only a month's notice – probably a record short notice period for a flight of such length. Emirates' short launch time was partially alleviated by Auckland being an existing station and market, making it easier for Emirates to add a non-stop service than Qatar would have experienced since it does not serve New Zealand.
Still, one month was not much time, and the Mar-2016 launch coincides with the end of New Zealand's peak tourism season; a compressed launch in order to meet the peak would have been different.
New Zealand tourism is soaring: monthly arrivals 2009-2016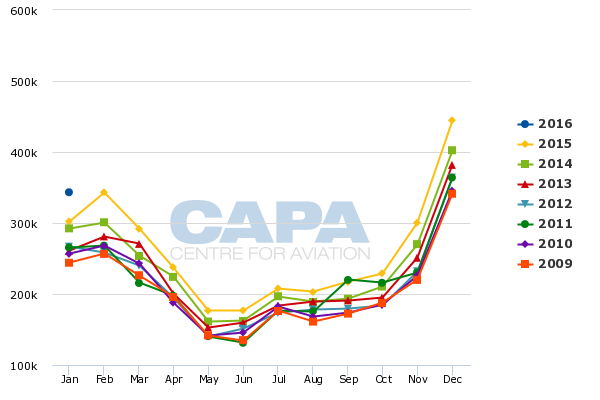 The one month notice for the ultra-long haul route makes it unlikely Emirates in the short term is attaining what should be a yield premium to offset the higher cost of ultra-long haul flying. Then again, given the strategic value of the service to Emirates, a high yield may not be the sole metric on which to evaluate the route's contribution.
Mr Al Baker, speaking at the 03-Mar-2016 inauguration of the airline's Sydney service, said Qatar would launch Doha-Auckland non-stop service in an unspecified time in late 2016. This service will become the world's longest route; Doha-Auckland is 2.4% longer (14,535 km) than Emirates' Dubai-Auckland (14,200 km).
Although Emirates usurped Qatar in Auckland, Mr Al Baker was not combative about this. Instead, he once again publicly displayed affection towards Emirates. This relationship in the public press is mostly one way, with Emirates not publicly reciprocating. Mr Al Baker's complimentary nature towards Emirates unites them against many competitors – including Etihad – and allows Qatar to brush shoulders with its older and bigger Gulf sister.
Mr Al Baker remarked in Feb-2016 at the Singapore Airshow: "We are very close as far as our relationships are concerned. We don't follow them and they don't follow us… every airline has their expansion plan and we respect this very much. I have announced we will launch Auckland and subsequently Emirates launched Auckland, so we have decided we will delay our launch for a certain period of time in order for us to not disrupt the plans of Emirates."
Since the Doha-Auckland route was never formally announced or even signed off, it is unknown what launch date Mr Al Baker originally had in mind and if the airline has at all delayed it – or if a late-2016 launch was likely irrespective of Emirates' entry.
Emirates' non-stop Auckland service and a potential non-stop entry from Qatar could see Gulf airline capacity in Auckland grow 34% over a year, assuming Qatar, like Emirates, offers a daily 777-200LR service. This increase is from capacity levels Air New Zealand and others would contend is already too high. Emirates' Auckland non-stop service increased its presence in Auckland by 17%.
Mr Al Baker does not see the New Zealand market being too small for non-stop flights from two Gulf airlines, remarking: "I think there is enough business for both of our carriers to go there. Both of us are going there with limited capacity. They are going with a limited capacity and eventually we will go with a limited capacity so we don't really need to be concerned about that."
Mr Al Baker does not equally view Emirates' one-stop (via Australia) Auckland capacity as the same as non-stop Gulf-Auckland capacity. Emirates has fifth freedom rights on its trans-Tasman flights, allowing it to carry passengers and cargo just between Australia and New Zealand. There are no official statistics on the share of Emirates' local versus connecting traffic on New Zealand flights, but the local traffic is significant. It has taken further weight as its Qantas JV includes New Zealand, which allows Qantas to sell Emirates capacity but also coordinate their overall size and route offering.
Emirates' New Zealand services via Australia are not as convenient as the non-stop from Emirates and possibly soon Qatar (although some passengers may prefer to go via Australia to take the A380). Yet the one-stop capacity may prove to be of equal weight to the non-stop Gulf-Auckland capacity: if the ultra-long-haul flights cannot attain yield premiums, they are not targeting a different market, and thus adding capacity to an already large Gulf airline supply.
Mr Al Baker said Qatar had fifth freedom rights between Australia and New Zealand but was not interested in using them. "We don't want to do anything that would disrupt the business plans of Emirates," Mr Al Baker explained, continuing his compliments of Emirates. More likely Qatar would struggle to find relevance: Emirates is entrenched in the trans-Tasman market (and with Qantas as a partner) and Qatar would struggle to achieve scale, in addition to the cost and operational burden of tag sectors. The trans-Tasman market has received a few new fifth freedom routes recently, including AirAsia X (Gold Coast-Auckland), China Airlines (Melbourne-Christchurch) and Philippine Airlines (Cairns-Auckland).
See related reports:
New Zealand to Australia (seats per week, one way): 19-Sep-2011 to 1-Aug-2016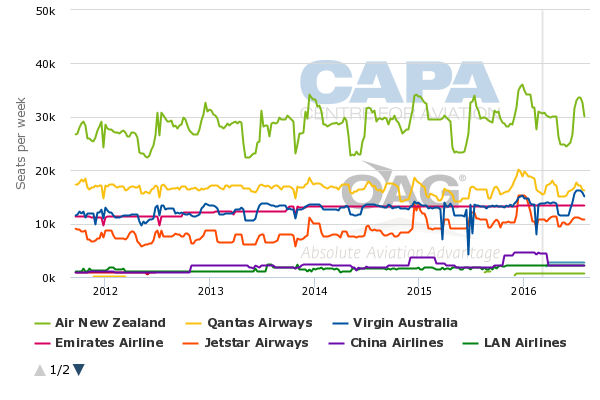 Emirates' Auckland non-stop means it drops Panama City – at least for now
Emirates non-stop Auckland launch on 01-Mar-2016 was followed with its 03-Mar-2016 cancellation of Panama City service, which would have been longer than Auckland (in time). The Auckland launch and Panama City cancellation are linked but not totally connected; this was not simply a marketing effort to have the title of world's longest route, as some detractors have suggested.
Emirates in Aug-2015 announced non-stop Dubai-Panama City service to commence 01-Feb-2016. On 14-Jan-2016 it was delayed to 31-Mar-2016, and subsequently cancelled on 03-Mar-2016.
See related report: Emirates' USA growth anchored around JetBlue and Alaska Air hubs. Panama City for LatAm Growth
The initial delay was due to regulatory challenges in securing codeshares with Copa, the national airline of Panama and which is based at Panama City. It was intended Emirates' Panama City passengers would connect beyond to other points in Latin America, where Copa has a solid and central position.
The exact regulatory delays are unstated but it is understood Copa's fellow Star Alliance member Lufthansa was trying to block Emirates codeshares on Copa. Star Alliance has the strictest rules by far of the three global alliances on partnerships with airlines outside of the alliance. Star/Lufthansa has approved partnerships where is no alternative, such as Air New Zealand working with oneworld's Cathay.
There could have been an argument Emirates' Panama City passengers travelling to/from Dubai and beyond could take a Star Alliance airline instead of Emirates, and thus Copa had partnership solutions within Star. Coincidentally or not, Lufthansa on 01-Mar-2016 commenced five weekly Frankfurt-Panama City flights – with a Copa codeshare.
There was a good chance Emirates would have persisted with its Panama City service, although it attracted scepticism for potentially being the world's longest route but to a small destination. This view overlooked the Copa partnership opportunity. The Auckland non-stop service started to change the equation: the Auckland route essentially took the 777-200LRs Emirates would have used for Panama City. Nearly two aircraft are needed for a daily offering and Emirates only has 10 -200LRs. These aircraft are in demand for long haul points that cannot sustain a 777-300ER or A380. Emirates would not have been willing to trade off Auckland for Panama City due to the strategic significance of Auckland. With aircraft unavailable, codeshares not being as easy as envisioned and the route's prospect of limited profitability, Emirates cancelled it. It is one of the few announced destinations Emirates has cancelled.
Mexico City was envisioned to be a notable connecting market from Panama City (despite backtracking involved). Mexico City may instead become an online market for Emirates: Swiss media reports state Emirates has asked the Swiss government for local traffic rights between Zurich (which it already serves) and Mexico City. Swiss does not serve Mexico City.
Qatar Airways in 2016 is doubling its size in Australia, although this is from a low base: a single daily flight to each of Melbourne and Perth are joined by a daily to Sydney (Mar-2016) and Adelaide (May-2016). Qatar's Sydney service was announced in 2015 and marked a breakthrough for the airline, which needed traffic rights (which Sydney Airport helped secure) but also changes to its hub structure in order to facilitate connections.
See related report: Qatar Airways to fly to Sydney as bilateral is relaxed. It will need on-carriage & Doha connections
There is no confirmation but it appears the allocation of traffic rights to serve Sydney came with the expectation Qatar would open service to a smaller Australian city in order to spread the economic benefits of air services. Australia has long been sensitive about air services to regional areas, adopting a unilateral open skies policy to smaller airports. Qatar could have served Adelaide earlier since Australian traffic rights (as is the case with a number of countries) have limitations on non-stop service to Brisbane, Melbourne, Perth and Sydney but are unrestricted to all other Australian cities, such as Adelaide. Alternatively, Qatar could have intentionally held off on launching Adelaide until it was given traffic rights to prime cities.
Qatar has now once again utilised its Australian traffic rights to main cities. Speaking in Sydney for the service launch, Mr Al Baker said Qatar Airways would next consider adding its first flight to Brisbane and a second daily flight to Sydney. Qatar's existing Australian services, to Melbourne and Perth, are served no more than once daily. A service to Brisbane and second daily to Sydney would each require more traffic rights.
Etihad Airways was expecting Australia to cool after significant growth
It is Etihad that had been growing the most in Australia in recent times as it sought to establish a relevant size for the medium term. Qatar's growth – and its aspiration for more – potentially disrupts Etihad's plan. Etihad CEO James Hogan, in an interview published in Jan-2016 in ATW, remarked: "Quite frankly, we don't need to expand into the Australian marketplace, nor do we have any intention to."
There have been limited changes in the Gulf-Australia market, and most have been known or expected for a while, including: Qatar's launch to Adelaide and Sydney, and Etihad's up-gauging of some Melbourne and Sydney services from 777-300ER to A380. Emirates has up-gauged its Dubai-Singapore-Melbourne flight from 777-300ER to A380.
However Emirates' Auckland non-stop, and possibly that from Qatar (and any further Australian frequencies) could divert passengers that used to travel to New Zealand via a Gulf airline to Australia. The introduction of Auckland non-stops could mean more seats become available on Gulf-Australia flights since Auckland passengers have a non-stop option. Additional new frequencies or up-gauging would add new capacity. Etihad has been in a comfortable position significantly ahead of Qatar and may not want to see the gap narrowed too much, especially in such a strategically important market. Etihad could further grow by up-gauging other Melbourne and Sydney services from 777-300ER to A380.
Outlook: Gulf-Australia market growing 15% in 2016
Emirates, Etihad and Qatar seat capacity from the Gulf to Australia (including intermediary points in Southeast Asia) is projected to be up 15% in 2016 compared to 2015, according to OAG data.
This excludes Emirates' non-stop Auckland service, and a possible Auckland non-stop from Qatar Airways. Seat capacity has nearly doubled (up 93%) since 2010 from approximately 4,300 one-way seats a day to 8,300. Notable capacity is being added in early/mid 2016, which can distort annual comparisons, but in the second half of 2016 monthly grow from a year prior is still at approximately 15%.
Emirates, Etihad and Qatar annual seat capacity to Australia (non-stop and via intermediary points): 2006-2016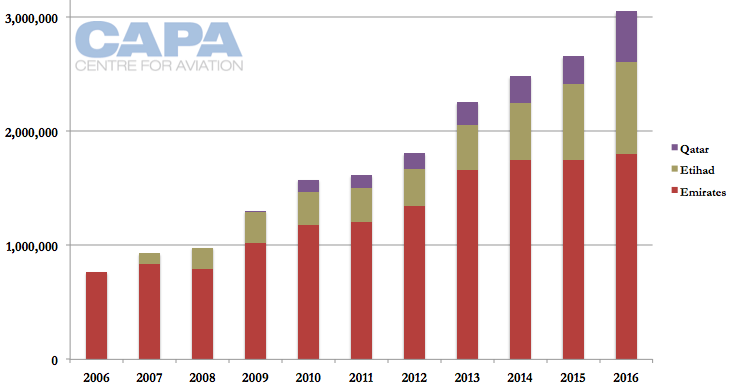 Since 2010, Emirates has increased 53%, well below the market average, reflecting the faster growth from Etihad and Qatar. Emirates' growth mostly occurred from 2010 through 2012, when the Emirates-Qantas JV was announced. However Qantas brought two daily A380 flights for Emirates to sell, which is not reflected in Emirates' own growth since 2012. In absence of seat growth, Emirates has been able to focus on yield growth.
Etihad has increased 180% since 2010. Since 2013, Etihad has grown 23-32% per annum.
Etihad in 2016 is the size in Australia that Emirates was in 2006. Etihad's differentiation is not with Emirates (firmly entrenched as the largest) but rather Qatar.
Qatar launched services to Australia in 2009, and after being about one third the size of Etihad, in 2013 it became half the size of Etihad. Strong Etihad growth in 2014 and 2015 meant Qatar became smaller in proportion to Etihad, but Qatar's 2016 growth will make it 54% the size of Etihad.
Etihad and Qatar are making market share gains at the expense of Emirates. Emirates had a monopoly through 2006 until Etihad entered in 2007. Emirates had over 80% market share until 2009. Market share slipped down to 70% in 2014, 66% in 2015 and now 59% in 2016.
Emirates, Etihad and Qatar marketshare of annual seat capacity to Australia (non-stop and via intermediary points): 2006-2016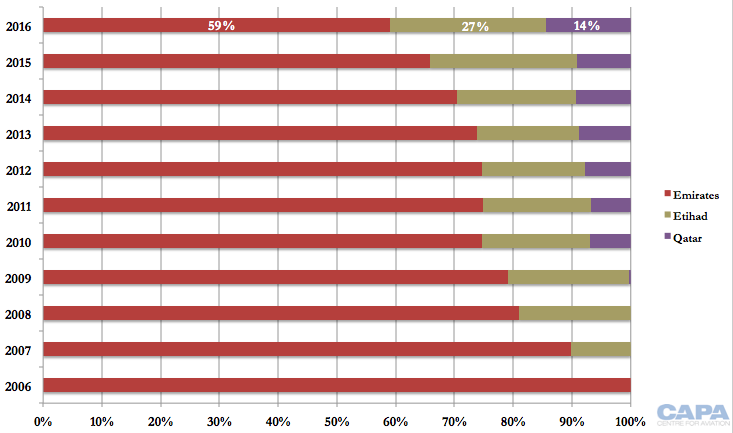 Etihad and Qatar in 2016 will achieve their highest market share yet in Australia, with Etihad holding 27% of available Gulf-Australia seats (up from 20% in 2014) and Qatar 14% (up from 9% in 2014). These figures are not necessarily reflective of market power, reach and yield: Emirates partners with Qantas, which commands strong power in outbound Australian travel, especially high-yielding passengers. Qantas in Feb-2016, when reviewing its international opportunities, said it "owned the high-yield customer base in Australia".
Etihad has visibility via partner Virgin Australia. Qatar Airways is still building its presence in Australia. An opportunity for it is that it, like Qantas, is a member of the oneworld alliance, meaning Qantas frequent flyers on Qatar flights can earn miles (although not necessarily as many as if flying Qantas or Emirates) and receive recognition.
Further growth partially hinges on the availability of traffic rights. Some of the latest expansion was planned prior to the weakening of the Australian dollar. Although small in terms of population, the outbound Australia market is significant.
Themes to watch in 2016 are if the currency change weakens prospects for growth, and if Qatar's growth provokes from Emirates and Etihad a response in Australia as it already has in New Zealand. Gulf airlines disrupted the Australia-Europe market and significantly brought down fares, yet market dynamics were becoming comfortable between Emirates/Qantas and Etihad/Virgin. Those two entities will watch closely to see whether Qatar will secure only a small patch or if greater success necessitates a response.