Qatar Airways to fly to Sydney as bilateral is relaxed. It will need on-carriage & Doha connections
Analysis
A week after the Australian government granted the State of Qatar – and therefore Qatar Airways – a long-sought capacity increase, Qatar Airways has wasted no time and announced a daily Doha-Sydney service from 01-Mar-2016 on the 777-300ER. This finally places Qatar in Australia's largest city, complementing existing daily services to Melbourne and Perth.
The generous-sounding 50% capacity increase means an additional seven weekly flights to primary gateways for a total of 21 for Qatar. This compares to Emirates' 84 weekly flights to primary gateways. Qatar's scheduled seat capacity into Australia will be 17% the size of Emirates and 44% the size of Etihad. Although Qatar will finally add Sydney to its network, it faces some challenges making European connections work due to its hub structure. One disadvantage it may face too is on-carriage. Qantas – which partners extensively with Emirates – does not carry Qatar's code on any of its services and Etihad and Virgin Australia are partners.
The additional capacity is immediately used for Doha-Sydney service in Mar-2016
The Australian government on 24-Sep-2015 announced it had reached an agreement with Qatar to enable Qatar Airways to increase Australian services to Melbourne, Perth and Sydney from 14 a week to 21 a week.
There is unlimited capacity available to regional centres, in line with Australia's general bilateral approach. (Such regional services are only occasionally taken up: Emirates and Cathay operate to Adelaide while Cathay also operates to Cairns; Hong Kong Airlines will operate to uncontrolled Cairns and the Gold Coast, for example.) The traffic rights are reciprocated for Australian carriers into Qatar, but neither Virgin nor Qantas serves Qatar (and nor will they in the foreseeable future). The gain is entirely on the Qatar - and consumer - side.
Qatar Airways and industry partners (Sydney Airport, tourism authorities) had lobbied for some time for the service to be granted. Less than a week after the cap was expanded, with immediate effect, Qatar on 30-Sep-2015 announced a daily Doha-Sydney service from 01-Mar-2016 on a 335-seat 777-300ER. (The service was flagged at the time of the bilateral announcement but awaited final details.)
Qatar's Sydney service will be its first opportunity to provide significant connectivity across Australia. Emirates and Etihad have more online points in addition to partnerships with Qantas and Virgin Australia respectively. Qatar's service to Melbourne (its first point in Australia) arrives into Melbourne at 21:25 or 22:25 depending on daylight saving time. This is too late to facilitate connections, given curfew times at other airports.
Qatar's only other online port, Perth, has a limited domestic network. There is also the challenge that Australia's only two main airline groups have formed extensive partnerships with Qatar's two competitors, effectively blocking Qatar from a substantial partnership. There are no domestic codeshares from Qatar on Qantas. Qatar's early arrival time into Sydney of 18:05 may indicate it will seek a partnership, or at least greater interline access. This may be an issue for the competition authority to address.
Qatar's increased capacity sees it catch up to Etihad, although Qatar will still be disproportionately smaller in Australia compared to Emirates. As CAPA previously wrote:
Australia has been a significant part of Emirates' operation for nearly two decades. Emirates launched services to Australia with three weekly flights to Melbourne in 1996.

Etihad was the second Gulf carrier to enter the Australian market, but over a decade later in 2007. Qatar Airways was the last of the three to enter with a 2009 launch.

Etihad in 2015 will have about the same number of seats to Australia as Emirates had in 2005. But in 2015 Emirates is more than 2.5 times its size from 2005.

Qatar Airways is even smaller: its 2015 size is about Etihad's 2008/2009 size. Etihad is three times the size of Qatar Airways in Australia despite Qatar globally being one and a quarter times the size of Etihad.
See related report: Australia is a key market for Emirates and Etihad, and is the missing link for Qatar Airways
Emirates, Etihad and Qatar Airways available seats to Australia: 2005-2015
As of Sep-2015 Additional services or up-gauging at Emirates and Etihad could expand the gap again. For example, Etihad has flagged intent for double daily Sydney A380 service, although it has only announced one daily service so far.
Emirates, Etihad and Qatar Airways weekly available seats to Australia: 06-Mar-2016 to 12-Mar-2016
Qatar's challenge at Sydney is European connection timing
It may seem surprising that Qatar opened service to Melbourne and Perth before Sydney. Sydney has posed a challenge as its 11PM curfew gives Qatar a narrow window to depart from Doha. This period is largely before its European flights arrive in Doha, restricting connectivity from Europe to Sydney. Although Melbourne is near Sydney, it is geographically closer to Doha and has no curfew, unshackling Qatar from constraints.
CAPA's slot profile data was recently updated to show breakdowns in slot usage by region.
For example, Qatar's Sydney service is scheduled to depart Doha at 20:10. Between 17:00 and 17:59, Qatar has six flights arriving into Doha from Europe while another eight arrive between 18:00 and 18:59. Another four arrive between 19:00 and 19:59 – only some of these will connect with Sydney based on the minimum connection time. This period includes destinations (for example, Istanbul) that arrives earlier in the evening.
Qatar Airways arrival/departures from Europe at Doha Airport: 30-Sep-2015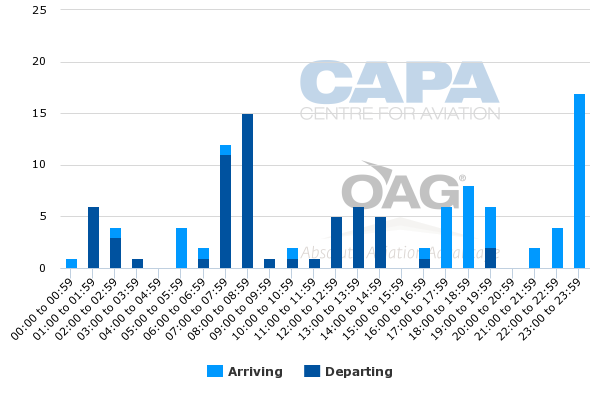 As Qatar has grown over the years, there is more traffic volume funnelling into Doha. That further supports a Sydney connection that a few years ago may not have been as strong a commercial opportunity.
The evening bank of European arrivals is smaller than Qatar's main bank of European arrivals that start to land in Doha at 21:00 and run through midnight. There are 23 European arrivals during this period, including from cities that have larger traffic flows to Australia than those European flights arriving in the previous (earlier) bank.
The early bank has more of an Eastern European flavour while the later bank has a larger emphasis on Western European arrivals. Qatar's Melbourne service nicely slots in: it departs from Doha at 00:55, enabling connections from the larger 21:00-23:59 bank. (CAPA members on profile pages can hover over a bar to view the specific destinations arriving or departing, see below.)
Qatar Airways arrival/departures from Europe at Doha Airport: 30-Sep-2015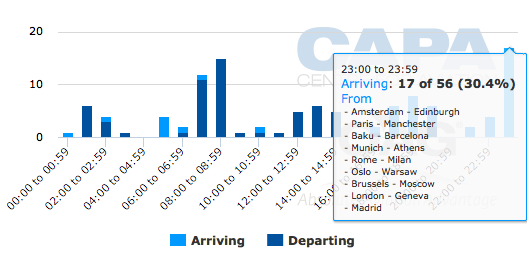 Emirates and Etihad have an initial advantage of offering more than one flight a day: if the evening flight does not connect to a destination, a flight at another time can. Their scheduling banks are also constructed differently.
It is said that when Emirates plotted its operation it took into account Sydney's constraints, foreseeing the market would be important to it. (Emirates' earlier start also enabled it to receive more early morning slots at various European airports than could Qatar and Etihad, which launched after Emirates. This is also a factor in overall hub construction.)
Etihad's evening service into Sydney departs Abu Dhabi at 22:00. (Qatar departs Doha for Sydney at 20:10. Doha is one hour behind Abu Dhabi, meaning Qatar will depart for Sydney three hours prior to Etihad.)
Etihad's main bank for European flights arriving into Doha is between 19:00 and 20:59. So the main European bank meshes with the Sydney service.
Etihad Airways arrival/departures from Europe at Abu Dhabi International Airport: 30-Sep-2015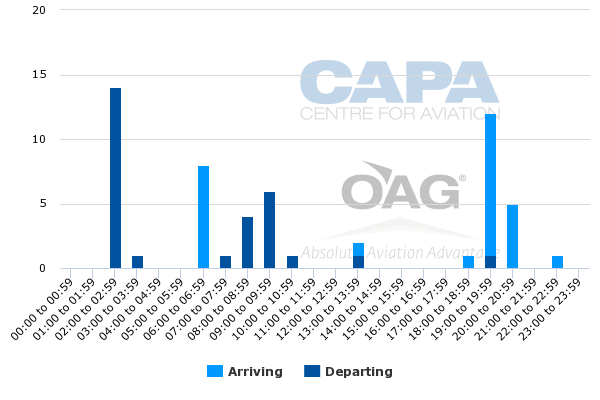 Emirates' Australian operation is larger and more complex. This affords flexibility. Both Etihad and Qatar in Sydney have aircraft depart within a few hours of their arrival. Emirates has an aircraft overnight in Sydney: this eliminates the burden of needing to send a flight to Sydney, turn it around and depart before the curfew. (However, with the flight scheduled to arrive into Sydney at 22:30, there is limited buffer room if a disruption sees the flight start to approach the curfew.)
The aircraft that overnights in Sydney departs first thing in the morning, enabling connections to one of Emirates' smaller European departure banks. Taken together, this service allows passengers to depart Sydney in the morning and arrive in Europe on the evening of the same day.
Emirates' Sydney flights depart Dubai at 01:50 (non-stop), 08:50 (via Bangkok) and 10:15 (non-stop). The 01:50 and 08:50 departures follow when European flights arrive into Dubai.
Emirates arrival/departures from Europe at Dubai International Airport: 30-Sep-2015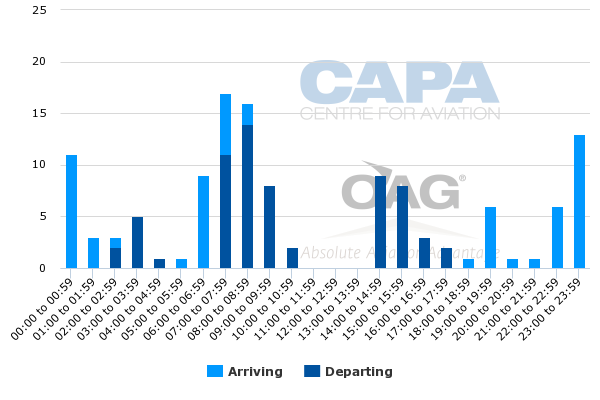 Unlike at Etihad and Qatar, some of Emirates' Australian services continue to New Zealand (Auckland and Christchurch). While Emirates has a service that arrives into Sydney shortly before the curfew, it is still able to offer an evening departure from Sydney.
A flight will arrive in Sydney in the morning, go to New Zealand and return to Sydney in time to operate back to Dubai before the evening curfew commences. The chart below details Emirates' movements at Sydney; highlighted is its evening arrival into Sydney from Auckland.
Emirates arrival/departures from Asia-Pacific at Sydney International Airport: 30-Sep-2015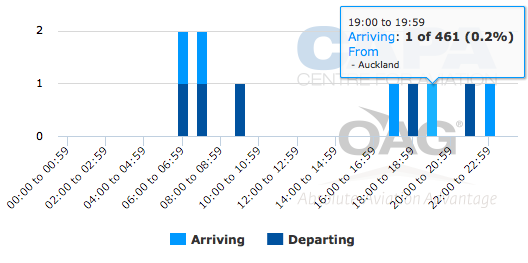 Outlook: Qatar's growth comes despite attempts to limit capacity. Will Turkish further disrupt the status quo?
Following the Emirates-Qantas partnership, some felt it was time to ease Gulf capacity expansion into Australia. Emirates had injected much capacity and wanted to see it bed down, in general and with new partner Qantas. Any additional capacity entitlements to Emirates would be relatively marginal for it. Granting Emirates further rights would mean needing to also grant rights to Etihad, which would have more pronounced impact given Etihad's smaller size.
Although Qatar has received the right for only another daily service – and surely wants more – it disrupts the Gulf-Australia relationship that was starting to gain equilibrium. There could be a strong competitive response to Qatar's entry. This may be a prelude to a collective response from many carriers over Turkish Airlines finally entering the Australian market in 2016 after many years of discussion. Turkish's service has yet to be announced or decided how it will operate (a non-stop is considered too far to be commercially viable).
Turkish faces a very limiting bilateral agreement in Australia. Incumbent airlines (with their Gulf partners as proxies) will certainly try to keep that status quo. As with Sydney airport pushing for Qatar to receive more rights, it will be airports who are the staunchest supporters of liberalisation. Bringing airports to the negotiating table at air services talks was a theme of Australia's recent inquiry into international air services (which Qantas had concerns of, see below report). This is another reminder of the more active roles that airports can now play in shaping their futures.
See related report: Qantas seeks political support for international growth: 'We operate below our full potential'