Emirates' USA growth anchored around JetBlue and Alaska Air hubs. Panama City for LatAm Growth
Analysis
In the 2015 winter schedule, Emirates will have 35% more capacity to the United States than in winter 2014. Its growth is not random but targeted around partnerships: 90% of additional capacity will be put into four airports – New York JFK, Boston, Seattle and Orlando – that are hubs for its local partners, JetBlue and Alaska Air. The remaining 10% increase is largely a full season realisation of previous growth.
Another partner hub – Fort Lauderdale – could be attractive to Emirates because of JetBlue's growing Latin American presence from the south Florida city. JetBlue has a larger Latin American presence from Fort Lauderdale than Orlando, which Emirates starts service to in Sep-2015. But first Emirates will expand its Latin American reach with a service to Panama City, making the non-stop route from Dubai the longest in the world.
An eventual partnership with highly successful local hub airline Copa will give Emirates significant access to Latin America. Panama City and Copa have been seeking an Asian airline partner, and Emirates will partially fulfill this wish.
Emirates grows 35% in USA in winter 2015. 90% of growth is at Alaska and JetBlue hubs
A previous CAPA report looked at the broad changes over the years in the US-Gulf market and a number of expansion announcements made earlier in 2015.
See related report: Emirates and Qatar Airways announce new US services - for commercial as well as strategic reasons
Emirates, Etihad and Qatar Airways seats into the US: 2005-2016F
This report looks in detail at the largest operator in the US-Gulf market, Emirates, which accounts for over half the capacity supplied by the three Gulf carriers (itself in addition to Etihad and Qatar). Emirates' winter 2015 schedule will see it grow by 35%. This growth, while very large in percentage and absolute terms, is not surprising given the expansion of Gulf carriers in the US in recent times.
What is perhaps more interesting is that 90% of the growth will be at the hubs of Emirates' partners Alaska Air and JetBlue: New York JFK, Boston and Orlando for JetBlue, and Seattle for Alaska Air.
Etihad and Qatar Airways partner primarily with American Airlines, Qatar via its common oneworld membership with American and Etihad via an agreement with American that well pre-dates Qatar's joining of oneworld. Emirates has been unsuccessful in its attempt to woo American Airlines as a partner, forcing it to turn to the independent Alaska Air and JetBlue.
Virgin America is a smaller partner. These three are regional, mostly domestic operators. They have no long haul routes or alliance partners that mean a Gulf partnership raises the question of cannibalisation. Delta Air Lines and United Airlines do not partner with Gulf carriers. United codeshared with Qatar Airways, but Qatar alleges the Star Alliance pressured United to end the arrangement. The two stopped codesharing in 2012.
Emirates seat capacity change by US market: winter 2015 versus winter 2015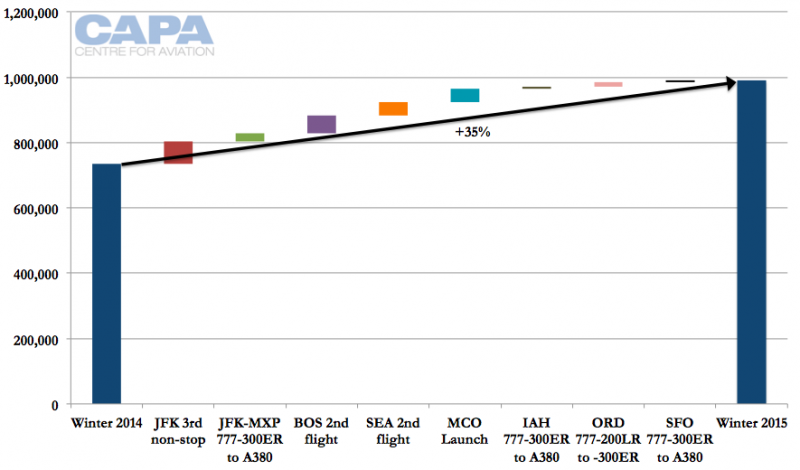 Emirates' largest US hubs – New York JFK, Boston and Seattle – are home to partners JetBlue and Alaska Air
The changes Emirates is making or has made (and will be reflected in the winter schedule) at partner hubs include New York JFK receiving a third non-stop service in Mar-2015 while its fourth flight, via Milan, was up-gauged from 777-300ER to A380 in Jun-2015.
Seattle received a second daily flight in Jul-2015 while Boston receives a second flight from Nov-2015. Orlando receives its inaugural Emirates flight in Sep-2015.
In Nov-2015, Emirates' three largest US markets will be those of its partners: New York JFK, Boston and Seattle. Although New York may be expected, Boston and Seattle are seldom the top airports for other foreign long haul airlines, but this reflects the opportunities the partnerships bring. In those three cities, JetBlue or Alaska are the top carriers.
Ranking of Emirates' US markets by available seat capacity: 2-Nov-2015 to 8-Nov-2015
Rank
Airport
Total Seats
Major Partner Hub
Partner Rank &
Share of Market
1
JFK
New York John F Kennedy International Airport
28,224
JetBlue

System: #2, 23%

Domestic: #1, 46%

2
BOS
Boston Logan International Airport
10,388
JetBlue

System: #1, 25%

Domestic: #1, 28%

3
SEA
Seattle/Tacoma International Airport
8,918
Alaska Air

System: #1, 52%

Domestic: #1, 56%

4
SFO
San Francisco International Airport
7,056
n/a
n/a
5
IAH
Houston George Bush Intercontinental Airport
7,056
n/a
n/a
6
DFW
Dallas/Fort Worth International Airport
7,056
n/a
n/a
7
LAX
Los Angeles International Airport
7,056
n/a
n/a
8
ORD
Chicago O'Hare International Airport
5,194
n/a
n/a
9
IAD
Washington Dulles International Airport
5,194
n/a
n/a
10
MCO
Orlando International Airport
3,724
JetBlue

System: #3, 14%

Domestic: #4, 13%
JetBlue top 10 hubs/bases/stations by available seats: 26-Oct-2015 to 1-Nov-2015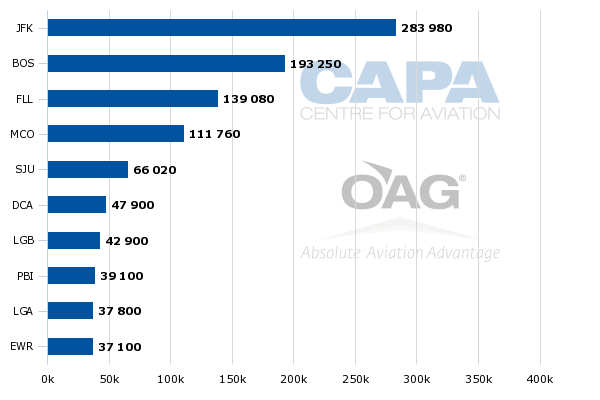 Emirates' route announcement statements often note the role of partners. A statement attributed to Emirates SVP Commercial Operations - West Hubert Frach said: "New York is one of our busiest and most popular routes in the United States. Adding this fourth service will give our passengers even more choice of connectivity when flying from any part of our global network, in particular the Far East and South Asia. Once in the US, our partnership with JetBlue adds even more seamless connectivity onto their network of 65 destinations from JFK."
JetBlue was included in the statement, with JetBlue SVP airline planning Scott Laurence quoted as saying: "As New York's Hometown Airline, we are delighted to see Emirates continue to expand at our main base of operations with this fourth daily service...Emirates is a valuable partner for JetBlue, providing our shared customers with high standards of service across an incredible network."
JetBlue helps Emirates across larger parts of the US as well as in JetBlue's growing short haul international network. Alaska Air helps Emirates fill out some markets, such as on the west coast and, critically, into Canada. There is opportunity for growing the Alaska Air-Emirates partnership.
The Gulf carriers detail the traffic volume of its US partnerships
In its formal response to US carrier allegations, Emirates noted that over five years it carried over 1.35 million passengers to US and European gateways who then travelled to US destinations via other carriers.
Emirates' check-in data shows 68% of these passengers travelled on a legacy airline, delivering these carriers over this period a revenue benefit of USD145.5 million.
Emirates' feeder traffic share to US markets: 2010-2014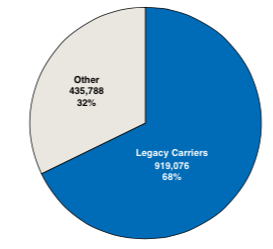 Etihad meanwhile has stated it placed 180,000 passengers onto US carriers in 2014, while Qatar Airways has given a revenue projection of approximately USD60 million. Both have some level of cooperation with JetBlue. Financial interest is only one reason JetBlue and others are lobbying against the legacy carriers' anti-Gulf campaign.
See related report: Hawaiian Airlines and JetBlue combine to oppose the Big 3's Gulf campaign and challenge closed JVs
There is some speculation whether Emirates will launch a service to Fort Lauderdale in the short to medium term. Emirates President Tim Clark mentioned Fort Lauderdale in passing, telling The National in May-2015: "Places like Denver and Fort Lauderdale would love to have Emirates flying there, because when you come into those kinds of airports you bring half of the Middle East and Africa with you. There are multiple entities in the US who are sick and tired of the troika."
Emirates' interest could be more firm than it has disclosed. Fort Lauderdale is JetBlue's fourth largest domestic hub after New York JFK, Boston and Orlando. But probably of greater relevance, Fort Lauderdale is JetBlue's second-largest international hub, half the size of the international operation from New York JFK. (Domestically, Fort Lauderdale is two-fifths the size of New York JFK.)
JetBlue largest US points for international service ranked on available seats: 26-Oct-2015 to 01-Nov-2015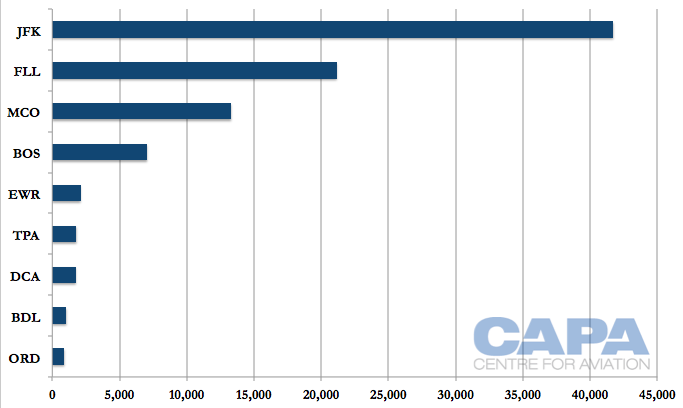 There will be international perception challenges with Fort Lauderdale as it is not associated with Miami, part of its catchment area. (Nor will Fort Lauderdale show up on bookings to Miami as it is not considered a Miami airport.) Fort Lauderdale is only 21 miles from Miami International Airport, less than the distance between co-city airports elsewhere in the world: London Heathrow is 26 miles from London Gatwick, Shanghai Hongqiao 28 miles from Shanghai Pudong and Tokyo Narita 37 miles from Tokyo Haneda.
Fort Lauderdale brings connections to Latin America. There can be larger communities in the greater Miami area, and Fort Lauderdale's closer distance to Latin America than New York or Boston makes it possible to fly deeper into Latin America. JetBlue serves four international cities from Florida that it does not serve from its New York JFK or Boston hubs. These are San Jose, Costa Rica; Lima, Peru; Medellin, Colombia; and Mexico City. Lima and Medellin are only served from Fort Lauderdale while San Jose and Mexico City also see service from Orlando. Lima was JetBlue's first destination south of the equator.
Many had expected Emirates to launch service to Miami, which Qatar Airways serves from Doha with five weekly 777-300ER flights, moving to daily in Nov-2015. Qatar Airways codeshares with oneworld partner American Airlines from Miami to domestic US points and on American's Europe-Miami services. But Qatar does not codeshare with American beyond Miami to Latin America.
When Emirates announced its new Dubai-Orlando route, it noted the opportunity to work with JetBlue to bring passengers to Fort Lauderdale for cruises. There was also the opportunity to work with JetBlue internationally from Orlando; JetBlue is launching Orlando-Mexico City service in anticipation of receiving feed from Emirates.
This follows other examples where Emirates service helps JetBlue launch new flights, such as Boston-Detroit. Emirates could help JetBlue grow further at Orlando, although Miami has the larger community. JetBlue in 2013 flagged increased international service from Fort Lauderdale, which has lower charges than at Miami.
See related report: JetBlue Airways continues to exploit Fort Lauderdale with new flights to Lima
Existing and potential new international markets operated by JetBlue from Fort Lauderdale as of Mar-2013
More immediately, Emirates will be able to grow in Latin America via a new route to Panama City. The non-stop service from Dubai launches on 01-Feb-2016 with a 777-200LR. The route will be the longest in the world at 17 hours and 35 minutes in the westbound direction. This supplants Qantas' Sydney-Dallas route, the existing longest route in the world, so the -200LR shows its potential longevity. But the -200LR is also a typical Emirates choice for launching new routes as it is the airline's smallest long-haul aircraft.
Panama City is Emirates' first destination in Central America. Emirates' only other Latin American points are Rio de Janeiro and Sao Paulo, with Buenos Aires served via Rio. Emirates plans offline access to Mexico City via JetBlue's forthcoming Orlando-Mexico City route, being launched in conjunction with Emirates' launch of Dubai-Orlando service.
Latin America is a challenging market for Gulf carriers as they can primarily link it only with the Middle East and Asia. This is unlike the larger flows Gulf carriers carry between Asia/Australia and Europe; Asia and North America; or Africa and Asia or North America.
Asia is larger but yields are typically low and the traffic is widely dispersed. Passengers may be in second or third tier Chinese cities where the Gulf carriers do not have access, or are in cities where Gulf carriers do not have enough capacity - China and Korea restrict Gulf carrier growth.
The role of the Gulf in serving as a hub between Asia and Latin America was examined in a past edition of CAPA's strategy journal Airline Leader.
See related report: Asia to Latin America - Lots of distance, lots of options, but little direct service
Emirates will be the first Gulf carrier in Central America, and the first to serve a Latin American point other than Buenos Aires, Rio de Janeiro and Sao Paulo. Emirates in a statement notes Panama City will be its "first gateway destination in Central America" and provides "a convenient option for our passengers travelling from or through our global hub in Dubai and onward to destinations throughout Central America, the Caribbean and the northern part of South America."
Although Emirates notes the opportunity for Panama City to be a hub, it says little else. It can be expected Emirates will pursue a partnership with local carrier Copa, which accounts for 84% of Panama City's available seats. Panama City's geography means Copa can access North and South America with narrowbodies, the only aircraft in its fleet.
Copa's Star Alliance membership at the surface could be a stumbling block since few Star carriers partner with Gulf carriers. However, a partnership would be for beyond Panama City traffic, making it less contentious than direct cooperation on long-haul routes, even if Copa feed will help sustain Emirates' service.
Panama City Tocumen International Airport seat capacity by carrier: 17-Aug-2015 to 23-Aug-2015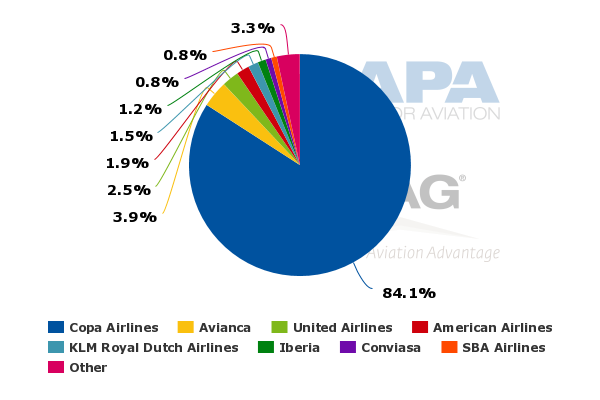 Copa has previously butted heads with some Star peers. Copa's geography is its strength as well as a threat to others, since Copa's central geography allows it to access numerous points in North America and South America on its own. Canada for example has restricted Copa's growth; Air Canada doubt feels threatened by Copa.
So Copa may feel that those airlines wanting to restrict an Emirates partnership are also restricting its own growth and thus the concerns carry little weight. Further, no Lufthansa Group carrier serves Panama City, despite the airport's wishes. The European airlines at Panama City are Air France, Condor, Iberia, KLM and TAP.
See related reports:
Finally, Panama has been trying to woo an Asian carrier to tap into Copa's Latin American hub. Emirates does not bring the Asian markets the way All Nippon Airways, for example, might. But Emirates does bring the new world growth, including some from the Northeast and Southeast Asian markets that Panama City has been trying to attract. And, of course, Emirates brings its strengths in markets besides Northeast and Southeast Asia: Middle East, Indian subcontinent and even Africa.
There is a further layer of complementarity. Copa serves 57 markets in Latin America with 35% of its seat capacity to Upper South America, 23% to Central America and 8% to Lower South America.
Copa's smallest market – Lower South America – is where Emirates is already present. Copa's strengths are in Upper South America and Central America, where Emirates will look to fill white spots – hence Emirates' statement that Copa will help Emirates in "the northern part of South America" rather than throughout the continent.
Copa international seat capacity by region: 17-Aug-2015 to 23-Aug-2015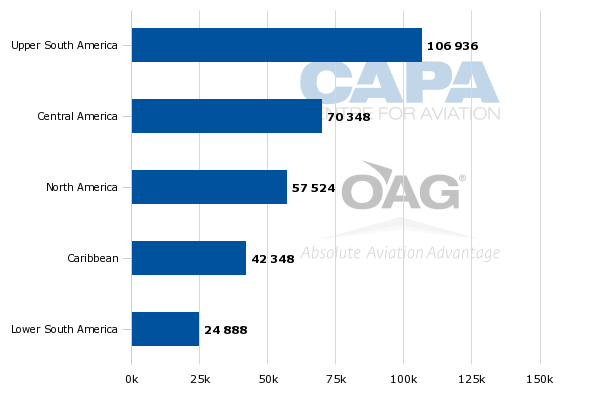 Copa international seat capacity by country: 17-Aug-2015 to 23-Aug-2015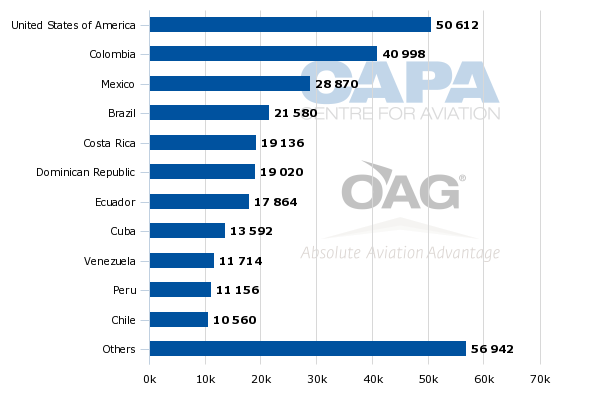 Gulf-US partnerships are shaping long haul growth and influencing the evolution of the regulatory environment
Emirates' anchoring of US growth around its partners is a further reminder to US legacy carriers of what they miss by opposing Gulf airlines (with arguments largely lacking strategic logic). There is substantially more connecting traffic to be delivered to US carriers, and then there is the opportunity to not only receive traffic but place it on Gulf carriers.
Emirates' relationship with JetBlue is deep and deepening and this could be replicated with Alaska Air.
Etihad has long partnered with American Airlines, but there are surely questions at Etihad and Qatar about how expansive American will be as a partner, and perhaps for how long. Emirates could not be the size it is today in the US without JetBlue.
As Etihad and Qatar grow partnerships, it will be interesting to see if capacity follows, as is occurring with Emirates. Then again, with Etihad and Qatar ramping up growth in the US, Emirates' growth around partner hubs reduces risks compared to launching a destination where it has no local friends. This requires a shift in thinking from Emirates, which has long been self-reliant, with limited partnerships. As Emirates approaches its 30th anniversary, it will be mindful of the need to avoid allowing complacency settle in, instead maintaining some agility from experimental youthful days.
Placing Central America on its map will involve Etihad and Qatar reviewing their strategies for Latin America, although this is a fringe market and growth will be limited.
The other impact from Gulf-US partnerships is in the domestic US arena. There the gap in strategic outlook between legacy carriers and the likes of JetBlue, Alaska and Hawaiian is widening, with the US government acknowledging this by launching an investigation into possible collusion. Further investigations could be likely as JetBlue and its allies argue legacy carriers are not being pro-competition, whether in their alliance against Gulf carriers or their strong power from trans-Atlantic JVs.
See related report: Hawaiian Airlines and JetBlue combine to oppose the Big 3's Gulf campaign and challenge closed JVs
As CAPA previously wrote:
American, Delta and United's decision to confront the three large Gulf airlines has created a divide in the US airline industry - between the airlines that opt to control capacity and pricing through joint ventures and other airlines such as Hawaiian and JetBlue, which have both used their unique positions (strength at Honolulu and JFK) to adopt a more organic path to partnerships.

It is a strong possibility that the US government will closely examine Hawaiian and JetBlue's arguments about the negative effects of joint ventures on competition and consumer choice as it weighs the merits of arguments put forward by the "Big 3" that Emirates, Etihad and Qatar have negatively distorted the US market through the help of government subsidies.

US authorities are already investigating whether American, United and Delta have colluded on capacity reduction to keep air fares high, so the penchant to peg anti-competitive practices on those airlines remains robust. The prospects of an adverse finding may be limited, but the action helps define the broader sentiment now apparent in the popular domain.

Hawaiian and JetBlue's opposition to the argument posed by the "Big 3" against the Gulf airlines and their contention that the joint ventures forged by those airlines potentially harm consumers are interesting by-products of the anti-Gulf airline campaign.

American, Delta and United could not have anticipated the robust response from Hawaiian and JetBlue (as well as from the world's largest freight airline, FedEx) but those airlines are taking great care to ensure their voices are heard – creating an important dynamic for the US government to take into consideration as it navigates the state of the US airline industry and its place in the global aviation landscape.