Passenger growth slows in Aug-2011. Freight downturn a cause for concern: ACI
Analysis
The world's airports reported slower passenger traffic growth in Aug-2011 and an air freight performance that "does not paint a particularly rosy picture", airports body Airports Council International (ACI World) said. After comments last month that it was cautiously optimistic about the remainder of 2011, the organisation's new Economics Director Rafael Echevarne this month cautioned that "the dramatic deceleration in the evolution of freight traffic over the year puts into question whether we will end the year in positive territory", citing eroding business confidence amid an uncertain economic climate.
Despite the short-term jitters, the long-term growth outlook is positive, particularly in emerging markets such as Asia.
Regional Director of ACI Asia Pacific, Maggie Kwok, at a recent CEO Forum in Sep-2011 stated global passenger traffic has grown by 45% in the past 10 years (from 3.48 billion in 2000 to 5.04 billion in 2010) and the trend is continuing. ACI forecasts global passenger traffic would double to over 10 billion passengers by 2029. "The high traffic growth implies need for expansion and upgrade of airport infrastructure which can impose huge financial burden to airports. Profitability is therefore crucial and airports need to explore ways to increase non-aeronautical revenues," Ms Kwok noted.
Passenger traffic growth slows to 2.9% in Aug-2011
In Aug-2011, 2.9% more passengers passed through airports worldwide compared to a year earlier. International traffic grew by 4.3%, whereas domestic passengers increased by a more moderate 1.7%. Mr Echevarne stated the traffic figures indicate that "the world traveller continues to show resilience despite the signs of global economic uncertainty". However, the growth rate in Aug-2011 slowed from the levels seen in preceding months.
ACI World total passenger trends: year-on-year, year-to-date and year-end comparison from Aug-2010 to Aug-2011
ACI World passenger trends: international, domestic and total traffic growth (%, year-on-year): Aug-2010 to Aug-2011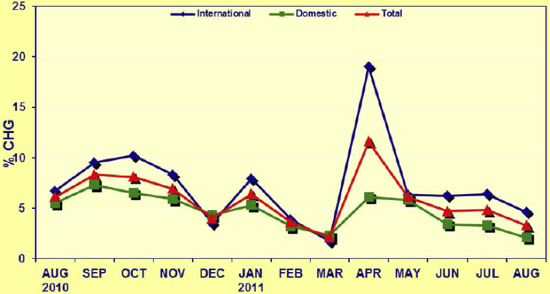 Growth slows in Aug-2011
Several factors accounted for the slowing growth in Aug-2011. ACI noted that Africa continues to represent a "significant drag on international passenger numbers as confidence in North Africa as a safe tourist destination, especially in Tunisia and Egypt, has not been restored yet". The region declined by 15% while the more significant international passenger segment slumped by over 20%

ACI World regional passenger trends: month-on-month comparison with the same month of the previous year: Aug-2010 to Aug-2011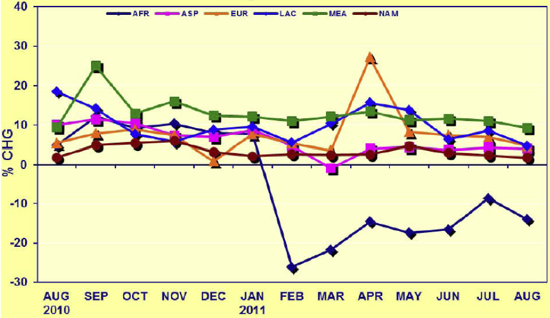 In Asia Pacific, growth was moderate at Chinese airports. Beijing stagnated (+0.6%) while the two Shanghai airports of Shanghai Pudong and Hongqiao fell by 5-6%, although this was as a result of strong growth in 2010 due to the World Expo in Shanghai.
Japan slowly recovering from Mar-2011 earthquake and tsunami but full recovery remains some way off
Japan, meanwhile, is recovering slowly with reductions now mainly in the single digits, with the exception of Tokyo Narita where a 12.3% decline still shows a lack of international demand to Japan. Tokyo Haneda, meanwhile, is currently the world's third largest airport by system seats. Traffic in the region was lifted by demand to and from Thailand, South Korea, India and Singapore in Aug-2011.
Japan National Tourism Organisation this month stated incoming tourism levels have declined by around 60% since the 11-Mar-2011 earthquake and tsunami. World Travel and Tourism Council separately stated the low impact scenario of the impact of the event expects a 28% fall in visitor exports for the FY2011 compared with baseline levels. WTTC stated data from JNTO shows that foreign visitor arrivals in June and July were 36% lower than in the same periods in 2010. This is an improvement on the larger reductions witnessed in previous months. JNTO also warned that a full recovery still remains some way off. Oxford Economics, meanwhile, stated that domestic travel and tourism demand was only 2% lower in the three months to Jul-2011 than in 2010, and may even have been marginally higher than a year earlier in Jul-2011.
Japan foreign visitors by market for Jul-2011 (% Change year-on-year)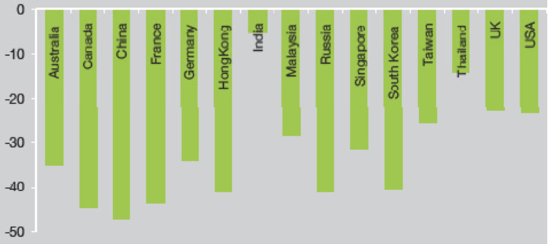 Japan foreign visitors (% Change)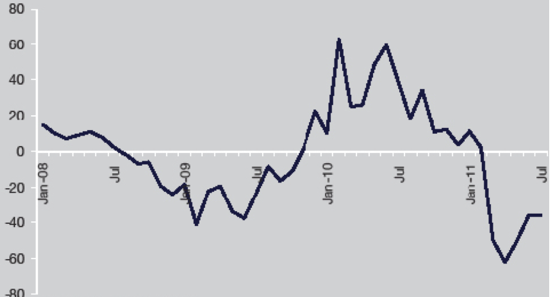 ACI stated that North America remains a "mixed picture" supported by a solid expansion of international traffic by 4%. "Network reshuffling and capacity management dominate the market," the association added. Memphis suffered the sharpest decline (-16.7%) as Delta Air Lines drastically cut capacity at the airport. For the same reason Cincinnati continues to report traffic declines, standing at a 9% year-on-year decline in Aug-2011.
Freight weakness "bodes badly for passenger traffic": ACI Europe
During Aug-2011, "only a very few airports in Europe had to cope with [passenger] traffic declines," ACI World said, adding: "It is striking that many airports in Germany reported falling traffic which must be attributed to the introduction of an aviation tax at the beginning of the year. As a result, carriers reduced their capacity and passengers sought other modes of travel or airports as a departure point outside Germany". Traffic increases in Spain, Italy, Scandinavia and Turkey supported positive results across Europe in Aug-2011, the association said.
During the month, European airport passenger traffic continued to increase, with growth of 4.7% in Aug-2011 and year-to-date passenger growth of 8.2%. Aircraft movements increased 2.7% in Aug-2011 and 4.5% in the year-to-date period. Adjusted to reflect the exceptional impact of the volcanic ash crisis in 2010, passenger growth year to date stands at +4.8%.
Among Europe's largest airports handling more than 25 million annual passengers ('Group 1'), there was a 4.4% increase in passengers in the month. Growth was also seen at the region's smaller airports: 'Group 2' airports (airports handling between 10 and 25 million passengers) witnessed growth of 5.7%. 'Group 3' airports (5 to 10 million passengers) expanded by 4.4% while 'Group 4' (<5 million annual passengers) was weaker again at 3.4%. Among the Group 1 airports, Barcelona continued to witness strong growth, while again Istanbul Ataturk also reported double-digit expansion.
ACI Europe example of airports that experienced the highest increase in passenger traffic per group in Aug-2011

According to CAPA Airport Rankings Tool, Barcelona was the world's 30th largest airport in terms of system capacity (ASKs) in the week commencing 10-Sep-2011. Istanbul Ataturk ranked 19st, with Amsterdam (26th) and Munich (28nd) also among the world's Top 30 airports. Europe's largest airport was London Heathrow (ranked fourth on a world wide basis), followed by Frankfurt (fifth), Paris CDG (sixth), Madrid Barajas (14th) and Rome Fiumicino (20th).
It was a different story in the freight sector as European airports registered a decline of 2.5% in Aug-2011.
ACI EUROPE Director General Olivier Jankovec cautioned that "declining freight traffic is symptomatic of the risk of another recession for Europe, amid weak business and consumer confidence. This bodes badly for passenger traffic in the months ahead, with many airlines having revised their initial capacity plans downwards for the winter."
He added: "The gap between passenger traffic growth at EU airports (+3.5%) and non EU-airports (+9.6%) reflects market maturity to some degree, but also – worryingly – competitive disparities. Aviation taxes in the UK, Germany and Austria are taking a heavy toll on the industry, especially on regional airports. These countries clearly haven't grasped that they are shooting themselves in the foot."
Freight growth remains in negative territory for fourth month
As echoed by IATA this month, ACI World said the downturn in the freight market is cause for concern. Freight volumes remained in negative territory for the fourth consecutive month, according to ACI World.
However the association noted that "figures still need to be viewed in conjunction with the corresponding period when international traffic, in particular, grew by 21%", adding that "the figures should not be seen as the beginning of a slowdown yet."
ACI World total freight trends: year-on-year, year-to-date and year-end comparison from Aug-2010 to Aug-2011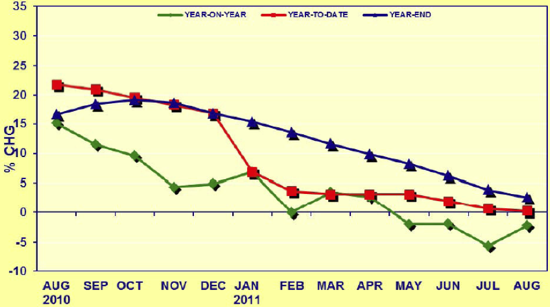 A slight uptick of domestic freight in Aug-2011 into positive growth "may point to a return to positive international freight growth in the coming months when [the previous] corresponding period growth also decreased significantly", ACI stated. But it cautioned that "the on-going uncertainty over sovereign debt issues, health of the banking sector, a cooling economy in China and economic growth in general however does not provide a positive backdrop to the outlook for global air freight".
APPENDIX: ACI World Aug-2011 traffic
ACI worldwide traffic results: Aug-2011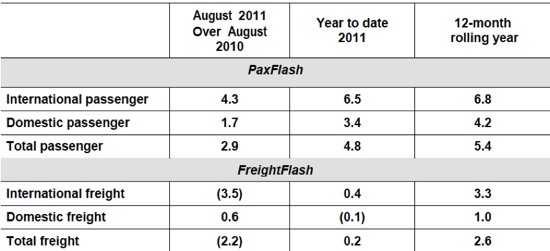 Aug-2011 ACI passenger traffic summary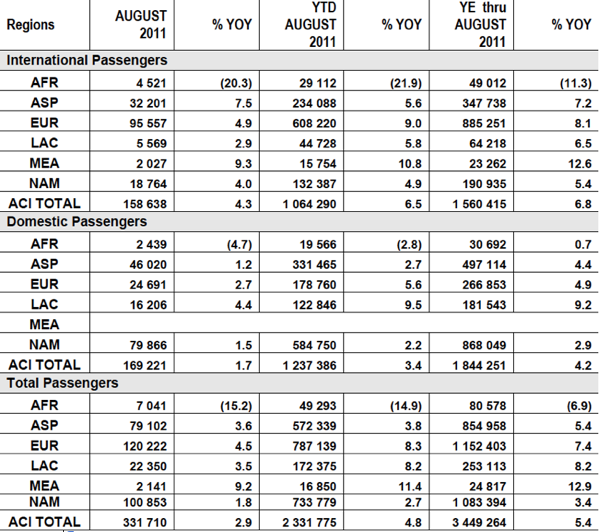 Aug-2011 ACI freight traffic summary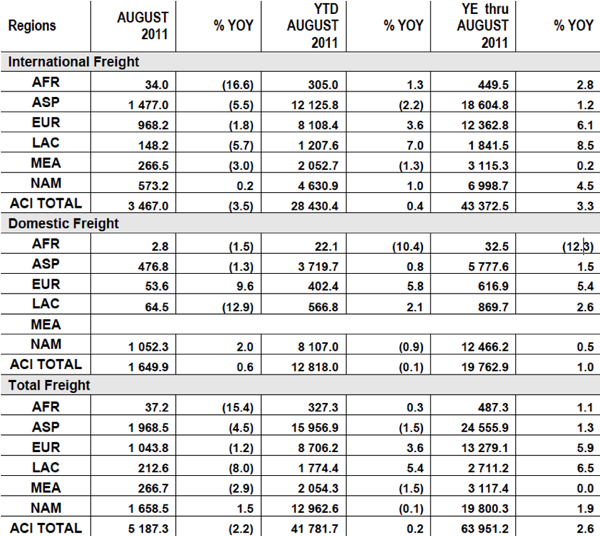 ACI World freight trends: international, domestic and total traffic growth (%, year-on-year): Aug-2010 to Aug-2011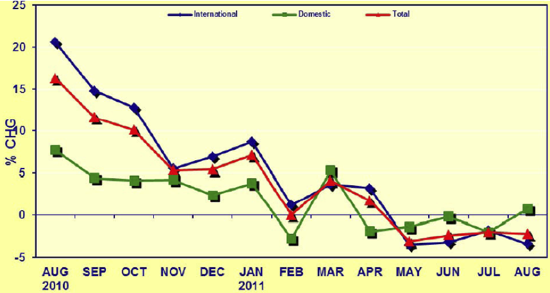 ACI World regional total freight trends: month-on-month comparison with the same month of the previous year: Aug-2010 to Aug-2011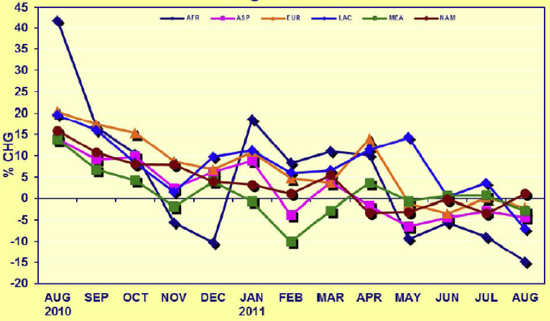 ACI World regional international freight trends: month-on-month comparison with the same month of the previous year: Aug-2010 to Aug-2011