Major changes set for Bhutan market as Drukair expands and Tashi Air plans early 2012 launch
Bhutan is the smallest aviation market in Asia and unique in the fact that only one airline operates to/from the nation at present. Drukair (Royal Bhutan Airlines), the national carrier of Bhutan, operates only 8,120 weekly seats to/from the nation's sole airport, Paro Airport, based on Innovata data for the week ending 11-Sep-2011. However, this is all set to change as a second carrier, Tashi Air, is planning to enter the market and new airports are opened, allowing both carriers to operate domestic services.
Tashi Air aims to end the monopoly of Drukair in the international market and become Bhutan's first private airline. Both Tashi Air and Drukair also plan to commence domestic operations by Apr-2012, with Tashi operating initially in the domestic market before expanding into the international market in around Mar-2012, depending on fleet availability. Tashi Air could launch domestic operations earlier than this Apr-2012 target date, with the carrier's CEO and former Drukair pilot David Young stating that epending on whether the Batpalathang airstrip is operational, it could commence domestic operations in mid Oct-2011.
Bhutan is developing two more domestic airports in addition to Paro Airport, which is located 7300ft above sea level in the land-locked and mountainous country and 65km from the nation's capital of Thimphu. Rugged mountains dominate the terrain and make the construction of airports and other infrastructure difficult and expensive.
Bhutan – a small, mountainous nation with 0.1 flights per capita
Bhutan, which is about half the size of Nepal and almost the exact same size as Switzerland at 38,394sqkm, has 72% of its land mass covered by forest, with a population of around 700,000 people. The nation's per capital GDP is around USD5,000, according to the CIA World Fact Book. The economy, one of the world's smallest and least developed, is based on agriculture and forestry, providing the main livelihood for more than 60% of the population.
The economy is closely aligned with India's through strong trade and monetary links and dependence on India's financial assistance. Propensity to travel stands at around 0.1 per flights per capita at present, which according to OAG data from 2009, is roughly the same level as Uzbekistan, Yemen and Tanzania.
Bhutan geographical map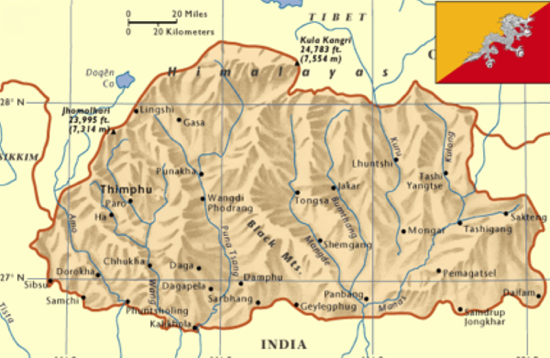 Annual international tourist arrivals of around 27,000
The government, meanwhile, is expanding the number of air service agreements (ASAs) it has with surrounding countries, as part of efforts to enhance tourism. The low capacity levels of Bhutanese services to a limited number of countries is a major deterrent to increasing tourist arrivals, a situation the government is attempting to rectify.
In 2007, approximately 20,000 tourists were permitted to enter Bhutan, with tourist numbers increasing to only 27,196 in 2010, according to Bhutan National Statistics Bureau, with the value of the tourism industry standing at around USD24 million p/a. The government plans to raise tourist numbers to 100,000 in the near future.
Bhutan international tourist arrivals: 2005 to 2010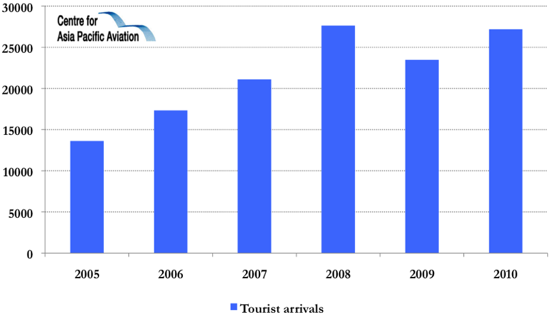 Tourism in Bhutan is limited and regulated by the government, which only provides entry visas to visitors who pre-pay for a pre-arranged land package itinerary with a licensed and approved local operator and pay a fixed price nightly tariff. Tourists are also required to fly in and/or out of Bhutan and are only permitted to cross via the land border with India in one direction. This requirement has given Drukair, as the only carrier serving Bhutan, a guaranteed market.
Fares to and from Bhutan are also relatively high and are not typically discounted for foreigners. Fares for locals, however, are discounted.
Bhutan prohibits independent backpacker style visitors and it has branded itself as a 'high value, low volume' tourism destination, fitting in with the restrictive tourism laws. This was done to prevent Bhutan from becoming a backpackers haven like Nepal and over the years it has attracted well-read, experienced tourists, who adhere to its environmental and cultural regulations.
Seven routes served from Bhutan at present. Drukair and Tashi Air granted services to Singapore
At present, there are only seven direct routes served from Bhutan to six countries, with routes from Paro to Kolkata, Kathmandu, Delhi, Bagdogra, Dhaka, Bangkok Suvarnabhumi and Guwahati.
Top carriers operating to/from Bhutan (seats per week): week commencing 05-Sep-2011
| Rank | Origin | Destination | Total Seats |
| --- | --- | --- | --- |
| 1 | | | 2,030 |
| 2 | | | 1,450 |
| 3 | | | 1,450 |
| 4 | | | 1,160 |
| 5 | | Dhaka Hazrat Shahjalal International | 870 |
| 6 | | Bangkok Suvarnabhumi International | 580 |
| 7 | | | 580 |
Bangkok has traditionally been Drukair's largest market and the most common transit point for visitors heading to Bhutan. Drukair currently only has two weekly non-stop flights to Bangkok but has another other six one-stop flights. Including the one-stop flights, Drukair currently has 2,320 seats per week from Bangkok, according to Innovata data.
Most flights to Bangkok have historically required stops in India, Bangladesh or Myanmar because of weight restrictions operating out of Paro, in particular during certain times of the day or certain times of the year when there are windy conditions. The restrictions at Paro effectively limit the range Drukair can operate its A319s, which were acquired in 2004 to replace BAe146s after a thorough trial that proved the type could operate from Paro. As a result potential new medium-haul destinations such as Singapore or Hong Kong will need to be launched as one-stop services.
The restrictions at Paro and the small size of the Bhutanese also have so far dissuaded foreign carriers from launching services to Bhutan. Operating at Paro, which has one of the most challenging airport approaches in the world, is so difficult private aircraft which come into the country typically pick up a Bhutanese pilot in India to help with the approach.
Singapore may be served by both Bhutanese carriers
In a major development, Drukair and private carrier Tashi Air recently received authorisation from Singapore's Department of Civil Aviation to operate services to Singapore, in a move expected to provide a major tourism boost for Bhutan. A bilateral air services agreement will be signed this month that will stipulate the rights for the carriers to operate the services. Drukair is planning to serve Singapore via Kolkata and Dhaka.
Drukair's commercial manager Tshering Penjor recently stated the airline is intending a twice-weekly service to Singapore by Mar-2012. However, this may change depending on the airline's ability to acquire its third A319, which the carrier has been working on acquiring for four years.
Bhutan has current ASAs with India, Bangladesh, Burma, the Maldives, Thailand and Nepal. The ASA with the Maldives was signed on 08-May-2011, enabling carriers from both sides to launch service between the two nations. Drukair stated it has no intention to immediately launch services to the Maldvies with commercial manager Tshering Penjore stating: "I am not sure what kind of potential we have with the Maldives, but it is definitely not on our priority list at the moment."
The Bhutan Government stated the signature of the ASA with the Maldives is only the beginning and Bhutan is on course to have similar agreements with more countries. Talks are underway with Sri Lanka, Qatar, and Hong Kong, with Bhutan also seeking to update ASAs with Nepal and Bangladesh. As a result, Drukair is also considering services between Bhutan and Hong Kong and China.
Currently, Drukair is concentrating on expanding its services to and within India. Passenger traffic has been growing rapidly with a 26% increase on its Paro-India routes in 2010. The carrier is now looking to expand its India operation to Bangalore and Mumbai.
Domestic services on the way from Mar/Apr-2012. Drukair and Tashi Air to operate domestically. Feasibility questioned
In late Dec-2010, the Bhutanese Government awarded commercial air service contracts to Drukair and private start-up Tashi Air to operate domestic services in Bhutan starting in spring 2012. The government stated it awarded the contracts to the two carriers to avoid a deterioration of services.
Tashi Air had expressed concern that the domestic air market is not large enough for two operators, stating it would be unfeasible to operate with competition in the market. "There's no market for two domestic operators. The market is small," Tashi Group of Companies spokesperson Wangchuk Dorji said, as quoted by Kuensel. He added the Tashi Group did not expect two companies to be operating domestic air services when it bid to operate an airline. "We were thinking it was only one licence. We weren't expecting that at all."On the economic sustainability of domestic market, Mr Young separately stated that it is looking "thin".
According to the initial request for proposals (RFP) floated last year, only one company was to have been selected. Instead, the government chose two on the grounds that competition was required. Tashi Air is now exploring domestic air market strategies.
Bhutan's communications secretary, Dasho Kinley Dorji, stated the government believes two carriers can operate in the domestic market because their domestic services can be subsidised by international operations. Tashi Air chose to operate internationally when it bid for the air contract, he stated. The secretary noted the international sector is profitable, "especially with the government's plan to raise tourist numbers to 100,000".
He added, as quoted by Kuensel: "I don't think you expect to make a profit next year, you're buying and leasing planes at millions of dollars, so the company has to come in with a longer term perspective. Ultimately the whole purpose is only the citizenry and economic development. As far as business practices go, monopoly is no good."
The two airlines were approved for domestic operations by the Cabinet on the basis that the two companies had submitted an independent 'project document' as required and had responded thoroughly to the requirements of the project manifest. The release from the Prime Minister's office stated that Drukair met all the requirements while Tashi Air, which submitted a proposal along commercial lines, was deemed financially strong.
According to the project document, Drukair stated it would purchase turboprop aircraft upon being awarded the contract. Tashi Air subsequently stated it would operate domestic routes with a nine-seat PC12 aircraft, with Mr Young stating the aircraft is three years old and has flown 800 hours. The PC12 is a single-engine turboprop passenger and cargo aircraft manufactured by Pilatus Aircraft of Switzerland. The PC12 is deemed suitable to the weather conditions and mountainous terrain in Bhutan. Tashi Air will initially employ foreign pilots, while its Bhutanese pilots are being trained, Mr Young said.
A third party, Bhutan Air Private Limited, which also made a bid for domestic operations, was disqualified as it did not respond adequately to the requirements of the project manifest, the government said. Bhutan Air Private Limited reportedly made no move towards the establishment of a 'Unit Airline Company' comprising four partners and had not fulfilled the preliminary requisites such as office location, equipment and installations, requirements to be evidenced in the 'project document'.
The domestic routes will consist of services from Paro to Bumthang in central Bhutan and Trashiyangtse in eastern Bhutan, using a former Indian air force strip that has been upgraded.
Bhutan Air takes delivery of third aircraft. Expecting fourth in 2012
Bhutan Air currently operates a fleet of three aircraft: two A319s and one ATR42-500s, all owned by the carrier, and with an average fleet age of 7.3 years. The ATR-42 was delivered earlier this year and purchased second-hand while the A319s were acquired directly from Airbus as new aircraft.
Drukair fleet profile: Oct-2011

Drukair expects to operate the ATR 42-500 aircraft in the domestic sector. However, the department of civil aviation has not yet cleared the ATR 42-500 to operate domestically. Drukair will be conducting test flights with the aircraft between Batpalathang and Yongphula as part of the certification process. The airline is also looking to charter the aircraft for scenic flights and other purposes.
Drukair also requires more A319s to expand its international network to include other cities such as Hong Kong, Singapore, Mumbai, and Bangalore. Drukair expects to have a fleet of at least three A319s by the end of next year.
The International Finance Corporation (IFC), the World Bank arm providing investment and advisory services to the private sector in developing countries, signed an agreement with Drukair parent company Druk Holding and Investments (DHI) in Feb-2009 to review the airline's operations to increase efficiencies and provide better services at an affordable cost. The agreement was signed amid stagnating passenger traffic at the national carrier at around the 120,000 annual passenger mark.
Due to its monopoly status, Drukair never invested in any marketing initiatives. In effect, Bhutan has a market of only around 200,000 potential tourists through word of mouth advertising, onsite travel agents, some travel writers and media coverage.
Drukair passenger numbers: 2005 to 2009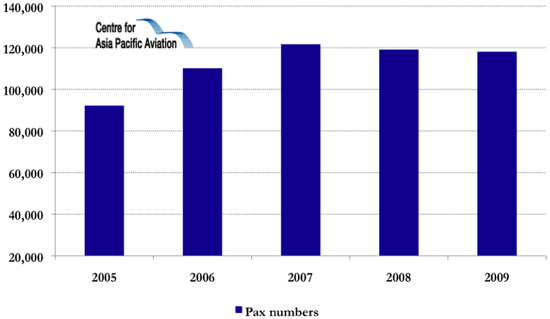 Drukair flights: 2005 to 2009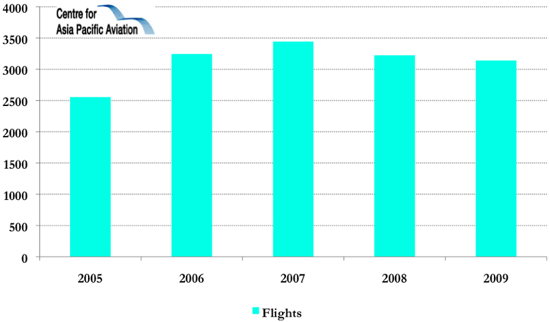 Drukair's parent DHI is a government investment group managing eight of Bhutan's largest industries, one of which is Drukair. The carrier was established on 05-Apr-1981 and commercial operations commenced on 11-Feb-1983. The carrier commenced operations with an 18-seat Dornier 228-200, with Kolkata as the launch route. Before Bhutan's move to a parliamentary democracy, the carrier was made an independent organisation reporting to DHI, although the carrier maintains the legacy of a government organisation. Drukair itself has an impeccable safety record, without a single mishap since its inception in 1983.
Tashi Air to enter the market in 2012
The entrance of Tashi Air into the market is also seen as key for the Bhutanese aviation and tourism industry, although concerns centre on how the loss-making aviation industry in Bhutan will support a second carrier.
Tashi Air will fly internationally after its domestic arm is established, the carrier has said. Its first aircraft - a PC12 - is due to arrive in early Oct-2011. Tashi Air is planning to lease either an A319 or A320 for its international operations, but it yet to find a suitable aircraft and obtain necessary approvals.
Tashi Air has been given approval to compete with Drukair on both its current and future international routes as well as the soon to be implemented domestic routes. The carrier confirmed it is likely to operate similar sectors to Drukair but is also considering new routes if viable and if the rights exist. Bangkok and New Delhi has been confirmed as the carrier's initial international routes, according to Mr Young.
Paro Airport – the sole international airport in Bhutan
Paro Airport, up until Sep-2011, was the only airport in Bhutan. Paro Airport is located in a deep valley at an elevation of 7300ft above sea level. The surrounding hills are as high as 16,000ft and the approach into Paro Airport is entirely by visual flight rules, meaning the airport's operations are subject to weather conditions.
The airport handles between six and 10 aircraft movements per day, with the busiest day being Sunday, based on Innovata data for the first week of Sep-2011. Traditionally most flights have operated in the morning, when weather conditions are usually calm.
Paro Airport movements per hour: 11-Sep-2011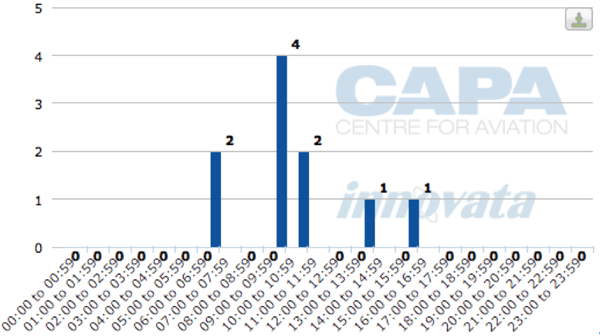 Yonphula passes test flight. Bhutan's first domestic airstrip is now open for operations
Meanwhile, the Yonphula airstrip (located in the eastern most part of the country) conducted a successful test flight landing on 04-Sep-2011. As such, Bhutan's first domestic airstrip is now open for scheduled flight operations, according to Bhutan's Department of Civil Aviation (DCA), as reported by Kuensel.
Using a 10-seater propeller aircraft, the DCA and Aeronautical Radio of Thailand (Aerothai) conducted the first ever fixed-winged air operation into the Yonphula airstrip on 04-Sep-2011. The tests also included examinations of the communications equipment at Yonphula, as well as at the Batpalathang airstrip in Bumthang, although the test aircraft did not land at the Batpalathang airstrip (located in Bumthang in central Bhutan). Batpalathang airstrip, although scheduled to be completed this month contractually, may likely only be ready in Oct-2011, the department said.
DCA director general, Phala Dorji, said the test flight, which also assessed communication procedures between the three airstrips in Butan, were also designed to address public concerns about the safety of Yonphula airstrip. Public concerns regarding the foggy and windy environment, and the presence of hillocks at one end of the airstrip have occasionally surfaced. "There's no problem when it comes to safety," said civil aviation director general Phala Dorji.
In regard to the fog and wind factor, Mr Dorji stated services would only be permitted to operate if conditions are safe, such as the early morning when fog and wind conditions are more placid. With a flight time of 30 minutes from Paro, and 15 minutes from Bumthang, he said that airlines can operate up to four services in the morning to Yonphula. Drukair has said it plans to operate all its domestic flights before 9:00.
Mr Dorji also said that if fog or wind conditions arose during a flight into Yonphula, it would simply be diverted by Yonphula air traffic control. He pointed out that such weather conditions were only present during summer, rather than winter, months.
While the DCA used a smaller aircraft to demonstrate safety of Yonphula, Drukair will be using a much larger 48-seater ATR 42-500 for its operations to the airport. The airline is awaiting DCA approval to use this larger aircraft. The DCA stated that Drukair must submit all technical data from its own test flights to demonstrate the feasibility of the aircraft for Yonphula and Batpalathang. The PC12 that Tashi plans to acquire is a much smaller aircraft, similar to the one utilised in the test flights.
Drukair spokesman Pema Namgay told CAPA that the two domestic airports are expected to be operational by the end of 2011. He confirmed that Drukair will be operating domestic services with ATR-42 aircraft, with Tashi Air expected to operate with PC12 equipment on the sector.
While the distances between Bhutan's three airports are very short, the driving times are very long given the country's mountainous terrain and lack of highways. The domestic flights will likely appeal to tourists looking to maximize their time spent in Bhutan. Despite the small size of the market, the two carriers may not find it too difficult to fill up the small turboprops, particularly during peak tourist seasons.
But even with tourists using the domestic flights, profitability of the domestic operation will be difficult to achieve due to the operating limitations at the three airports and the low utilisation of the turboprop aircraft. Adding a second type of aircraft for only a few domestic flights is also a very costly proposition for any airline.
Considerable change in next six months
The Bhutanese aviation industry is undergoing considerable change over the next six months, with a new airline to break Drukair's monopoly and two new domestic airports scheduled to open by the end of 2011, to support a domestic aviation market which is being opened from Apr-2012. However, challenges remain, with the domestic market unlikely to be able to support two operators.
Tashi Air will also be expanding internationally to subsidise its domestic operations, creating further pressure on Drukair. However, with two players in the market, the government is seeking to develop demand for travel to Bhutan, with an increase in tourism quotas and a focus on expanding bilateral agreements.
As Bhutan has huge potential as a tourist destination, eventually its aviation market could support two carriers. Bhutan is now by far the smallest of the 24 aviation markets in Asia. The next smallest market, Mongolia, is more than four times the size of Bhutan based on weekly capacity figures.
But even if Bhutan's market doubles or triples in size, airline profitability will be difficult to achieve. Both of the country's carriers will need to maintain high air fares on international flights in order to subsidize the new domestic operations. High yields are also needed to overcome operating restrictions at the country's only international airport.
These operating restrictions limit payloads and make it difficult to operate flights during certain times of the day. As a result, Drukair has some of the lowest aircraft utilisation rates among A320 family operators. Bhutan is also a seasonal market, making year-round profitability difficult to achieve.