China's Kunming Airport aims for a hub role from Europe and North America to Southeast Asia
Analysis
Kunming in southwest China has been the country's traditional gateway to Southeast Asia, and flights to Southeast Asia account for 60% of Kunming's international seats, making Kunming an exception to most other Chinese airports mostly with larger international exposure to Northeast Asia. Kunming hopes to use its Southeast Asian network to be a transfer hub from North America and Europe, and in 2014 its regional government established a RMB200 million (USD32 million) fund for new international routes.
Such traffic, while plausible in the long-term, will be the icing on the cake. 93% of the airport's seats in Mar-2015 are domestic and Kunming carried 32m passengers in 2014. International will be a small but growing part of Kunming's story, with sixth-freedom Europe/North America-Southeast Asia traffic even smaller. Kunming's geography disadvantages it in having long-haul flights to North America.
While geography is more favourable to Europe, competition from Southeast Asian and Gulf carriers is strong and Kunming will be up against mighty networks. Point-to-point traffic volumes are not large enough to contemplate filler connecting traffic and Kunming cannot rely on connecting traffic the way Dubai can.
Kunming Airport had 32m passengers in 2014. Southeast Asia its largest international market
Kunming Airport welcomed approximately 32m passengers in 2014, double the level from 2008. Only about 2% of its traffic was transit despite efforts to promote this segment.
Kunming was China's fastest growing major airport in 2013 but growth slowed significantly in 2014. Its new airport opened in 2012, after which international growth accelerated, although this pressured yields at China Eastern.
See related reports:
Kunming Airport annual passenger numbers: 2008-2014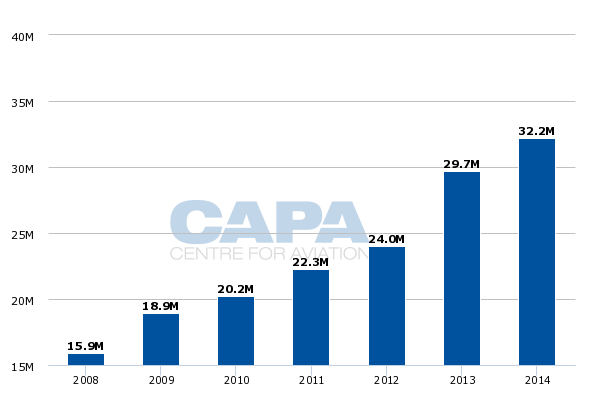 Kunming does not provide a breakdown of its passenger numbers, but in Mar-2015 7% of the airport's seats were international (including Hong Kong/Macau/Taiwan). 60% of international seats are to Southeast Asia, 20% to Northeast Asia, 15% to South Asia (another connecting market opportunity) and the balance to Europe and the Middle East.
Kunming international seat capacity by region: 16-Mar-2015 to 22-Mar-2015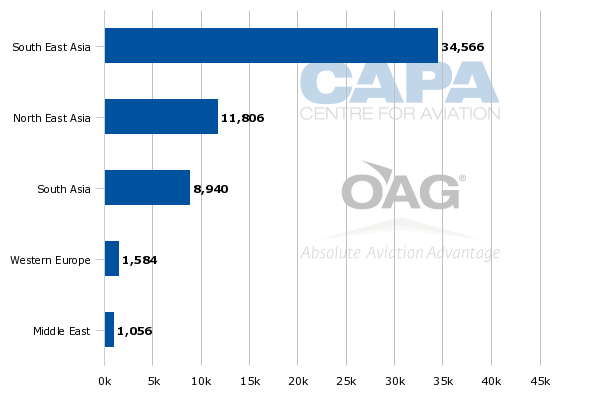 Kunming is in southwest China, below Chengdu and Chongqing and to the west of Guangzhou. It is China's closest major city to Southeast Asia.
Greater China hubs in proximity to Southeast Asia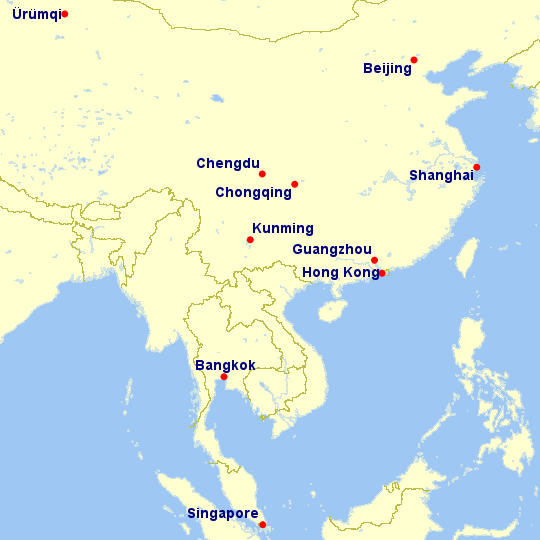 Kunming does not have any foreign intercontinental carriers, unlike for example British Airways and United in Chengdu, Finnair in Xi'an (seasonally), KLM in Xiamen and Lufthansa in Nanjing (this list is not exhaustive). Kunming's only non-stop long-haul services in 2015 are three weekly flights to Paris CDG operated by China Eastern and likely receiving handsome subsidies (this route commenced in late 2014). The benefit to Kunming from subsidising a largely outbound flight to Paris is unclear, and certainly cannot continue forever.
China Eastern also has three weekly flights to Dubai (a service that originated in 2010) and in the past has had very limited services to Saudi Arabia. Speaking at the Mar-2015 Routes Asia conference in Kunming, Yunnan Airport Group (which includes Kunming airport) expressed hopes of receiving an Australian (Melbourne/Sydney) service after the airport surpasses 40m annual passengers.
China Eastern is the largest airline overall in Kunming. Its lead in the international market is especially notable, commanding 53% of international seats at Kunming in Mar-2015. The next largest carrier, Thai Airways, had a 7% share.
Kunming international seat capacity by carrier: 16-Mar-2015 to 22-Mar-2015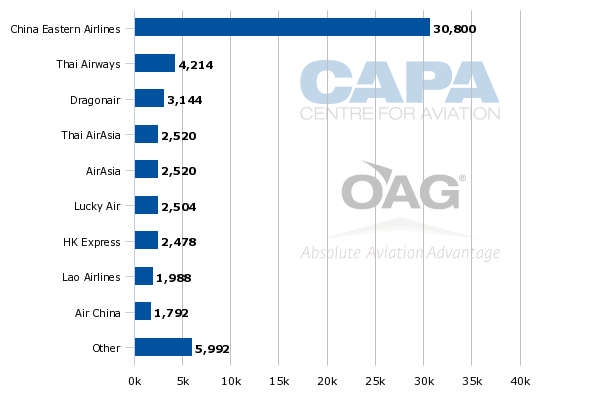 There is the possibility of multiple airlines working together to use Kunming's hub, but transfer traffic will need to be driven by an airline with a strong local presence, such as China Eastern. China Eastern is growing Kunming's intercontinental links by extending a Vancouver-Shanghai Pudong service to Kunming, giving Kunming a Vancouver service, albeit via Pudong.
China Eastern is however unlikely to prioritise growth out of Kunming unless provided with subsidies. China Eastern's main base at Shanghai still has many growth opportunities and that will continue to be its focus. Lucky Air, the only other Chinese carrier authorised to operate internationally from Kunming, is looking to grow internationally but will likely focus on South and Southeast Asia with possible widebody/long-haul services not coming until later in the decade. This makes China Eastern the more likely growth vehicle in the medium term, and there is cash to under-write international expansion.
Kunming is the flagship airport in Yunnan province, and the government in 2014 reportedly established a RMB200 million (USD32 million) fund for new international routes, according to the Yunnan Airport Group. It is offering to waive landing, parking, passenger and security screening fees "in the first few years of operations" for international services.
Kunming will be challenged for North American traffic
North America will be a difficult market for Kunming to capture transit traffic. Kunming's geography is further west of current North America-Southeast Asia hubs like Beijing, Hong Kong and Seoul. Kunming's distance to Los Angeles, New York JFK and Vancouver is longer or about the same as to Hong Kong.
This is significant, as Hong Kong is the furthest Asian point airlines can realistically link with North America in great volume (Philippine Airlines' North American services are lower in volume).
This is based on operational factors (aircraft range, of which New York-Hong Kong begins to push the limits) and commercial justification: more southern points like Hong Kong, Shanghai and Taipei (compared to Beijing, Seoul and Tokyo) have high point-to-point and corporate traffic that can sustain the cost of ultra-long-haul flying. Kunming in the foreseeable future will not have that traffic base, and aircraft range is unlikely to extend significantly.
Distance (km) between select North American cities and North Asian hubs
| | | | | | |
| --- | --- | --- | --- | --- | --- |
| | Beijing | Hong Kong | Kunming | Seoul Incheon | Shanghai Pudong |
| Los Angeles | 10,059 | 11,684 | 12,152 | 9,646 | 10,436 |
| New York JFK | 11,004 | 12,990 | 12,718 | 11,114 | 11,897 |
| Vancouver | 8,515 | 10,287 | 10,596 | 8,221 | 9,036 |
Aside from Manila, there are no non-stop flights between continental North America and Southeast Asia. Asian carriers typically depend on Southeast Asian connections for their North American services; EVA Air for example sees 50% of its North America traffic come to/from Southeast Asia. Kunming will compete with already developed hubs as well as hubs that have advantages (geography, point-to-point traffic).
North American carriers have a limited (and declining) presence in Southeast Asia; United Airlines pulled out of Bangkok, for example. The Southeast Asian services from US carriers (Air Canada does not serve Southeast Asia) are summarised in the table below.
Southeast Asian services from US carriers: 13-Apr-2015 to 19-Apr-2015
These services connect to Delta's and United's trans-Pacific flights at Hong Kong and Tokyo Narita. Routing from Los Angeles to Singapore via Kunming instead of Tokyo is only 4.6% longer, making Kunming a theoretically competitive hub. But Kunming does not have the scale of North American connections the way Tokyo does. Los Angeles to Bangkok via Kunming is marginally longer than via Hong Kong, but the same problem persists: Kunming's longer distance and reduced scale.
Kunming has stronger potential in Europe, but competition is heavier there
North America-Southeast Asia connections will be a long-shot in the foreseeable future for Kunming. Kunming has a better positioning in Europe-Southeast Asia, at least on paper. There are still many elements critical to hub development that traffic figures and flight distances do not capture. For example, Kunming may offer shorter routings than Dubai, but the airport's free WiFi log-in page is only in Chinese and comes with China's usual censorship of social media and even e-mail. (This is perhaps a missed marketing opportunity: Bangkok airport was the most "tagged" location on Instagram.)
Kunming offers transit without visa, making a stopover comparable to Dubai, but the immediate Kunming area has less on offer than Dubai, and lacks Dubai's above-the-board attitude (eg preventing taxi scams) as well as receptiveness to foreigners.
If or when Kunming overcomes these challenges, it has geographical advantages. London-Bangkok is the largest Europe-Southeast Asia route, according to data from OAG Traffic Analyser. A routing via Kunming is only 4.5% longer than a non-stop flight while routing via Dubai is 8.6% longer. Paris-Singapore is also in the top 10 Europe-Southeast Asia routes. Routing via Kunming is 5.2% longer than a non-stop flight, but Dubai is only 3.4% longer.
Approximately 30% of the Europe-Southeast Asia market travelled non-stop in 2014, according to OAG. 51% made only one stop. Of this 51%, the Middle East captured almost half of the one-stop market. Of the total Europe-Southeast Asia market, 23% made one stop in the Middle East, 14% made one stop in Europe, and 14% made one stop in Southeast Asia.
The three main Gulf hubs offer limited Southeast Asian destinations: 10 from Qatar at Doha and seven at each Abu Dhabi and Dubai from Etihad and Emirates respectively. This compares to Kunming's 11 Southeast Asian destinations (served by hub carrier China Eastern). But the Gulf carriers have a frequency and seat capacity advantage. China Eastern's Southeast Asian size from Kunming is approximately 70 weekly flights and 9,900 seats (all one-way). From Doha to Southeast Asia, Qatar offers one less destination but a total of 120 weekly flights and 38,600 seats.
Comparison of Southeast Asian non-stop destinations from
European, Asian and Middle Eastern hubs: 13-Mar-2015 to 19-Mar-2015
Kunming's 11 Southeast Asian destinations are less than Thai Airways' 19 or Singapore Airlines/Silk Air's 34. (For the North American market, Kunming does will with Southeast Asian destinations, offering more than Tokyo or Beijing, although this excludes consideration of frequency and seat capacity.) Bangkok Airways is included because although it does not fly long-haul, it is a large connecting partner for many carriers, giving others a virtual presence beyond Bangkok.
The number of Southeast Asian destinations served is probably not the most important consideration for hub development. In 2014, 60% of Europe-Southeast Asia traffic went to just four Southeast Asian points (Bangkok, Singapore, Manila and Kuala Lumpur) and 87% went to nine points.
The challenge will be long haul links. As noted earlier, Kunming lacks foreign intercontinental carriers and has only Paris as its non-stop long-haul market. No doubt more services will eventuate, but a handful of services cannot compete with, say, the 30 European destinations of Emirates and the dozen or so Emirates widebodies into the London area alone.
Kunming's more realistic but still long-term competitors are Bangkok, Singapore and Kuala Lumpur. These three hubs accounted for 92% of the Europe-Southeast Asia market that transited in Southeast Asia. (Bangkok with a 46% share, Singapore 27% and Kuala Lumpur 18%.) Singapore Airlines and Thai Airways have the most developed European networks from Southeast Asia.
It should be noted that while Kunming will focus on Southeast Asian traffic, rival hubs for Southeast Asia – Bangkok, Singapore and Kuala Lumpur – are also hubs for Europe-Australia traffic as well as Australia/Asia-South Asia traffic. This provides greater scale than relying on just a single transfer market, as Kunming will attempt with Southeast Asia.
Outlook: As Kunming seeks an edge, others wrest back the initiative
The challenge in aviation is that strategic planning occurs against a constantly shifting background. While Kunming seeks a hub role for Southeast Asia, its largest potential market – Europe – is also undergoing upheavals. In Europe, Lufthansa is launching long-haul low cost "Eurowings" operations to destinations including leisure markets in Southeast Asia.
This is the type of traffic Kunming would initially cut its teeth on: travellers seeking a low fare and indifferent to loyalty programmes, corporate deals or premium travel. Air France-KLM and IAG (British Airways/Iberia) are considering joint ventures with Etihad and Qatar respectively.
In Southeast Asia, Singapore Airlines expects new traffic (or to recapture lost traffic) with a new premium economy cabin and ongoing product improvements. Malaysia Airlines' restructure may involve a reduced European footprint (ditto for Thai Airways' restructure) but partners could have a greater role, strengthening MAS' Kuala Lumpur hub. Vietnam Airlines, soon to receive A350s and 787s, may eye further growth into Europe.
Kunming's aspirations to becoming a hub for Southeast Asia will surely be a niche segment. Kunming is unlikely to have the infrastructure or scale that can make it a Gulf hub, where 80% or more of traffic is transit. Kunming will need to depend on its domestic heartland in order to supplement Southeast Asian traffic. This has challenges for strong point-to-point traffic.
Onward domestic connections from Europe are largely circuitous as a Europe-Kunming flight flies south and then most domestic connections go north. Chinese carriers have been (perhaps rightfully) slow to open European services from points other than Beijing, Shanghai and Guangzhou.
Other secondary cities like Chengdu (which has Air China services to Europe) and Chongqing offer more favourable geography for domestic connections as they are more central (rather than Kunming's southern position), reducing circuity. Business and corporate traffic is also stronger there.
A routing from London to Bangkok via Chengdu is only 2% longer than via Kunming, and there is a far greater chance of a Chengdu-London service by a Chinese carrier (British Airways already flies the route) than Kunming-London. Kunming's largest challenge may be Chengdu and Chongqing targeting the Southeast Asian market. Chengdu hopes to raise its profile by hosting the World Routes conference in 2016.
Western Chinese hubs (Chengdu, Chongqing and Kunming) in proximity to select Southeast Asian destinations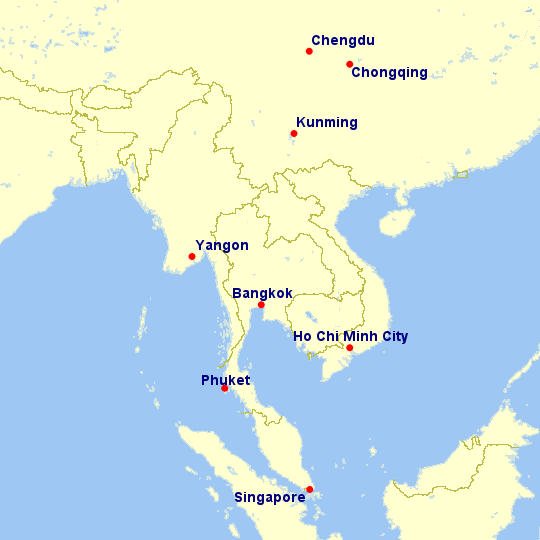 Kunming has historically been China's Southeast Asian gateway. Neighbouring Chengdu and Chongqing appear not to be realising the potential in the Southeast Asian market, despite Chengdu for example being only 615km from Kunming. Air China and Sichuan Airlines are the largest carriers in Chengdu and Chongqing. Each serves one Southeast Asian destination from Chengdu but none from Chongqing. This compares to China Eastern's 11 Southeast Asian destinations from Kunming.
This is changing: Air China is opening a service from Chengdu to Colombo. This is to South Asia and not Southeast Asia, but more Southeast Asian destinations cannot be far off and this will have impacts for sixth freedom hub development.
The Southeast Asian destinations Europeans and North Americans want to visit are broadly the same as where Chinese want to go. One day they will go in great numbers.