China Eastern Airlines grows rapidly in Kunming-Southeast Asia market but at expense of yield
Analysis
There can be too much of a good thing, even precious slots at China's major airports. Kunming released new slots simultaneously, sparking a market share battle. Kunming's largest carrier, China Eastern Airlines, is increasing frequencies by 37% and seat capacity by 47% in the peak summer period in 2014 compared to 2012. China Eastern has broadly been able to maintain market share, with only a 1ppt decrease, but this has come at the cost of declining yields.
China Eastern undertook rapid growth in the Kunming-Southeast Asia market and saw international yields decline by 9%, largely due to the Kunming expansion. Kunming is becoming a more important part of China Eastern's hub strategy as it uses Kunming's southern geography as a hub for South and Southeast Asian flights. This is allowing China Eastern to alleviate growth pressure at its slot constrained Shanghai hubs; North Asia and regional Hong Kong/Macau/Taiwan services are growing faster out of Shanghai than Southeast Asian flights from Shanghai. China Eastern now has more capacity to Chiang Mai from Kunming than it does from Shanghai.

Kunming released new slots simultaneously, prompting a market share battle
Kunming in Nov-2012 grew its slot portfolio and made all of the additional slots available at the same time. As a result airlines grabbed slots immediately to pre-empt competitors. This proved to be too rapid an increase, with airlines creating a market share battle as they added more capacity than the market could absorb. In the first 10 months of 2013, the latest data available, Kunming's aircraft movements grew a remarkable 34%. With that level of expansion, short term excess capacity on some routes became inevitable.
Kunming Airport monthly aircraft movements: 2009-2013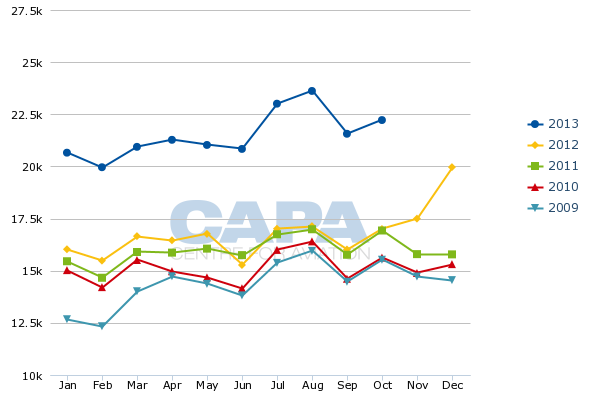 Based on Jun-2014 seat capacity Kunming is China's seventh largest airport and the world's 52nd largest, bigger than airports including Detroit, Melbourne and Oslo. Kunming was China's fastest-growing airport in 2013.
See related report: China airport wrap: Beijing's growth slows while Shanghai awaits a surge; Kunming fastest-growing
Passenger volumes and year-on-year growth of airports in China with over 10m annual passengers: 2013
Looking at movements between July and September, Kunming's peak period, China Eastern grew frequencies by 37% between 2012 and 2014 while seat capacity increased by 47%. Despite this enormous growth, it was slightly below total growth. This has caused China Eastern to lose approximately 1.4ppt of market share.
However, China Eastern still sits comfortably as the largest carrier in 2014 with a 41% market share, significantly ahead of the 13% held by Kunming's second-largest carrier, Lucky Air, which is affiliated with the HNA Group.
Market share changes of carriers at Kunming with over 1% market share from Jul-2014 to Sep-2014
| | | |
| --- | --- | --- |
| Airline | 2014 Seat Rank | 2014 vs 2012 Market share |
| | 1 | -1.4 |
| | 2 | 2.9 |
| | 3 | -3.3 |
| | 4 | 0.3 |
| | 5 | 1.5 |
| | 6 | -2.1 |
| | 7 | 0.2 |
| | 8 | 0.3 |
| | 9 | 0.8 |
| | 10 | -0.4 |
| | 11 | -0.4 |
| | 12 | 1.4 |
| | 13 | 0.2 |
| | 14 | 0.3 |
China's main carriers – Air China, China Eastern and China Southern – all recorded market share decreases in Kunming. Smaller carriers have made noticeable gains, with Lucky Air increasing its share by 2.9ppt and start-up Ruili Airlines securing a 1.4% market share despite not being operational in 2012.
It is common for dominant carriers to lose market share as China's airports expand. A guiding theme may be a gradual introduction of more competition. But for airlines, this is troublesome as they remain focused on believing the largest market share equates to the best opportunity for success.
Domestic flights are at the heart of China Eastern's operation at Kunming, with international (including Hong Kong, Macau and Taiwan) flights comprising only 9% of its seat capacity in 2014.
China Eastern grew its domestic slots slightly faster (38%) than its overall slot growth in Kunming (37%) between 2012 and 2014. Domestic seat capacity increased at a faster rate of 46%, in line with China Eastern's overall seat capacity growth in Kunming of 46% between 2012 and 2014.
International expansion was heavy to South and Southeast Asia, where China Eastern increased flights by 25%. Seat capacity grew 59% as China Eastern moved from A320s to 737s but was primarily driven by the replacement of Regional Jet service with 737s. China Eastern introduced CRJ200s in 2000 to serve international and domestic markets from Kunming that the airline considered too small for full jets. China Eastern ended 2012 with eight CRJ200s before retiring its last in Mar-2014. This was part of an effort to simplify its fleet; most recently A300s have been retired.
Between 2012 and 2014 China Eastern introduced service from Kunming to the Southeast Asian destinations of Luang Prabang in Laos, Naypyidaw in Myanmar and Da Nang in Vietnam. Singapore service was withdrawn. Cambodia and Rangon experienced sharp increases but the largest gains were to Thailand, where China Eastern doubled its Bangkok frequency and tripled its services to Chiang Mai, which has resulted in Chiang Mai becoming a larger destination from Kunming than Bangkok.
This increase is part of large growth occurring between China and Thailand, a popular destination with Chinese visitors for its warm weather, beaches and comparatively cleaner air. Thai AirAsia and Thai Smile are also growing in China.
See related reports:
Kunming is part of China Eastern's hub strategy, alleviating slot restrictions in Shanghai
Kunming is geographically positioned to serve the South and Southeast Asian market from its position in southern China. Kunming is closer to Bangkok than it is to Shanghai. All of Southeast Asia and even most of South Asia is accessible from Kunming whereas South Asia and parts of Southeast Asia are inaccessible from Shanghai. Kunming is a stronger South and Southeast Asian hub than Air China's southern hub at Chengdu while Kunming has both strengths and disadvantages compared to China Southern's main hub at Guangzhou in southern China.
With the Southeast Asian growth at Kunming, China Eastern has been able to slow Southeast Asian growth at its hubs in Shanghai. Both Pudong and Hongqiao are slot restricted. Southeast Asian flights have a low priority for China Eastern in Shanghai since they are low yielding and almost entirely for leisure passengers. Competition with foreign LCCs can see services be unprofitable.
Kunming allows China Eastern to funnel traffic from around China to its Kunming hub for re-distribution to Southeast Asia. This frees up capacity China Eastern can use more profitably in Shanghai. Connections in Kunming from China to India, Sri Lanka, Bangladesh, Nepal, Thailand, Malaysia, Myanmar and Singapore are direct while connections to Cambodia, Laos and Vietnam can be slightly circuitous.
Rather than incur a loss on a long Shanghai-Southeast Asia service, China Eastern can theoretically incur a smaller loss on a shorter Kunming-Southeast Asian service. Feed would be provided into Kunming on domestic flights, but these are generally profitable.
China Eastern (including wholly-owned subsidiary Shanghai Airlines) from Jul-2014 to Sep-2014 offers more seats to Chiang Mai from Kunming (20,000) than Shanghai (4,000), according to OAG.
Bangkok is served with 83,000 seats from Shanghai and 16,000 from Kunming. China Eastern is slowing Southeast Asia growth from Shanghai: between 2012 and 2014, China Eastern is increasing North Asian seat capacity by 14%, regional Hong Kong/Macau/Taiwan capacity by 39% and Southeast Asia only 9%.
China Eastern's weaker international performance brings yields down 9%
The one-off growth at Kunming was painful for China Eastern, but management believes that it had no choice but to utilise slots and maintain market share rather than let competitors utilise slots. Airlines now find it difficult to secure new slots at Kunming, validating China Eastern's strategy. Over time the slots will be brought to profitability, but for now they are dragging down China Eastern's international performance.
China Eastern in FY2013 reported a 9% drop in international yields. This was heavily impacted by the Kunming operation as China Eastern experienced improved performance in long-haul markets, although the company has not provided exact figures.
The decline in international yields drove down China Eastern's overall yield. China Eastern's core domestic market recorded a yield decrease of 7.28%, but sagging international performance saw system yields decline even faster to 7.51%.
China Eastern passenger yields (RMB): 2012-2013
| | | | |
| --- | --- | --- | --- |
| | 2013 | 2012 | Change |
| System | 0.61 | 0.65 | -7.51% |
| Domestic | 0.61 | 0.66 | -7.28% |
| International | 0.56 | 0.62 | -9.12% |
| Regional | 0.85 | 0.84 | 1.21% |
Kunming expansion was a painful one-off exercise unlikely to be repeated
Additional slots are badly needed across China's main airports, but clearly releasing them all at once was to the detriment of airline performance. The overall scarcity of slots apparently means that airlines will immediately seek to bank them as they expect others to take them if they don't. Consequently, bulk releases of slots are likely to create market imbalances. Shanghai and later Beijing will receive expanded slot portfolios, but the anticipation there is that slots will be released gradually. The simultaneous release of Kunming slots surprised some.
China Eastern's growth at Kunming is an important reminder of airlines' under-appreciated hub strategy as well as the enormous potential of outbound Chinese tourism. Yet the growth is also a reminder of sustainability challenges in the overall market as well as the ability of Chinese carriers to compete with foreign ones.