British Airways savaged, Lufthansa drops as bmi/Brussels deals go through
In a landmark day for European aviation, Lufthansa has reached a deal to acquire bmi to become the second largest carrier at London Heathrow Airport – in a potential mortal blow to British Airways. BA's share price slumped 8.7% yesterday as bmi founder, Sir Michael Bishop, reached a deal with the Conquerors from Cologne that buries months of acrimony over sale conditions and price. For Lufthansa, the timing could not be sweeter, as BA lurches from one bad headline to the next, and coincides with the European Commission's green light for its acquisition of Brussels Airlines to consolidate its position in the continent (see below for full details).
BA's pension trustees have reportedly blamed a blow-out in the fund's deficit on the airline's higher-risk investment strategy. The airline's share price (which has fallen 30% in the past six weeks) also came under pressure from reports at the weekend that BA is considering selling or winding up its OpenSkies subsidiary amid a steep reduction in traffic and yields on the Atlantic.
Credit ratings consider downgrading Lufthansa ratings
But it was not all good news for the German carrier yesterday. Lufthansa's profit warning on Friday is still ringing in investors' ears and has raised concerns at ratings agencies. Lufthansa's stock closed 2.7% lower (but outperformed the German Dax 30 Index's 3% plunge), reaching its lowest point since 01-Apr-2009.
Standard & Poor's Ratings Service (S&P) placed its 'BBB' long-term credit rating and senior unsecured debt ratings on Lufthansa on watch for downgrade. S&P stated Lufthansa would need to take additional cost savings efforts to maintain a positive operating result in 2009. S&P stated, "Lufthansa may find it difficult to maintain the ratings as it struggles with weak demand in its passenger and freight business, structural changes in passengers' travel behaviour and rising fuel prices", though any downgrade would likely be limited to one notch, meaning the company would retain an investment-grade (rare among airlines).
Moody's Investors Service stated it may cut the airline's 'Baa3' long-term credit rating (the lowest investment grade), should passenger numbers and air-cargo volumes continue to fall.
The European Commission has not yet approved Lufthansa's acquisition of Austrian Airlines, whose shares fell 0.5% yesterday, pending an investigation into whether debt agreements with the Austrian Government break government-aid rules.
SkyEurope wins creditor protection
Meanwhile, across the border in Slovakia, SkyEurope has called for creditor protection from a Bratislava court, so it can conduct a reorganisation plan. The airline does not intend to cancel any scheduled services while it reorganises. CEO, Jason Bitter, stated, "this is a good step for SkyEurope, because it means we will be able to operate without any disruption while we implement reorganisation". The airline has failed to report a profit since commencing services in Feb-2002. Its share price collapsed 34.8% yesterday.
Elsewhere, Air France-KLM dropped 3.6%, outpacing a 3% fall on the Paris CAC Index. Aegean Airlines (+4.9%) and Jet2.com parent, Dart Group (+5.8%) were the only stocks to gain ground yesterday in Europe.
Europe selected airlines daily share price movements (% change): 22-Jun-09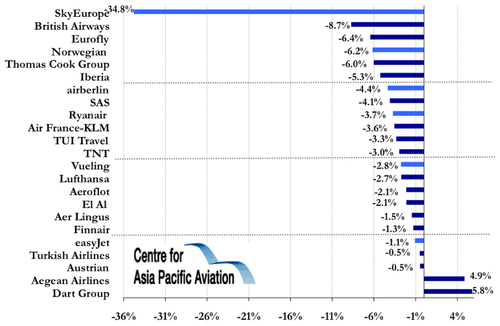 Settlement of dispute between Lufthansa and Sir Michael Bishop – edited Lufthansa press release
Sir Michael Bishop and Deutsche Lufthansa AG (Lufthansa) have reached an out-of-court settlement of their dispute over the satisfaction of the conditions precedent in relation to a 'put' option over the 50 per cent plus 1 share in British Midland PLC (bmi).
Under the terms of the compromise settlement, Sir Michael Bishop agrees that specific performance of the 'put' option will not be available and consequently Deutsche Lufthansa will not be required to acquire the shares. In turn, Deutsche Lufthansa will pay consideration of GBP175 million for the cancellation of the 'put' option.
On 10 October 2008, Sir Michael Bishop exercised the put option on behalf of his holding company The BBW Partnership Limited (BBW). The option was part of a shareholders' agreement between BBW, Lufthansa and co-shareholder Scandinavian Airlines (SAS) dated 9 November 1999.
A Lufthansa-related UK Holding company is to acquire an interest in bmi. With effect from 1 July 2009, LHBD Holding Limited (LHBD) will acquire BBW's entire stake of 50 per cent plus one share in bmi for approximately GBP48 million. LHBD is a UK-based company, in which Lufthansa will have a 35 per cent stake.
The structure of this acquisition is in common with other airline investments. Initially, bmi will remain UK owned. After obtaining the necessary traffic rights, Lufthansa expects to be able to acquire 100 per cent of LHBD.
By this transaction, Lufthansa is expanding its interest in an airline whose strategic asset is its control of more than 11% of all the take-off and landing slots at London Heathrow, Europe's largest airport.
In recent years, however, bmi has experienced increasing financial challenges. These have been strongly exacerbated by the sharp rise in fuel prices in the past year and the ongoing global economic crisis.
European Commission clears proposed takeover of SN Brussels Airlines by Lufthansa, subject to conditions – Edited Commission press release
The European Commission has approved under the EU Merger Regulation the proposed acquisition of SN Airholding (SNAH), the holding company of the Belgian commercial airline SN Brussels Airlines, by Deutsche Lufthansa AG of Germany.
The decision is conditional upon the implementation of a set of remedies, offered by Lufthansa to alleviate the Commission's competition concerns. In January 2009, the Commission opened an in-depth inquiry to further investigate the potential impact of the proposed transaction on passenger transport on a number of routes between Belgium and Germany and Belgium and Switzerland.
The in-depth investigation confirmed that the transaction, as originally notified, would have raised competition concerns on the routes Brussels-Frankfurt, Brussels-Munich, Brussels-Hamburg and Brussels-Zürich. To address these concerns, Lufthansa submitted a set of remedies, offering an efficient and timely slot allocation mechanism that would allow new entrants to operate flights on each of the four routes where the Commission had concerns. In the light of the commitments, the Commission concluded that the proposed transaction would not significantly impede effective competition in the European Economic Area (EEA) or any substantial part of it.
Competition Commissioner Neelie Kroes said: "The comprehensive remedies package offered by Lufthansa will facilitate market entry on the affected routes and thereby create alternative choices for passengers. In the light of the current consolidation process in the European airline sector, the Commission takes great care to safeguard the interests of consumers in having a competitive choice of airline services in Europe".
Lufthansa's proposal to acquire bmi was cleared by the Commission on 14 May 2009. On 26 January 2009, the Commission opened an in-depth inquiry because of concerns related in particular to a number of routes between Belgium and Germany and Belgium and Switzerland.
The Commission's in-depth investigation showed that the merger, as initially notified, would have created a monopoly with respect to the routes from Brussels to Hamburg and Munich. The investigation also identified competition concerns on the routes Brussels-Frankfurt and Brussels-Zurich.
With a view to removing the Commission's concerns, Lufthansa made the commitment to offer slots that would allow new entrants to operate flights on each of the four routes where the Commission identified concerns. These proposed commitments provide for an efficient and timely slot allocation mechanism. Furthermore, any new entrant will obtain grandfathering rights over the relevant slots, once it has operated a route for a certain pre-determined period of time. Ancillary remedies, such as interlining, special prorate or code-share agreements and the participation in Frequent Flyer Programmes are also foreseen.
The Commission's investigation showed that these commitments make the entry of new operators likely. The remedies not only target the problem of slot congestion, which is an important entry barrier on the problematic routes, but generally enhance the attractiveness for new entry on these routes.