Avianca's strength in growth markets helps lift its 2013 financial performance
Analysis
Avianca's strength in Colombia and Peru, two of Latin America's fast growing markets, helped the carrier record strong financial results for 4Q2013 and FY2013.

The company also achieved other significant achievements in 2013 including rebranding all the carriers within the Avianca-TACA group to Avianca and the completion of a listing on the New York Stock Exchange to broaden its reach for funding for expansion.

A continued fleet renewal and long-haul growth is driving Avianca's planned 8% to 9% capacity growth during 2014 as the carrier readies for the launch of new service from Bogota to London in Jul-2014. Given Avianca's strong performance during 2013, it should be able to absorb the capacity increase without hurting its profits.
Avianca records increases in top-line revenue and profits in 2013
Avianca's profits in 4Q2013 and FY2013 increased 2.4% and 5% respectively to USD32 million and USD234 million. Its revenues increased 8% in 4Q2013 to USD1.2 billion while revenues for FY2013 increased from USD4.3 billion to USD4.6 billion year-on-year. During 4Q2013 Avianca grew its passenger numbers by 5% to 6.3 million.

The company's operating expenses increased 6% year-on-year during 4Q2013 to USD1 billion and 6% during FY2013 to USD4.2 billion. Despite the rise in expense, Avianca's operating revenue grew 32% during 4Q2013 to USD115 million and 37% for FY2013 to USD281 million.
Avianca's financial performance: FY2012 vs FY2013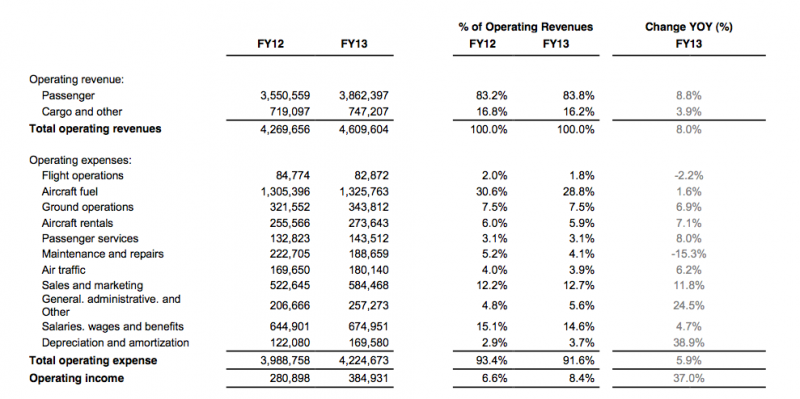 Avianca touts its strong market position in Colombia and Peru
Avianca's strong top-line financial results were driven by its leading position in Colombia and Peru, whose domestic markets grew 14% and 15%, respectively. During 4Q2013 Avianca added 17 additional frequencies to its international network from Lima to central and south America and the Caribbean.

Avianca estimates its market share within the Colombian domestic market was nearly 56% in 2013 and 14% in the Peruvian market. But most of Avianca's growth from Colombia during 2013 was into international markets as the carrier launched service from its Bogota hub to Cancun, Guatemala, San Juan, Newark and Chicago.
It also launched services from Medellin to Salvador. It added a single market within the Colombian domestic space with the launch of Bogota-Leticia. Overall, Avianca estimates it added 52 additional frequencies in 2013, including 18 additional frequencies from its hub in San Salvador.
Avianca's domestic share in Colombia and Peru: 2013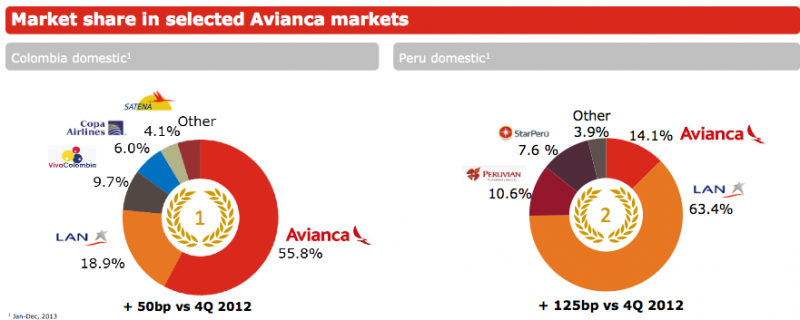 The company recorded traffic growth across all its markets during 4Q2013, with long-haul routes recording the largest increase of 13%. Avianca presently serves Barcelona and Madrid from its Bogota hub and plans to launch four weekly services to London with Airbus A330 widebodies in Jul-2014.
Avianca ASK and RPK growth: 4Q2013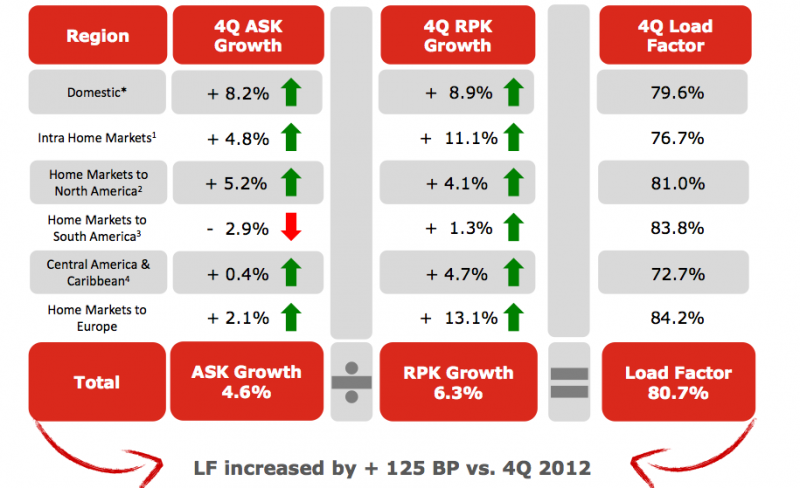 Avianca's international push from Bogota occurs as competition within the domestic space has intensified during the last couple of years as LAN Colombia firmly established its presence and the Viva low cost franchise debuted VivaColombia.

VivaColombia launched from a base in Medellin in 2012, but as it aims to grow its domestic market share by 20%, the carrier is opening a base in Bogota to serve six domestic routes. The carrier has also stated its intent to operate international flights from Bogota to Panama City and Lima, and from Medellin to Panama City.

See related report: VivaColombia adjusts strategy to focus on Bogota, domestic trunk routes and international services

Avianca faces some further pressure on its market share within Colombia (it fell from 60% to 56% from FY2012 to FY2013) as VivaAerobus builds up a presence in Bogota. While Colombia was one of the Avianca Group's better performing markets in 2013, it stands to face some yield erosion as VivaColombia introduces lower fares on some of the country's larger trunk routes including Pereira, Cucuta, Bucaramanga, Monteria, Santa Maria and San Andres.
Avianca appears to stay the course in Peru
Previously, Avianca said it had no immediate plans to add aircraft to its Lima hub where its main competitor is LAN Peru, the country's largest carrier. TACA began a push in the Peruvian domestic market in 2010 and now holds a roughly 14% share. Peru remains one of the fastest growing domestic markets in Latin America, growing by 15% in 2013 to 8.3 million.
With a population of roughly 31 million, Peru is a ripe market for a low-cost carrier, but LCCs have largely shied away from the country given LAN's dominance. VivaColombia's Bogota-Lima service will prove an interesting test case for the low cost strategy in Peru as it will compete with Avianca and LAN on the pairing.

See related report: Chile's rapid domestic airline growth continues but LAN's dominance remains unchallenged
Avianca readies to introduce the 787, which will drive its capacity expansion
Avianca plans 8% to 9% capacity growth in 2014 versus 6% expansion in 2013. The growth stems largely from the company's fleet overhaul. During 2013 eight aircraft exited the carrier's fleet and aircraft additions included three A330 freighters, one A330 passenger widebody, six A320s and five ATR 72/42 turboprops. It ended 2013 with 155 aircraft with an average age of five years.
During 2014 Avianca plans to introduce the Boeing 787 aircraft, and expects to receive four of the widebody aircraft over the course of the year. CAPA's Fleet Database shows Avianca has 15 787s on order.
Avianca seems poised to absorb its growth as its holds a favourable outlook for 2014
Presently Avianca holds a favourable position in Latin America as its exposure to the weaker markets of Mexico and Brazil is less than the region's largest carrier, LATAM Airlines, whose subsidiary TAM is Brazil's largest carrier.

While Avianca's projected capacity increase may seem high compared to other airlines, its forecast capacity expansion is less than the double-digit 15% to 18% capacity increase planned by Aeromexico, despite continuing to face a weak domestic environment within Mexico as the country's economy starts a slow recovery.

Avianca maintains a positive outlook for 2014 as it expects to grow its EBIT margin from 8% to 8.75% to 9.25% during 2014. Avianca does face some pressure going forward in Colombia, but with a strong financial performance it should be able to weather the pressure posed by VivaColombia.

As the merger of LAN and TAM and the creation of LATAM Airlines Group has garnered much attention in the Latin aviation market during the past couple of years, Avianca and TACA have been working quietly to complete their merger and tap the financial markets in order to fund the company's expansion, which is based on the delivery of 90 aircraft during the next five years.
At this point Avianca appears to be executing its strategy favourably, so there should be no reason to doubt the company can absorb its planned expansion.
Avianca's passenger, capacity, load factor and EBIT margin guidance for 2014