Asiana Airlines Part 1: Air Seoul approval received. Asiana has a window to regain LCC initiative
Analysis
Having ignored the LCC market in Seoul, Asiana Airlines finds itself in a position of duress, as it finally prepares to have a presence in the growing segment by launching a new LCC, Air Seoul. Asiana received approval for the airline on 28-Dec-2015, and it will launch in 2H2016. This is upwards of a year late, with the paperwork unofficially delayed due to Asiana's safety incidents during 2015.
Air Seoul is Asiana's second LCC after Air Busan. That LCC has achieved financial and strategic success, even if the LCC's mixed A320/737 family fleet is not a vote of confidence in LCC efficiency, but this is largely because other airlines until recently ignored Air Busan's namesake Busan market. Korean Air's dual brand strategy with Seoul-based LCC Jin Air may have room for growth, but they are far ahead of Asiana-Air Seoul.
Air Seoul will initially take over some of Asiana's secondary Japanese city routes, a segment where Asiana has struggled, and where there is limited LCC competition. Asiana will also look to deploy Air Seoul in some Southeast Asian markets. Air Seoul could become more an 'Asiana Lite' than a genuine LCC. This may deliver benefits, but will mean that Air Seoul falls short of its potential at a time when Asiana finds itself in strategic crisis.
Asiana Airlines joins fellow Northeast Asian carrier All Nippon Airways in having two short haul LCCs. Air Seoul will be Asiana's second LCC after Air Busan. The unusual situation has parallels with ANA, which has Peach and Vanilla Air, in that there are different shareholders and operating bases but ultimately the main airline does not want confrontation in having one streamlined, efficient LCC.
Air Busan is based at namesake Busan airport and, with the exception of Busan-Seoul flights, its network does not touch Seoul. This has left a gap in the Seoul market that local LCCs Jeju Air and Jin Air have filled, in addition to foreign carriers. Air Seoul will focus on the Seoul market and be under Asiana's full ownership and (thus) control, unlike Air Busan.
Air Busan does not exhibit the strongest of cost credentials, theoretically allowing Asiana to have a still-leaner LCC operation with Air Seoul.
Air Seoul is expected to launch with three A321s on lease from Asiana and to take two more aircraft in 2017. Presumably the lease rates will be favourable, although the aircraft are old, but initially Air Seoul will use Asiana pilots before hiring and training its own. This allows a faster launch, but history is littered with weak or failed LCCs which started out lacking full independence.
See related reports:
Air Seoul could be deployed in domestic Seoul-Jeju market
When Air Seoul was initially discussed, deploying it in the domestic market was one of the options flagged, and presumably domestic services are still planned. Since then the commentary has mentioned China, Japan and Southeast Asia. It is unlikely that Air Seoul would be able to launch international services immediately, and there is a strategic rationale.
Seoul-Jeju is the world's biggest air route. For the week of 05-Jan-2016, Asiana has approximately 37,000 one-way seats, giving it the single largest capacity. Korean Air has 30,000 seats, but its LCC Jin Air has 16,000 seats, giving the combination 46,000 weekly seats. (Korean Air and Jin Air are under separate ownership strings, but Jin Air is effectively Korean Air's LCC.) Asiana in comparison has only one brand to rely on.
The Korean Air-Jin Air dual brand strategy was a subject of a CAPA analysis in 2015. The survey of the domestic market, which mostly comprises the Seoul-Jeju route, found that Jin Air was helping Korean Air stem market share declines. Declines were inevitable, considering that Korean Air a decade ago accounted for two-thirds of the domestic market.
See related report: Korean Air losing domestic marketshare but dual-brand strategy with Jin Air helps limit the decline
Korean domestic market share: 2005-2014
Between 2005 and 2014, Asiana's domestic passenger numbers decreased by 8% (net reduction of 900,000 passengers), much less than Korean Air's 41% decrease (a net reduction of 9 million). The reduction is 21% if the positive contribution of Jin Air (with a net reduction of 4.7 million) is included.
Korean domestic market traffic by airline: 2005-2014
While Korean Air and Asiana often generated similar yields, as the LCC market grew (anchored around the Seoul-Jeju route), Asiana's yields weakened and became noticeably less than those of Korean Air. Whereas Korean Air was able to put lower-yielding passengers on Jin Air, Asiana had to dilute its yields to accommodate lower-yielding passengers, since it did not have an LCC operation on the main Seoul-Jeju route.
Korean Air and Asiana domestic yields (KRW): 2005-2014
Although Jeju Airport is reaching saturation, with slots difficult to obtain, if Air Seoul cannot obtain new slots Asiana could transfer some of its own slots to Air Seoul. This would also likely produce profit optimisation, since the Seoul-Jeju route is heavily leisure-oriented, and Asiana does not have a low cost/leisure proposition on the route in the way that Korean Air does, with Jin Air.
Korean Air's Seoul-Jeju services have decreased from 24 a day in 2006 to 20 in 2016, but Jin Air will have 11 in 2016.
Seoul-Jeju average daily frequencies from Korean Air and Jin Air: 2005-2016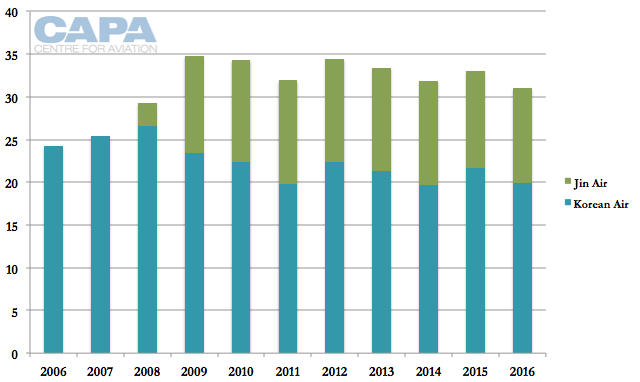 Air Seoul to take Asiana's 'hand-me-down' Japanese routes
Asiana's interest in having Air Seoul take over Japanese routes is unsurprising, and Asiana has flagged this development. The Korea-Japan route has seen significant changes in recent years because of LCCs. In six years, low cost carriers have carved out 30% of the Japan-Korea market, the world's 14th largest country pair and the fifth largest in Asia.
The overall market is growing, but with full service carriers reducing capacity. In 2H2015, LCC saturation reached 30% (for 2015 as an annual total, as shown on the graph below, the share is 28%)
See related report: LCCs rapidly grow to account for 30% of Japan-Korea market. Full-service airlines need new strategy
Japan-Korea annual one-way seats by airline type and LCC share: 2005-2015
Asiana is the second largest carrier and has a 26% share, behind Korean Air's 35%. Korean Air LCC Jin Air has a 3% share, while Asiana's first LCC, Air Busan, has a 6% share, but Air Busan does not operate internationally from the Seoul market. Seoul is where 81% of seats to Japan depart from in Korea.
Japan-Korea marketshare by carrier: 2015
Japan-Korea seat capacity marketshare by Korean point: 2015
Asiana operates 20 routes between Korea and Japan, and all but one (Busan-Okinawa) are from the Seoul area. Of the remaining 19, there are two city pair overlaps (Seoul Gimpo/Incheon to Tokyo and Osaka). This gives Asiana 19 Seoul-Japan routes and 17 Seoul-Japan city pairs.
On five of the city pairs, Asiana has LCC competition. On one route, Seoul-Okinawa, Asiana is one of five carriers but the only full service carrier, perhaps indicating that Asiana is the odd one out for a reason.
On the remaining 12, not only does Asiana not have LCC competition, it has no competition at all, in fact: the routes are monopolies.
Competition on Asiana Airlines Seoul-Japan routes: 4-Jan-2016 to 10-Jan-2016
| | | | | | | | |
| --- | --- | --- | --- | --- | --- | --- | --- |
| Rank | Korean Airport | Korean Airport | Japanese Airport | Japanese Airport | Weekly One-Way Frequency | LCC Competition Frequency | Other Competition Frequency |
| 1 | ICN | Seoul Incheon International Airport | NRT | Tokyo Narita Airport | 28 | Jeju (14), Eastar (7) | Korean Air (28), JAL (7), United (7) |
| 2 | ICN | Seoul Incheon International Airport | KIX | Osaka Kansai International Airport | 21 | Eastar (14), Jeju (14), Jin (14), Peach (21), T'way (7) | Korean Air (28) |
| 3 | GMP | Seoul Gimpo International Airport | HND | Tokyo Haneda Airport | 21 | None | ANA (21), JAL (21), Korean Air (21) |
| 4 | ICN | Seoul Incheon International Airport | FUK | Fukuoka Airport | 21 | Jeju (14), Jin (14), T'way (7) | Korean Air (28) |
| 5 | ICN | Seoul Incheon International Airport | NGO | Nagoya Chubu Centrair International Airport | 14 | Jeju (7) | Korean Air (21) |
| 6 | GMP | Seoul Gimpo International Airport | KIX | Osaka Kansai International Airport | 14 | Jeju (7) | Korean Air (14) |
| 7 | ICN | Seoul Incheon International Airport | OKA | Okinawa Naha Airport | 7 | Eastar (5), Jeju (7), Peach (7), T'way (7) | None |
| 8 | ICN | Seoul Incheon International Airport | HIJ | Hiroshima International Airport | 5 | None | None |
| 9 | ICN | Seoul Incheon International Airport | SDJ | Sendai Airport | 4 | None | None |
| 10 | ICN | Seoul Incheon International Airport | UBJ | Ube Airport | 3 | None | None |
| 11 | ICN | Seoul Incheon International Airport | KMI | Miyazaki Airport | 3 | None | None |
| 12 | ICN | Seoul Incheon International Airport | MYJ | Matsuyama Airport | 3 | None | None |
| 13 | ICN | Seoul Incheon International Airport | FSZ | Shizuoka Mount Fuji Airport | 3 | None | None |
| 14 | ICN | Seoul Incheon International Airport | YGJ | Yonago Miho Airport | 3 | None | None |
| 15 | ICN | Seoul Incheon International Airport | TAK | Takamatsu Airport | 3 | None | None |
| 16 | ICN | Seoul Incheon International Airport | KMJ | Kumamoto Airport | 3 | None | None |
| 17 | ICN | Seoul Incheon International Airport | TOY | Toyama Airport | 3 | None | None |
| 18 | ICN | Seoul Incheon International Airport | AKJ | Asahikawa Airport | 2 | None | None |
| 19 | ICN | Seoul Incheon International Airport | MMY | Miyako Hirara Airport | 2 | None | None |
LCCs cannot be directly impacting Asiana in these secondary markets. It is possible that there are indirect impacts: greater LCC options from the Seoul area could mean that it is more affordable for passengers to consider one of those markets than one of Asiana's secondary Japanese markets, but this is likely a stretch.
The Japan-Korea market had been dependent on Japanese outbound travel, which has now switched to being a Korean outbound market. The allure for some of these smaller Japanese cities is limited, especially considering the range of first-tier cities that other carriers offer from Seoul.
Asiana has struggled with these secondary markets for some time. In 2013 it prepared a sub-fleet of all-economy A320s for use on these markets. As CAPA explained at the time:
Asiana says it will reconfigure eight A320s from 143 seats (eight in business and 135 in economy) to an all economy configuration of 156. No additional details are available, but Asiana's current A320 fleet is in various configurations of mixed class 143 and 146 (mainly for short-haul international routes to China and Japan) as well as all-economy 162 (domestic). So it appears that Asiana is moving to have an all-economy offering for regional Asian routes, logical given demand in these thinner markets is leisure based. Korean carriers, including LCCs, in recent years have grown significantly in regional Chinese cities via scheduled capacity and charter services. This traffic is almost entirely leisure.

Yet the plan raises questions. The difference between the new 156-seat configuration and the existing 162 configuration is just a single row, and a streamlined configuration grants flexibility (and moving to more economy seats, more revenues and lower unit costs). This hybridisation also overlaps with Air Busan, the LCC in which Asiana has 46% ownership.

Air Busan has fallen behind Korea's LCC pack. Asiana has kept Air Busan languishing, providing it only with classic 737s and older A320 family aircraft as well as limiting it to some unprofitable routes, rather than supporting a more ambitious strategy to unlock regional growth.

A need for all-economy short-haul services surely had Air Busan's name on it.
See related report: Korean airline yields deteriorating in key markets of China and Japan; capacity discipline needed
Asiana will miss the moment to improve its position if it gets this strategy wrong
In the final accounting, it seems that increasing seating density alone has not given Asiana the necessary cost base savings. It is density and aircraft utilisation that typically drive the bulk of LCC cost savings – which full service carriers could look to replicate. Asiana hardly made any improvements: their aircraft fell well under the 180-seat maximum configuration (at the time) of the A320. Other carriers also operated that (high) density on routes longer than the approximately two hour Korea-Japan routes.
A further increase from 156 seats to 180 would have meant a 15% increase in density with resulting significant impact in cost reduction – if these secondary markets had had enough demand to be filled or stimulated.
In the Japanese market, Asiana is making one of the classic moves – some would say errors – of giving its LCC the "hand-me-down" routes. Air Seoul could turn Asiana's loss-making secondary Japanese routes into profitable ones, but this seems uncertain, and history generally does not show LCCs succeeding on hand-me-downs. (Lufthansa might argue its Eurowings experiment proves otherwise, but Eurowings is demonstrating LCC cost credentials better than those in the Asiana family.)
Further, there is the risk that if Air Seoul is tasked with taking over these routes, it will forgo more prime and strategic markets. This is a concern not only against a backdrop of local and foreign LCC competition, but also of a depleting slot pool in many prime markets.
It might even be asked whether these secondary Japanese markets should still be served, or should be exited. Strategic value appears limited, given the largely point-to-point nature of the markets (not critical for long haul feed), their small size, and the availability of slots for a later (if ever) re-entry.
Asiana has also flagged China and Southeast Asia as potential markets for Air Seoul. China is Korea's largest market with double-digit rates of inbound tourism growth. The main cities, however, have slot shortages, while secondary cities can be thin, potentially making them suitable candidates for a second brand. Korea's LCCs serve more Chinese cities over the course of a year than Asiana and Korean Air do.
However, the LCCs serve Chinese cities on a limited charter basis, hoping to build up demand for when the bilateral allows year-round regular scheduled service.
Many new Chinese cities will have demand that is mostly for Korea as an end market. Larger cities have connecting demand for long haul connections, which Asiana and Korean Air have historically relied on, especially for their North American networks. Here, there is decreasing emphasis in recent times, as the non-stop North America-China capacity rapidly increases, and as China-Korea point-to-point demand produces such high yields that onward connections to North America are not viable. The constrained bilateral means that Korean carriers are unable to make significant capacity additions in the way they would like.
For China, Air Seoul will likely be relying on outbound China sales through agencies that pre-purchase capacity. While this business can be low margin, and far from "typical" LCC practices, this is the norm for the China-Korea LCC market, and indeed for many services from China.
Asiana announced that it will end service to two destinations in Southeast Asia: Bali Denpasar and Yangon. Both of these points are well out of the normal range of operation of Air Seoul's proposed A321 fleet. Asiana's service to both of these points would have drawn some international connecting traffic, and it is unclear how hybrid Air Seoul will need to be to have connections within its network, or with Asiana, and even with other carriers.
Narrowbody range is a challenge for Korea's LCCs expanding in Southeast Asia (and an even bigger challenge for Japan's LCCs). Intermediate full service carriers, which price connecting itineraries almost at LCC prices, as well as Southeast Asia's widebody LCCs, provide options between Korea and Southeast Asia. Air Busan's three Southeast Asian destinations – Cebu, Da Nang and Siem Reap – are all served by Asiana from Seoul but not Busan. While Asiana may not have found new group destinations for Air Busan, Air Busan may simply be serving the easiest markets available from Busan. Air Seoul will need to reach smaller points or take over existing Asiana services.
Jin Air has a more advanced Southeast Asian network compared with Air Busan and Asiana. Jin Air serves nine points in Southeast Asia. Three of these (Kalibo, Kota Kinabalu, Vientiane) are not served by Korean Air, showing that Jin Air has brought new destinations to the group (although the value of course has not been stated on a route-by-route basis). One Jin Air destination, Clark, is not served by Korean Air, but Korean does serve the more primary airport, Manila NAIA.
Jin Air's remaining five destinations (Bangkok, Cebu, Da Nang, Hanoi, and Phuket) are served by Korean Air from Seoul, and this means that Korean Air and Jin Air directly overlap at these cities.
How effectively they are able to manage this overlap is unclear, but the fact that there is overlap at all shows that the two have confidence that they can fly alongside each other to the benefit of a group. It will be telling how prepared Asiana is to have an integrated network with Air Seoul.
Outlook: Air Seoul could work, but is likely to fall short of potential. Korea's LCCs could consolidate
It is still early days for Air Seoul, but Asiana's initial communications indicate that Air Seoul will be used to take on Asiana's poorly performing routes. These may not be profitable under Air Seoul, they may not bring strategic benefit, and they may risk distracting Air Seoul from what should be the main target: competing in the growing Korean LCC market.
Air Seoul could work as a regional, more cost-effective version of Asiana, but initial signs do not indicate that there is much for Jeju Air and Jin Air to worry about. There are however, concerns for Korea's smaller LCCs, and the entry of another carrier (particularly one backed by the mighty Asiana brand) could finally force overdue consolidation.
Having sat out on the LCC market for so long, but now finding the market at a sweet spot of growing inbound and outbound demand, with Korean consumers being more receptive to LCCs, Asiana now has its time for making a bold initiative. But boldness hardly characterises Asiana's history.
This trait is manifesting problems across Asiana's business, which in late Dec-2015 culminated in a restructuring programme, the largest for a Northeast Asian carrier since JAL's bankruptcy reorganisation.
Asiana's situation is far from similar, but it sits on large growth potential. Time is running out to exercise it.
Part 2 of this report on Asiana will examine Asiana's restructuring programme. Asiana has made Air Seoul a key plank in its restructuring platform, but Asiana's problems run deeper than the markets that Air Seoul will be in, and thus – the issues that Air Seoul can fix.