AirAsia X continues concentration theme with Christchurch withdrawal as ultra-long-haul loses favour
Analysis
AirAsia X is continuing to act on its concentration plan to build scale in key markets rather than spread itself out. The Kuala Lumpur-based low-cost long-haul carrier is withdrawing services to Christchurch and increasing capacity to Perth and Taipei. The withdrawal from Christchurch is despite high load factors, indicating – as with the carrier's withdrawals from London and Paris – the problem is of yield on ultra-long-haul sectors where an LCC's lower cost base has less advantage as fuel comprises a greater share of costs than on shorter sectors.
The withdrawal of four-weekly services to Christchurch, effective at the end of May-2012, will remove AirAsia X's longest flight, leaving all other services – primarily to Australia and North Asia – in a five-to-eight hour range. Previously the carrier's longest flights were to Paris and London, although operated with A340s instead of A330s to Christchurch, but AirAsia X announced in Jan-2012 that Paris and London would be suspended by the end of Mar-2012.
See related article: AirAsia X route changes spotlight ownership complexity post MAS deal, but also growth opportunities
In Christchurch's place AirAsia X will increase Perth capacity from seven to nine weekly flights and Taipei from seven to 11 weekly flights. Taipei has previously seen capacity fluctuations, and in particular increases around Chinese New Year.
Increasing service to existing destinations is an intentional strategy as AirAsia X looks to build scale in existing markets. "Concentration is going to be a key theme" CEO Azran Osman-Rani said of the carrier's medium-term strategy last month. "We may not even venture into a new country."
Mr Osman-Rani said AirAsia X was still evaluating additional destinations in existing markets, part of its original plan. Potential destinations are Adelaide in Australia; Fukuoka, Nagoya and Sapporo in Japan; Busan in South Korea; and cities with a population of over 5m in China.
New Zealand was not considered part of AirAsia X's initial route strategy (c. 2008) for the A330s, with the carrier preferring instead to reach New Zealand as part of a second wave of expansion to coincide with the delivery of longer-range A350s. Incentives from Christchurch – some of which will now need to be returned – as well as seeing Jetstar enter the Southeast Asia-New Zealand market facilitated AirAsia X's entrance. AirAsia X could return once A350s are delivered later this decade or if demand and fuel environments change.
AirAsia X planned and actual A330 route strategy: 2008-2012
AirAsia X will end its Christchurch route just a year after launching it in Apr-2011, a date it stuck to and without capacity changes despite a devastating Feb-2011 earthquake in Christchurch that dampened demand. While Air New Zealand saw a domestic rebound within six months, international demand is still soft. AirAsia X has had strong load factors to Christchurch, averaging just under 80%, indicating weakened yields.
AirAsia X Kuala Lumpur-Christchurch load factors (%): Apr-2011 to Jan-2012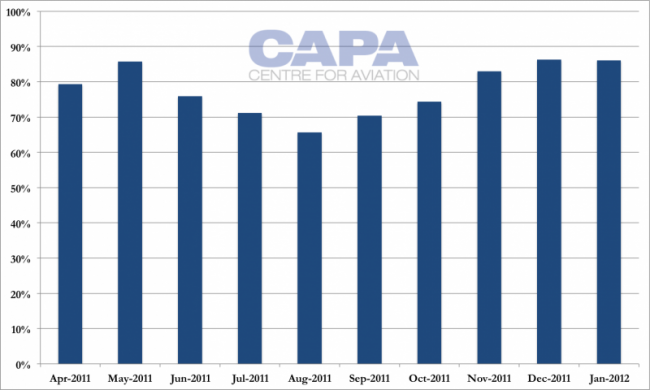 Low-cost long-haul model has limited applications in high fuel and weakened demand environments
The withdrawal of long-haul/ultra-long-haul routes like Christchurch, London and Paris does not, as critics say, indicate a flaw in the low-cost, long-haul model. But it does show the model has limited applications in high fuel price and low demand environments.
Scoot's initial focus will be Australia and North Asia, within a six-to-eight hour range of Singapore, while Cebu Pacific, which plans to launch a low-cost long-haul operation in mid 2013, will initially focus on Australia and Middle East. Jetstar also has generally steered clear of ultra-long-haul flights, partially out of interest in higher-margin flying around Asia. Jetstar's longest flights are now Auckland-Singapore and Sydney-Honolulu, which at certain times of the year is one of its most profitable routes, but these are not as long as services to Europe or the mainland US.
See related articles:
The gap between LCCs and full-service carriers is most apparent on short-haul flights where the majority of costs are negotiable and can be reduced, such as having faster turnaround times or not using jetways. But as sector distance increases, non-flexible costs like fuel account for a higher proportion of ticket prices, decreasing the gap between LCCs and full-service carriers. AirAsia X's ability to stimulate demand, already soft, by offering low prices was reduced given fuel prices.
Competition out of Christchurch is limited, with the only intercontinental links being service to Singapore by Singapore Airlines (daily) and to Tokyo from Air New Zealand (twice weekly). Emirates also serves Christchurch daily but routes this flight to Sydney before proceeding onto Dubai.
The Christchurch market is focused almost entirely on leisure traffic. An even higher demand leisure point in New Zealand's South Island is Queenstown, but the airport in Queenstown is not capable of handling widebodies.
Christchurch could have the right proposition for Scoot, SIA's planned low-cost, long-haul carrier. But dual service from SIA and Scoot is very unlikely in the medium-term and SIA and Scoot have said they intend for Scoot to open new points in the SIA Group's network rather than replace SIA on less profitable routes. But as Scoot expands, and with history showing that Jetstar replaced Qantas services, there may be movement with the SIA Group in Christchurch.
For now SIA will have the only Southeast Asian link from Christchurch and the South Island. Out of Auckland on the North Island, low-cost, long-haul service is provided by Jetstar to Singapore while full-service Southeast Asian carriers include Malaysia Airlines, SIA and Thai.
AirAsia X's withdrawal will give a slight uptick for Air New Zealand, which has seen its long-haul network come under pressure following the recent entry of multiple long-haul carriers including AirAsia X, China Southern and Jetstar. ANZ will also benefit from Qantas' upcoming exit on the Auckland-Los Angeles route.
See related article: Air New Zealand hones in on long-haul restructure as first half profit falls