After 'engine change in-flight' bmi Regional looks to re-grow partnerships – and profitability
Analysis
bmi Regional is a familiar name now undertaking a very different strategy after what management terms an "engine change in-flight" when the carrier was sold off from IAG and had to migrate to its own IT systems, new office, IATA code and BSP in a matter of weeks.
During that time the focus was to keep the carrier operational, and with the transition settled down, bmi Regional is now looking to re-establish partnerships, grow its network focused on point-to-point traffic rather than the approximate quarter of traffic it received from Star Alliance, which it is no longer a member of. The carrier is viewing an open future across Europe, not just the UK, where sub-100 seat services are needed. A320 and 737 operations are not its focus, at least for now.
bmi Regional had hastened changeover while still being operational
bmi Regional was a fully-integrated subsidiary of bmi, owned by Lufthansa. While Lufthansa was shopping bmi around, a private investment firm Sector Aviation Holdings (led by Ian Woodley, ex-CEO of Business Air) became interested in bmi Regional and commenced discussions to acquire the regionally-focused carrier. But then Lufthansa signed an agreement with International Airlines Group for the entire bmi portfolio, which included bmi mainline and its prized slots at London Heathrow airport (which was IAG's sole interest), low-cost carrier bmi baby and then bmi Regional.
IAG made clear it had no interest in bmi baby or bmi Regional and would either sell the operations or shut them down. The investment firm then commenced discussions with IAG, which proved successful while bmi baby had no acquirer and IAG had the operation shut down.
The investment firm knew Lufthansa was eager to move forward with the sale quickly, but its ability to take ownership of the carrier and bring it to independence was tested with IAG looking to move on an even faster timeframe. bmi was formally sold to IAG in Apr-2012 and bmi Regional's cut-off date to become independent was 21-Oct-2012.
While new bmi Regional CEO Cathal O'Connell would have preferred an amount of additional time to bring bmi Regional independent and says the process was rushed, he adds he understands IAG's business objectives, he told CAPA on the sidelines of its Airlines in Transition conference in Dublin.
Mr O'Connell joined in Jun-2012 and effectively had to start building a new carrier – with 70 years' history – from scratch. bmi Regional's status as an integrated subsidiary of bmi meant it piggybacked on bmi's systems and had little to no infrastructure of its own. So even though it had aircraft and route networks, it suddenly had to have an entire backend operation, ranging from the mundane to significant, administrative to operational.
East Midlands was selected as the carrier's administrative base while its core operational and engineering teams were placed in Aberdeen, two historical centres for the bmi Regional operation.
bmi Regional had to establish its own bank accounts and website, source a new code as IAG was keeping bmi's BD code; bmi Regional selected BM. The carrier joined IATA as a new member and also became a part of its billing settlement plan. Physical offices had to be located while IT systems transitioned.
In the case of one IT contract, bmi Regional and its vendor had 12 weeks from selection to implementation. This tight timeframe meant that some vendors had to be excluded based on their ability to deliver irrespective of quality and cost, Mr O'Connell said. Significant IT was outsourced to as a compromise to the need for a quick solution but need for the right long-term solution. bmi Regional is looking to bring those services back in-house and re-evaluate the contracts it signed during its rushed transition process.
Mr O'Connell refers to this as having to conduct an "engine change in-flight" as the carrier remained operational and transitioned to independence without any breaks in service.
bmi Regional is the eighth largest carrier in the domestic UK market, where it deploys 31.5% of seat capacity. bmi Regional has a 1.1% share of the domestic UK market.
United Kingdom domestic capacity by carrier: 13-May-2013 to 19-May-2013
Network structure now focused on point-to-point and corporate contracts
Even with the infrastructure and systems to be an independent carrier, bmi Regional could not maintain its previous operation. The carrier was constructed heavily as a feeder for members of Star Alliance, of which bmi was a member. The dominance of oneworld's British Airways in the country and independence of Virgin Atlantic (which had no short-haul routes anyway) meant that bmi was effectively the partner for anyone in the UK, and London Heathrow in particular, who was not a member of oneworld but needed a partner. Some bmi services had a dozen or more codeshares.
With bmi's exit from Star, bmi Regional was nearly instantaneously cut-off from feeder traffic, which comprised about a quarter of its passenger numbers. This required re-focusing and almost re-building bmi Regional's route network. While bmi Regional operated out of London Heathrow while bmi was under Lufthansa ownership, it was via slots from bmi that IAG subsequently assumed control of and had no intention to lease out to bmi Regional.
bmi Regional's routes had to be free-standing, Mr O'Connell said. The carrier took control of bmi Regional's four E135s and 14 E145s. Fourteen of the airline's fleet is under direct ownership. bmi Regional quickly realised it would be unable to immediately use the entire fleet: under Lufthansa ownership nine aircraft were operating as bmi while half of the regional network was designed to feed Star carriers. bmi Regional decided instead to have a low utilisation rate during its first few scheduling seasons under independence.
bmi Regional top 10 hubs/bases/stations by seat capacity: 13-May-2013 to 19-May-2013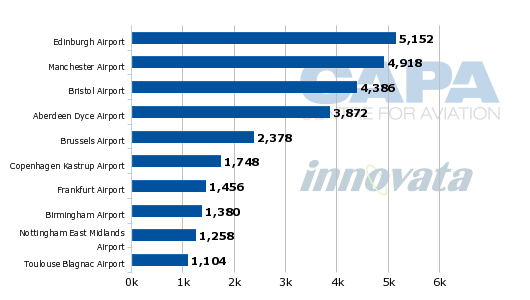 Two aircraft are used for corporate shuttle contracts by pitching their service against users of private company jet operators like ExecuJets. New routes bmi Regional launched accounted for only two aircraft. In addition to expanding its own network, bmi Regional will serve ad hoc charters by request and is looking for ACMI deals. Some aircraft are used by music bands touring around Europe.
bmi Regional identified Bristol as a focus city, believing it was under-served and lucrative due to corporate opportunities, especially the industry sector and aerospace specifically. Mr O'Connell said the carrier has launched or expanded 10 routes with an 11th due to be announced. They include Bristol to Frankfurt, Hamburg, Hannover, Milan Malpensa and Munich; Birmingham to Gothenburg, Lyon, Toulouse; and an intra-European continent route: Bremen-to Toulouse. Bmi Regional was able to pick up routes following the collapse of OLT Express.
Given the economics of 50-seat jets, bmi Regional sees that while it can sell tickets to the public it needs core business groups to support the flights. The aerospace sector is an important source, as evidenced by flights to and from Bristol, a mini hub for aerospace, as well as Hamburg and Toulouse, the final assembly lines for Airbus in Europe.
The energy sector is a critical supplier of feed, and fluctuations there can affect its route network; the Graniroge-Aberdeen route was cancelled as an energy company's usage requirement had decreased.
Of bmi Regional's bases, Aberdeen is primarily for the energy sector while Manchester is for domestic UK services, Glasgow and Edinbugh for services to continental Europe, Birmingham for the auto industry and Bristol for aerospace and other industries as previously noted. Each base needs two aircraft, Mr O'Connell said, but noted Edinburgh and Glasgow jointly operate three aircraft and that operation works given their similar focus on continental Europe.
bmi Regional top 10 international routes ranked on seat capacity: 13-May-2013 to 19-May-2013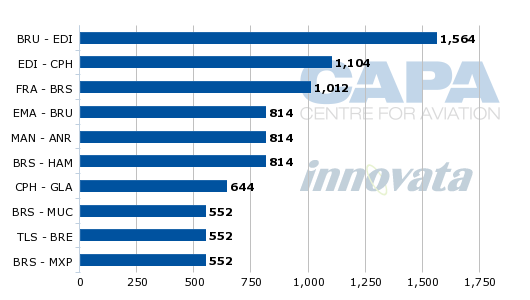 bmi Regional domestic routes ranked on seat capacity: 13-May-2013 to 19-May-2013
bmi Regional wants to continue to develop routes as it settles down – and has a chance to breathe – from its transition period. It sees working with airports critical to that development, and while bmi Regional has historically been a UK-focused carrier, Mr O'Connell sees potential to develop routes within continental Europe that do not originate or terminate in the UK.
The carrier's departure from Star has limited opportunities for its passengers to earn frequent flyer miles/points, which Mr O'Connell said was important for bmi regional's customers. He said bmi's challenge was to provide high frequency, comfortable aircraft and positive service so bmi regional could woo passengers who would otherwise "follow air miles". On many of bmi Regional's routes, it is the sole operator or faces little competition.
On bmi Regional's largest route, Manchester-Edinburgh, the carrier competes only with flybe and has about a 35% share over the European summer.
Manchester Airport to Edinburgh Airport (seats per week, one way): 19-Sep-2011 to 3-Nov-2013
It is a similar story on the carrier's second-largest domestic route and third-largest overall route, Manchester to Aberdeen, where bmi Regional competes only with flybe and has about a 25% share.
Manchester Airport to Aberdeen Airport (seats per week, one way): 19-Sep-2011 to 3-Nov-2013
On the carrier's largest international routes and second-largest route overall, Edinburgh to Brussels (Brussels only, not South Charleroi served exclusively by Ryanair), bmi Regional competes only with Brussels Airlines and has about a 45% share.
Edinburgh Airport to Brussels Airport (seats per week, one way): 19-Sep-2011 to 3-Nov-2013
Shifting from transfer to point-to-point has not affected yield
Bmi Regional has not registered any material decrease in yield following its move to independence. The move will, the carrier hopes, be positive in the long-term as it replaces low-yielding connecting flights with higher-yielding point-to-point services benefitting from strong local demand and businesses.
Bmi Regional's heavy reliance on connecting traffic was quixotic and perhaps only a result to the extent it was because Lufthansa owned the carrier and could direct route network development to benefit other Lufthansa Group airlines even if it was, as ultimately shown, to the detriment of the operating carrier.
bmi Regional will look to re-establish interlines and codeshares
Following bmi Regional's independence in late-Oct-2012, most of Nov-2012 was spent ironing out matters. During that tine the carrier did not have the bandwidth to focus on non-core matters like commercial agreements for interlines and codeshares, although some interlines did remain but primarily due to IT needs and ease of transferring bookings over during the switchover.
The carrier will look to re-grow this part of its business but does not expect to return to an environment of being a feeder carrier. Mr O'Connell is worry of returning to the days of a dozen codeshares on flights, likely creating more administrative work than the revenue benefit is worth.
Joining Star Alliance is a decision for later, as is the carrier's future name
Strategic and branding questions exist for the carrier's future, namely whether bmi Regional should join Star Alliance and also, independently of that decision, what its name should be. Revenue gains from Star would be considerably lower than when bmi was a member, not only because of its smaller network size but absence at London Heathrow airport, the primary airport where Star carriers were connecting. Membership fees and costs could outweigh additional revenue gained from the alliance, especially if bmi Regional is able to re-establish interlines and codeshares. The decision on Star membership is likely one for the long-term.
bmi Regional owns the bmi brand and Mr O'Connell said there was no doubt bmi Regional would continue the bmi brand in some form owing to its history and visibility. But remaining to be answered, without rush, is whether to continue as bmi Regional, operate as bmi or go for the full British Midland title, amongst the opportunities.
Aircraft larger than E135s/E145s could be considered, but not A320s/737s
Mr O'Connell views bmi Regional being advantaged by already owing its aircraft, which negates some of the savings introducing a new type would bring, and keeps its costs down. Nonetheless he is keeping an open mind to eventually expanding or replacing with aircraft seating fewer than 100. Acquiring aircraft in the same order of the A320 or 737 is "someone else's territory", Mr O'Connell said, qualifying that is at least for the medium-term – not because of plans beyond that to expand but rather the future beyond the medium-term not being clear.
Outlook: Finding success on routes, albeit small, during trying times
While the overall economic environment in Europe is not conducive to aviation, bmi Regional is finding success, albeit on a small scale, targeting routes where there is strong business demand and it can offer a point-to-point advantage rather than focus on connecting feed.
The UK is familiar territory to the carrier and while there may be opportunities in continental Europe, the market can be challenging, and bmi Regional is already digesting the 10 new routes it has launched and 11th it has planned.
Through discipline and independence, bmi Regional under its new owners is seeking to achieve what mighty Lufthansa could not: profitability.