Aeromexico and Volaris remain cautiously optimistic that a domestic yield rebound will hold
Analysis
Two of Mexico's largest airlines are encouraged by the country's economic uptick and what appears to be capacity discipline in the domestic market, which should further help a recovery in yields that both Aeromexico and Volaris began to see in late 2014.

Despite the challenging conditions, Mexico's domestic market remained fairly stable in 2014 reflected in roughly 8% passenger growth for the year, with the country's major airlines retaining or growing their market share year-on-year.

Although the positive momentum is a welcome sign after a challenging 1H2014, there is an air of cautiousness underlying the optimism expressed by Aeroemexico and Volaris as the yield improvement is off a low base. As a result each airline plans to direct the bulk of their 2015 capacity growth to international markets.
Aeromexico and Volaris are encouraged by signs of economic growth in Mexico
At the beginning of 2015 Aeromexico and Volaris cited improving economic conditions in Mexico. Volaris remarked that consumer confidence grew 4.7% and 4.3% year-on-year in Nov-2014 and Dec-2014, while Aeromexico remarked that between Jan-2014 and Nov-2014 Mexico recorded 2% economic growth compared with 1.4% the year prior. After logging approximately 2.4% GDP growth in 2014, Mexico's GDP in 2015 is forecasted to grow by 3.5%.
GDP Growth of Mexico (Percent change): 2009 to 2019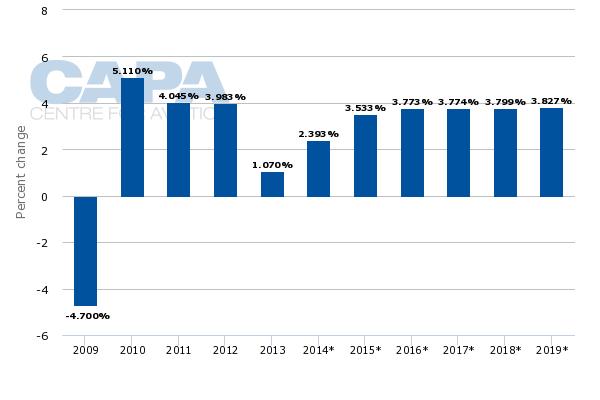 Mexico's domestic passenger counts grew 8% year-on-year in 2014 to roughly 32.9 million, slightly moderating from the nearly 9% increase year-on-year in 2013. Combined, Grupo Aeromexico – Aeromexico and Aeromexico Connect – held a nearly 37% share, up from roughly 35% the year prior. In addition to battling a weaker pricing domestic environment during most of 2014, Aeromexico shifted its revenue management strategy, trading yields for loads in order to maintain its status as the market share leader. Grupo Aeromexico transported nearly 12 million passengers in 2014.

See related report: Aeromexico handles tough conditions in 2014, positive momentum ahead in 2015

Volaris maintained its 23% market share as its passengers transported grew from 7.1 million to 7.7 million. Interjet also kept its 24% market share intact year-on-year in 2014, growing passengers numbers from 7.5 million to 7.8 million year-on-year. VivaAerobus sustained its 12% market share, slightly growing its passenger levels from 3.7 million to 3.9 million.
Domestic market share of Mexico's airlines: 2014 vs 2013
| | |
| --- | --- |
| 2014 | 2013 |
Mexican airlines remain cautious even as yields start to improve
Even though the Mexican domestic market expanded in 2014, yields remained depressed throughout much of the year. Aeromexico's yields during 1H2014 sank 12.8% year-on-year while Volaris posted a 15% decline.

See related report: Mexico's airlines welcome signs of a modest economic recovery after a tough CY2014

Each airline's yield performance improved in 4Q2014 as Aeromexico posted a 4.3% increase year-on-year, and Volaris' yields grew by 6.5%. Volaris during the last couple of years has also been working to maximise non-ticket revenue as a means to withstand some of challenging pricing conditions within the Mexican domestic market. The airline estimates that non-ticket revenue per passenger excluding cargo jumped nearly 86% year-on-year in 4Q2014 to USD20 per passenger and 50.3% for CY2014 to USD17 per passenger.

Although Aeromexico was encouraged by the yield momentum, the airline in early 2015 highlighted that it was working off a low base with respect to yields, which had been roughly 15% lower year-on-year in the Mexican domestic market during the last 18 months.

Volaris CEO Enrique Beltranena recently stated both domestic and international markets have made a solid yield recovery, "driven by the capacity discipline in the domestic market and reasonable revenue management tactics by all the players...we remain cautiously positive about the yield environment, both in the domestic and the international market".
Aeromexico and Volaris plans to allocate most of their 2015 capacity to international routes
Both Aeromexico and Volaris plan to allocate the bulk of their capacity growth in 2015 to international markets after Mexico's airlines posted a 14% jump in international passenger counts year-on-year in 2014 to 6.9 million. Aeromexico's share increased from 53% to 57% while Aeromexico Connect's share fell from 11% to 9%. Volaris notched its share up 1ppt to 22%. Interjet's share fell from 14% to 11%.
International market share of Mexico's airlines: 2014 vs 2013
| | |
| --- | --- |
| 2014 | 2013 |
Volaris plans total capacity growth of 10% to 12% year-on-year in 2015 – 2% to 4% in the domestic market and and 33% to 36% deployed into international markets. Some of the international growth is driven by the addition of several new transborder markets added in 2014 including Denver, Ontario (California), Portland (Oregon), Reno and Fort Lauderdale.
During CY2014 Volaris' capacity grew 8.5%, with 5.8% growth in the domestic market and 17.2% allocated to international markets. Data from CAPA and OAG show that for the week of 9-Mar-2015 to 15-Mar-2015 roughly 28% of Volaris' ASMs deployed into international markets.
Volaris international vs domestic capacity (% of ASMs): 9-Mar-2015 to 15-Mar-2015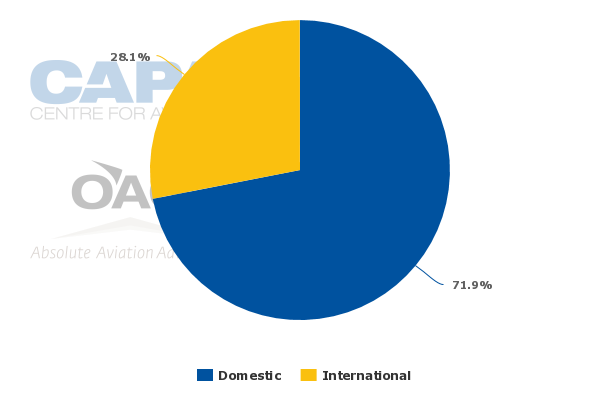 All of Volaris' international markets are presently in the US, where it serves nearly 20 destinations. Its Mexican rival VivaAerobus began making a transborder push in 2014; but given its lower base of penetration, the airline has lots of ground to cover to reach Volaris' US network breadth. During 2014 VivaAerobus relaunched flights from Monterrey to Las Vegas and San Antonio, and adding service from Guadalajara and Cancun to Houston Intercontinental. In Mar-2015 it is launching new flights from Monterrey to Dallas/Forth Worth.

See related report: VivaAerobus plans a transborder push. Is this the start of a new phase for Mexico's quieter LCC?

Interjet also serves Monterrey-Houston, along with Aeromexico. The Mexican hybrid airline also operates service to San Antonio from Monterrey, Guadalajara and Mexico City Juarez, Miami from Cancun and Juarez, Las Vegas from Mexico Toluca and Monterrey and New York JFK from Mexico City Juarez. Data from CAPA and OAG show that for the week of 9-Mar -2015 Interjet's one-way weekly seats from Mexico to the US are up 12% to roughly 10,100. VivaAerobus has recorded a more than 500% jump, but still only offers approximately 3,700 seats.

With an increasing focus by more of Mexico's airlines on transborder service and its own significant US network, Volaris at some point needs to consider other international geographies. It does seem that the airline is studying other markets outside the US as it looks to broaden its international footprint.
But it is refraining from declaring a timeframe from introducing other international routes. "We said in our [investor] road show we are planning to open some Caribbean, Canada, and Central American routes," Mr Beltranena stated. He added it would be a matter of time before the airline "starts tackling them, and we hope it works pretty well".

Aeromexico is forecasting capacity growth of 8.5% to 10.5% in 2015 compared with an 11.5% increase in 2014. It estimates 4% to 6% domestic growth and an 11% to 13% rise in international capacity. For the week of 9-Mar-2015 to 15-Mar-2015 approximately 64% of Aeromexico's ASMs are allotted to international markets. Aeromexico is the only Mexican airline operating long-haul flights to Europe, Asia and lower South America. Aeromexico is also building up its fleet of Boeing 787-8s, which have 42% more seats than the 767s they are replacing.
CAPA's fleet database shows that as of 13-Mar-2015 Aeromexico mainline is operating seven 787-8s, with two aircraft remaining on order.
Aeromexico international vs domestic capacity: 9-Mar-2015 to 15-Mar-2015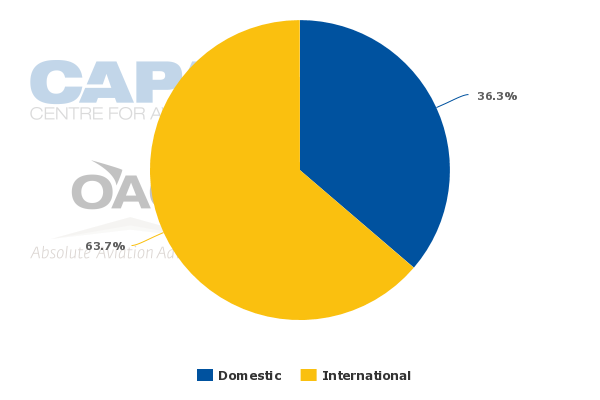 Aeromexico is a bit more diversified in its international expansion, adding new service from Mexico City Juarez to Medellin and Panama City after adding flights to Managua in late 2014. It also resuming service from Juarez to Toronto in 2015, along with adding new flights to Boston.
Aeromexico fleet summary as of 13-Mar-2015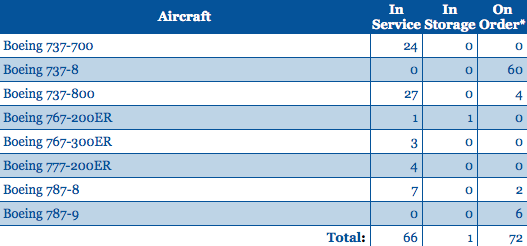 Currency pressure for Mexico's airlines could linger into 2015 as the USD gains strength
Although the rebound in yields is a welcome sign, Mexico's airlines do face some currency pressure. Volaris estimated that the MXP depreciated 6.2% year-on-year during 4Q2014. Company executives recently explained that during the quarter it experienced pressure in USD denominated costs including aircraft rents, international airport costs and maintenance.
But the airline said it offset those increases with "efficiencies in salaries and benefits costs and landing, take-off and navigation expense. With the USD continuing to gain strength, both Volaris and Aeromexico will continue to face foreign exchange rate pressure in 2015.
Mexico's airlines are wise to make an international push in 2015
Aeromexico and Volaris are wisely viewing 2015 with cautious optimism after enduring tough domestic conditions in 2014. Their international diversification is wise those airlines continue to encounter rivals VivaAerobus and Interjet more often in the domestic market place. But all four of Mexico's major airlines will likely start overlap in more transborder markets as VivaAerobus and Interjet chart more growth.

For now Aeromexico is enjoying adding new routes to Central America without too much competition from its Mexican rivals. But at some point the crop of low cost airlines that emerged in the middle of the last decade will opt to pursue international diversification outside US transborder routes, which will create another layer of competition among Mexico's airlines.