Aeromexico handles tough conditions in 2014, positive momentum ahead in 2015
Analysis
Mexico's largest airline Grupo Aeromexico is cautiously optimistic that signs of the start of a modest recovery in the country's economy in late CY2014 and rational capacity growth within the Mexican domestic market should continue to help the airline with a recovery of yields and unit revenues that began in 4Q2014.

Despite battling a weak domestic environment for most of CY2014, Aeromexico remained profitable for the year, growing top-line revenues and decreasing unit costs, albeit with lower margins and an overall tumble in net income.

Following a similar pattern from late CY2014, Aeromexico plans to deploy the bulk of its planned 8.5% to 10.5% capacity growth for CY2015 into international markets, which gives its some leverage in the depreciation of the MXP and a level of network diversification not available to its domestic rivals.
Mexican economic and industry conditions started to show improvement in late 2014
Throughout 2014 Aeromexico adopted a strategy of trading yields for load factor to maintain its leading market share in Mexico's weak economic environment. During 3Q2014 its total unit revenues fell 4.9% and yields dropped 5.8%.

See related report: Mexico's airlines welcome signs of a modest economic recovery after a tough CY2014

But in late 2014, the Mexican economy showed some slight positive momentum, which helped to lift Aeromexico's unit revenues and yields during 4Q2014.

Aeromexico recently remarked that Mexico's General Economic Activity indicator grew roughly 2.6% from Sep-2014 to Nov-2014, which was an improvement of 1.1% growth the year prior. From Jan-2014 to Nov-2014, Mexico logged economic growth of approximately 2%, which was higher than the 1.4% recorded the year prior.

The airline also cited slowing domestic passenger traffic growth, driven by more rational capacity expansion by the industry overall. Using data from the Mexican government, Aeromexico stated that domestic passenger traffic grew 8% from Oct-2014 to Dec-2014 compared with 10% growth for the same period of CY2013.

Total passenger growth among Mexico's airlines was 6.9% during 4Q2014 compared with 6.9% the year prior. The country's airlines recorded a 5,8% rise in international passenger traffic in 4Q2014 compared with 9% the year prior. For CY2014, total traffic among Mexico's airlines grew by 8.3%, with a 7.7% increase in domestic passengers and 8.8% growth in international passenger traffic.
Aeromexico sees yield and unit revenue improvement in 4Q2014
Aeromexico's capacity and traffic each grew at a 5.1% clip during 4Q2014. For CY2014 the airline increased its capacity by 11.5% and traffic by 15%.
Aeromexico select financial and operating statistics: 4Q2014 versus 4Q2013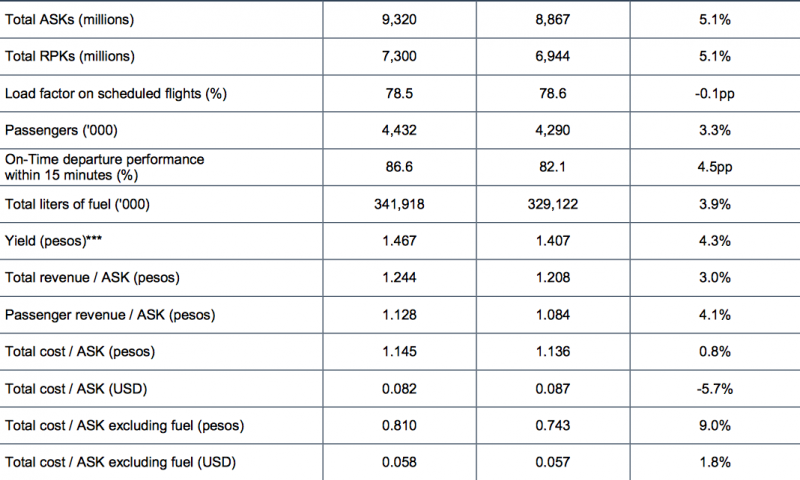 Aeromexico select financial and operating statistics: CY2014 versus CY2013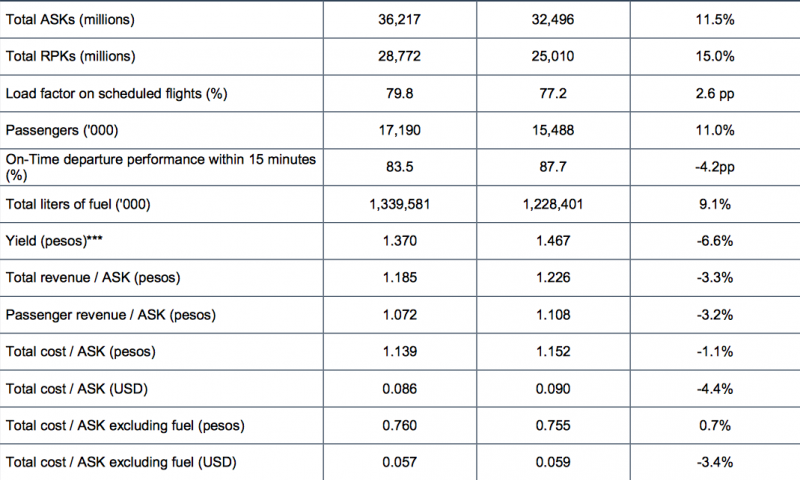 The slight pick-up in Mexico's economy during late 2014 along with rational capacity expansion within the country's domestic market helped to lift Aeromexico's yields by 4% during 4Q2014 and unit revenues by 3%. Aeromexico executives recently noted to analysts that it was the first quarter that the airline had recorded a unit revenue improvement since 3Q2012.

The 6.6% decline in yields Aeromexico recorded for CY2014 and the 3.3% drop in unit revenues reflects both its revenue management strategy and the tough conditions within the domestic market during most of CY2014.
Aeromexico plans to direct the bulk of 2015 capacity to international markets
Aeromexico believes that the positive unit revenue momentum that it started gaining at the end of CY2014 should continue, driven somewhat by improving yields. However, the airline stated that it was working off a low base in terms of yields as they have been approximately 15% lower year-on-year in the Mexican domestic market during the last 18 months.

The airline plans to slightly moderate its overall capacity growth to a range of 8.5% to 10.5% in CY2015 compared with a system increase of 11.5% in CY2014. Aeromexico projects 4% to 6% growth in the domestic market and and 11% to 13% expansion in international markets in CY2015 driven in part by the addition of three Boeing 787-8 widebodies that have 42% more seats than the 767s they are replacing. By YE2014 Aeromexico was operating five 787 jets, which will also represent some of the year-on-year increase in international ASK growth. All of Aeromexico's capacity growth in 4Q2014 was geared toward international markets.

Aeromexico's focus on international markets is reflected in its ASK distribution for the week of 16-Feb-2015 to 22-Feb-2015 as roughly 62% of its ASKs are deployed into internationals markets. The US remains the airline's largest country by ASK distribution, representing nearly 43% of of its ASKs.
Aeromexico international vs domestic capacity (% of ASKs): 16-Feb-2015 to 22-Feb-2015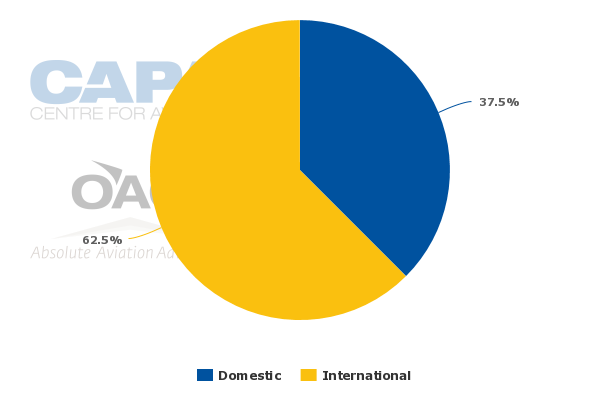 Aeromexico international capacity by country (% of ASKs): 16-Feb-2015 to 22-Feb-2015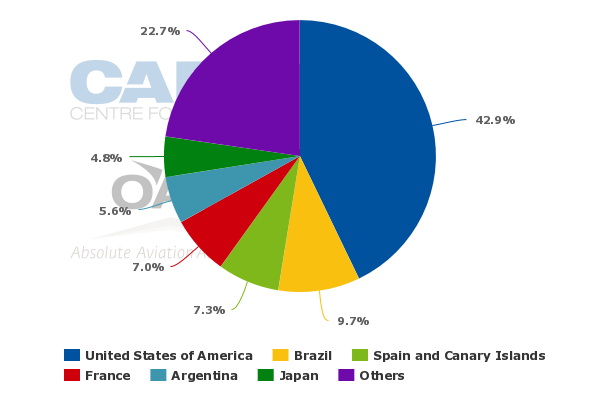 Although the bulk of Aeromexico's ASKs are distributed on its US transborder flights, the airline is making a push into Central and Latin America in CY2015 to leverage its efforts to maximise connections at its top base and hub Mexico City Juarez international airport. The airline estimates that its connecting passengers increased from 26% in CY2013 to 30% in CY2014.

See related report: Aeromexico works to strengthen its global network as Mexico's economy starts a slow path to recovery

After launching flights from Mexico City to Managua in late 2014, Aeromexico plans to add new service from Mexico to Medellin in Mar-2015 and is also introducing new service to Panama City. Other new markets from Mexico City include the resumption of flights to Toronto and new service to Boston.
Aeromexico is also introducing new service from its second largest base Monterrey to Miami in Mar-2015 following the launch of flights to New York in CY2014 and the moving of its stop-over for flights to Tokyo Narita from Tijuana to Monterrey during CY2014. It also added flights from Monterrey to Houston Intercontinental during CY2014.
Aeromexico global top 10 hubs/bases/stations by ASKs: 16-Feb-2015 to 22-Feb-2015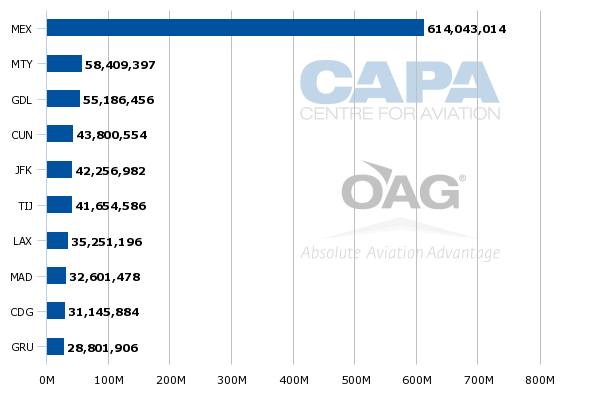 The airline has been working to leverage its Monterrey hug, and also added numerous domestic flights from the airport during CY2014 including Los Cabos, Puerto Vallarta, Cancun, Aguascalientes and Torreon. During Jun-2014 Aeromexico also introduced a four-bank connecting framework at the airport to leverage traffic flows between North, Central and Eastern Mexico.

During CY2015 Aeromexico estimates that its capacity in Monterrey will grow roughly 40% year-on-year, driven in part by the new destinations added during CY2015. Outlining the rationale of the build-up in Monterrey, Aeromexico executives explained that the airport allows for favourable service flows to the US east coast while Guadalajara and Mexico City offer good flows to the US west coast. Presently, (16-Feb-2015 to 22-Feb-2015), Aeromexico is Monterrey's largest airline by ASK deployment, representing a 30% share.
Monterrey Escobedo International Airport capacity by airline (% of ASKs): 16-Feb-2015 to 22-Feb-2015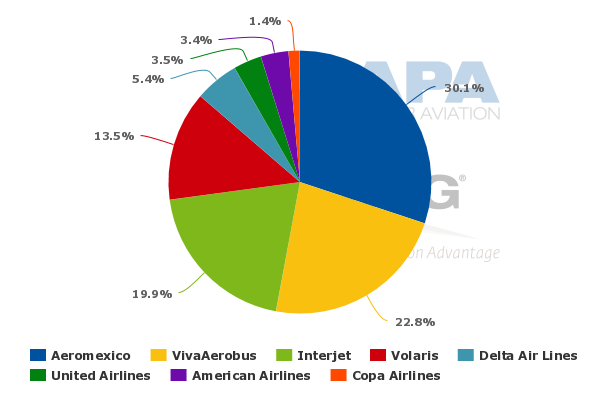 Aeromexico posts overall solid results for 4Q2014 and CY2014
Despite recording a 27.5% drop in CY2014 profits to MXP783 million (USD52.3 million) and a 2.1ppt drop in its operating margin to 3.9%, Aeromexico grew its top-line revenue in CY2014 by 7.7% to MXP42.9 billion (USD2.8 billion). The airline's profits jumped nearly 98% year-on-year during 4Q2014 to MXP761 million (USD51.2 million) as operating margin increased 2.1ppt to 8% and top-line revenues increased 8.3% to MXP11.6 billion (USD780 million).

Aeromexico's top-line expenses increased by 5.9% and 10%, respectively, in 4Q2014 and CY2014 to MXP10.7 billion (USD720 million) and MXP41.2 billion (USD2.8 billion). On a unit basis, Aeromexico's unit costs excluding fuel denominated in USD fell 5.7% during 4Q2015 mainly driven by a drop in fuel prices. Its unit costs excluding fuel denominated in the MXP increased 0.8% year-on-year due to moderating of its capacity growth and the depreciation of the MXP, which fell 6.7% agains the USD year-on-year during 4Q2014. However, Aeromexico stressed that CY2014 was the first year that international passenger revenues exceeded domestic revenues, which provides a natural hedge between foreign currency denominated revenues and costs.
Aeromexico seems to be making all the right moves to withstand difficult conditions
Aeromexico did a solid job of navigating tough conditions within Mexico during CY2014, fully leveraging its status as the only full fledged global network airline in the country. For CY2014 Aeromexico recorded a 3.4% decrease in unit costs excluding fuel in USD, and 0.7% growth in MXP.
It makes sense for the airline to push the bulk of its growth into international markets in CY2015, and the addition of new destinations in Central and South America is encouraging as its domestic rivals do not yet have a great deal of penetration into those markets.

With the prospects of some improvement in Mexico's economy in CY2015, Aeromexico seems poised to deliver another reasonably solid performance as long as capacity discipline within the Mexican market remains intact and its new international routes can spool up fairly quickly. Although it is tough to predict the behaviour of its rivals, Aeromexico seems to be making the right moves to retain its strong competitive position in Mexico's airline industry.