Aer Lingus restores 2014 target after strong 2Q as departing CEO focuses on labour relations legacy
Aer Lingus grew its 2Q2014 EBIT by one third as strong trading helped to offset the impact of strike action (actual and planned). Double digit capacity growth on the North Atlantic, reflecting new routes and increased frequencies, was the main driver of revenue growth.
Although Aer Lingus estimates a strike-related forward booking gap of EUR10 million into 2H2014, current trading is healthy and late summer forward bookings have seen some recovery. This has prompted the company to restore its previous guidance that FY2014 EBIT will be at least in line with last year, after lowering it in Jun-2014 due to the industrial action.
Nevertheless, the future growth and sustainability of profits will require cost savings and Aer Lingus' CORE programme will be vital. The industrial relations backdrop remains difficult, not least because of the lack of a full resolution to the pension funding issue. Discussions on this have been ongoing for most of CEO Christoph Mueller's five year tenure. His departure in May-2015 was recently announced and he will surely not want to bequeath this issue to his successor.
Aer Lingus' 2Q operating profit was up 33%
Aer Lingus improved its 2Q2014 operating profit before exceptional items by 33% compared with 2Q2013, to EUR39 million.
Revenues increased by EUR40 million, or 10%, while costs grew by EUR30 million, or 8%. During 1H2014, its net cash position grew by 40% from EUR420 million at the end of Dec-2013 to EUR586 million at the end of Jun-2014.
The shift in the timing of Easter from 1Q in 2013 to 2Q in 2014 had depressed Aer Lingus' 1Q2014 results, when its losses widened. However, this factor was beneficial to the 2Q2014 results and helped to offset the negative impact of industrial action by employees in 2Q (Aer Lingus puts the revenue impact of this at EUR20 million). For 1H, the operating loss was reduced by 40% to EUR10 million.
See related report: Aer Lingus shows its two-sided approach to contract flying as 1Q2014 profit slips
Aer Lingus financial highlights: 2Q and 1H2014

2Q ASKs were up 9.5% but Aer Lingus managed a 1.7 ppts load factor increase
Aer Lingus added ASKs at the rate of 9.5% year on year in 2Q2014, driven by a 25.3% increase in long-haul ASKs as it continued to pursue its trans-Atlantic growth strategy. Its new Dublin-Toronto service (operated under wet lease by ASL Aviation on Boeing 757 aircraft) commenced on 14-Apr-2014 and its Dublin-San Francisco route also restarted in Apr-2014, after a five year gap. Aer Lingus has also added frequencies from Shannon to Boston and New York (under the ASL wet lease contract).
Traffic growth exceeded capacity growth on both long-haul and short-haul and overall load factor gained 1.7 ppts to 80.1%, reversing the load factor decline seen in 1Q2014. Again, long-haul was the driver of load factor improvements, up 2.6 ppts to 85.3% in 2Q (up 1.3 ppts to 80.4% in 1H), while short-haul load factor was broadly flat (up 0.4 ppts to 76.4% in 2Q and down 0.3 ppts in 1H).
For 1H, overall load factor was up 0.6 ppts to 76.1%, well below the roughly 80% average level for member airlines of the Association of European Airlines (AEA) and the 82% recorded by local rival Ryanair for the same six month period.
As chief strategy and planning officer Stephen Kavanagh said to analysts on a conference call to discuss the 2Q results, this relatively low load factor provides Aer Lingus with an opportunity to achieve traffic growth without investment in new capacity.
Mr Kavanagh also said that Aer Lingus is likely to reduce its short-haul capacity in the coming winter season, perhaps in line with the 5% cut last winter, in order to protect its margins at a time when competitor capacity is set to grow. (Ryanair recently indicated that it planned seat growth of 8% in the coming winter.)
See related report: Ryanair raises FY2015 profit guidance after strong 1Q. Warm and fuzzy O'Leary may be working
Aer Lingus Regional, which is operated under a franchise agreement by Stobart Air and feeds traffic from regional cities mainly in the UK to Aer Lingus' Dublin and Shannon hubs, saw passenger numbers increase by 35% in 2Q and by 26% in 1H2014.
Aer Lingus traffic statistics: 2Q and 1H2014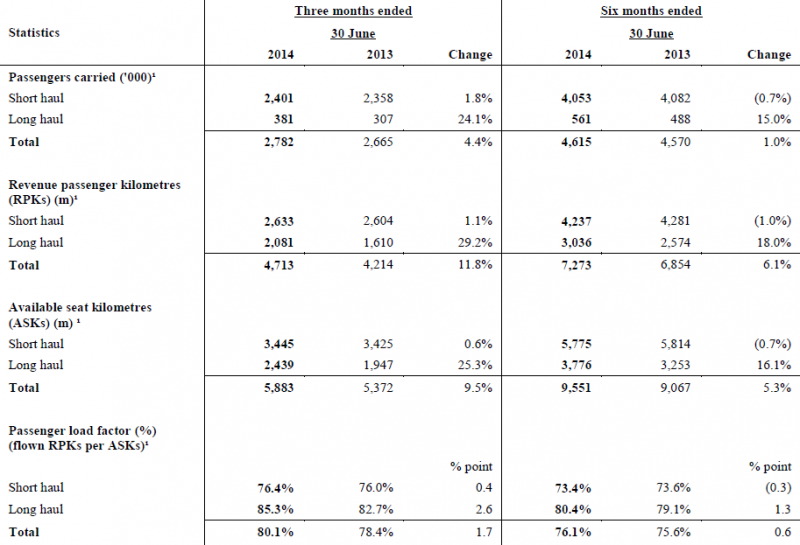 The combined passenger numbers of Aer Lingus Regional and Aer Lingus' mainline short-haul operation grew by 5% year on year. In spite of strong competition from Ryanair, which has a lower cost base and has started to improve its customer service, Aer Lingus (including Aer Lingus Regional) maintained its share of passengers at Dublin, Cork and Shannon at 45% in 1H2014.
Aer Lingus is the leading airline by seats on the majority of its routes (source: Aer Lingus, 1H2014) and has no direct competition on 39% of its airport pairs. This strong market position and a high proportion of routes with two or more daily frequencies also contribute to its ability to resist competition from Ryanair.
Aer Lingus seats by its ranking on airport pairs and by frequency on routes: 1H2014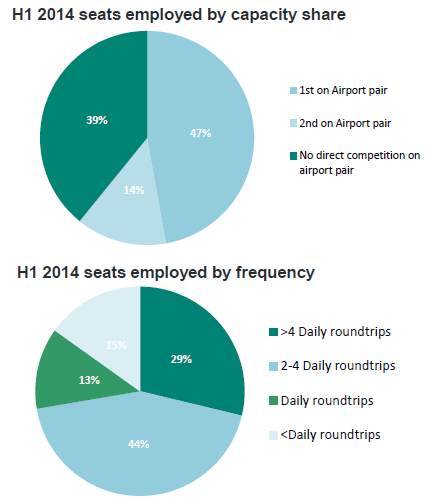 Average fares rise on long-haul in spite of capacity growth
Fare revenue per seat grew by 10% year on year in 2Q2014, driven both by load factor gains and by a 6.5% increase in average fares. Average fares on long-haul increased by 5.3%, in spite of the strong increase in capacity, demonstrating the acceptance in the market of Aer Lingus' new trans-Atlantic capacity. Average fares on short-haul stabilised after falling in 1Q.
Aer Lingus fare revenue per passenger and per seat: 2Q and 1H 2014


2Q revenues were up 10%
Total revenue growth of 9.9% year on year in 2Q2014 was just ahead of the growth in ASKs. This was mainly driven by an 11% increase in passenger fare revenues to EUR365 million (the result both of traffic growth and of average fare increases, as discussed above). Long-haul fare revenues grew by 31%, increasing their share of total fare revenues by 5.6 ppts to 38.0%. Passenger revenue improvement was partially offset by the impact of strike action in May and Jun-2014.
Retail revenues grew by only 2% in 2Q, with retail revenue per passenger down by around 2%. This contrasts with a 10% increase in retail revenue per passenger in 1Q and reflects both the impact of strike action (which particularly affected sun routes where in-flight spend is high) and the disproportionate growth of long-haul (where retail spend tends to be lower).
Aer Lingus revenues, costs and EBIT: 2Q and 1H2014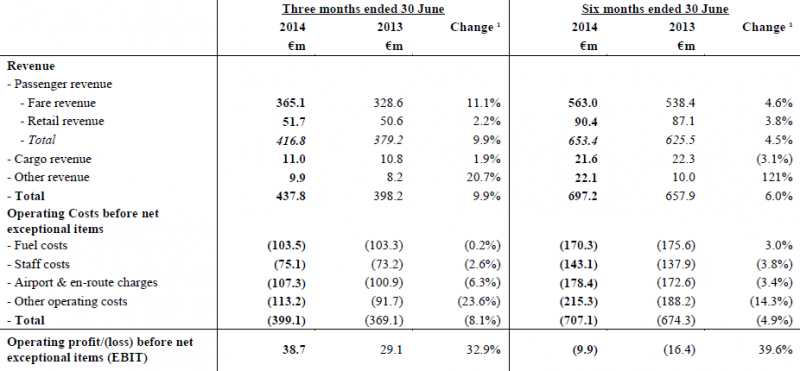 2Q costs rose 8%, less than ASK growth
Operating costs (before exceptional items) grew by 8.1% in 2Q, slower than the growth in ASKs and in revenues. Fuel costs were almost flat (up 0.2%) in spite of the capacity increase as a result of favourable price and currency movements. Ex fuel costs increased by 11.2%, faster than the increase in ASK capacity.
Staff costs increased by 2.6%, as a pay increase and additional headcount in support of the long-haul expansion were only partially offset by reductions under the voluntary severance programme, but this increase was less than the growth in ASKs.
Other costs were affected by the long-haul expansion, including the ASL lease contract and in-flight catering, and strike-related costs.
Trans-Atlantic expansion is based on lower costs and geography
Aer Lingus' trans-Atlantic expansion was a key factor in its 2Q results and will remain a central strategic priority. It bases its long-haul strategy on what it calls a "superior cost position". According to Mr Kavanagh, this allows it to "make a margin at lower prices". Previous CAPA analysis confirms that Aer Lingus does indeed appear to have an efficient cost structure.
See related report: Virgin Atlantic, the flying enigma – a great brand in need of greater financial discipline
Also central to Aer Lingus' long-haul expansion is the geographical location of its Dublin and Shannon hubs at Europe's western edge, placing it on the way to North America from the rest of Europe. It has a fair balance of long-haul sales between passengers originating in its Irish and North American gateway cities and those originating elsewhere in Europe and North America.
Aer Lingus long-haul sales by O&D source: 1H2014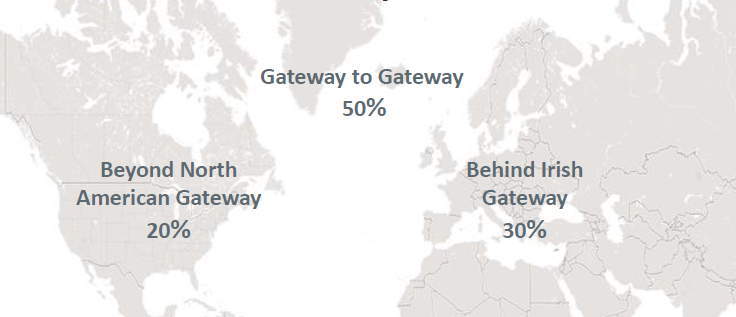 This is supplemented by the presence of US Customs facilities at its two Irish long-haul airports, allowing passengers to exit their US destination airport much more rapidly. As it builds out its North American network and improves its product offer, so a number of key performance indicators are improving.
See related report: Aer Lingus' Atlantic adventure tests the virtual airline concept
Aer Lingus long-haul performance: 1H2012 to 1H2014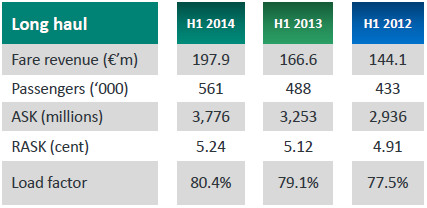 Revised 2014 guidance looks conservative
The restored 2014 guidance is welcome, although it comes only seven weeks after a profit warning lowering its guidance, which itself came just over three weeks after a statement that confirmed previous guidance. While investors can sometimes be unsettled by "see-saw" guidance of this type, both revenues and costs can be influenced by a multitude of factors, many of which are not fully controllable, and the earnings outlook for airlines is always volatile.
Given that 1H operating profit was EUR6 million better than last year, and 2Q EUR10 million better, the guidance that FY's result will be at least as good as last year's EUR61 million looks conservative.
CEO Mueller will strive to leave an improved industrial relations legacy
Of greater fundamental importance to sustainable profitability for Aer Lingus than the 2014 outlook is its cost efficiency. CEO Christoph Mueller said that Aer Lingus remained committed to its EUR30 million savings target by the end of 2015 within its CORE programme.
An important element of this target is labour-related savings and a staff ballot on this issue is expected in the autumn. However, the strike action by cabin crew in 2Q and ongoing pensions-related issues demonstrate that the industrial relations environment remains challenging.
It is vital that Mr Mueller leaves an improved industrial relations legacy to his successor, whoever that might be (a search is now under way). He can be expected to work hard to achieve this, but it may become more difficult to reach agreements with unions the further into his 'lame duck' period he moves.