Ryanair raises FY2015 profit guidance after strong 1Q. Warm and fuzzy O'Leary may be working
Analysis
Ryanair increased its profits substantially in 1QFY2015, as revenue per seat grew faster than cost per seat. By comparison with the same quarter a year earlier, revenues and profits were assisted by the inclusion of Easter in 1Q this year, but the underlying trends still looked favourable.
In spite of its caution over the outlook for average fares in 2H, Ryanair has raised its profit guidance for FY2015, based on higher traffic and load factors and lower cost per passenger than previously expected.
This is in contrast with its profit warning last autumn (and with more recent profit warnings from a number of European legacy carriers) and gives some comfort that its strategic shift to increase the emphasis on customer service may be starting to work.
See related reports:
1Q net profit increases two and half times
In 1QFY2015 (Apr-2014 to Jun-2014), Ryanair increased its net profit by two and a half times from the same period a year earlier, to EUR196 million. Operating profit increased 124% to EUR232 million, with the operating margin more than doubling to 15.5%. Passenger numbers were up by 4%, in spite of seat capacity remaining roughly flat, and revenues grew by 11% to EUR1,496 million.
Ryanair cautioned that the result was positively distorted by the timing of a "very strong" Easter in 1QFY2015, whereas there was no holiday in the same quarter of the prior year. Growth in both passenger numbers and average fares was flattered by this shift in Easter.
Ryanair: 1Q highlights FY2015 versus FY2014 (three months to Jun)
| | 1Q FY2014 | 1Q FY2015 | Change |
| --- | --- | --- | --- |
| Passengers million | 23.2 | 24.3 | 4.4% |
| Load Factor | 82% | 86% | 4.0 |
| Avg. Fare (incl. bag) EUR | 42 | 46 | 9% |
| Rev. Per Pax. EUR | 58 | 62 | 7% |
| Revenues EUR million | 1,342 | 1,496 | 11% |
| Operating profit EUR million | 103 | 232 | 124% |
| Operating margin % | 7.7 | 15.5 | 7.8 |
| Profit after Tax EUR million | 78.1 | 196.8 | 152% |
Ryanair's revenues up 11%
Revenue growth of 11% was significantly above the growth in seats and passengers and was mainly driven by scheduled revenues, up 14%. Ancillary revenue growth slowed to 4% and its share of total revenues dipped to 25% in 1QFY2015 from 27% in 1QFY2014.
However, ancillary revenue growth was in line with passenger growth and its share of total revenues was the same as for the full FY2014.
Ryanair: 1Q revenues FY2015 versus FY2014 (three months to Jun)
| EUR million | 1Q FY2014 | 1Q FY2015 | Change | % of total in 1Q FY2015 |
| --- | --- | --- | --- | --- |
| Scheduled revenues | 986 | 1,125 | 14% | 75% |
| Ancillary revenues | 357 | 371 | 4% | 25% |
| Total | 1,342 | 1,496 | 11% | 100% |
Average fares (scheduled revenue per passenger) increased by 9%, boosted by the change in the timing of Easter. In 4QFY2014, passenger numbers had grown by just 1% and average fares had fallen by 4%, adversely affected by the same factor. For the six months Jan-2014 to Jun-2014 (4QFY2014 and 1QFY2015), passenger numbers grew by 3% and average fares were up by 4% (as was total revenue per passenger), according to CAPA calculations.
Ryanair does not directly report seat numbers, but this can be roughly calculated from passenger numbers and load factors. From this, we calculate that total revenue per seat increased by 12% year on year in 1QFY2015.
Load factor was up 4 ppts
Load factor gained 4 ppts to 86%, comfortably ahead of most European legacy carriers, but short of the 90% level achieved by easyJet (and by Air France-KLM) in the same quarter. While there have been minor year on year variations in Ryanair's load factor on a quarterly basis in the past, its FY load factor has remained roughly in the 82% to 83% region for most of the past decade.
The 4 ppt load factor gain in 1QFY2015 is the biggest year on year increase that Ryanair has reported in any quarter for many years. Again, this was boosted by the timing of Easter, but it also signals a conscious move by Ryanair to fill a higher percentage of its seats. CEO Michael O'Leary told analysts on a conference call to discuss the 1Q results that he expected load factor improvements of around 3 ppts in 2HFY2015.
Load factor improvements have been facilitated by more active management of forward bookings and the earlier release of Ryanair's schedules. The airline plans to release its summer 2015 schedule in mid Sept-2014, three months earlier than last year.
Taking account of the shift in Easter, the underlying trend for the first six months of calendar 2014 saw a load factor gain of around 2 ppts, still significant by comparison with recent years. As already noted, this was achieved without a dip in average fares or total revenue per passenger. While it is early days, this suggests that Ryanair's strategic change of emphasis to improve its product and service and to attract more business passengers may be having an impact.
Ryanair's costs rose 2%, less than revenues
Ryanair's operating costs increased by 2% year on year in 1QFY2015, ahead of growth in seat numbers, but less than the growth in passenger numbers and in revenues. Fuel costs, which accounted for almost 45% of total costs, fell by 2% due to lower EUR-denominated jet fuel prices.
Ex fuel costs grew by 6%. Airport and handling charges were up 11%, faster than total costs as a result of Ryanair's decision to increase the number of routes and bases at primary airports. Marketing, distribution and other costs also grew by 11% as Ryanair increased its spend in support of its new customer service initiatives and its new routes and bases. The 18% increase in maintenance costs mainly reflected a one-off credit of EUR3.7 million, resulting from the renegotiation of maintenance contracts, in the prior year figure.
CAPA calculates that costs per seat were up 2% (ex fuel costs per seat up 6%). Improved profit performance was due to this being slower than the 12% growth in revenue per seat.
Ryanair: 1Q costs FY2015 versus FY2014 (three months to Jun)
| EUR million | 1Q FY2014 | 1Q FY2015 | Change | % of total in 1Q FY2015 |
| --- | --- | --- | --- | --- |
| Fuel and oil | 577 | 564 | -2% | 44.6% |
| Airport & handling charges | 176 | 195 | 11% | 15.4% |
| Route charges | 155 | 155 | 0% | 12.2% |
| Staff costs | 130 | 133 | 2% | 10.5% |
| Depreciation | 91 | 97 | 7% | 7.7% |
| Marketing, distribution & other | 54 | 60 | 11% | 4.7% |
| Maintenance, material and repairs | 30 | 35 | 18% | 2.8% |
| Aircraft rentals | 26 | 26 | 0% | 2.1% |
| Total | 1,239 | 1,264 | 2% | 100.0% |
| Costs ex fuel | 662 | 700 | 6% | 55.4% |
Product and service improvements make progress
Regarding Ryanair's "Always Getting Better" programme, aimed at improving passengers' experience of the airline, Mr O'Leary told analysts that it was "delivering real and tangible improvements to customers".
Recent developments include the launch in Jun-2014 of Ryanair's family product, which includes discounts on ancillary items and discounts on fares for families flying three times within a calendar year, and the Jul-2014 launch of its mobile app. It plans further development of the mobile app and of its website over the coming winter.
In Sep-2014, Ryanair will launch its business traveller service, which will include allowing flight changes, increased bag allowances, premium seat allocation and fast track security. Ryanair has also been adding routes and bases that are more attractive to business passengers and increasing frequencies on routes with strong business traffic.
In addition, it plans to increase the number of GDS companies that distribute its inventory after reaching agreement with Travelport in Mar-2014.
See related report: Ryanair's new customer-friendly approach. Really?
Ryanair chief marketing officer update: Jul-2014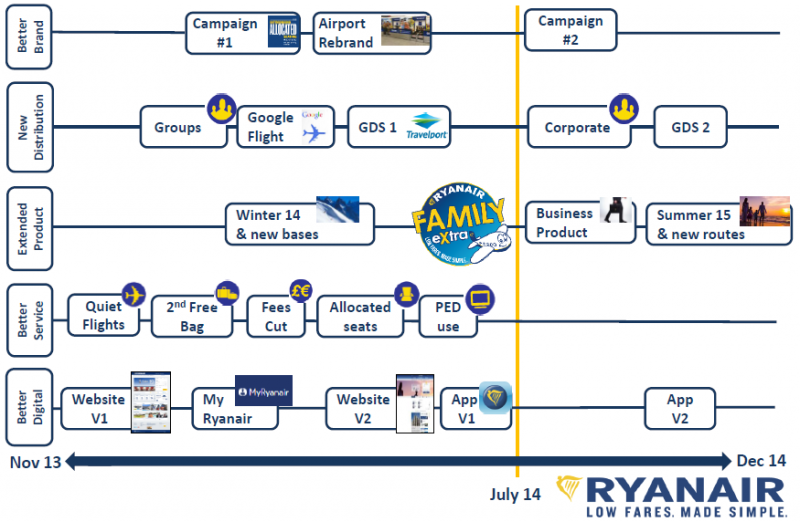 Ryanair's on-time performance slipped
Ryanair makes much of its measurable product/service quality indicators, such as on-time performance (OTP), lost bags and flight cancellations.
For example, it presented its OTP data for the quarter in comparison with easyJet's. easyJet said recently that its on-time performance in the quarter was affected by a number of external strikes, in particular a two day French ATC strike in Jun-2014.
Ryanair's OTP also fell compared with the same period a year ago, but the magnitude of decline for Ryanair was less than for easyJet and the absolute level was higher. This probably reflects the higher proportion of uncongested secondary airports in Ryanair's network.
In addition, Ryanair says that SITA statistics confirm that it is the world's number one airline for fewest lost bags. This is clearly helped by the fact that it probably also has one of the lowest rates of checked-in bags, for many years encouraging passengers to bring only cabin bags through its charging structure.
Ryanair and easyJet on-time performance*: Apr-Jun 2014 and Apr-Jun 2013

EC state aid investigations at a number of airports are unlikely to change Ryanair's business model
A recent round of European Commission investigations into support provided by public sector airports to Ryanair has so far produced mixed results. The European Commission ruled that Ryanair must repay around EUR9.6 million in illegal state aid it received for its operations at Pau, Angouleme and Nimes airports, but found no problems at Aarhus, Bratislava, Charleroi, Marseille, Berlin Schönefeld and Tampere airports.
Ryanair believes that all its airports comply with EU rules on state aid and is appealing the decisions in respect of Pau, Angouleme and Nimes. The airline points out that it has to date carried 86.5 million passengers at the seven airports where the Commission found no problem, compared with 3.4 million passengers at the three airports where the Commission's ruling was not favourable. It says that investigations are pending at 14 more airports, with decisions expected mid to late 2014.
Either way, it is unlikely that these investigations will lead to a step change in Ryanair's business model, especially as the airports under consideration are mainly smaller regional airports and Ryanair is already gradually increasing its use of primary airports.
Its 1Q results statement says that Ryanair is "overrun with growth offers from primary European airports", where incumbents are cutting capacity. Such airports may be more expensive than the average Ryanair airport, raising its unit costs a little.
However, growth incentives are likely to mean that Ryanair receives more attractive terms at primary airports than airlines that are not growing, and its overall cost structure will continue to be substantially below its FSC rivals.
FY2015 profit guidance raised
Ryanair now expects 86 million passengers in FY2015, compared with 84.6 million forecast only just over two months ago, which would represent annual growth of 5%. Growth of 4% achieved in 1QFY2015 will slow down in 2Q, to give 1H growth of 3%, according to Ryanair. It expects 1H average fares to grow by 6%, subject to late-booking fares in Aug and Sep.
In 2H, it plans to accelerate seat capacity growth to 8% (7% in 3Q and 10% in 4Q). Ryanair says that the higher growth in 2H is in order to take advantage of growth discounts and to "build out business friendly frequencies", particularly from Dublin and Stansted. Its guidance is that this will weigh on average fares, which it expects to drop by 6% to 8% in 2H.
Ryanair expects FY2015 ex fuel costs per passenger to rise by around 4%, slightly less than the 5% previously anticipated, as a result of higher traffic growth. Increased cost per passenger reflects higher marketing spend, increased aircraft ownership costs as new aircraft are delivered from Sep-2014, and higher airport charges as a result of the growing number of routes from primary airports in Ryanair's network, partially offset by volume incentives in the deal with Stansted airport.
See related report: Ryanair's new growth deal with London Stansted Airport: mutual love-in?
Regarding the net profit outlook, Ryanair has raised its FY2015 guidance to a range of EUR620 million to EUR650 million (from EUR580 million to EUR620 million). The mid-point of the new range, EUR635 million, would represent year on year growth of 21% in net profit for the year to Mar-2015 (slightly higher than the 15% to 20% growth in profit expected by easyJet for its year to Sep-2014).
See related report: easyJet: FY profit double digit growth despite "less benign" environment in European short-haul
New profit guidance looks achievable
Ryanair gives the caveat that this guidance is heavily reliant on 2H yields (i.e. average fares), "over which we currently have no visibility". It cautions against any "irrational exuberance in what continues to be a difficult economic environment."
Last year, its 2H average fares were weak (falling 10% in 3Q and 5% in 4Q), after unexpectedly showing signs of weakness in the later summer and autumn, and this led to a profit warning from Ryanair.
Given this experience, and the low prior year base figures for 2H average fares, it is likely that its guidance that 2H average fares will fall a further 6% to 8% this year is conservative. Moreover, the FY2015 net profit guidance range is EUR97 million to EUR127 million higher than FY2014's net result of EUR523 million, whereas 1Q has already seen a year on year improvement of EUR119 million.
With that in mind, the new profit guidance range should be very achievable.