WestJet Airlines continues to evolve its business strategy with first bag fees. Air Canada next
Analysis
After acting coy during the past year about possibly introducing a fee for a first checked bag, WestJet has opted to add the charge into the lowest level of its tiered fare bundles as it seems to be catering to all types of passenger segments.

Of course WestJet's rationalisation is that it is simply migrating toward the new industry normal of a fee for service model that most airlines promote as giving customers more choice and control over their travel experience. But the reality is the new fee should produce a nice revenue bump for WestJet as it works to fully exploit product unbundling for cost conscious travellers. However, the airline needs to carefully manage how its new charges are perceived among its passengers as the fees have already generated some backlash in social media.

Obvious questions are also lingering about whether Air Canada will join its domestic rivals WestJet and Porter in introducing a fee for the first checked bag on domestic flights. After a suitable time to allow the dust to settle Air Canada will almost certainly follow suit. But WestJet's fellow hybrid-like airline JetBlue is also likely watching WestJet's moves since JetBlue has indicated its new fare bundles debuting in 2015 create a framework for it to introduce a first checked bag fee.
WestJet should record a nice revenue bump from the new fee
Such has been the massive financial free kick that baggage fees have delivered US domestic airlines – Delta earns not far south of USD1 billion annually from this source – that those who do not charge for a checked bag are constantly challenged by institutional investors to introduce the fee. The exception is Southwest, which has built a cult-like following of its no added fees philosophy. The charges are perceived as a healthy revenue stream that quickly makes a contribution to an airline's bottom line.

Alaska Airlines in 2013 raised charges on its first checked bag from USD20 to USD25, and estimated that the increases in checked bag and change fees would fetch about USD50 million in incremental revenue. During 1H2014 Alaska's ancillary revenue increased USD23 million year-on-year and grew 9% on a per passenger basis. Prior to introducing the increase in fees, Alaska had received numerous inquiries from analysts and investors about possibly increasing baggage charges as a means to bolster its revenue.

See related report: Alaska Airlines preserves its enviable financial foundation while persevering in Seattle

WestJet has also fielded its own queries over the past year about adding a first bag fee, and the company's standard response was it needed to ensure the proper technology was in place to enable charging for a first bag.

The revenue boost was likely important to WestJet as well. The airline is adding the first bag fee of CAD25 to the lowest tier of its fare bundles, Econo, which encompasses a low base fare with an ability for passengers to pay for add-ons such as seat assignments or priority boarding. The other fare levels offer those items bundled together at higher price points.
WestJet's fare bundles introduced during 2013

WestJet estimates that the new fee will affect one in five of its passengers opting for the Econo fares, which would be roughly 3.7 million of the 18.5 million customers the airline transported in CY2013. Canadian news outlet The Montreal Gazette cited a RBC Dominion Securities Report estimating that WestJet could generate CAD109 million (USD99 million) in annual pre-tax earnings from the new charges, which is higher than the roughly CAD80 million (USD73 million) it expects to generate from its year-old fare families in CY2014 that were formally launched in Aug-2013.

During 2Q2014 WestJet's overall ancillary revenue increased by 25% to nearly CAD48 million. On a per passenger basis, its ancillary revenue grew 18% year-on-year in 2Q2014 to CAD10 (USD9).

Previously, WestJet has stated that it could grow its ancillary revenue per passenger to CAD14-15 (USD13-14) in the 2016-2018 timeframe. Obviously the new bag fees will help the airline meet or exceed those targets.

See related report: WestJet continues its hybrid evolution, watching costs as it weighs a potential widebody operation
WestJet needs to manage fees carefully to avoid alienating its large leisure base
Unsurprisingly, WestJet's firming up of plans to add a fee for the first checked bag drew plenty of attention in the consumer press. But in reality the new charges are part of WestJet's migration to a hybrid product bundling/unbundling strategy it hopes will resonate with both cost conscious travellers and the business customers looking for better value.

Earlier in 2014 WestJet CEO Gregg Saretsky remarked that WestJet's product unbundling was an opportunity for the airline to "take our fares down to become more aggressive in the low fare space in Canada…"

WestJet could potentially face some pressure if two new aspiring ULCCs manage to launch operations within Canada. Jet Naked and Canada Jetlines are looking to tap into cost conscious customers within Canada that may feel priced out of the market by the country's two largest airlines Air Canada and WestJet.

See related reports:

WestJet has been aggressively trying to build up its corporate clientele, but the leisure/price sensitive passenger segment still comprises a significant portion of the airline's business.
WestJet's market evolution from leisure to a business/leisure mix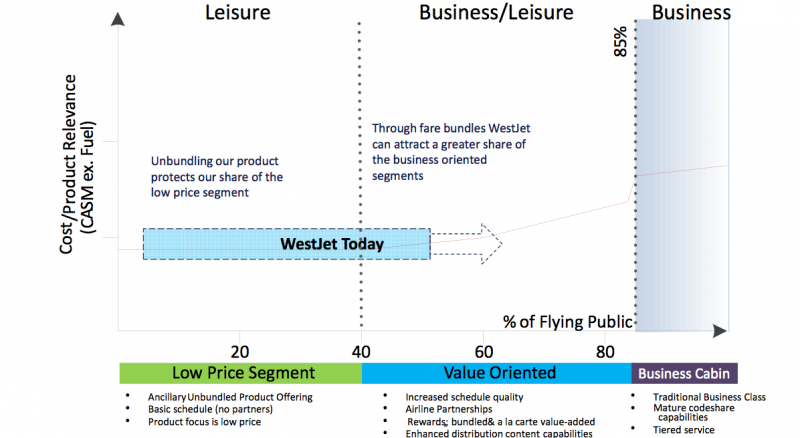 Its higher percent of leisure passengers results in WestJet carefully managing the roll-out among those customers. After the airline tabled the new fee, customers voiced their disapproval on Twitter, noting that they felt the fees were unnecessary given that airlines in general were experiencing record passenger numbers.

WestJet's own social media push included an explanation of the reasons for the fee on its own corporate blog, in which the airline stressed not everyone checks a bag, yet passengers opting not to check a bag are subsidising those that opt to do so.
WestJet sees some opportunity to dynamically price some of its products
Despite some period of passenger adjustment, WestJet is laying the foundation to expand the depth and breadth of its ancillary revenue streams. The company recently stated that US airlines during 2Q2014 had a range of ancillary revenue per passenger from USD10 to USD55. Spirit Airlines was at the high end of that range, recording USD55 in non-ticket revenue per flight segment.

WestJet CFO Vito Culmone recently declared the industry was moving toward a fee for service model, which was evolving at different rates in various market segments and countries. He concluded Canada may a bit behind other countries in implementing ancillary revenues.

The airline's ancillary aspirations go far beyond a simple baggage fee. Mr Culmone earlier in 2014 highlighted potential opportunities to look at pricing for the Plus upgrade 24H prior to departure, and at some point, engage in dynamic pricing of ancillaries based on time of day or time of week.

Spirit Airlines has recently started to scratch the surface of dynamically pricing its unbundled products. During 2Q2014 the airline introduced some rudimentary dynamic pricing on bag fees during peak travel periods. JetBlue also now has the technology in place to dynamically price its Even More product that features more legroom, priority boarding and in some cases expedited security clearance.

Spirit has an aspirational goal of deriving 50% of its revenues from non-ticket sales at some point in the future. WestJet has not made similar declarations, and it is unlikely that its ancillary revenue goals are that ambitious given its continued push to enlarge its percentage of business passengers. Spirit's target passenger base is the customer priced out of the market by network airlines and some low-cost airlines.

See related reports:
Will Air Canada take the bait and join its rivals in a first checked bag fee?
WestJet's introduction of first checked bag fee is fuelling speculation that Air Canada will follow suit. Air Canada presently charges for a first checked bag on some transborder flights, but has previously stated it had no intention of introducing the fee on domestic flights. That obviously could change now that its main rival has opened up that revenue stream. Air Canada's smaller rival Porter also charges a CAD25 fee for a passenger's first checked bag.

WestJet's moves are also likely being watched by JetBlue, which plans to introduce fare families during 2015, and has stated that the concept of a first bag fee was on the table.
WestJet and JetBlue are attempting to resonate with a wide swathe of passengers
Both WestJet and JetBlue are attempting to make their product offerings attractive to a wide swathe of the passenger population – from cost conscious travellers to business customers looking for medium frills at a lower price point.

JetBlue has received some backlash for being too customer friendly as Wall Street looks for more concrete returns. In contrast WestJet has some leeway to pursue its hybrid strategy given its ROIC for the 12M ending 2Q2014 was 13.7%. JetBlue's ROIC goal for CY2014 is 7%, and it aspires for a 1% annual increase in ROIC.

It seems both airlines are attempting to be all things to all customers, which on paper seems to be a strategy fraught with risk. Yet the reality is most airlines, with the exception of the true ULCCs, are trying to cater to the cost conscious, mid-tier and high yielding passengers.

With just one hybrid low-cost airline and one major network airline dominating the market, Canada is unique, which gives WestJet an interesting platform to further expand its hybrid strategy, given it accounts for roughly 33% of the domestic seats on offer for the week of 15-Sep-2014 to 21-Sep-2014.
Canada domestic capacity by airline (% of seats): 15-Sep-2014 to 21-Sep-2014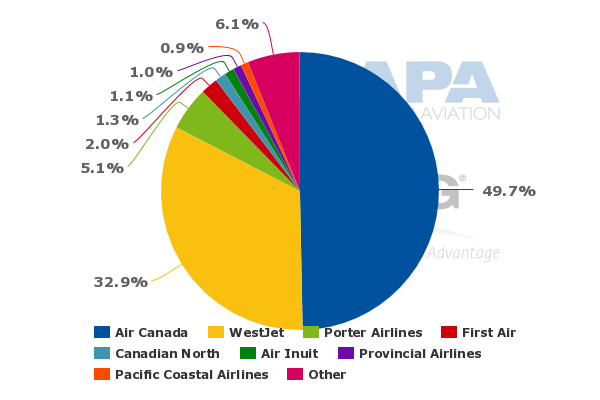 WestJet's chances of successfully transitioning itself to a mid-market airline are high as it seems to be carefully navigating its migration to a new business model. But it is a model not fully understood by investors, as JetBlue is painfully learning. To execute its transition flawlessly WestJet may need to engage both passengers and investors about its changing business model.