Alaska Airlines preserves its enviable financial foundation while persevering in Seattle
Analysis
Alaska Air Group's robust financial foundation seems unshakeable even as it continues to face short term capacity pressure from Delta at its Seattle hub.

Some of the hype surrounding Delta's aggressive build-up in Seattle during the past year is fading, leaving the two airlines to devise strategies to effectively compete with one another until the market reaches a new level of stability.

But even with the added pressure, Alaska continues to drive ample top-line profit growth while remaining focussed on lowering costs and sustaining one of the cleanest balance sheets in the US airline industry. Those elements combine to create a strong competitive shield against Delta, which also must wait for its rapid capacity growth in Seattle during the past year to reach maturity.
Alaska Airlines takes a long term view and works to maintain its command of Seattle
By the summer of 2015 Alaska expects that 50% of its ASMs in Seattle will overlap with Delta, and has candidly stated that it will face pressure on its unit revenues for several quarters. During 2Q2014 Alaska's passenger unit revenues grew 2.6% year-on-year. That was lower than the 4% growth at Hawaiian, 8% at Southwest and 6% at JetBlue. Alaska's passenger unit revenue performance was also well below the 6% increase recorded at American, 4% at United and 6% at Delta.

See related report: Alaska Airlines keeps profits steady as new realities with Delta in Seattle take effect
Alaska is also planning its own push from Seattle with the introduction in late 2014 of flights to Albuquerque, Baltimore/Washington, Detroit, Cancun and Tampa. Those new markets along with other service additions are resulting in Alaska's own capacity growth from Seattle increasing 11% year-on-year by the spring of 2015.

Alaska received some push back from the investor community for its capacity additions in Seattle while the overall market is suffering from overcapacity, largely due to Delta's addition of US domestic markets during the past year to feed its long-haul flights primarily to Asia. Delta has opted to leverage Seattle as a major Pacific gateway, and aims to uses its own flights to feed passengers to those long-haul destinations rather than rely on a long standing relationship with Alaska for feed.

See related report: Alaska and Delta's relationship unravels. Deciding when a partnership is over is a big call

Over the course of the past year Alaska has attempted to take the long view as it has been constantly pressed about how it intends to deal with the new competitive pressure from Delta. The push from Seattle late in 2014 illustrates the long term plan Alaska is developing to remain competitive in its largest market. Alaska admitted that the new service would dilute margins, but would be profit accretive and represent a good long-term investment.
Alaska may need to step up efforts now to preserve its franchise in Seattle given the area's 5% unemployment rate is below the US average rate of 6%. Seattle is also home to large corporations including Microsoft and Amazon, so Alaska needs to retain its commanding presence at the airport even if it means some short term margin pressure.

Presently (15-Sep-2014 to 21-Sep-2014) Alaska Air Group retains a 49% seat share at Seattle Tacoma compared with 18% for Delta. On an ASM basis, Alaska accounts for 32% of the seat miles deployed from Seattle and Delta accounts for 26%.
Seattle/Tacoma International Airport capacity by airline (% of seats): 15-Sep-2014 to 21-Sep-2014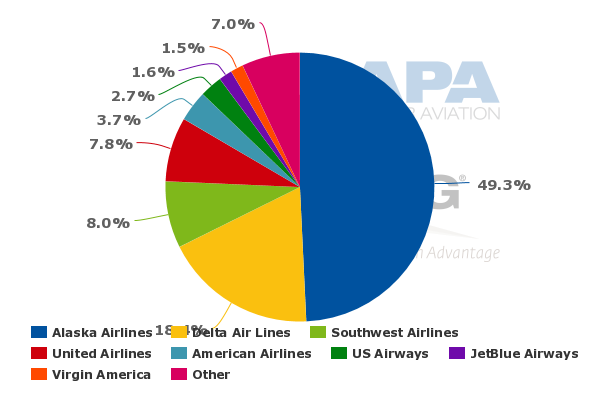 For the week of 29-Dec-2014 to 4-Jan-2015 Alaska's seat share in Seattle rises to 52% versus 18% for Delta. Alaska's ASMs during that time period grows to 36% and Delta ASMs from Seattle are projected at 25%.
Seattle/Tacoma International Airport capacity by airline (% of seats): 29-Dec-2014 to 4-Jan-2014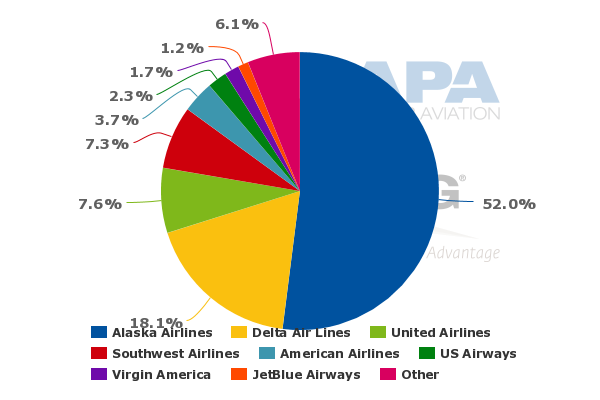 Alaska forecasts solid 3Q2014 results despite the noise in Seattle
For the moment Alaska still seems to be enjoying the strong domestic momentum that all US airlines are experiencing. During Jul-2014 the company's consolidated capacity increased 7% and traffic grew at the same pace. Its load factor was 87%. In Aug-2014 Alaska Air Group's consolidated traffic grew 6.8% on 7.5% capacity growth and loads were roughly 87%. For the eight months ending in Aug-2014, Alaska's traffic increased 5.2% on 5.5% capacity growth and load factors were 86%.

Those are healthy results, but Alaska even acknowledges that high load factors do not always result in profitable routes. However, it does not appear that Alaska is trading yield for load factor as its yields increased 2.5% during 1H2014.

Even as Alaska will see passenger unit revenue pressure in its largest market Seattle for the foreseeable future, the airline has stepped up its focus on ancillary revenues, which could help offset some of the inevitable fare dilution driven by Seattle's excess capacity.

During 1H2014 Alaska's total unit revenue increased 3.6% and passenger unit revenues grew 2.2% year-on-year. Passenger unit revenue still comprised the bulk of Alaska Air Group's total unit revenues during that time period – 61% – but other revenues represented about 39% of the company's total unit revenues.

Over the last year Alaska has upped its bag charges and increased its booking change fees to produce roughly USD50 million in incremental revenue. During 1H2014 Alaska's ancillary revenue increased USD23 million year-on-year and grew 9% on a per passenger basis.

In both Jul-2014 and Aug-2014 Alaska's total unit revenues were propped up in part by ancillary sales. In Jul-2014 its passenger unit revenues notched down 0.5% and total unit revenue grew 0.2%, and during Aug-2014 its passenger unit revenues increased 0.1% and total unit revenue increased 1.3%.

Recently Alaska noted that the street consensus was the company would grow profits by a bit more than 20% year-on-year during 3Q2014. The airline stressed it was not endorsing that consensus; but that it would grow its profits during the quarter, which is encouraging given all the noise in Seattle.
Alaska expects some cost reduction from its fleet transition
Alaska is also continuing to focus on cost reduction, and while its unit costs excluding fuel were essentially flat year-on-year during 1H2014 (dropping 0.5%). The company is forecasting its unit costs excluding fuel to decrease slightly by 0.5% for CY2014, which is better than some projections by its US industry peers. If Alaska can keep its costs in check, then the revenue burn from the overcapacity in Seattle could be less pronounced.

Alaska's focus on cutting cost is a yearlong process as it works to widen the cost gap with its US major network peers and close the gap with low cost airlines. Between 2002 and 2013 its unit cost excluding fuel fell 12%. Measuring its unit cost including fuel, Alaska has narrowed its cost gap with low-cost airlines from 35% in 2002 to 10% in 2013, and widened the divide with network airlines from 12% to 22%.
Alaska Air Group's unit cost reduction: 2002 to 2013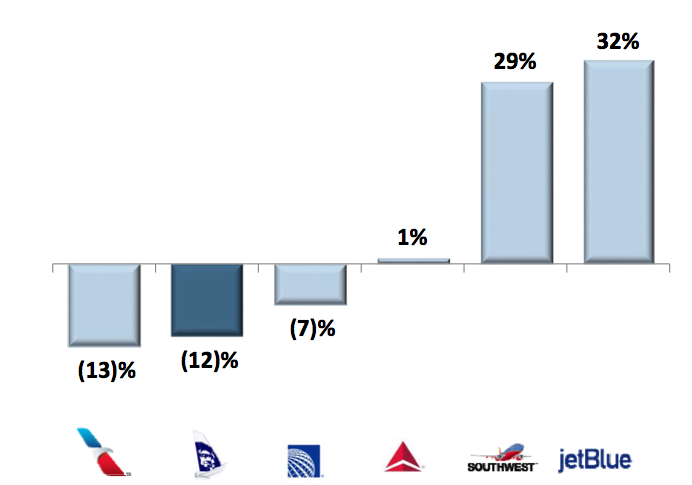 Alaska Air Group cost cap (including fuel) with low cost airlines and large network airlines: 2002 to 2013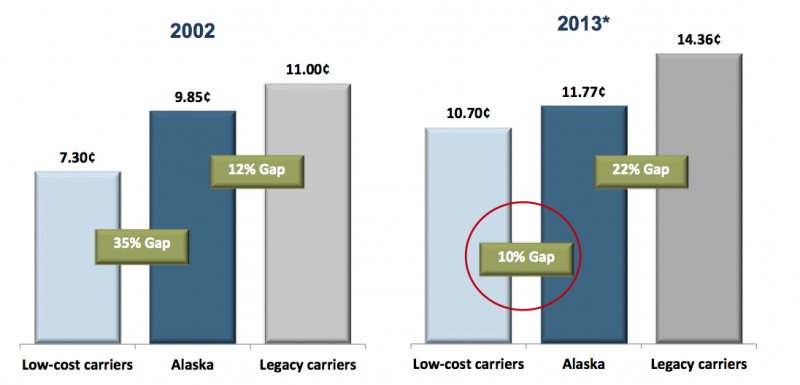 The airline is also undergoing a fleet transition, shedding its older Boeing 737-400 Classic narrowbodies by 2017 and undertaking a fleet reconfiguration to add more seats to its aircraft, which should help to bolster revenues while keeping costs in line. CAPA's Fleet Database shows that Alaska has 21 passenger 737-400s in operation that are set for replacement with 737-900ERs.
Alaska Airlines fleet as of 12-Sep-2014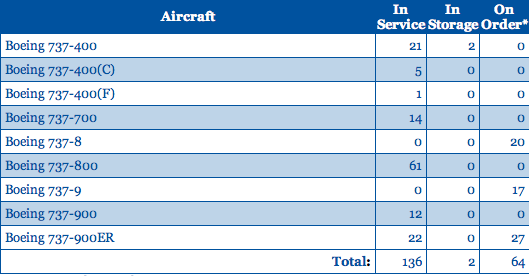 Alaska calculates migrating from the 144-seat -400s to the 181-seat -900ERs should lower trip cost by 2% and bolster trip revenue by 14%. The airline is also replacing its 737-700s with -900ERs, and estimates that while trip costs will rise 10% trip revenue should grow 20%.
With the additional seats on its Boeing 737-800/900s, Alaska expects trip revenue to grow 3% and trip cost to rise roughly 1%. Alaska expects to complete the re-configuration of 93 aircraft by YE2014, and believes it should start to enjoy some of the cost/revenue benefit in 2015.
Calculated revenue and cost gains from Alaska Air Group's fleet transition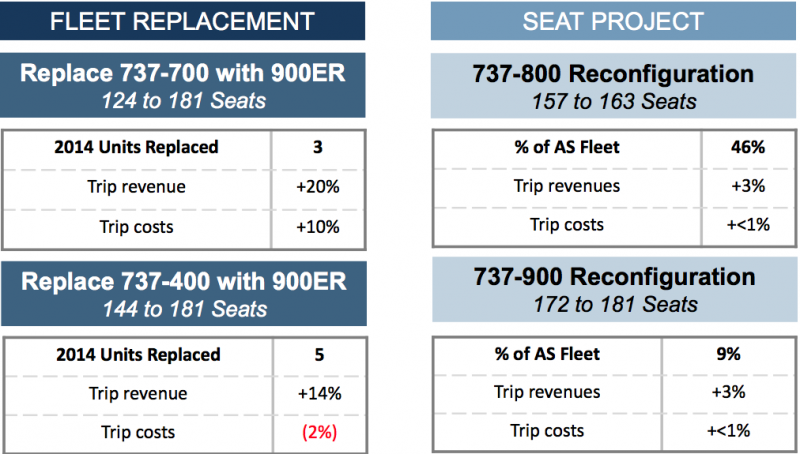 Even with decent results Delta still needs to absorb its rapid growth in Seattle
Alaska has previously concluded that Delta will operate 80 daily round trips per day out of Seattle by YE2014, many of which have been added during 2014. Delta has assured that its domestic entity is performing well in Seattle, producing unit revenue gains in line with its system averages – a 6% increase in 2Q2014 on a 25% hike in capacity.
Delta Air Lines route addition in Seattle: Mar-2013 to Dec-2014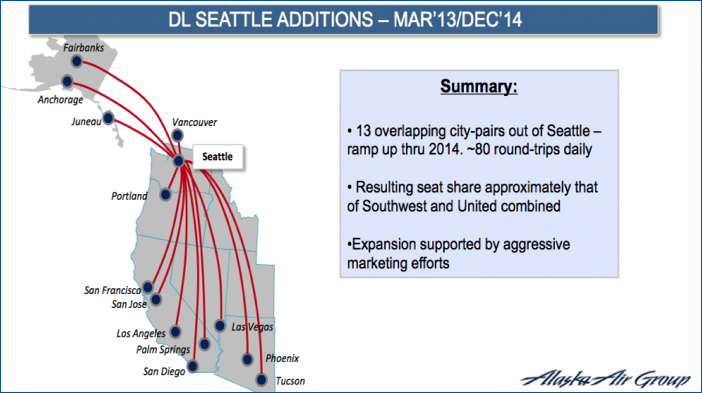 Delta during the past couple of years has also introduced a raft of new long-haul services from Seattle and currently offers flights to Amsterdam, Paris, Hong Kong, Beijing, London Heathrow, Seoul and Shanghai. During 2Q2014 Delta estimated that unit revenues increased 2% on its long-haul flights from Seattle on a 30% rise in capacity.

Those trends are encouraging. But the reality is that Delta still needs to absorb the ample capacity it has added in Seattle during the last couple of years. Even as the revenue trends are positive, there are also costs associated with the build-up, and there is a period of time before Delta will recoup the full investment it has made in Seattle.
Alaska Air is fortified with a strong balance sheet in its competition against Delta
Alaska arguably has one of the best positions of leverage among US airlines, with a debt-to-capital ratio of roughly 32%, and no net debt, even when factoring in the company's operating leases. The result is one of the most enviable debt positions in the industry.
Alaska Air Group's net debt through 1Q2014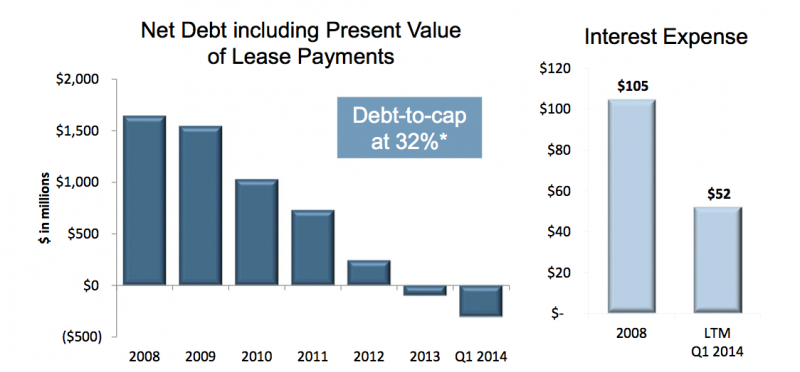 Alaska Air Group's net debt to 12M EBITAR ending 31-Mar-2014 compared with other corporations

Its newly minted investment grade status means that if Alaska needs to access the markets for financing, it will obtain favourable rates given its low leverage levels. The airline had roughly USD1.5 billion in cash at the end of Jun-2014.

See related report: Alaska Airlines reaches investment grade as Delta Air Line's full assault in Seattle gets underway

Alaska, a pioneer in establishing and exceeding ROIC targets, recorded a 16% return in that metric for the 12M ending 30-Jun-2014 and plans to pay out dividends to shareholders for a second consecutive year after participating in stock repurchases since 2007.
Alaska Airlines has a strong competitive arsenal as market dynamics shift in Seattle
There is no doubt that Alaska is facing an enormous and growing challenge from Delta, which has proven to be a relentless and aggressive competitor. But during Delta's build-up in Seattle Alaska has been fairly transparent about the changing dynamics in the market and has laid out a logical plan to withstand Delta's encroachment.

In the meantime Alaska continues to post strong top line results and remains one of the most financially sound airlines in the industry. Those are important factors that should not be overlooked when assessing Alaska's ability to withstand the heightened competition it faces from Delta. Alaska holds a strong position as the battle in Seattle continues, and has no plans to shrink as Delta flexes its muscle.