Alaska Airlines reaches investment grade as Delta Air Lines' full assault in Seattle gets under way
Analysis
Just as competition heats up at its largest base and headquarters in Seattle, Alaska Air Group in mid-Jun-2014 obtained investment grade status from ratings agency Fitch – a designation held by few global airlines and only one other US airline – Southwest Airlines.

Alaska's rival - and partner - Delta, which is now often dubbed the darling of the industry for its strong financial performance, has been working consistently to achieve what it deems as "investment grade like" metrics.

Alaska's ability to deliver a real investment grade performance reflects strong fundamentals including a favourable leverage ratio and consistently strong cash flow. But much of the company's ability to achieve consistently solid results has gone largely unnoticed during the past few years, and now with Delta's relentless pursuit of expansion in Seattle at the expense of Alaska, the financial foundation Alaska has built is now more important than ever.
Alaska Airlines becomes the second North American airline granted investment grade in 2014
Alaska joins fellow hybrid WestJet in obtaining an investment grade ranking in 2014 after the Canadian airline gained that endorsement from Standard and Poor's in Apr-2014.

See related report: WestJet attains investment-grade as it faces near-term cost creep

Perhaps Alaska is finally obtaining just rewards for delivering consistent earnings per share growth for the past five years – even during the tumultuous times ushered in by the global financial crisis during 2009.
Alaska Air Group post tax ROIC performance and EPS growth: 2009 to 12M ending Mar-2014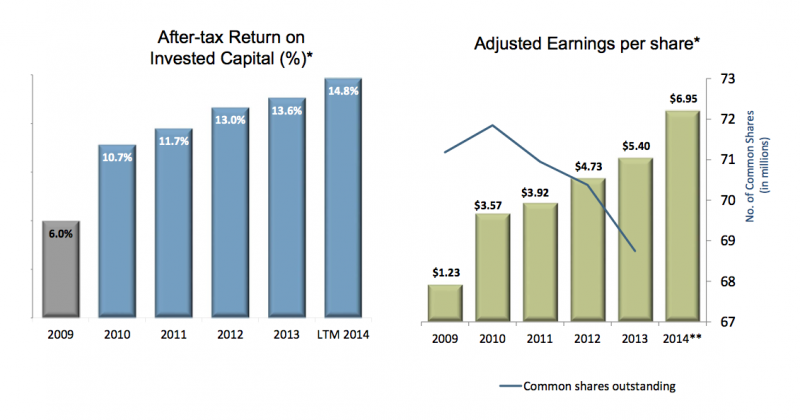 During 1Q2014 despite the start of a ramp-up by Delta at its Seattle hub, Alaska increased its net profit by USD45 million to USD94 million, grew its revenues by 8% to USD1.2 billion and achieved a 120% jump in operating revenue to USD141 million.

See related report: Alaska Air continues to face a menacing Delta but still posts strong 1Q2014 results
Alaska boasts one of the best leverage ratios in the US airline industry
At the same time Alaska has been able to post consistent profitability, the company has also generated USD4.1 billion in free cash flow. Alaska has allocated roughly USD440 million of that cash to shareholder returns and nearly USD1.7 billion was directed to reduce long-term debt and lease obligations.

Alaska's focus on pairing down debt has resulted in the company delivering a leverage ratio that beats fellow investment grade carrier Southwest Airlines and other large industrial companies including CSX and Union Pacific.
Alaska Air Group's debt to capital ratio: 12M ending 1Q2014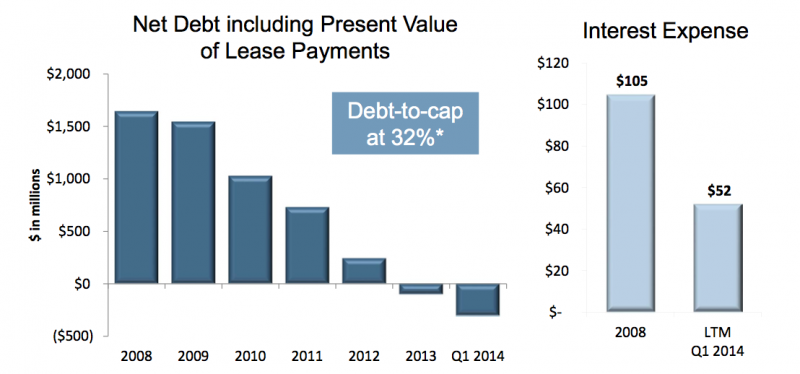 Alaska Air Group's debt-to-capital ratio compared with other companies: 12M ending 1Q2014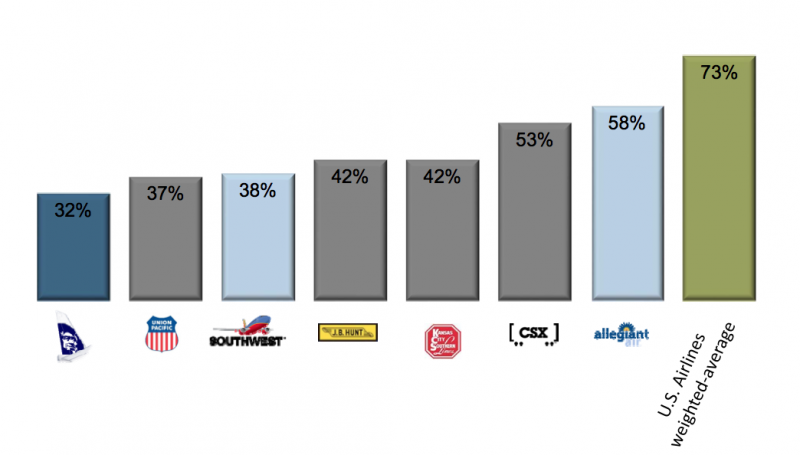 Alaska admits it needs to close its cost cap with other US low-cost airlines
In tandem with growing its profits, ensuring its shareholders are rewarded and paring down its debt obligations, Alaska has cut its unit costs by roughly 12% between 2000 and 2013, narrowed the unit cost gap with low-cost airlines and widened its cost advantage compared to legacy carriers.
Change in Alaska Air Group's mainline unit costs excluding fuel: CY2000 to CY2013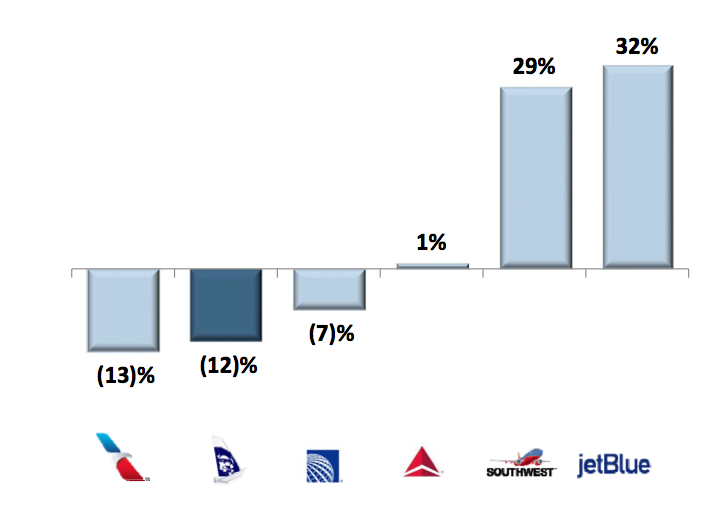 Alaska Air Group's unit cost gap with US low cost and legacy airlines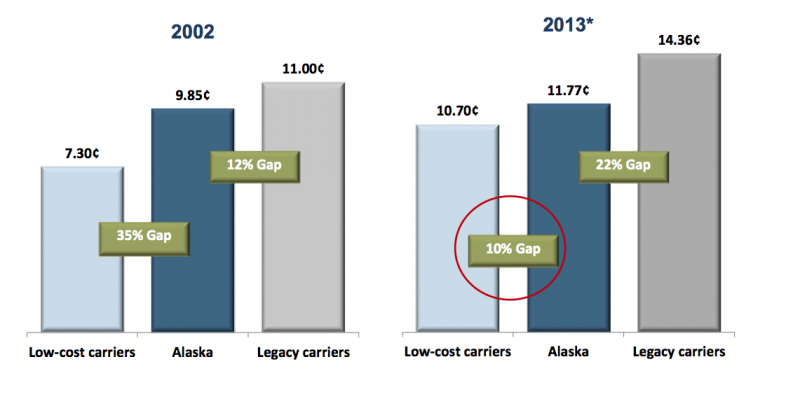 But Alaska's unit costs excluding fuel during 1Q2014 were flat, and the carrier expects a flat performance for CY2014 (after flat growth in CY2013), which certainly is not a trend in the right direction.
But Alaska seems to realise that in order to continue offering lower fares (which is now more pertinent than ever as Delta increases competition in Seattle), it needs to further close the gap with its low-cost peers. Among Southwest, Hawaiian, JetBlue and Virgin America, Alaska recorded the highest unit costs excluding fuel for the 12M ending Mar-2014 of roughly USD7.6 cents.
US airline unit costs excluding fuel: 12M ending 31-Mar-2014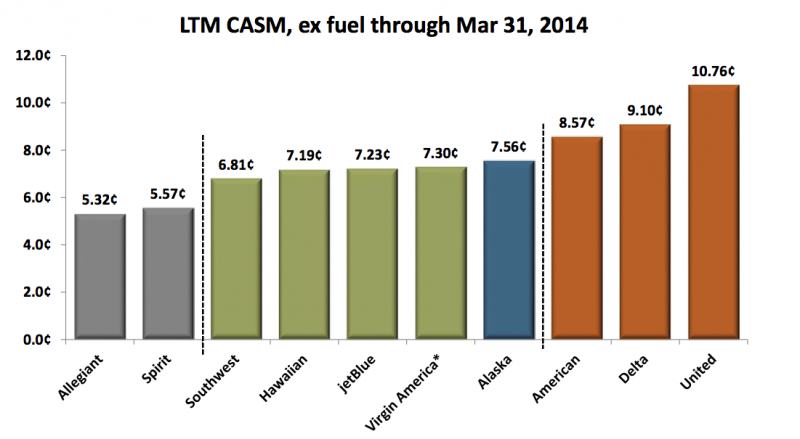 Some of the cost headwinds Alaska faces seem one-off in nature. Previously it has estimated a cash outlay of USD27 million in CY2014 for technology upgrades and USD25 to USD30 million for a brand refresh as it expands into more transcontinental markets.
In 2014 Alaska is adding flights from Seattle to Tampa, Detroit, New Orleans, Albuquerque, Baltimore and Cancun in addition to a push from Salt Lake City, where its new flights include Portland, San Diego, Los Angeles, Boise, San Jose, Las Vegas and San Francisco.

Alaska also faces increased airport costs during CY2014, particularly in Los Angeles and Seattle. Landing fees represented roughly 6% of the airline's top-line expenses of USD1.1 billion during 1Q2014.
Delta's aggressive moves in Seattle dull Alaska's financial achievements
Obviously the cloud hanging over Alaska's celebrations of reaching the rare achievement of invest grade is the push Delta is making into essentially all of Alaska's key markets from Seattle.

See related report: Delta Air makes still more aggressive moves in Seattle as Alaska Airlines pledges to defend itself

Alaska projects competitive capacity increases of 8% in 2Q2014, 7% in 3Q2014 and 8% in 4Q2014. By YE2014 Delta aims to offer 150 daily flights in direct competition with Alaska from Seattle, up from 64 as of 31-Mar-2014. For the week of 23-Jun-2014 to 29-Jun-2014 Alaska still retains a commanding 47% system-wide seat share from Seattle. But based on ASK deployment, Alaska's share is 31% and Delta represents a 25% share.
Seattle/Tacoma International Airport capacity by carrier (% of seats): 23-Jun-2014 to 29-Jun-2014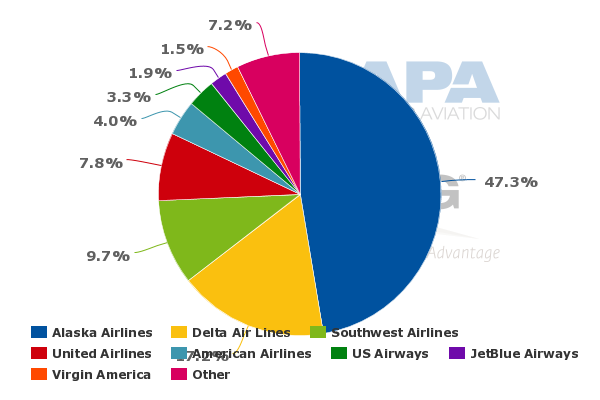 Seattle/Tacoma International Airport capacity by carrier (% of ASMs): 23-Jun-2014 to 29-Jun-2014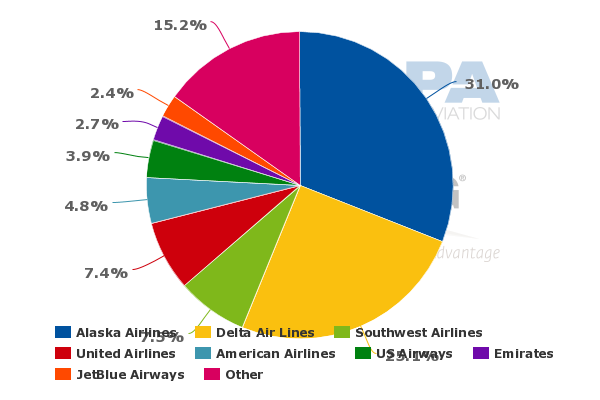 Some of the effects of Delta's march on Seattle are already reflected in Alaska's traffic results. For the first five months of 2014 Alaska Air Group's load factor was roughly flat year-on-year at 85% on 4% traffic growth and a 4.8% increase in capacity.

With a lot of Delta's expansion from Seattle occurring after 1Q2014, it seems that Alaska faces further pressure on its loads, both from the competitive capacity increases, and the raft of new markets it is introducing in 2014 to offset Delta's encroachment.

Alaska also faces lost revenue from its Delta codeshare as the major airline plans to yank its code from several flights where it is launching its own service.
Alaska's hard won investment ranking comes despite Delta's build-up in Seattle
Alaska during the past year has continually stated that it plans to compete fiercely with Delta, and it does have the advantage of a vast loyal passengers base in Seattle and throughout the US Pacific northwest. Its investment grade status reflect the margins it garners on the routes where it faces increasing competition with Delta.
Obviously Delta has recognised the opportunity tactically to introduce competition on those routes to feed its long-haul routes, and its capacity additions in Seattle are small in light of Delta's vast network. But Delta's moves in Seattle have forced Alaska, which has been cocooned in Seattle, to play defence – a role that is foreign to Alaska.

The irony that Alaska gained such a coveted status just as Delta was stepping up pressure is not likely lost on Seattle's hometown airline. For years it seems Alaska's strong financial performance has been overlooked by investors, and now that recognition is dulled by the threat that Delta poses to Alaska in its most important market.

See related report: Alaska continues to face challenges getting investors to acknowledge its solid financial performance

There is no doubt that Alaska requires a solid foundation to defend itself against Delta, which has stepped up rhetoric about the strategic role Seattle plays in its future as the airport becomes Delta's major gateway to Asia.
A big challenge for Alaska's will now be sustaining its new found investment grade status after working for years to execute a strategy to deliver consistent financial results and shareholder returns.
Delta poses a strong threat to that status, and shows no signs of relenting in its pursuit of dominance in Seattle.