Alaska Airlines keeps 2Q2014 profits steady as new realities with Delta in Seattle take full effect
Analysis
Alaska Air Group seems to be settling into a new co-existence with Delta in Seattle. Delta has been transforming Seattle into its Pacific gateway, resulting in the major network airline increasing competition with Alaska to push feed into its long-haul markets.
Even with Delta's encroachment, Alaska recorded strong top-line results in 2Q2014 and continues to deliver a consistent performance in important metrics as its return on invested capital reached 16% for the 12M ending in Jun-2014.
Alaska will no doubt continue to feel some short-term pressure until the dynamics in Seattle stabilise, triggering scrutiny over how it will sustain its long-standing and favourable financial performance over the long term.
Delta's rise in Seattle continues to pressure Alaska's unit revenues
Previously, Alaska has concluded that it will overlap with Delta on 13 routes from Seattle by YE2014, and that in Jul-2014 Delta's daily seat share in Seattle would jump by 350%.
See related report: Alaska and Delta's relationship unravels. Deciding when a partnership is over is a big call
During 2Q2014 Alaska estimated that competitive capacity in Seattle increased 9% year-on-year with the bulk of the rise attributable to Delta, offset by modest reductions by other airlines.
Alaska concluded that presently Delta's operations in Seattle overlap with approximately 41% of Alaska's ASMs. "We expect that to grow to 50% next summer, with roughly 30 more daily departures in overlapping markets," Alaska SVP of planning and revenue management Andrew Harrison stated in a recent discussion with analysts and investors.
The added capacity is creating some pressure on Alaska's passenger unit revenues, which increased 2.6% year-on-year in 2Q2014. That was lower than the 4% growth at Hawaiian, 8% at Southwest and 6% at JetBlue. Alaska's passenger unit revenue performance was also well below the 6% increase recorded at American, 4% at United and 6% at Delta.
Alaska admitted the added capacity in Seattle had created pressure on unit revenues for several quarters, and its under-performance in that metric relative to its US airline counterparts would continue for the foreseeable future.
Alaska Airlines is making moves to preserve its franchise in Seattle
Alaska is making a counter intuitive move by increasing its departures from Seattle by 11% by spring of 2015. The increase includes new service introduced throughout 2014 from Seattle to New Orleans, Tampa, Baltimore, Detroit, Albuquerque and Cancun.
The airline admitted that questions it has received about adding supply during a time when another airline is increasing capacity from Seattle are justified. Mr Harrison remarked that a fair amount of the capacity is being deployed into new markets, and on routes where the airline is generating strong returns – including Chicago, Boston, Denver, Palm Springs, Sacramento, Los Angeles, Boise and Fairbanks.
It appears Alaska's capacity expansion is a tactic to defend its franchise in those markets, even if it produces some short term revenue pressure. Mr Harrison acknowledged that, "although this flying will dilute margins, it will be profit accretive and will represent a good long-term investment for us."
Alaska feels it can recoup lost codeshare revenue from Delta
Delta is also in the midst of pulling its code off routes from Seattle where it now competes with Alaska. By YE2014 Delta is removing its code on Alaska's flights from Seattle to Las Vegas, Los Angeles, San Diego, San Francisco, San Jose, Vancouver, Anchorage, Houston and Phoenix.
Alaska estimated a USD16 million decline during 2Q2014 in local and connecting codesharing revenue from Delta removing its code from certain flights. But Alaska also stressed that it replaced roughly 90% of the lost revenue from its own distribution channels and higher codeshare and interline revenues from other partners including American and United.
Overall, Alaska estimated that its codesharing and interlining revenues increased by USD11 million in 2Q2014.
Alaska often fields questions about ending the relationship with Delta altogether, and while the airline cannot publicly talk about the terms of its codesharing pact with Delta, Alaska CEO Brad Tilden remarked that one reason not to cut ties is that "at some point the relationship could get back on track and we could take advantage of natural end-to-end connection opportunities".
Alaska experiences traction in some markets reaching maturity
Alaska has also grown elsewhere in its network during the past year to combat some of the pressure created by Delta, most notably through expansion as Delta's hub in Salt Lake City. Alaska now serves eight markets from Salt Lake City – Seattle, Portland, Boise, San Francisco, San Jose, Los Angeles, San Diego and Las Vegas.
Alaska calculates in total that it has launched 46 new markets since 2010 as a means to diversify its network beyond a high concentration in the US Pacific northwest. During 2Q2014 Alaska estimated those markets are delivering unit revenue that are five times its overall system growth.
But obviously the majority of its flying still stems from Seattle and the lingering competitive pressure will continue to drag down its passenger unit revenues for the foreseeable future. Based on data from CAPA and OAG for the week of 4-Aug-2014 to 10-Aug-2014 Alaska's seat deployment from Seattle is more than double its second largest base in Portland.
Alaska Airlines global top 10 hubs/bases/stations by seats: 4-Aug-2014 to 10-Aug-2014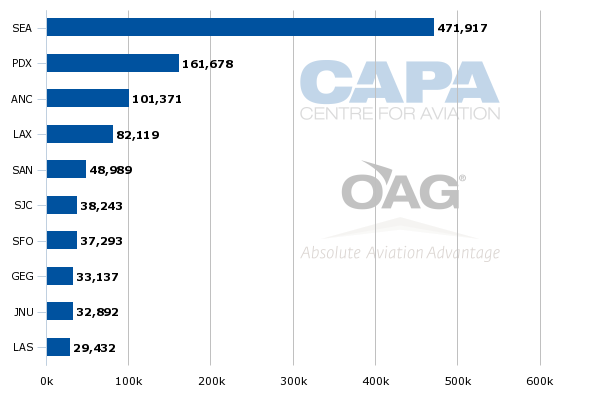 Alaska posts solid 2Q2014 results even as Delta settles into Seattle for the long term
Alaska delivered strong 2Q2014 financial results as net profits on a GAAP basis grew from USD104 million to USD165 million year-on-year. Top line revenues increased from USD1.3 billion to USD1.4 billion and operating expenses remained essentially flat year-on-year at USD1.1 billion. Alaska's operating income increased from USD174 million to USD263 million year-on-year.
Alaska Air Group financial results: 2Q2014 vs 2Q2013 and 1H2014 vs 1H2014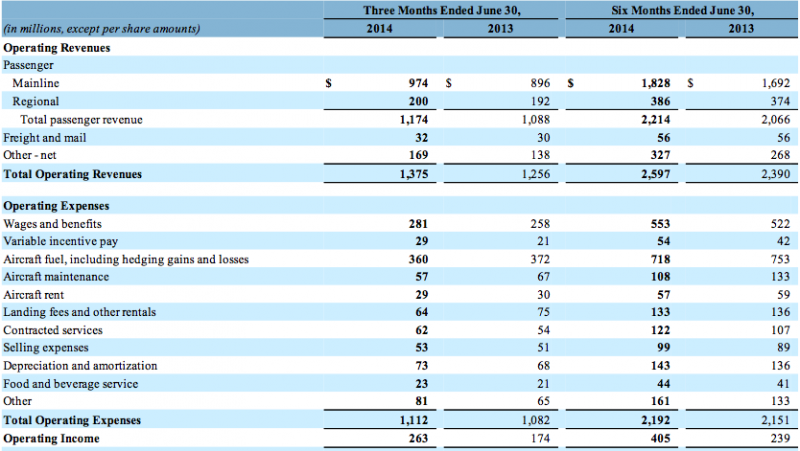 On a unit basis Alaska's total unit revenue per passenger grew 4% in 2Q2014, buoyed by a USD23 million increase in ancillary revenue during 1H2014. Its unit cost excluding fuel remained essentially flat year-on-year.
Alaska Air Group unit revenue, unit cost and yield performance: 2Q2014 vs 2Q2013 and 1H2014 vs 1H2013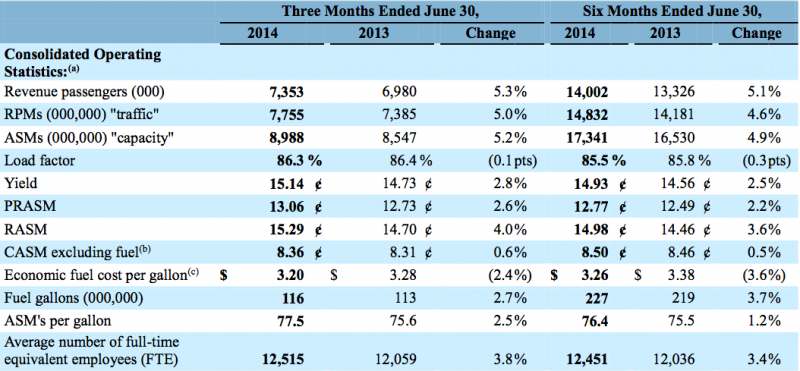 Alaska has a paradoxical existence: stellar financial performance dimmed by Delta
Alaska Air Group achieved investment grade status from Fitch Ratings earlier in 2014, joining Southwest as the only other US airline to reach that specific milestone. Much of Alaska's financial progress during the last decade has been overlooked, and more recently overshadowed by Delta's build-up in Seattle.
See related report: Alaska Airlines reaches investment grade as Delta Air Line's full assault in Seattle gets underway
Perhaps some short term concern over Alaska weathering Delta's onslaught in Seattle is warranted, given Alaska has not provided a timeframe for when its passenger unit revenue performance will return to similar levels as its peers.
But Alaska also seems resigned to the fact that Delta's expanded presence in Seattle will be a permanent fixture in the market. In light of that new reality, Alaska may have to outline a plan of action to ease investor concerns about how it plans to combat Delta's expansion over the long term.