Spirit Airlines takes first steps of ancillary dynamic pricing as supply growth continues unabated
Analysis
US ultra low-cost airline Spirit Airlines has embarked on the first phases of adding sophistication to the revenue management of ancillary products. The foundation of its business model is based on maximising total revenue, which includes both revenues generated from fares and add-ons including carry-on and checked luggage and seat assignments.

Fort Lauderdale-based Spirit during 2Q2014 introduced some rudimentary dynamic pricing on bag charges during peak periods as it works to maximise its ancillary revenues. Spirit has previously stated that it could foresee non-ticket sales representing 50% of its revenues in the future; but concludes the growth will be more incremental compared with the rapid expansion of those sales during the past few years.

Spirit is gearing up for a high growth period as its capacity in CY2015 is growing roughly 30%. The increase may seem hefty for the mature US market place, but Spirit is repeatedly assuring there is enough stimulative demand to support its ambitious growth targets.
Spirit introduces some dynamic pricing on bag fees during the busy summer months
Spirit in 2Q2014 increased its non-ticket revenue per passenger flight segment 3% to USD55.15 and ticket revenue 9% to USD84.75. Combined those two metrics drove a nearly 7% increase in total ticket revenue per flight segment to USD139.90.
Spirit select operating statistics: 2Q2014 vs 2Q2013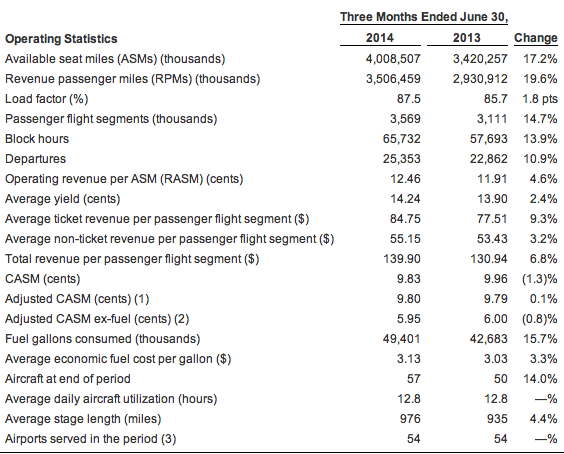 Spirit management remarked that a large portion of the year-on-year growth in its non-ticket revenue per flight segment in 2Q2014 was driven by a higher volume of passengers purchasing seat assignments. The airline now has an ability to sell seat assignments at its airport kiosks "along with taking a more rigorous approach to revenue managing our seat inventory", said Spirit CEO Ben Baldanza during a recent 2Q2014 earnings discussion.

The airline during the past year has often referenced its intent to improve its revenue management of ancillary, non-ticket prices by implementing dynamic pricing based on peak travel demand periods.

Mr Baldanza remarked that Spirit is not yet at a point where it can dynamically price carry-on and checked bags in the same manner as base fares, but during the summer high season in the US the airline introduced some higher fees on bags. Spirit's chief concluded that he is uncertain if dynamically pricing bag fees during high demand periods or on particularly busy routes would reach the levels of revenue managed by ticket sales, but Spirit was pleased with the results of its efforts to match bag pricing with demand.
Spirit sees smaller incremental increases in non-ticket revenue going forward
Product unbundling is a mainstay of Spirit's business model, and the airline recently launched a re-branding effort with buzz words including "Bare Fare" and "Frill Control" to better educate passengers about its à la carte business.

It appears Spirit undertook the campaign in part to promote its business model of allowing customers to tailor their travel experience, which it believes creates maximum value for shareholders. The initiative was also no doubt driven by negative press that has dogged Spirit during the past couple of year as its unbundling strategy generated ill-will among increasingly vocal passengers that felt they were being nickeled and dimed by the airline.

Spirit's management stresses that it manages the airline based on the total revenue generated by passengers, and has referenced a general goal of non-ticket items representing 50% of its revenues.

Now that the airline has a non-ticket revenue per passenger segment in the mid USD50s, Mr Baldanza remarked that to some extent USD60 is the next logical target for Spirit. The company aims to increase ancillary sales both through the introduction of new products and "smarter pricing" said Mr Baldanza. However, he stressed that the increases going forward would be much more incremental than the jump from USD5 to USD55 during the last seven years. In the future Spirit believes the increases should grow more by increments of USD25 cents or USD50 cents.
Spirit maintains 20% growth, but warns of 'lumpiness' in certain time periods
As Spirit's rapid growth in non-ticket revenue slows, its capacity is ramping up to roughly 30% growth in CY2015. Previously Spirit has stated that it would target 15% to 20% annual growth from CY2012 to the end of the decade.
Mr Baldanza said Spirit was maintaining that target. However, "if you look over any one quarter or any one 12 month period, there is going to be some lumpiness in that 15% to 20% growth rate". He concluded Spirit's growth rate is essentially remaining in the 20% range from CY2012 to CY2021.

Spirit's fleet projections show that its fleet is scheduled to grow by 15 aircraft, or 23%, from CY2014 to CY2015. The airline is taking delivery of 11 Airbus A320 jets in CY2014, weighted toward the end of the year as seven deliveries are scheduled for 4Q2014. That is also driving some of the airline's higher capacity growth in CY2015.
Spirit Airlines fleet projections: CY2014 to CY2021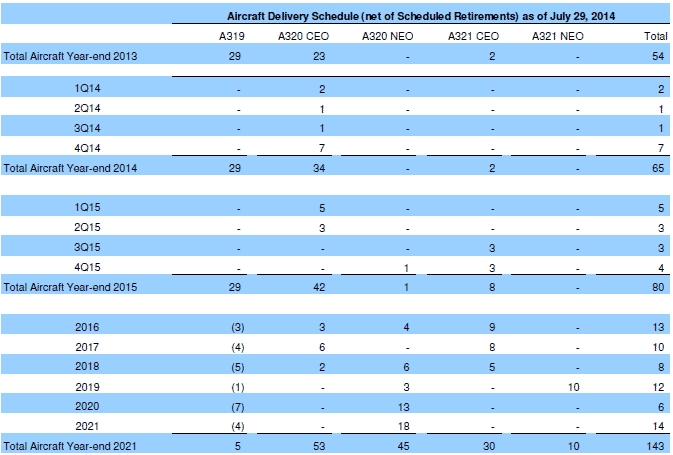 Aside from a higher percentage of new flying in CY2015 that it likely to affect some of its metrics, Mr Baldanza stressed that Spirit's growth rate is consistent with its stated plans since its initial public offering in 2011.

See related report: Spirit Airlines sees no constraints to its growth and performance targets: a model of a modern ULCC
Spirit envisions mostly positive results from aircraft upgauging
Spirit is also migrating towards larger gauge aircraft, with larger 178-seat A320 narrowbodies representing the majority of its 80 aircraft fleet by YE2015. By YE2021 Spirit will only operate five 145 seat A319s, and aims to operate 98 178-seat A320s (53 current engine options and 45 A320neos). At that time Spirit targets a fleet of 40 218-seat A321s (30 current engine options and 10 A321neos. Note – A321s delivered in CY2015 will feature 219 seats).

Mr Baldanza remarked the densifying of aircraft obviously has positive unit cost effects; but it is not necessarily unit revenue accretive to add additional seats. Spirit has a much smaller difference between its lowest and highest fares, said Mr Baldanza, "so the reality of adding marginal seats is not a big of a deal for us as it might be for a more traditional airline".

Spirit concludes as it adds more seats, it is adding more low fare and ancillary options to the market place, which should produce favourable results, said Mr Baldanza. "But total unit revenue is not necessarily going to be higher as we gauge up. But we think margins should do well as we gauge up".

In 2Q2014 Spirit recorded a GAAP pre-tax margin of 20.8% compared with 16.4% the year prior. Its top-line revenues increased nearly 23% to USD499 million while operating expenses grew nearly 16% to USD394 million. Its operating income jumped 57% to USD105 million.
Spirit Airlines financial results: 2Q2014 vs 2Q2013 and 1H2014 vs 1H2013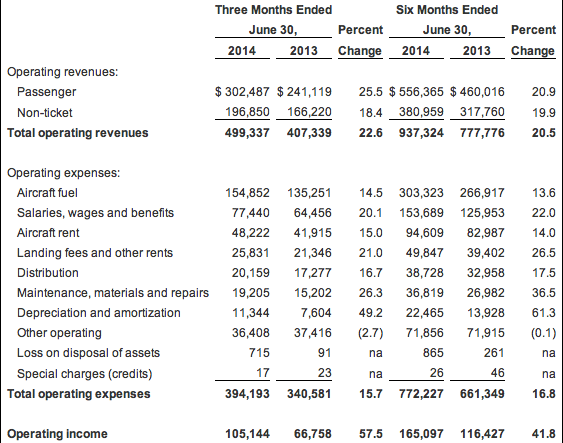 Spirit's unit costs excluding fuel and special items notched down 0.8% in 2Q2014, but the airline forecasts a 1.7% to 2.7% unit cost rise in 3Q2014 driven by expenses from hiring to support the seven aircraft delivered in 4Q2014 and continuing expenses from new pilot flight and duty times in the US. For CY2014 Spirit estimates a unit cost increase of 0.5% to 1.5%. The company has not offered specific cost guidance for CY2015, but suggests its performance in that metric could fall slightly.
Spirit's growth is highly ambitious, even for a self-described nimble airline
Spirit's jump in growth during CY2015 to 30% versus nearly 18% in CY2014 still seems a little heavy even if 2015 is a so-called year of lumpiness. At the moment there is no reason to doubt that Spirit can manage the growth as its traffic increased 21% during 1H2014 on 19% capacity growth.

The airline often touts its nimbleness to redeploy assets if a market fails to reach maturity within a given time frame, which in many cases for Spirit is within seven months. But with numerous new aircraft coming on line and a higher number of markets in operation in less than 12 months during 2014, Spirit may find it tougher to exercise that flexibility.

Even as Spirit has a robust track record of strong financial results, 30% growth is ambitious for any company. So Spirit may find itself facing more scrutiny than in the past as it works to sustain the expectations that its strong financial performance will continue.