Webjet acquisition improves Gol's position in world's fourth largest domestic market
Analysis
Consolidation in the fast-growing Brazilian market has taken another major step with Gol agreeing to acquire smaller low-cost carrier Webjet for BRL96 million (USD61 million). The deal follows several moves over the last two years by Gol's archrival TAM as Brazil's two largest airline groups battle for the distinction of domestic market leader.
Gol announced on 08-Jul-2011 that its Varig subsidiary has signed an MOU with Webjet's shareholders to acquire 100% of Webjet. In addition to giving Webjet shareholders BRL96 million in cash, Gol has agreed to assume from Webjet BRL215 million in debt.
Acquisition expected to close in 2012
Gol says completion of the deal is subject to several conditions, including due diligence and approval from Brazil's civil aviation authority ANAC and anit-trust regulator CADE. Gol CEO Constantino de Oliveira Junior told analysts he is confident Gol and Webjet will be able to close the deal sometime in 2012 – most likely around the middle of the year.
Mr Oliveira is confident regulators will agree with Gol that the acquisition will result in "a better package for the consumers" but said it is impossible to predict exactly how long it will take to secure approval from CADE. "One year is probably something reasonable," Mr Oliveira said.
Rio de Janeiro-based Webjet is currently the fourth largest domestic carrier in the Brazilian market with a 5.4% share, based on RPK data from Brazil's ANAC for the first five months 2011. The Sao Paulo-based Gol group (includes Varig, which Gol acquired in 2007) currently has a 37.5% share of Brazil's domestic market.
Brazilian domestic market share by carrier, Jan-2011 through May-2011
Brazil.png" alt="" width="500" height="299" />
TAM now has a leading 42.9% share of the market (again based on RPKs for the first five months of 2011). This includes TAM mainline as well as its regional subsidiary Pantanal, which TAM acquired at the end of 2009. Pantanal was a small turboprop operator within Sao Paulo state but TAM has since expanded the Pantanal operation to include A320s and domestic trunk routes.
TAM remains Brazil's largest domestic player when taking into account TRIP
TAM also signed in Mar-2011 a letter of intent to purchase a 31% stake in TRIP, Brazil's largest regional carrier with a 2.7% share of the market. TRIP, which is the fifth largest player in the Brazilian domestic market and has been growing at a rapid clip, already codeshares with TAM.
While Gol's acquisition of Webjet will give both Gol and TAM roughly equal 43% shares in the Brazilian domestic market, TAM will still be larger when factoring in its partnership with TRIP. Gol also has a partnership with a Brazilian regional carrier, NOAR, which was forged in Sept-2010. But this partnership does not include an equity stake and NOAR is tiny, flying only 174,000 RPKs in May-2011 (in comparison Gol flew 2.2 billion domestic RPKs in May-2011).
It is unlikely Gol will acquire a regional carrier as such a move would not significantly increase Gol's market share and would go against typical low-cost carrier strategy. Passaredo is the now the second largest independent regional carrier in Brazil after TRIP. Passaredo now only has a 0.8% share of the market although it has been growing rapidly, with ASKs up by 80% for the first five months of 2011 compared to the same period of 2010.
While Gol and TAM battle it out for the distinction of Brazil's largest domestic carrier, TAM will remain much larger overall given its domination of the international market. TAM currently controls 87% of the international market compared to only 12% for the Gol group (again based on RPK data from ANAC for the first five months of 2011).
Gol has been focusing mainly on the domestic market since dropping Varig-operated long-haul scheduled services in 2008. Gol also recently dropped Bogota, leaving it with scheduled international services to only five destinations in South America (it also has four low-frequency destinations in the Caribbean which are primarily served via Caracas). Gol recently stopped operating its remaining B767s, which were initially used for Varig scheduled flights to Europe and in late 2009 were reactivated for international charters.
Gol plans to replace Webjet's B737-300s with B737-700/800s by 2014
The Gol group now has an all B737NG fleet consisting of 115 aircraft (including 94 B737-700/800s at Gol and 21 B737-700/800s at the Varig unit) with outstanding orders for 99 additional B737NGs, according to Ascend data. Gol's current fleet plan is relatively conservative and envisions ending this year with 115 B737NGs (75 737-800s and 40 737-700s), followed by 119 at the end of 2012, 121 at the end of 2013 and 123 at the end of 2014. Most of its new deliveries are slated to be used to replace older B737-700/800s but Gol has the flexibility to accelerate growth by returning fewer aircraft.
Webjet currently operates a fleet of 24 B737-300s. Gol also operated a fleet of B737-300s until last year. Gol has retained heavy maintenance capability for the B737-300 which could come in handy as the Webjet aircraft come into the group. But Gol CFO Leonardo Pereira told analysts it plans to replace Webjet's B737-300s with B737-700/800s by the end of 2014.
Webjet leases 18 of its 24 aircraft, according to Ascend data. Mr Pereira told analysts some of Webjet's leases expire in 2012, most expire in 2013 and a few expire in 2014. In recent years Gol has had a tough time negotiating early returns for its B737-300s and B767s. But Gol is confident it will not have problems returning Webjet's fleet as most of the lease terms are short and Webjet's lessors also supply aircraft to Gol.
Webjet's current fleet

Webjet currently operates 154 daily flights to 13 domestic destinations (in comparison, Gol now has 900 daily flights to 49 domestic destinations) . Webjet's operation at Sao Paulo Congonhas, where it was able to secure a small number of weekend slots in early 2010, is extremely limited. But it has an attractive base at another key slot-controlled domestic airport – Rio de Janeiro Santos Dumont.
TAM, which currently accounts for 48% of mainline capacity at Santos Dumont (excludes TRIP's regional operation), will remain the largest carrier at Santos Dumont after the acquisition. But adding Webjet's 14% share to Gol's 18% share puts Gol in a much better position at Rio de Janeiro's popular downtown airport.
Rio de Janeiro Santos Dumont capacity for leading carriers (seats per week), 11-July-2011 to 18-July-2011

Sao Paulo Congonhas capacity for leading carriers (seats per week) , 11-Jul-2011 to 17-Jul-2011

According to Innovata data, Webjet's three largest routes (based on capacity) are from Santos Dumont – connecting Sao Paulo Guarulhos, Brasilia and Belo Horizonte. These routes fit in well with Gol's network as Santos Dumont-Sao Paulo Congonhas is the only Santos Dumont route among Gol's largest 10 routes. In fact, of Webjet's top 10 routes only two are also on the Gol top 10 list – Salvador-Rio de Janeiro Galeao and Salvador-Sao Paulo Guarulhos. According to Innovata data, the Gol/Webjet combination will account for 43% of current capacity on Salvador-Sao Paulo Guarulhos and 58% of current capacity on Salvador-Rio de Janeiro Galeao (TAM now accounts for 48% and 42% of capacity on the two routes respectively)
Webjet's top 10 domestic routes by capacity (seats per week), 11-Jul-2011 to 17-Jul-2011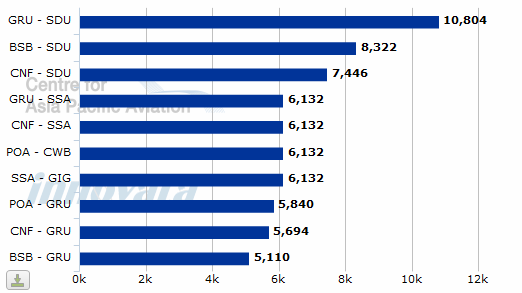 Gol's top 10 domestic routes by capacity (seats per week), 11-Jul-2011 to 17-Jul-2011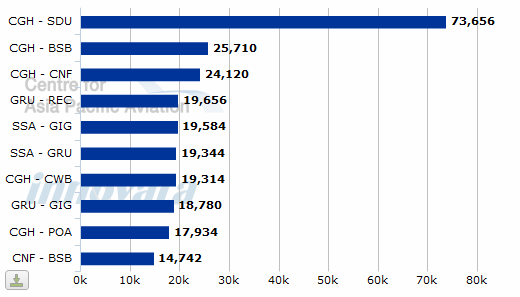 At Salvador, the addition of Webjet will make Gol the largest carrier. The acquisition will also significantly cement Gol's position as the largest carrier at two other main Brazilian airports – Curitiba and Porto Alegre. According to Webjet's website, Webjet currently operates 11 routes from Porto Alegre, 10 from Curitiba and nine from Salvador.
Salvador Airport capacity for leading carriers (seats per week), 11-Jul-2011 to 17-Jul-2011

Curitiba Airport capacity for leading carriers (seats per week), 11-Jul-2011 to 17-Jul-2011

Porto Alegre Airport capacity for leading carriers (seats per week), 11-Jul-2011 to 17-Jul-2011

Webjet is also now the third largest carrier at Sao Paulo Guarulhos and Rio de Janeiro Galeo but after the acquisition TAM will remain by far the largest carrier at Brazil's two primary international gateways. According to Webjet's website, the carrier now operates eight routes from Rio de Janeiro Galeao and seven from Sao Paulo Guarulhos. Webjet does not operate any international routes.
Rio de Janeiro Galeo Airport capacity by carrier (seats per week), 11-Jul-2011 to 17-Jul-2011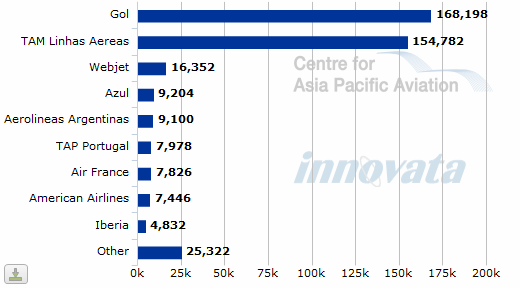 Sao Paulo Guarulhos Airport capacity by carrier (seats per week), 11-Jul-2011 to 17-Jul-2011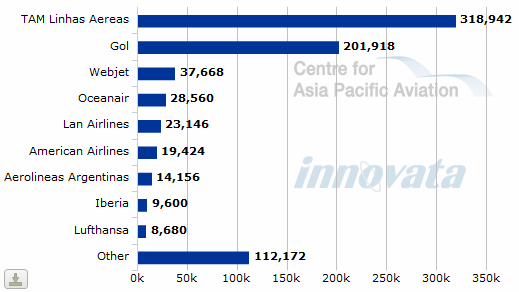 Mr Oliveira told analyst the acquisition is particularly appealing because it will allow Gol to strengthen its domestic position at Guarulhos, which has more domestic frequencies than any other airport in Brazil. Webjet now operates 20 daily domestic frequencies at Guarulhos while Gol operates 77 frequencies. Combined their 97 will be just shy of the 104 daily domestic flights offered by TAM at Guarulhos.
Webjet will also allow Gol to expand its operation at the capital Brasilia from 92 to 105 flights; at Rio de Janeiro Galeao from 71 to 79 daily flights; at Belo Horizonte from 52 to 69 daily flights; at Rio de Janeiro Santos Dumont from 49 to 65 daily flights; and at Porto Alegre from 36 to 48 daily flights.
Number of daily flights currently for Gol, TAM and Webjet at major Brazilian airports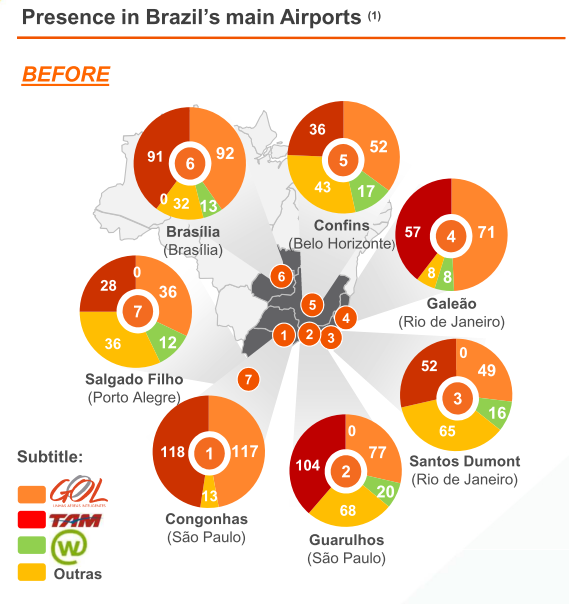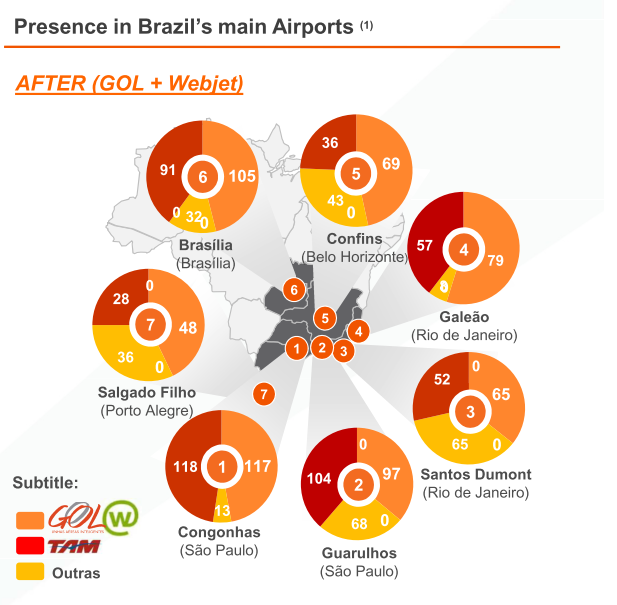 In terms of total passengers carried, Gol expects to surpass TAM as the largest domestic carrier. Gol last year transported 28.5 million passengers while TAM transported 32.8 million and Webjet transported 4.3 million.
Passenger traffic for Brazilian carriers, 2010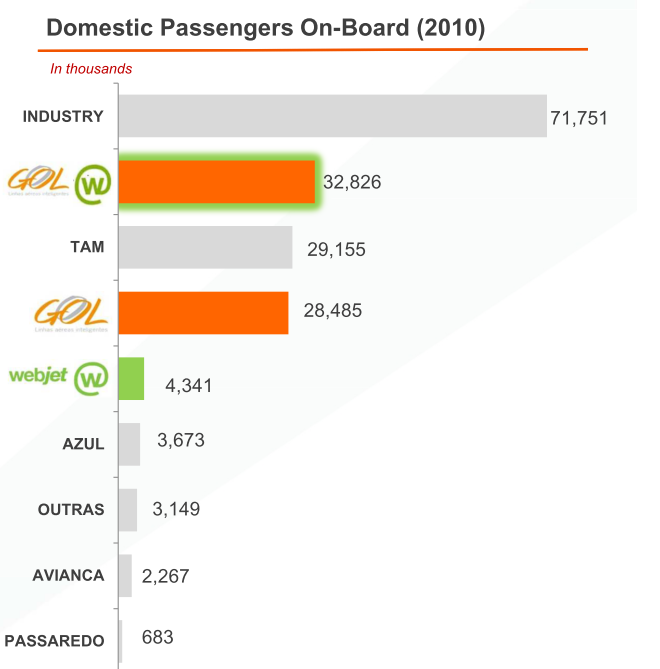 In terms of revenues, TAM will also remain a much larger carrier. TAM is already more than 70% bigger than Gol in terms of revenues and is poised to become even larger once it completes its proposed merger with LAN. TAM and LAN combined had revenues of about USD3.3 billion in 1Q2011 while Gol's revenues for the quarter came in at about USD1.1 billion. Webjet only generates revenues of roughly USD120 million per quarter.
Gol says in 2010 Webjet generated BRL763.5 million in revenues in 2010 and turned a net profit of BRL21.9 million. Gol last year turned a net profit of BRL214.2 million on BRL6.9744 billion in revenues.
Gol is now Latin America's third largest airline group after TAM and LAN. Its purchase of Webjet should help it cement this position and ensure that it remains larger than Avianca-TACA, which generated about USD900 million in revenues in 1Q2011. Avianca Brazil, previously known as Oceanair, is currently not yet part of Avianca-TACA. It is expected Avianca Brazil will formally join the group later this year but the impact will be minimal as Avianca Brazil is currently Brazil's sixth largest domestic carrier with only a 2.6% share of the market.
Gol does not have any airline subsidiaries outside Brazil but Brazil is such a big market it alone is enough to support a large airline group. The Brazilian domestic market is now the fourth largest domestic market in the world after the US, China and Japan. More importantly, it is also one of the world's fastest growing markets.
Brazilian domestic market has grown by 22% so far this year
Through the first five months of 2011, domestic RPKs were up 22% in Brazil. Gol's growth of 11% lagged most of its competitors, including the 24% growth posted by TAM, making Gol's move to acquire Webjet particularly important.
Webjet also has been growing slowly by Brazilian standards this year, with RPKs up only 6% through the first five months of 2011. But Webjet's conservative capacity expansion paid off with a relatively high load factor of 76.2%, beating the industry average load factor of 71.6%.
Azul has had the highest growth so far this year, recording an 83% increase in RPKs through the first five months of 2011, followed by 62% for TRIP and 33% for Avianca Brazil. Of all the remaining independent carriers, the Gol-Webjet deal could benefit Azul the most as it will be left as the only Brazilian low-cost carrier outside of the Gol group.
Azul, which currently serves 38 domestic destinations with 37 aircraft, is already planning rapid expansion with almost 130 aircraft envisioned by the end of 2014. The Webjet-Gol deal could prompt Azul to consider accelerating expansion as opportunities are created from consolidation in certain city pairs.
Before Gol came along, Webjet's current shareholders, led by Guilerme Paulus, were looking at an IPO. Gol now plans to acquire all of Webjet from Webjet's parent company, which is controlled by the Paulus family. The same parent company also owns Brazilian travel company CVC but Gol is not buying any stake in CVC. Mr Oliveira, however, expects Gol's existing relationship with CVC could be strengthened as a result of the Webjet acquisition.
Webjet filed in Feb-2011 for a potential IPO on the Sao Paulo Stock Exchange and was also reportedly in discussions over selling a stake to Ryanair. However the fact Webjet has been overtaken in the domestic market by newer Azul and Webjet's prior lack of profitability could have made the IPO difficult to complete.
Gol, which is traded on the New York Stock Exchange, says Webjet's "enterprise value" is BRL310.7 million. Gol says the acquisition price of BRL96 million cash plus the assumption of BRL215 million in debt is still "subject to certain adjustments prior to the closing date".
BRL100 million in synergies expected
Gol expects the deal will generate BRL100 million in annual synergies – including BRL60 million in corporate synergies and BRL40 million in operational synergies. But Mr Pereira says it will take about two years for most of the synergies to be realised. He says some of the operational synergies will also not be realised until the new group fleet consists entirely of B737NGs.
Integration costs are expected to be minimal as Webjet already runs a low-cost operation with several core functions outsourced. Most of Webjet's 1,683 employees are expected to be absorbed by Gol.
Webjet has an even lower cost structure than Gol (unit costs at Webjet in 2010 were 3% lower than unit costs at Gol). Ancillaries also account for a higher portion of total revenues at Webjet, a position Gol could learn from as it aims to increase its own ancillary revenue stream.
Mr Oliveira says Gol's "target is to integrate both companies" and eventually "fly with just one brand – the Gol brand". But he says CADE will need to approve the full integration of the two airlines and could potentially insist on maintaining two separate operations.
Mr Oliveira is confident of CADE approval because the acquisition involves "two companies operating under the same concept". He says Gol expects "to maintain very competitive fares and stimulate the market" after the deal is completed. He believes the deal will also result in more frequencies in certain markets and a more reliable service for the consumer.
ANAC approval should be even easier to secure. Mr Oliveira says ANAC has three measures when reviewing airline acquisitions - operational capability, financial capability and technical capability of the buyer. "I don't think we'll have a problem related to these three points," he said.