Volaris and VivaAerobus continue their rapid climb to grab market share in Mexico
Analysis
Mexican low-cost carriers Volaris and VivaAerobus are continuing to build up domestic market share during 2013 as Interjet appears to be holding its own on routes within Mexico while it awaits delivery of its first 93-seat Sukhoi Superjet 100 during 2H2013, when it plans to make a push into markets that are too thin for its current fleet of 150-seat Airbus A320 aircraft.
Volaris and VivaAerobus should continue to grow their share of the Mexican domestic market during 2013 as both carriers have stated an intent to exploit opportunities within Mexico, reflected by plans for each airline to make a push from Cancun to target Mexican travellers with increasing discretionary income.
Grupo Aeromexico share drops as it focuses on international services
Overall Mexico's domestic traffic increased about 6% year-on-year in Mar-2013 to 2.4 million passengers, according to Mexico's DGAC. For the first three months of 2013 the country's domestic market grew 5% year-over-year to approximately 6.7 million passengers.
Mexico domestic passenger growth: Mar-2012 vs Mar-2013
Grupo Aeromexico whose operations comprise mainline Aeromexico and Aeromexico Connect, which operates smaller, Embraer ERJ-145s and Embraer 170s/190s, recorded a combined 7ppt drop in its domestic market share during Mar-2013 to 34%. The drop was driven by a 24% decrease in Aeromexico Connect's domestic traffic year-on-year and a 3% decline at mainline Aeromexico.
Mexico domestic market share: Mar-2013 vs Mar 2012
Mar-2013
Mar-2012
Mexican carrier domestic passenger carrier increase/decrease year-on-year: Mar-2013
During 1Q2013 Grupo Aeromexico estimates the 6% rise it recorded in ASKs year-on-year was primarily driven by 12% growth in its international markets, while its supply in the domestic market place contracted 2%. Overall the group increased passengers transported on international routes by 10% and recorded an 8% drop in domestic customers.
Grupo Aeromexico's focus on international service during early 2013 resulted in a rise in the percentage of revenue it garnered from international operations during 1Q2013 to 48% versus 46% in the year prior. There was a corresponding 2ppt drop in revenue attributed to the company's domestic operations during 1Q2013 to 52% compared with 54% in the prior year.
Domestic expansion by Volaris and VivaAerobus bears fruit
As Grupo Aeromexico's domestic share diminished during Mar-2013, Volaris and VivaAerobus each recorded a 4ppt rise in their respective shares year-over-year to 23% and 14%, respectively. Volaris' share was just 2ppt below Interjet, which held a steady 25% share year-over-year.
During 2012 Volaris turned a fair amount of attention to the Mexican domestic market after focusing for a number of years on transborder expansion. The carrier added 18 new domestic routes throughout 2012 that included a push from Guadalajara, where its service introductions included Chihuahua, Monterrey, Puebla, Los Mochis and Cancun. Volaris now holds nearly 39% of the domestic seat share at Guadalajara (20-May-2013 to 26-May-2013) versus 36% at the end of Jun-2012. Mexican DGAC data show that passenger numbers at Guadalajara grew 10% year-over-year during Mar-2013.
Guadalajara domestic capacity by carrier (% of seats): 20-May-2013 vs 26-May-2013
Volaris' rapid expansion during 2012 also included new service from Queretaro to Cancun and Tijuana, between Tepic and Tijuana and new transborder service from Culiacan to Los Angeles.
Previously, Volaris has estimated ASK growth of 20% during 2013, and in Mar-2013 inaugurated service from Mexico City to Mazatlan and from Cancun to Tijuana. During Jul-2013 Volaris will continue its push from Cancun, launching service to Chihuahua, Ciudad Juarez and Morelia.
See related report: Mexico's Volaris tweaks transborder flights as it makes a domestic push from Guadalajara
Cancun becomes a focal point for Volaris and VivaAerobus
VivaAerobus' 4ppt rise in Mexican domestic market share during Mar-2013 was fuelled by new route launches during 2012 from Cuernavaca to Cancun and Monterrey, and from Cancun to Villahermosa and Tuxtla Gutierrez. During the last couple of years VivaAerobus has abandoned transborder expansion in favour of building out its Mexican domestic network. Its strategy is reflected in a 45% drop in its international passenger traffic year-on-year during Mar-2013.
Similar to Volaris, Cancun is also becoming a focal point for VivaAerobus as it plans to create a base at the airport in Jun-2013, shortly before Volaris introduces new service in the market. As each carrier appears for the moment to be placing more emphasis on the domestic market, Cancun will rise in importance in their respective networks as VivaAerobus and Volaris aim to stimulate demand in Mexican beach destinations among discretionary travellers that currently still travel by bus. The carriers are placing bets on Cancun as its passenger counts continue to climb, rising 22% year-over-year during Mar-2013.
Presently VivaAerobus has an 18% domestic seat share in Cancun, but that is likely to rise during the next year given it plans to place four Boeing 737-300s at its new base. Volaris, which holds a commanding 32% share of the domestic seats, appears to be working to keep that edge through its planned expansion from Cancun.
Cancun domestic capacity by carrier (% of seats): 20-May-2013 vs 26-May-2013
Interjet keeps Mexican domestic share steady as its international growth mushrooms
As VivaAerobus and Volaris opted to flesh out their Mexican domestic networks during 2012, Interjet turned its attention to international expansion, launching during the last couple of years service to Orange County, Las Vegas, Miami, New York, Havana and San Jose, Costa Rica.
The expansion is reflected in the 118% jump Interjet posted in international passenger traffic year-on-year during Mar-2013, which lifted its share of the Mexican international market 6ppt to 13%. Interjet continued to expand its international network during 1Q2013 with the launch of new service from Monterrey to Las Vegas.
At the same time Interjet's share of the domestic market held steady at 25% during Mar-2013 as share shifted among Mexico's three other main airlines. Interjet will add some interesting dynamics to the Mexican domestic market as the first of its 20 Superjet 100s is scheduled to start service in 2H2013. While the aircraft are not likely to cause much of a stir during 2013, the planned delivery of one aircraft per month during 2014 could create increasing pressure for Aeromexico. As previously reported by CAPA, Interjet is targeting medium-density markets similar to those operated by Aeromexico Connect with 90-seat Embraer 190s and Embraer 170s.
See related report: Mexico's Interjet plans further expansion with new Superjet fleet targeting thinner routes
Some potential bases mentioned by Interjet for its new aircraft include Cancun, Guadalajara, Monterrey, Puerto Vallarta and Tijuana to replace its A320 narrowbodies on more unprofitable short-haul routes. The carrier flies to its largest base Mexico City from all those destinations, but some flights from those markets to Toluca could be potential candidates for the smaller jets. Toluca is Interjet's headquarters and is roughly 66km west of Mexico City. Given its proximity to Mexico City, the larger-gauge A320s are not likely ideal for Interjet's service to the airport.
As Interjet prepares for delivery of its first Superjet, Aeromexico has opted to introduce the Embraer 175 variant configured with 86 seats into Aeromexico Connect's fleet. The carrier is adding three of the aircraft with two entering service during Jun-2013. Aeromexico is in the midst of replacing Aeromexico Connect's 50-seat ERJ-145s with larger-gauge aircraft. At the end of 1Q2013 Aeromexico Connect operated 37 of the aircraft, while its fleet of Embraer 190s had grown by six aircraft year-on-year to 19.
Grupo Aeromexico's fleet as of 31-Mar-2013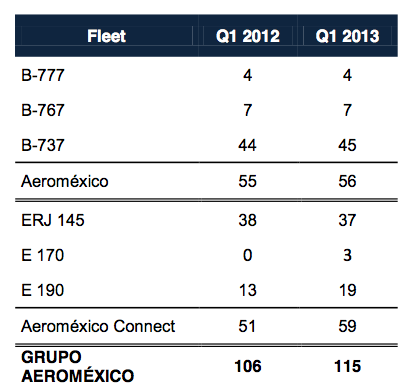 Aeromexico has stated it plans to deploy the jets from Mexico City on its existing routes to Acapulco, Veracruz, Oaxaca, Guadalajara, Tampico and Ixtapa, which are all served by Interjet. VivaAerobus and Volaris serve Guadalajara, while VivaAerobus offers service from Mexico City to Guadalajara, Oxcaca, Veracruz and Tampico.
Aeromexico is likely using the E-jets on those routes to both up-gauge some 50-seat jet flights and right size aircraft for off-peak departures. But some of its motivation could be to ensure it is offering a comparable product as Interjet's new aircraft begin service.
Mexico's strengthened domestic market should absorb changing dynamics
After some years of overcapacity and the demise of legacy carrier Mexicana, the domestic market in Mexico has stabilised with two low-cost carriers – VivaAerobus and Volaris – Interjet a low-cost hybrid and the country's lone legacy carrier Aeromexico, which despite a 1Q2013 loss of nearly USD10 million remains on solid footing and has no plans to introduce irrational capacity into the domestic market. Over the next couple of years Interjet's smaller aircraft could create a new competitive dynamic for Aeromexico in the domestic market. But Aeromexico's focus on international markets coupled with feed from SkyTeam partner Delta should allow for sustained equilibrium within Mexico.
See related report: Mexico returns to double-digit domestic growth in 2012, boosting outlook for Aeromexico and LCCS