VivaAerobus and Volaris help drive record domestic passenger growth in Cancun
Two of Mexico's leading low-cost carriers are helping to fuel domestic passenger growth at Cancun, long known as a leading resort destination in the Caribbean and Latin American for international travellers. But as discretionary income among Mexican residents rises, VivaAerobus and Volaris are bolstering their domestic service to Cancun in the hopes of funnelling some bus traffic to the resort destination.
Cancun has recorded steady domestic passenger growth during the last couple of years as statistics from the airport's operator ASUR show that the 4.6 million domestic passengers travelling through Cancun in 2012 accounted for roughly 32% of the 14.4 million total passengers processed at the airport during that year.
During 2012 Cancun's domestic passengers increased 25% year-on-year, and for1Q2013 the airport posted 17% growth in domestic passengers.
Cancun domestic passengers numbers: 2012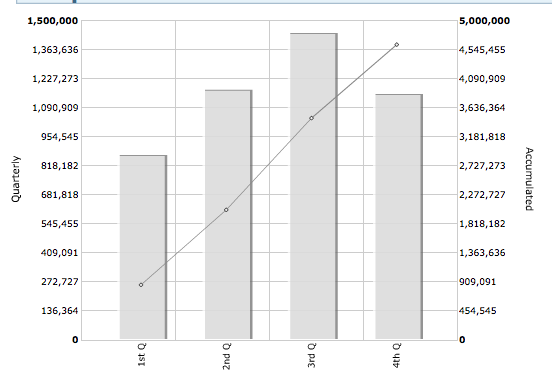 Cancun domestic passengers numbers: 2011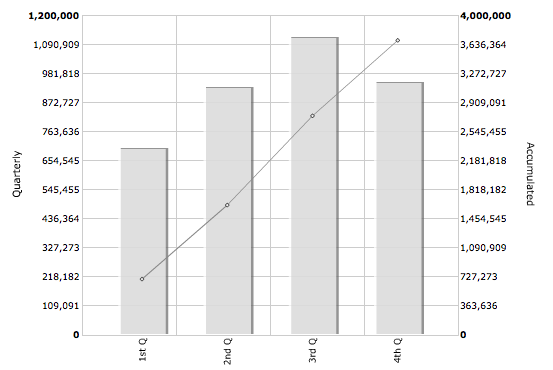 Travel starts to become a mainstay among Mexico's middle class
Part of the reason Cancun is enjoying robust domestic growth is the rising levels of air travel among Mexican residents as their levels of disposable income begin to rise. The World Bank classifies Mexico as a "upper middle income country" and a 2012 study conducted by the Woodrow Wilson International Centre for Scholars titled Mexico: A middle class society, poor no more, developed not yet, found that 65% of Mexicans travel outside the cities where they reside at lease once per year.
In 2012 Aeromexico concluded the Mexican aviation market "has important upside potential in upper and middle classes", citing statistics that show Mexico's 0.6 flights per capita based on an income more of than USD15,000, which was roughly equal to another growth market, China.
Average flights per capita for upper and middle class residents of Mexico, Brazil, China, Europe and the US: 2012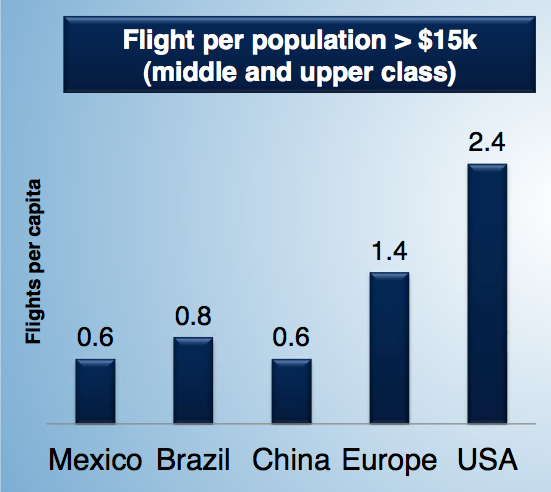 Those dynamics are driving low-cost carriers to court travellers that find themselves with some discretionary income, but are still price sensitive, and may not be persuaded to travel by air if the price differential is too steep.
VivaAerobus links Cancun with largely un-served destinations
The extra income is a boon for beach destinations like Cancun, which was the fastest growing major domestic airport during 2012. As previously reported by CAPA, Mexico's largest domestic and beach market, Mexico City-Cancun, posted 39% growth during 2012 to 3 million passengers.
See related report: Mexico returns to double-digit domestic growth in 2012, boosting outlook for Aeromexico and LCCs
VivaAerobus is in the midst of introducing services to Cancun that are not presently linked to the leisure destination while building a base in Cancun during 2H2013. VivaAerobus is presently (based on schedules in Innovata for the week of 3-Jun-2013 to 9-Jun-2013) the fourth largest domestic carrier at Cancun with respect to seats on offer.
The LCC operates direct flights from Cancun to Cuernavaca, Guadalajara, Mexico City, Monterrey, Oaxaca, Reynosa, Tampico, Torreon, Tuxtla Gutierrez, Veracruz and Villahermosa. It is the sole operator on eight of those route – Cuernavaca, Oaxaca, Reynosa, Tampico, Tuxtla Gutierrez, Torreon, Veracruz and Villahermosa.
Cancun domestic capacity by carrier (% of seats): 3-Jun-2013 to 9-Jun-2013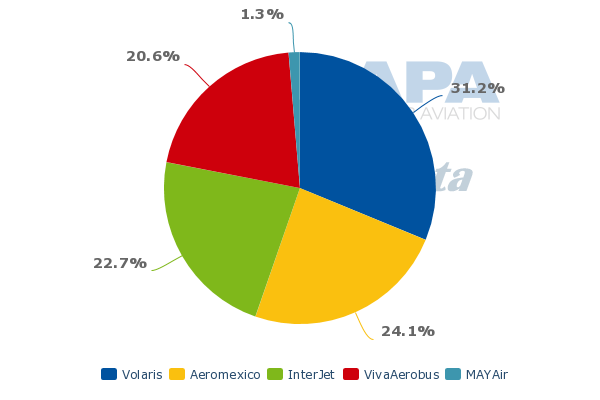 Once VivaAerobus begins basing up to four of its Boeing 737-300s at Cancun its stature at the airport should rise as it can pad out schedules in some markets that it serves with less frequency including Cuernavaca, Oaxaca, Reynosa, Tampico, Torreon, and Villaheromas where the carrier offers fewer than 300 weekly one-way seats.
VivaAerobus approximate one-way seats on offer from Cancun by market: 2-Jun-2013 to 8-Jun-2013
Obviously there is the danger of putting too much capacity into some of those thinner markets if the demand is not strong enough to absorb the extra supply, but given Cancun's domestic growth and VivaAerobus' 4ppt growth in Mexican domestic market share to 14% year-on-year during Mar-2013, the carrier's calculus to build-up Cancun in markets where it faces little competition appears sound.
During Mar-2013 VivaAerobus' passengers grew a whopping 49%, which indicates there is solid demand for the carrier's pure low-cost product. Mexico's other low-cost carriers Interjet and Volaris operate under business models that offer more medium-frills. VivaAerobus primarily is a domestic operator as it serves just a single US transborder market, San Antonio, Texas.
VivaAerobus monthly passenger numbers: 2011 to March-2013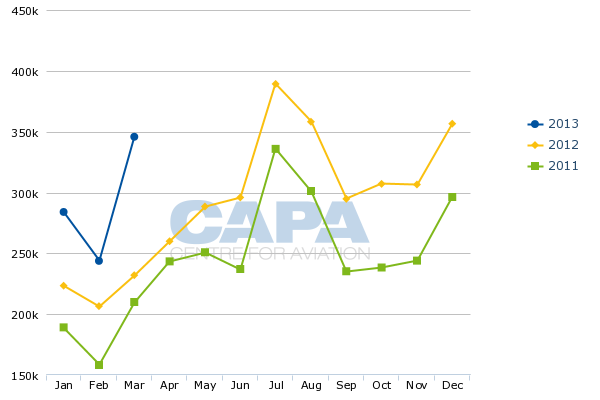 Volaris also targets new markets from Cancun with no competitive threats
Cancun's largest domestic carrier Volaris is not resting on its laurels as it plans three new service launches from the airport during Jul-2013 to Ciudad Juarez, Chihuahua and Morelia.
Those new flights join Volaris existing service between Cancun and Aguascalientes, Guadalajara, Leon, Mexico City Juarez, Puebla Hermanos, Queretaro, Toluca and Tijuana. Volaris introduced the new service to Guadalajara and Queretaro in late 2012 followed by flights to Tijuana (its longest routes at 3,200km) in Mar-2013. Significant connecting traffic from Tijuana to Cancun through Guadalajara was the impetus for the Tijuana launch, which is Volaris' smallest route from Cancun based on seats deployed.
Based on current schedules in Innovata, Volaris offers roughly 168 one-ways seats in the market, and spools up to approximately 336 seats starting in Jul-2-13. The Mexico City market remains Volaris top market from Cancun. It offers more than 10,000 weekly one way seats combined from Mexico City Juarez and Toluca, more than triple its second largest market Guadalajara, where Volaris offer roughly 2,500 weekly one-way seats.
Volaris approximate one-way seats on offer from Cancun by market: 2-Jun-2013 to 8-Jun-2013
Schedules show that Volaris will be uncontested in the three new route launches it plans from Cancun. Chihuahua is the twelfth largest city in Mexico while Ciudad Juarez has a population of 1.5 million. Volaris represents 62% of the seats on offer at Morelia, so it has an established brand presence in the market, which should bode well for new service to a beach destination.
The push by VivaAerobus and Volaris from Cancun reflects their growth in the overall domestic market during the last couple few years. Between 2009 and 2012 VivaAerobus' market share grew from 6% to 13%, while Volaris recorded the fastest domestic growth in 2012 of 25% after turning its attention away from more aggressive transborder expansion. Volaris during 2012 accounted for 20% of the Mexican domestic market, and intends to continue its domestic expansion during 2013 as a large portion of its planned 20% capacity growth is pegged for intra-Mexico markets.
See related reports:
Aeromexico not joining the domestic drive from Cancun, for now, avoiding head to head with Volaris and VivaAerobus
Volaris and VivaAerobus have managed to avoid competition beyond the major routes they serve from Cancun and Mexico's major network carrier Aeromexico, which concentrates its domestic service from Cancun in the more than 12,000 weekly one-way seats it operates to Mexico City Juarez. Its other destinations from Cancun are transborder services to New York JFK and Los Angeles and international flights to Bogota and Havana.
Aeromexico's former rival Mexicana was building up a base in Cancun when it went bust in late 2010, with the goal of offering service to 15 domestic and international markets served by its Link and Click subsidiaries that operated Boeing 717s and Bombardier CRJ200s. But so far Aeromexico has not opted branch out domestically from Cancun, or make a huge push overall from the airport.
The avoidance by Volaris and VivaAerobus in competing heavily with one another on their respective expansions from Cancun coupled with Aeromexico for now opting not to embark on aggressive domestic expansion from the airport all seems quite rational and logical as Volaris and VivaAerobus continue their rapid domestic expansion.
But the real challenge comes in ensuring enough demand exists in some of the thinner routes being introduced, and that macroeconomic trends do not spook Mexican travellers that in many cases are just beginning to enjoy their new-found discretionary income.