US carriers gain access to their strongholds through new Washington National slot allocation
Analysis
Four US carriers have won rights to launch flights from slot-controlled Washington Reagan National Airport to serve markets where they are dominant or have a strong presence. Southwest Airlines and Virgin America are gaining access to National for the first time, while JetBlue will expand its blossoming presence at the airport. The new services should usher in some fare rationalisation in those markets as the carriers seek to challenge United's dominance in the Washington market from its hub at Dulles International Airport, which is about 56km from National.
US lawmakers in the latest FAA Reauthorisation bill signed into law earlier this year included a provision freeing up four outside perimeter (beyond 2,011km) slot pairs for new entrant or limited incumbent carriers at National, which is located only about 6km from the US capitol. Carriers already having an ability to operate flights outside the perimeter were also allowed to trade in a single pair of inside perimeter slots for new outside perimeter service. A slot pair consists of one take-off and one landing slot.
Alaska, JetBlue and Virgin America all sought two pairs of the slots, but the US DoT opted to cede a single slot pair to those three carriers and Southwest Airlines after deeming requests from Frontier, Sun Country and Air Canada to be weaker than the service proposed by the winners in the slot contest.
As a result new service from National to Portland will be introduced by Alaska while JetBlue will bolster its burgeoning focus city of San Juan with new flights from National. Southwest plans to offer flights from National to Austin, the state capitol of Texas, while Virgin America aims to begin flights to its San Francisco hub. While the new flights essentially result in four new roundtrip flights from National, the DoT has concluded the service could usher in some fare rationalisation in the Washington market.
Even though United had already opted to transition one of its within perimeter slots to support a new flight from National to San Francisco, Virgin America was essentially destined to win one of the two slot pairs it requested for San Francisco flights since the carrier would be a new entrant at Washington National. All the other carriers awarded the rights to lauch new flights currently offer limited flights from the airport. While Southwest does not currently have flights from National with its own aircraft, its AirTran subsidiary serves National from Atlanta, Georgia; Milwaukee, Wisconsin; and Fort Myers, Florida.
Washington Ronald Reagan National Airport capacity (seats per week) by carrier: 14-May-2012-20 May 2012
Washington Dulles International Airport capacity (seats per week) by carrier: 14-May-2012-20 May 2012
See related article: US Airways solidifies hub strategy with new Washington National flights
In awarding Virgin America rights to serve San Francisco, the DoT concluded the city is the largest O&D market from Washington National without direct service, and believes the National-San Francisco market size can accommodate the carrier's new flights in addition to recently launched daily service from National to San Francisco by United. Washington Dulles is the tenth largest market from San Francisco in terms of seat capacity, but the DoT concludes National's four non-limited incumbent carriers - American, Delta, United and US Airways - have double digit passenger shares from National to San Francisco through their connecting services.
San Francisco International top ten domestic routes based on seats per week: 14-May-2012-20 May-2012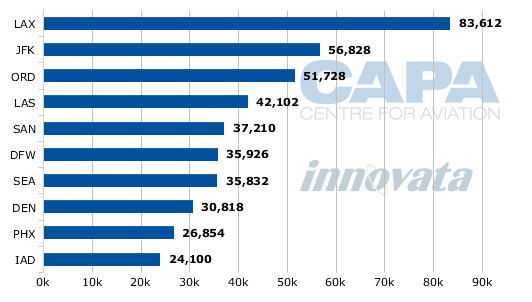 Both United and Virgin America serve San Francisco from Washington Dulles, which is located further out from Washington, DC proper in the suburbs of Virginia. Virgin America has indicated it will retain its flights from Dulles, which was one of the carrier's initial destinations when it launched operations in 2007. But it could be difficult for a carrier Virgin America's size to absorb the cost of operating at two airports that essentially serve the same traffic catchment area. It seems logical the carrier would want to deploy its assets where they are better utilised.
United can easily absorb the costs as both Dulles and San Francisco are major hubs for the carrier. The sheer size of United's network also allows any increased costs from operating to San Francisco to National and Dulles to be absorbed by its overall larger system.
Virgin America's new National-San Francisco flights have a good chance of succeeding since the Washington, DC area is home to a high number of residents fitting its young, tech-savvy demographic. Those passengers living within Washington, DC proper have likely been deterred by trying Virgin America's service to Dulles since there is no easy public transportation link to the airport.
But Dulles is Virgin America's sixth largest airport in terms of seats offered by the carrier, and having an established presence in the Washington market will likely help the airline quickly stimulate traffic. US DoT data show the carrier's load factor from Dulles during 2011 was a strong 82% on its flights from Dulles to San Francisco and Los Angeles.
Virgin America top ten bases/stations based on seats per week: 14-May-2012-20-May-2012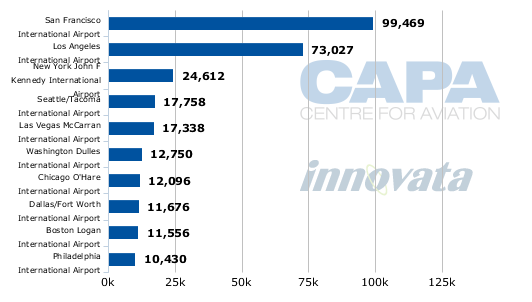 Virgin America should also bring automatic price rationalisation on its flights from National since United will not have a monopoly on service to San Francisco. It making its case to serve National, Virgin America argued that average fares fell in several markets within a year of its service launch including Dallas, Boston and Chicago to San Francisco and Los Angeles. Virgin America and United are currently offering similar fares on a roundtrip flight from Dulles to San Francisco.
Alaska aims to rationalise fares in the Washington-Portland market
DOT did not apply the same rationale in dismissing Alaska's proposed service to San Diego, which would have joined new flights being introduced by US Airways from National to the southern California city in June. Alaska applied for slot pairs to serve both San Diego and Portland, with a preference for Portland. The DoT acknowledged that San Diego is the second largest O&D market without service from National, but concluded the network benefits of new flights to Alaska's Portland hub were stronger than a second flight to San Diego.
Alaska Airlines is the dominant carrier at Portland after steadily building up its presence in the market during the last few years. It offers nearly 58,327 more seats per week than Portland's second largest carrier Southwest Airlines.
DoT determined it was important for National to feature flights to Portland, since it was the fourth largest O&D market from the airport with no service. Carriers in the slot proceeding vied to launch flights from two of the three largest markets which currently lack non-stop service - San Diego and San Francisco. No airline sought rights to launch flights from National to San Antonio, Texas, which was is the third largest O&D market without service from National.
Portland International Airport capacity (seats per week) by carrier: 14-May-2012-20-May-2012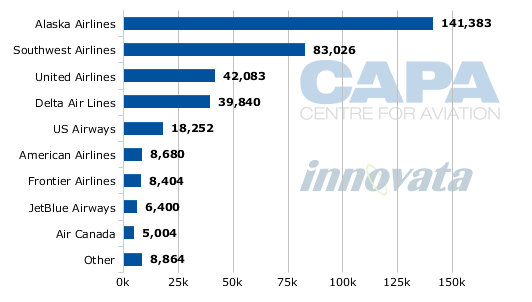 Alaska can offer connections through Portland to its comprehensive network in the western US, plus connecting service to the state of Alaska. The National flights join Alaska's transcontinental flights from Portland to Boston and from Seattle to Washington National. DoT also appeared to be swayed by Alaska's pledge to offer fares 18% lower than United's existing fares on flights from Dulles to Portland for at least one year after it launches flights from National.
Southwest pledges lower fares on new Austin flights
JetBlue's proposed flights from National to Austin were dismissed in favour of service proposed by Southwest. While JetBlue serves several destinations from Austin, including Long Beach and San Francisco in California, which could serve as connecting opportunities, the carrier stated service to San Juan was its top priority.
Southwest also has a much stronger presence in Austin, which will help the carrier stimulate traffic much faster than the proposed service by JetBlue. Southwest will also bring more capacity into the market as JetBlue would have operated National-Austin with 100-seat Embraer 190 jets. All the new service approved in the slot contest is being flown with Airbus and Boeing narrowbody aircraft.
Austin-Bergstrom International Airport capacity (seats per week) by carrier: 14-May-2012-20-May-2012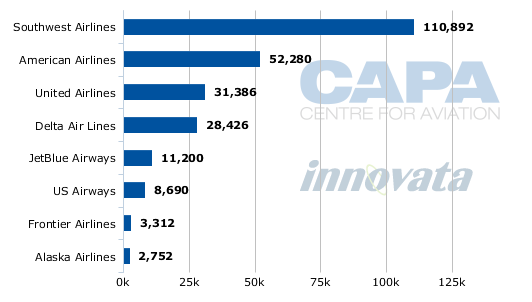 DoT concluded Southwest would usher in lower fares in the Austin market, which has the highest average fare from National (on carriers offering connecting service) of all the destinations applicants sought to serve in the slot allocation. The agency was also particularly interested in Southwest's plans to offer connecting, single-aircraft service from Austin to San Diego, which will help to rationlise US Airways' fares in the National-San Diego market.
Southwest argued its estimated fare from National to Austin would be 36% lower than current average fares on connecting flights in the market, and would offer new competition on United's Dulles-Austin flights. Although Southwest does not build its schedule on connections, by June the carrier will serve 20 nonstop destinations from Austin, which should help stimulate traffic in the National-Austin market as Southwest will no doubt offer promotional fares for both nonstop new flights to Austin and connecting services from the Texas captial.
Southwest non-stop routes from Austin: May-2012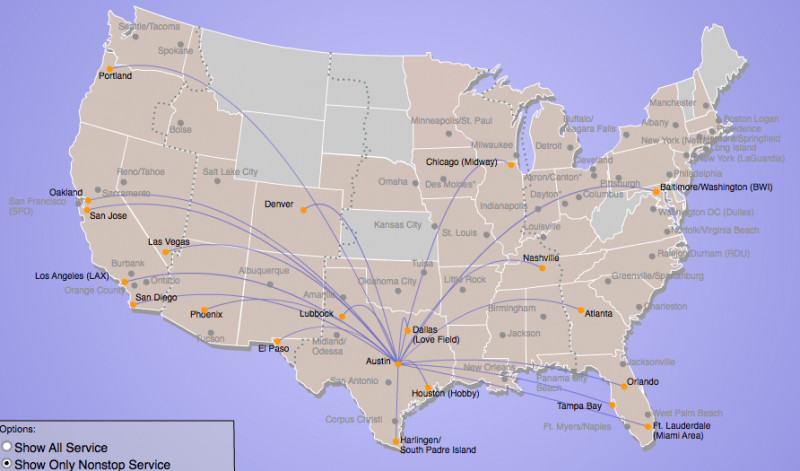 JetBlue gets an opportunity to bolster San Juan
The US government saw merit in JetBlue's proposed service from National to its focus city of San Juan, Puerto Rico, noting the bulk of outside perimeter slots that have been awarded in the past were to US western destinations. JetBlue is San Juan's second largest carrier in terms of seats offered behind American Airlines. There is a distinct possibility JetBlue will leap to first place over the next year as American commences a pull-down of San Juan during its Chapter 11 restructuring.
See related article: American Eagle's exit from San Juan leaves gap
JetBlue has strong brand awareness in both the Washington and San Juan markets. The DoT highlighted during JetBlue's short time in serving National, it has rapidly gained passenger share.
JetBlue launched flights from National in 2010 after gaining slots at the airport from American Airline and currently serves Boston, Fort Lauderdale, Orlando and plans new flights to Tampa beginning in June. JetBlue does not have the largest seat share in any of those markets as US Airways is the dominant airline in most of those markets. But it does offer low-fare competition, which helps to ensure National's dominant carrier practices pricing discipline.
San Juan Luis Munoz Marin International Airport capacity (seats per week) by carrier: 14-May-2012-20-May-2012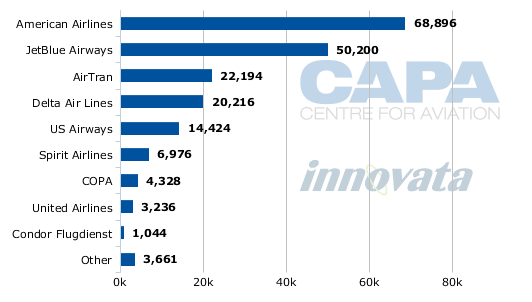 JetBlue has made a significant investment in building up San Juan as focus city, and the carrier plans to move into a new terminal at Luis Munoz International airport this summer. The carrier inaugurated flights to San Juan 10 years ago and currently offers flights to Boston, Hartford, Fort Lauderdale, New York, Jacksonville, Orlando and Tampa in the mainland US as well as short-haul connecting flights within the Caribbean to Santo Domingo, St. Maarten, St. Thomas, and St. Croix.
See article: JetBlue continues to see benefits and opportunities from its hybrid business model
New flights from National to San Juan should spool-up quickly as Puerto Rico is largely a visiting friends and relatives and leisure market, which JetBlue says tend to reach profitability faster than new business markets. National should provide an initial strong base of passengers for the carrier as no current nonstop flights are available from National to the Caribbean. Passengers in the Washington market will welcome direct flights from the close-in airport, and the DoT believes connecting service to St Thomas in particular adds an international dimension to National's current beyond-perimeter domestic network.
Air Canada, Frontier and Sun Country offered weak service proposals
Proposed service by Air Canada to Vancouver, Frontier to Colorado Springs and Sun Country to Las Vegas from National was dismissed by the DoT. The agency concluded the Vancouver and Colorado Springs markets were too small, and noted previous failures by both United and Air Canada in attempting to offer flights in the Dulles-Vancouver market. US Airways already serves Las Vegas from National through a previous outside-perimeter slot exemption, and DoT believes without connecting opportunities Sun Country's proposed service was less compelling than the other service proposals.
Along with United and US Airways transferring in-perimeter slots at National for long-haul flights, American and Delta are using their slot transfers for new transcontinental service. In June American is launching flights from National to Los Angeles and Delta is launching a second daily frequency to Salt Lake City.
The agency rightfully concluded that awarding flights to Alaska, JetBlue, Southwest and Virgin America will both offer enhanced network opportunities and lower fares in markets where United currently has a monopoly from Dulles. And each market lends itself to a quick build up as passenger demand for long-haul markets from the US capitol has been stymied by the lack of choices for transcontinental flights from the airport.