Thai Tiger officially and finally dropped, pressuring Tiger to look elsewhere for growth
Analysis
Thai Tiger, the proposed joint-venture between Thai Airways and the Singapore-based Tiger Airways that has been languishing for months, is finally being recognised by Tiger as over. This acknowledgement continues the pressure on Tiger Airways to find bases for aircraft it planned to deploy with Thai Tiger as well as a number of other projects that have languished as well. The impact of these non-starts is evident at Tiger Airways Singapore, which last month announced a large loss for the quarter ending 30-Sep-2011 as it failed to absorb the large capacity Tiger put in after having nowhere else to deploy it to.
Thai Airways, Tiger Airways and Ryanthai initially signed an MOU in Aug-2010 and a shareholders' agreement in Feb-2011 establishing Thai Tiger. But the proposed start-up has since endured multiple setbacks as it waited for Thai government approval that never eventuated.
Thai Tiger was all but dead in Sep-2011 when Thai Airways announced it would not extend the JV contract, which was due to expire in Oct-2011. Thai Airways executives have since repeatedly said it was no longer moving forward with Thai Tiger, which was to operate regional international routes following an ultra low-cost model, and was instead focusing on increasing its involvement in domestic LCC Nok Air and launching hybrid regional low-cost carrier Thai Smile.
Despite this, Tiger Airways refused to confirm the project was dead until this week, when the carrier finally put out a statement saying Tiger, Thai and Ryanthai "have, today (7-Dec-2011), decided not to proceed with the incorporation of Thai Tiger".
At its quarterly results presentation last month Tiger would not confirm it was ending its involvement in Thai Tiger. Tiger Group CEO Chin Yau Seng, as CAPA wrote last month, explained where Tiger stood on the Thai Tiger project after the JV contract expired:
"Subsequently we agreed to stay in touch and at some point meet and agree what to do with this project," Mr Chin said. While Mr Chin did not say if Tiger had planned to hold conversations with Thai Airways during the past month, he said floods in Thailand had put pressure on Thai. "The last couple of weeks has been a very bad time for us to speak with Thai Airways," Mr Chin said.
Thai Tiger was announced in Aug-2010 with a projected start date of early 2011, which repeatedly slipped as government officials questioned having a foreign carrier be a part-owner in a local carrier. Thai Tiger aimed to take a 10% market share handling 1 million-1.5 million passengers in its first year, launching operations with three to five A320s, expanding to 35 in five years. The delays allowed competitor Thai AirAsia to bolster its network in anticipation of Thai Tiger entering.
The proposed carrier would have resulted in some overlap within the Thai Airways group, whose carriers include partially owned domestic operator Nok and proposed startup Thai Smile, which Thai Airways plans to use to fend off growing competition from LCCs. Thai Smile will serve regional routes (leaving Thai Airways primarily with only medium- and long-haul routes) and have a cost base lower than Thai Airways but offer more service than pure LCCs, namely Thai AirAsia.
Thai Tiger would have operated several of the same routes as Thai Smile but following a pure no frills LCC model. Overlap with Nok was not expected as Thai Tiger was only intended to operate international routes.
This was the planned brand matrix and positioning of Thai Airways group carriers, including Thai Tiger: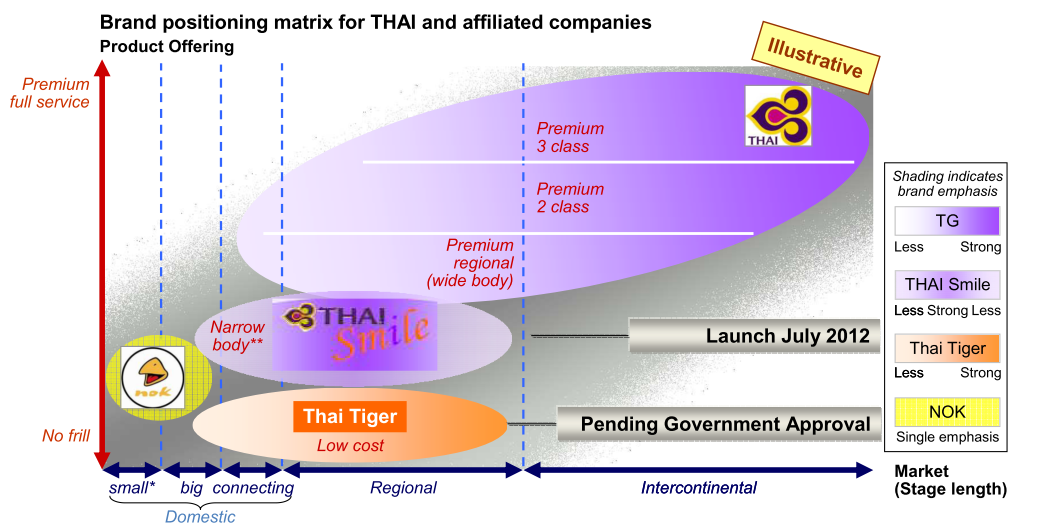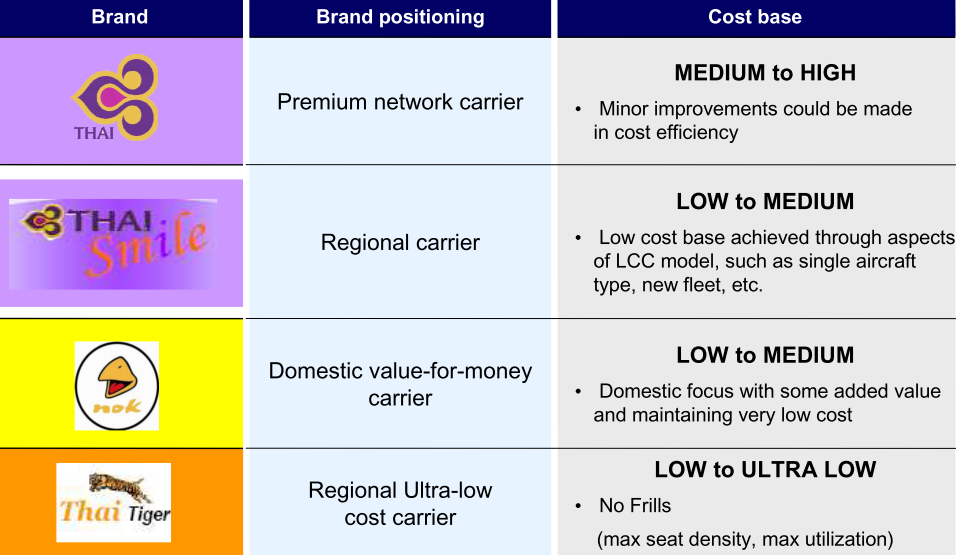 Thai Airways has not yet explained how or if it will fill the ultra-LCC void in its matrix, although, as CAPA has mentioned, Thai Airways could look to more rapidly build up Thai Smile or have Nok Air expand into international markets. Nok is keen to remain at least for now as a pure domestic carrier. But Thai Airways, which in Oct-2011 increased its stake in Nok to 49% and now controls a majority of the seats on Nok's board, could drive a change in strategy at Nok.
See related article: Thailand's Nok Air to stick with domestic focus following ownership restructure and and fleet renewal
The bigger implications of Thai Tiger finally being withdrawn affect Tiger Airways.
Tiger in 2QFY12 (quarter ended 30-Sep-2011) reported a SGD12 million (USD9.3 million) loss for its Singapore operation, a sharp swing from the 2QFY11 profit of SGD6.8 million (USD5.3 million). As CAPA wrote earlier of the results:
Tiger in 2QFY2012 increased its number of flights by 57% with a 64% increase in capacity. Tiger traded yield for revenue, which increased 33%, and capacity outstripped demand. "We are gradually building up the demand," CEO Chin Yau Seng said, adding low margins and poor performance were "because of that lag". Load factors fell – across the group by 7.3 ppts – and was outmatched by a 64% increase in costs.
The drop in demand was despite prior comments from Mr Chin that "Tiger Airways Singapore continues to see healthy demand." Tiger's most recent traffic figures show a further 2.7ppt decline in load factors, suggesting demand and capacity will not find equilibrium this financial year.
Tiger also has stalled projects in Indonesia with Mandala Airlines and in the Philippines with SEAir. (While there were local reports that Tiger and SEAir received some regulatory clearance, competitor Cebu Pacific has disputed if the clearance will be final.) Tiger's excess capacity problem continues to be a threat as the JVs show no sign of progress. Tiger is committed to growing its fleet by four aircraft by Apr-2012, with another eight A320s to be added the following fiscal year.
Read more: Tiger Airways' pan-Asian ambitions floundering with dire need for growth