TAP Portugal privatisation gathers speed as government weighs in
Analysis
TAP Portugal's privatisation process has gathered speed with Prime Minister Pedro Passos Coelho calling on serial-acquirer Lufthansa to consider investing in the national carrier and fellow Star Alliance member. IAG has previously expressed interest in TAP and has reportedly appointed JPMorgan to advise on a possible bid. We examine why the Portuguese flag carrier is in play.
Privatising TAP Portugal has been an idea floated previously by both the airline and the Portuguese government. Despite an uncertain outlook for the global economy, volatile market conditions and a weak first half for TAP, the privatisation process has gathered speed since Portugal's bailout by the European Union and International Monetary Fund in May-2011.
Portugal has been instructed to sell state assets under the terms of the bailout package and the national airline is among them. A new Portuguese government took office in Jun-2011 and has expedited the TAP privatisation effort. It is now seeking to complete a sale to a strategic partner by 2012. The incumbent centre-right Social Democratic Party is unlikely to further delay privatisation. As TAP vice president alliances and external relations Jose Guedes Dias told CAPA in Jun-2011, the new government has "a clear objective to shrink the government to minimum form and shape".
TAP is a niche player in the European market, but has carved out an increasingly valuable and successful niche for itself in the booming Brazilian market. Long-serving CEO Fernando Pinto, a former senior executive at Varig with an intimate knowledge of the Brazilian air transport market, has spearheaded TAP's push into Brazil.
TAP, which 10 years ago had 17 weekly flights to Brazil, now has almost 20,000 weekly seats (in each direction) to 10 Brazilian destinations. It is the largest carrier between Europe and Brazil. Its total capacity in the Europe-Brazil market gives it almost as much capacity as all other European airlines combined.
Among European carriers, TAP is uniquely positioned to take advantage of Brazil's continued rapid economic growth and corresponding demand for travel. TAP has a strong market position in Brazil's fast-growing regional centres. It has a monopoly on the vast majority of international services from Portugal to regional Brazil and provides an alternative for international passengers who would otherwise transit though the heavily congested airports in Rio de Janeiro or Sao Paulo. It is also the only airline operating non-stop services between Portugal and Brazil, which often puts TAP in a powerful pricing position.
Portugal-Brazil capacity (seats per week) and market share (%): Jul-2011 to Feb-2012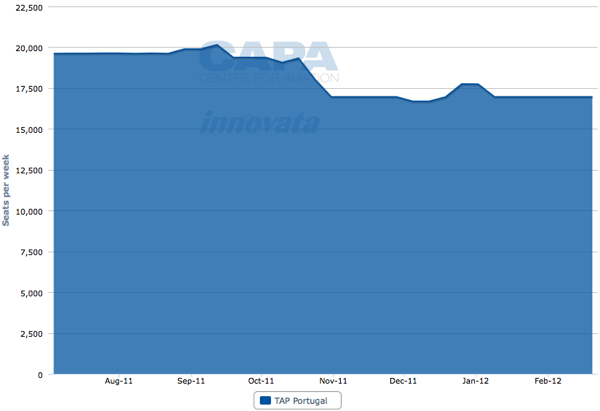 TAP Portugal major Latin America routes, seats per week

Another key plank in TAP's strategy is growing its African network. The airline has built up a strong network in recent years. A decade ago, TAP operated 10 weekly services to the African continent. The airline now operates 65 weekly flights to 13 African destinations. Like in Brazil, TAP's African network features several fast growing destinations that are served by very few or no other European carriers, providing TAP with a unique selling point.
A takeover or strategic investment in TAP is unlikely to result in changes to either the Brazil or Africa strategy. For most would-be partners, TAP's niche operation and exposure to fast growing markets is likely to be the core attraction. Brazil is a country of nearly 200 million people and is expected to overtake the UK and France as the world's fifth-largest economy in 2012. European airlines have also been eagerly expanding into Africa, as many countries across the continent develop an appetite for air travel. Another, although perhaps less important attraction: TAP has little network overlap with some European rivals, which means a protracted approval process with the European Commission is less likely.
IAG appoints advisor for TAP bid
The Financial Times reported on 03-Sep-2011 that IAG, another major proponent of consolidation, has appointed JPMorgan Chase to advise on a bid for TAP. IAG has previously expressed interest in Star Alliance-member TAP to gain access to its extensive Brazilian connections.
IAG CEO Willie Walsh stated in late 2010 that TAP, in addition to Aer Lingus, Finnair, SAS and bmi could be "in play". TAP is the first of these airlines to declare itself available and IAG looks as though it is sharpening its pencils.
An IAG tie-up with TAP would add enormously to oneworld's dominance of routes between Latin America and Europe. oneworld is the largest alliance in the Europe-Latin America market, owing largely to Iberia's coverage of the region as well as LAN. An IAG takeover however would likely attract attention from the European Commission, particularly if the yet-to-be-approved combination of LAN and TAM opts for oneworld after the two Latin American carriers merge into the proposed new holding company LATAM. TAP is Star Alliance's largest operator between South America and Europe, where it uses Lisbon as a transit point for traffic between the regions and codeshares with Star member TAM on the Latin American end of many services.
Mr Pinto has previously ruled out a tie-up with IAG, dismissing the notion owing to IAG's membership in another alliance. But cross-alliance mergers and tie-ups are becoming increasingly common, including the LAN-TAM merger and the cross-shareholdings between Air China and Cathay Pacific.
LATAM another potential bidder

LATAM would be another logical suitor for TAP, although the tie-up would likely be limited to a minority equity investment as cross-border takeovers in the industry remain extremely difficult. (The EU, which is a single economic entity, is the exception.) LATAM is set to become the world's 11th or 12th largest passenger airline group, with annual revenues of about USD12 billion. With TAP, LATAM would have annual revenues of USD15 billion, enough to break into the top 10 rankings of airline groups by this measure.
But, as reported by Airline Leader in the Aug-2011 issue, the timing of a LAN-TAM deal with TAP may not be right. It would be difficult if not impossible for LATAM to participate in the TAP privatisation process until the LAN-TAM merger is completed, which is not expected until late 2011 or early 2012. If the TAP privatisation proceeds in 2H2011 as anticipated, TAM would have to pursue TAP on its own. But TAM CEO Libano Barroso told CAPA in Jun-2011 that the Brazilian carrier is not looking at TAP.
Lufthansa is the preferred suitor
Unsurprisingly, Lufthansa, TAP's Star Alliance member, has emerged as the favoured suitor of the Portuguese government, the sole shareholder in TAP. Prime Minister Coelho, on a tour to Germany, has urged Lufthansa consider an investment in TAP. The German airline is a major proponent of consolidation and now, in addition to the Lufthansa group of airlines, owns SWISS, Austrian Airlines, Germanwings, bmi, and has stakes in Brussels Airlines and a raft of regional carriers across Western Europe. Mr Pinto has also previously spoken of the merits of TAP's membership in the Star Alliance, saying that it generates substantial traffic flows and revenue.
TAP is one of the few remaining Star Alliance national carriers in Europe not yet part of the Lufthansa family. Naturally, the German giant would be a logical buyer. Talking up the merits of a TAP-Lufthansa Group combination, Prime Minister Coelho stated Lufthansa would benefit from TAP's South American and African networks. The South American connections would appeal to Lufthansa, which has previously announced its intention to expand more aggressively into the region, where it generates a meagre 2% of revenue and it lags rivals IAG and Air France-KLM.
Lufthansa has not yet commented on a potential TAP tie-up, but CEO Christoph Franz has recently stated the airline will be focusing on organic growth, rather than growth by acquisition, in the short-term. Lufthansa has downplayed interest in the revived SAS and is keen to offload the struggling bmi. As Airline Leader reported in Aug-2011, Lufthansa does not currently seem keen to further expand its portfolio of carriers as it is still struggling to digest some of its latest airline acquisitions.
TAP management also prefers to find an institutional investor who would allow TAP to maintain its independence and retain its so far successful niche. But finding an investment firm willing to buy an airline in the current economic environment in Europe is no easy task. In the end, it will likely come down to price and a strategic play by Lufthansa, Air France-KLM or IAG to strengthen their positions in Europe and emerging markets.