Storm and then calm as Virgin Australia posts loss
Analysis
The re-branded Virgin Australia ended its final year as a middle-market carrier AUD66.6 million (USD69.3 million) in the red, a net pre-tax loss it attributes to one-off events that particularly hit the leisure market and which underscores its strategy to move into the more resilient corporate market as a full-service carrier. Under pressure to justify the change, Virgin is showing early indicators of success with more approaches lined up, including what is arguably the boldest move the industry has seen to capture passengers from competitors.
With services to Europe and free refreshments for all under consideration, Virgin continues to encroach on Qantas, and with its partners is rivaling Qantas' share of international traffic to feed the all-important domestic network.
Disproportionately affected by natural disasters
Virgin Australia's fortunes for FY2011 – which included a domestic operating loss of AUD40.8 million (USD42.8 million) and an international operating profit of AUD22.4 million (USD23.5 million) – were the reverse of Qantas mainline, which posted an AUD428 million (USD449 million) domestic profit and AUD200 million (USD210 million) international loss. Internationally the two figures can be reconciled as Virgin predominantly operates on the profitable trans-Pacific route to Los Angeles, where Qantas flies in addition to a number of loss-making markets in Asia and Europe.
Virgin Australia segment result for FY2011

While Virgin in FY2011 domestically was exposed to the same natural disasters as Qantas, as well as a meltdown of its Navitaire reservation platform, CFO Sankar Narayan said Virgin was disproportionately affected. "Queensland was the most severe…and we're the most exposed to Queensland," he said. CEO John Borghetti explained that 56% of Virgin's flights are into, out of, or within Queensland. "That's half your business that basically shut down in a day."
Impact of one-off events for Virgin Australia in FY2011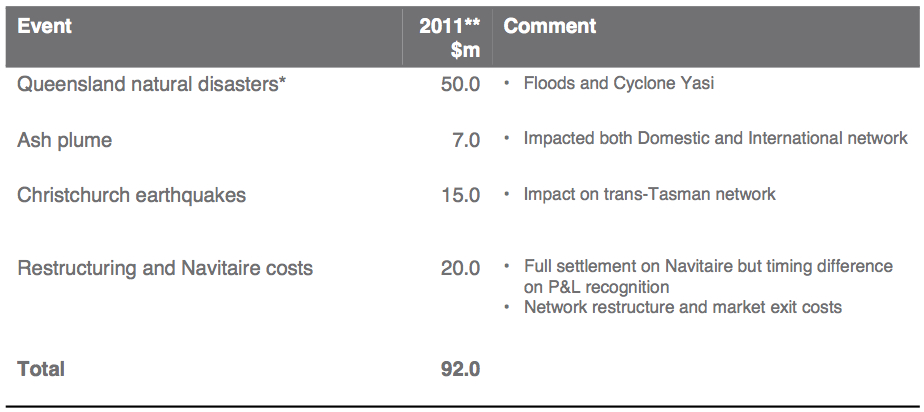 Furthermore, the revenue impacts belie the medium-term demand depression. "The impact is just limited to the time period when those events took place. What happened after that was a general softening of the leisure market into Queensland," Mr Narayan said.
The natural disasters saw yields marginally decrease to AUD10.00 cents (USD10.49 cents) from AUD10.06 cents (AUD 10.55 cents). For comparison, the Qantas Group reported an AUD10.94 cent (USD11.48 cents) yield. Revenue at Virgin Australia increased 9.7% in FY2011 on a 10% increase in revenue passenger kilometers with load factors marginally decreased by 0.1ppt to 79.7%. The group is targeting 4-6% domestic capacity growth in 1HFY2012, slightly above Qantas mainline's growth of 3.6% but below Jetstar's domestic growth of 13%.
Cost base under control
The one-off events, Mr Narayan said, mask a solid business structure. "The underlying performance of the business is actually better than the AUD41 million we've presented." Of crucial concern is Virgin's cost base, which year-on-year increased 2.4%, below inflation of approximately 3%. Cost per available seat kilometre excluding fuel and other costs in FY2011 was AUD6.33 cents (USD6.64 cents). A direct comparison to Qantas' AUD5.60 CASK (USD5.88) is unsuitable as Qantas takes out from the CASK an unspecified charge for its very profitable frequent flyer programme.
Virgin's strategy hinges on its ability to offer a premium service at a lower cost base than Qantas, which some industry watchers were unsure if Virgin could achieve while adding complexity to its product. Mr Narayan said the AUD6.33 CASK (USD6.64 CASK) included the product restructuring costs. "While we are restructuring the business, restructuring the network and introducing new products, we have kept strong control on the cost line excluding the impact of fuel."
Strong alliance benefits, but best yet to come
While Virgin over the past two years has created alliances – including with Delta Air Lines and Air New Zealand (ANZ) under founder and previous CEO Brett Godfrey and then Etihad and Singapore Airlines (SIA) under Mr Borghetti – benefits have only started to emerge since earlier this year when long-haul division V Australia commenced flights to Abu Dhabi, the hub for partner Etihad. Final approval for the Delta alliance was received in May-2011 but has not yet been implemented, the ANZ alliance commenced joint-sales in Jul-2011 and approval is still waiting for the SIA alliance announced in Jun-2011, making the benefits largely unrealised so far.
But Mr Borghetti is upbeat on the enormous potential since "Etihad has doubled already our inbound [traffic]", although Virgin will not quantify the figure. The alliances expand Virgin's reach without aircraft capital commitment, which boost its corporate and frequent flyer proposition, but also provide valuable feed for the domestic network, traditionally the money-earner for Australian carriers. Mr Borghetti remarked of its developing relationship with Delta: "Overnight once we implement this alliance, we will have over 200 places in America accessing this region."
'Join an alliance? We have an alliance'
Virgin projects that by Jul-2012, provided full implementation of alliances and codeshares – including new codeshares with Hawaiian and Virgin Atlantic – it will capture 26% of capacity into and out of Australia; the comparable figure out of Australia for oneworld, with member elect Malaysia Airlines, being 30%.
"When I'm asked 'Why aren't you joining an alliance?', the obvious answer is 'Well, we have an alliance and it's as big as oneworld in and out of this country,'" Mr Borghetti said.
Virgin Australia's forecast of its international (to/ex-Australia) capacity market share compared to oneworld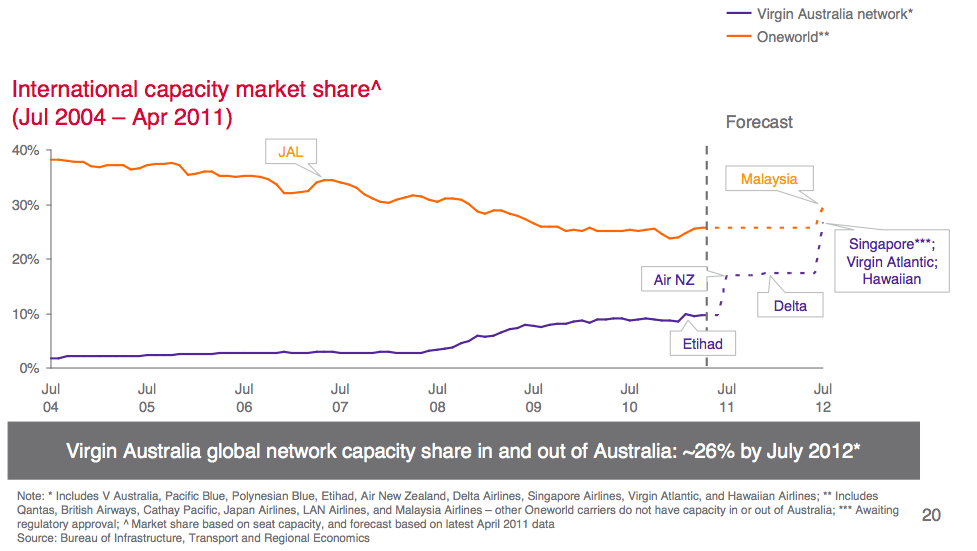 But Virgin's comparison is not even, as the connotation is Virgin can take on oneworld's Australian member, Qantas. But Virgin's chart fails to include Qantas' non-oneworld partners who bring value and network size to Qantas, which is more important to the local market than oneworld alone. Based on the Bureau of Infrastructure, Transport and Regional Economics' May-2011 traffic, the latest available, Virgin and its partners would have 29% of capacity into or out of Australia while Qantas and its oneworld and codeshare partners – including Air Pacific, Air Niugini, Vietnam Airlines and Asiana – would have a 44% share.
International (in/ex-Australia) capacity share of oneworld, Qantas with partners, and Virgin Australia with partners (as of May-2011)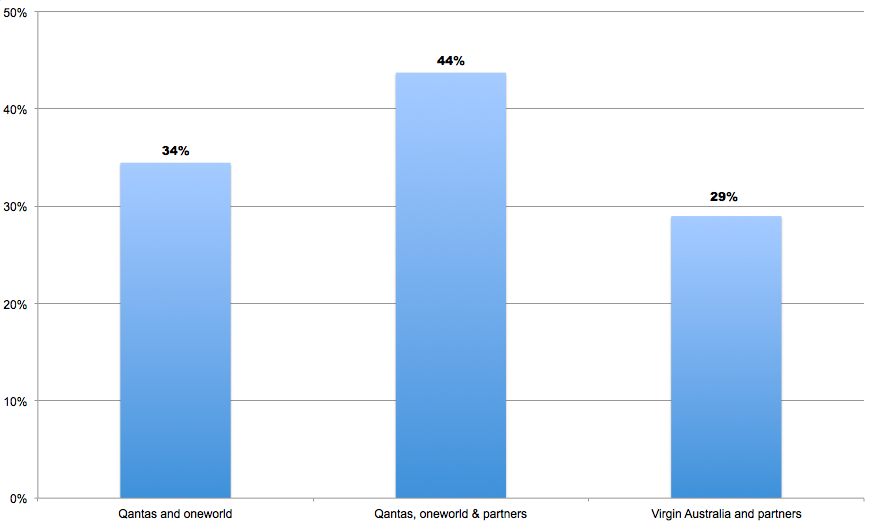 But there is still no denying Virgin in the space of a few years with comparatively low capital commitment has established itself as a reckoning force to Qantas' previous tight grip.
"We've created our own alliance group," Mr Borghetti said about joining a global alliance. "That doesn't mean that we won't consider that at some point whether it be Star, or SkyTeam, or whoever it might be, but that's for another day."
With regards to alliances with individual carriers, Mr Borghetti remarked the SIA deal "completed our major alliances" but Virgin will not cut itself from further opportunities. "There will continue to be what I call niche alliances. An example of that is the Virgin Atlantic alliance where you have specific sectors [targeted]," Mr Borghetti said.
Corporate push produces results
Under pressure to justify its strategy, Virgin has detailed for the first time its inroads in the corporate market. In FY2011 it signed 39 new contracts, the majority in 4QFY2011 collectively representing a annualised spend per annum of AUD60 million (USD63 million). New accounts included Accenture, Google, Parmalat, and the Australian Football League. Virgin contracted four additional ASX50 (the top 50 stocks on the Australian Stock Exchange), bringing its number of ASX50 clients to 19. Of the 50 managed corporate accounts renewed this year, all were renewed for the same or higher share than the previous contract.
Corporate account wins in FY2011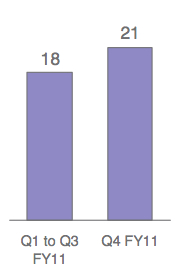 "That says our strategy is starting to bite and we are improving our revenue mix," Mr Borghetti said. "The important story is…this isn't about going out and taking full control of specific accounts. It is about incrementally increasing our share within those accounts with whom we already have arrangements or establishing arrangements with accounts with whom accounts we currently don't deal."
Corporate and government customers comprised 13% of Virgin's FY2011 revenue, up from 10% in FY2010, representing a 29% increase. Virgin intends to double its corporate market share to 20%, but warns it will not draw a line in the sand around that figure, a reference to Qantas' firm position of maintaining an overall 65% market share.
Progress in diversifying revenue line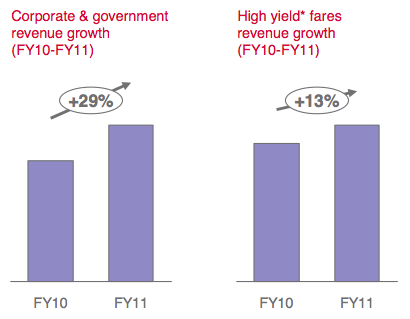 Bold offensive to woo elite travellers
Virgin announced a revamp of its Velocity frequent flyer programme that now features a new platinum top-tier, ability to pool elite-qualifying status credits within a family, and additional earning opportunities. To woo elite frequent flyers from competitors – predominantly Qantas – Virgin has taken one of the boldest offensive moves in the sector by offering elite status matches. While status matches, in which an airline gives complimentary elite membership to frequent flyers of other carriers, are not new, they are typically unpublicised backroom dealings conducted over e-mails and faxes.
Virgin, however, is prominently marketing its status match offer with television advertisements, offers to switch members over at airport lounges, and has even set up a stand in the Westfield mall in the centre of Sydney.
Virgin Australia status match stand in Sydney's Westfield mall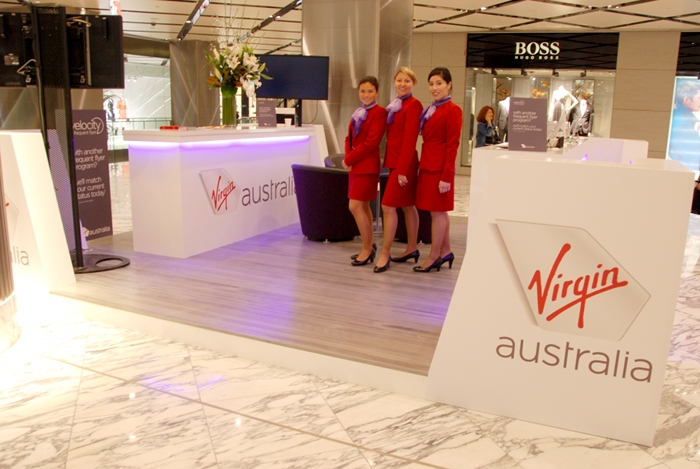 European service under consideration
V Australia's Abu Dhabi operation sees one of its three weekly B777 flights sit on the ground for 36 hours in Abu Dhabi. Virgin is understood to have evaluated European ports to send the aircraft to as a tag-on flight, with Athens understood to be an early contender but now losing favour to Rome since the latter has more B777 support in the event the aircraft experiences any technical difficulties.
Mr Borghetti acknowledged Virgin was evaluating uses for the B777 during the layover, and did not deny interest in Europe. "We're looking at a number of options and we've got two or three options on the table but we're holding off on doing things with it at this stage," he said.
Virgin announced in Aug-2010 its intention to launch a Brisbane-Abu Dhabi route in Feb-2012, but Mr Borghetti said this service was uncertain. "At this stage we've put it on hold. We're looking at other options but we're not in a position to talk about them yet."
V Australia's B777 fleet is tied up with the existing Los Angeles and Sydney-Abu Dhabi operation with not further B777 deliveries in the short-term. Further, Virgin and Delta agreed to trans-Pacific capacity commitments to placate American regulators for their proposed joint-venture, subsequently approved. Virgin is currently operating at the minimum capacity requirement, although it is permitted to decrease it for up to six months a year – but the prospect of seasonal Los Angeles and Abu Dhabi service does not hold well since both routes have peaks during approximately the same periods.
One option reportedly evaluated was a service on A330-200 equipment via Singapore, but Mr Borghetti could not be drawn to comment on if the options it is evaluating include Abu Dhabi or other destinations. "I really can't go into it," he said.
Los Angeles performance boosted by small changes
Like with Qantas, the trans-Pacific market is profitable for Virgin, which Mr Borghetti attributed to a maturing presence as well as small-scale improvements, including making V Australia flights arrive earlier in the morning in Los Angeles in order to provide for more onward connections. "Half the business that goes to America goes beyond LA, so you need to pick up traffic. So the schedule changes were very important," he said. Virgin America's growing network and market exposure helped feed traffic as well. "You put what seem to be these insignificant points together and you come up with a very significant improvement," Mr Borghetti said.
Virgin expects its presence on the trans-Pacific market to improve once it implements its alliance with Delta by the end of the calendar year as well as increased awareness that will come with V Australia adopting the Virgin Australia name and brand. But Mr Borghetti warned the high Australian dollar exchange rate and economic downturn in America could make the market tougher for competitors. "I'm not as optimistic of the total market as I am of our own part of the market."
Virgin and Delta are in discussions over what their trans-Pacific service could look like once their alliance is implemented, Mr Borghetti said. He declined to comment on suggestions Delta would replace V Australia on the Los Angeles-Melbourne route and V Australia would transfer its Melbourne capacity to Brisbane, and also declined to say if V Australia would commit to Melbourne. "V Australia and Delta and, for that matter, Etihad and Air New Zealand and Singapore Airlines will do the best to maximize the assets," he said.
Direct services to China and India still ruled out
Although Virgin Australia in its application to the Australian Competition and Consumer Commission flagged the possibility of its proposed alliance with SIA opening new routes, it has still ruled out operating its own aircraft to China and India.
"It absolutely does not make sense," Mr Borghetti said. "Most of the traffic to both China and India is not monodestinational. It's multiple, usually. Fly into Delhi and come out of Mumbai. If you just service one point in those countries, you're going to get imbalances on your directional flows. So unless you're prepared to operate to a number of ports it's best not to do it."
Furthermore, carriers with low cost bases that operate between Australia and China and India via an intermediary point create too much competition and would suppress the yields of an Australian carrier.
"The best way to serve [China and India] is via a mid-point. Singapore is in a perfect position. You can fly into Singapore and then connect to any of the Indian points directly. The Singapore alliance, if approved, will be enormously powerful for us," Mr Borghetti said. "Singapore flies to 10 or 11 cities in China. We would never be able to do that on our own right."
Free snacks and drinks expand product proposition
Earlier this month Virgin introduced complimentary snacks and drinks, including alcoholic beverages, on its corporate and government-heavy Sydney-Canberra service it markets as "Capital Connect". The food and beverage proposition largely mirrors Qantas' service – a further sign of Virgin's evolution to full-service carrier status – as well the complimentary food and beverages introduced last year on intra-Western Australia flights, but Mr Borghetti could not comment if this complimentary service would be expanded network-wide.
"This is a roll-out of product. You can't have everything on day one," he said. "That does not necessarily follow that one particular sector in one particular market has to be equal to another sector in another market."
But when asked about different food options on different routes, Mr Borghetti said that may not be the case. "What you've seen is the roll-out of the product on a couple of routes. We haven't rolled out the product spec on the rest of the routes. It may be the same. It may be different." He added further product roll-outs will occur over the next six months.
New A330 product and destination announcements pending
Virgin Australia will boost its A330 fleet from two frames to four with two newly-manufactured aircraft arriving in Apr-2012 and May-2012. Its existing two A330s were previously in service with Emirates. While the aircraft are understood to feature lie-flat beds, an upgrade from the current business seats – and which matches the lie-flat product Qantas has deployed to trump Virgin – Mr Borghetti would not confirm the configuration. "The two new aircraft that are coming for next year are new aircraft so we've spec'd them with a different spec, but we haven't disclosed the spec," he said. He did affirm the A330 fleet – which will grow to six ("at the moment") by Jun-2013 – "will eventually have a consistent product".
Mr Borghetti could not confirm the destination for the next two A330s, although Melbourne-Perth is expected. Separately, however, Mr Borghetti said Virgin was under-serving the major medium-haul trunk route. "We've been so under-weight on the east-coast, west-coast capacity over the last three or four years that we need to catch up, hence the A330."
Virgin Australia fleet to Jun-2011 and projection for Jun-2013

No B777 expansion until at least 2013
Shortly after Mr Borghetti took the reigns, during which time V Australia was experiencing losses, he remarked that V Australia growth would be curtailed as "airlines don't go broke by having too little capacity, they go broke by having too much capacity".
While that maxim held relevance a year ago, the V Australia operation is now profitable, but Mr Borghetti said that was not reason to expand the subsidiary and B777 fleet in the short- and medium-term future. "We made AUD20 million-odd dollars, but we have more to do with that," he said. "At this stage, certainly until 2013, we have no intention of adding B777s."
The real factor may be cash. Virgin owns four of its five B777-300ERs, partially due to them having manufacturing characteristics different from the global B777 fleet – which makes them hard to re-lease – and in its current financial position would be pressed to commit capital funds to purchasing new aircraft. As it stands, Virgin conducted an AUD70 million (USD73 million) sale-and-leaseback transaction after the end of FY2011.
Re-branding continues as B777s to receive hybrid livery
At present Virgin has five of its B737NG fleet in its interior that includes business class. By the end of the calendar year all of the B737NG fleet will be configured. Re-painting of the narrowbody fleet continues while the re-branding of the B777s will slowly commence next year with the fleet to initially receive a hybrid livery, group executive for operations Sean Donohue said.
"The five B777s will do a temporary decal so you'll see 'Virgin Australia'" on the silver base, Mr Donohue said. The Southern Cross on the tail will be removed as the empennage on the hybrid livery "will be the same as the domestic livery".
"Over the next couple of years we'll do a full re-painting of each of the aeroplanes," Mr Donohue said. "From next year you'll see at least one of the aeroplanes get fully re-painted." Separately, the B777 fleet will start heavy checks next year with Air New Zealand Engineering Services.
Stretch B737 needs improvements for Virgin's needs
Virgin anticipates increasing its B737NG fleet to 71 by Jun-2013, up from the 63 in Jun-2011, through new deliveries to support growth and new deliveries to permit older aircraft to be returned to lessors or sold onwards. While Virgin had been evaluating the B737-900 in 2009 to gain greater economics over Qantas and Jetstar, only -800 variants were included in its Feb-2010 order, although conversion rights to other variants were included.
Boeing has recently been pushing the -900ER – as evidenced by Delta's recent order for 100 of them – but Mr Donohue said Virgin does not yet see the type's economics. "Boeing brought it to the table," Mr Donohue said. "It's got to make sense from a cost standpoint. It's got to make sense from a range standpoint."
The standard -900 has a marginally higher capacity over the -800 with approximately 20 extra seats and a marginally smaller operating cost, potentially good for slot-restricted Sydney airport where Qantas operates a plethora of domestic widebodies, but has significantly less range and would be pressed to operate routes longer than Sydney to Perth. Already Pacific Blue's B737-800 services from the east coast to Bali, 33% longer than Sydney-Perth, are heavily capacity restricted. The -900ER has a higher capacity and improvements to boost range beyond the standard -900s, but its operating cost is geared more towards replacing larger-capacity models such as the B757 than it is to build on B737-size missions.
Residual values are also a factor as they are considered not as strong on the -900 compared to the -800, and for that matter the A321 compared to the A320, as the B737-800 and A320 are more popular worldwide than their stretched variants. Restricted re-sale or re-lease opportunities is a hindering factor for a carrier like Virgin that tends to replace narrowbody aircraft after they have been in service for approximately 6-7 years.
As for the re-engined B737 being developed, Mr Borghetti declined to comment on it, but noted, "We're looking at all different options."
Local investment and employee support
Remarks from Mr Borghetti made evident the disparity in staff and industrial relations between Virgin and Qantas as they both seek to transform their businesses. "You don't want to be heading down a new strategic path and look over your shoulder and find no one is following you. You have to bring people with you. Without that you just can't succeed," Mr Borghetti said.
In comparison Qantas CEO Alan Joyce warned the company would stand up to demands in order to "defend the company for the future". Questions have been asked of both Mr Joyce and Mr Borghetti of a new pay deal Virgin struck with its B777 pilots, who joined the fledging V Australia operation at low salaries with promises for raises once the carrier matured. Mr Joyce made note that even with the deal the pilots would be paid half that of Qantas' long-haul pilots.
Virgin acknowledged this, saying the raise for the 150 pilots equated to only an extra AUD1.5 million (USD1.57 million) annually for three years. "The truth is we're both happy. The workforce is happy. The management is happy," Mr Borghetti said. "It is also about the work environment, not just about dollars."
Qantas says the annual cost for its pilot claims is AUD317 million (USD333 million), demonstrating the scale on which Virgin has an advantage and can be seen to do the opposite of Qantas, including constructing a new maintenance hangar with the creation of engineer jobs, as well as onshoring 100 call centre positions, although that is not to say Virgin's efforts are not genuine.
"All I'm doing is what I believe is right. It's what Virgin has always done. Virgin has always been a very people-focused business," Mr Borghetti said in one of the rare occasions that he, a storied legacy carrier executive, has identified with the ethos of the cavalier Virgin Group.
Outlook: Strategy on track but full benefits awhile away
Virgin is seeing the early benefits from its new strategy, but full benefits will not begin to emerge until the second half of the year when its alliance with Delta is implemented and its domestic business class goes on sale, which will occur at an undisclosed point after 1-Oct-2011. Even then Virgin will have to wait for the SIA alliance to be approved and implemented, but in the meantime, bar any natural disasters, Virgin will be in a sustainable position.
The alliances do mean, however, that Virgin will be increasingly reliant on the global market and the volatility that brings, as compared to shielding itself within the confines of Australia as it has done in the past but in FY2011 demonstrated is susceptible to weakness as well. Once Virgin can breathe after implementing its fast-moving "game change programme", it will have to consider balancing local and global networks when downturns occur, for which a rulebook – unlike alliance construction – does not exist but as other carriers have shown, is critical to weathering the storms at home in this industry.
With the Delta, Etihad and SIA alliances, Virgin clearly has the upper hand in gaining more than it puts in, even if its partner is appreciative. But it remains to be seen if the carriers will start wanting Virgin to show more commitment, which with flying at least, Virgin is reluctant to do. Globally alliances and partnerships are becoming so close that conflicts emerge, and with Virgin tightly aligned to a diverse group, risk of reverberation exposure is high. Already Virgin partners with Delta and Virgin America, who compete with each other. Or perhaps Virgin can moderate the relationships, find balances and continue to have the best of multiple worlds and, as it toots, have new worlds of choice – which its competitor is pressed to achieve.
Note: Foreign exchange calculated on 1 AUD = 1.05 USD