North Atlantic aviation: Brexit, Long Haul LCCs mean change
Analysis
Although the North Atlantic is one of the more mature air travel markets, change is now in the wind as long haul low cost operators continue to capitalise on the capabilities of new narrowbody aircraft and create more competition for the full service airlines that dominate the market.

It is arguably too early to determine the level of success of operators such as Norwegian and Primera in the long haul low cost market, but larger airlines are adapting to the latest low cost threat. Large US airlines appear to be relying on their basic economy fares to combat new low cost competition, while some larger European airline groups are turning to low cost subsidiaries to preserve their competitive strength in the North Atlantic.

Against the backdrop of low cost expansion is the pressing need for the UK and the US to negotiate a new air service agreement before Brexit takes effect in a year from now. Talks appear to be progressing slowly, and some airlines could be forced to develop contingency plans if a new agreement does not materialise.
This and other high level topics will be examined at the CAPA Americas Aviation Summit in Houston, 16/17 April:
Agenda Item: Finding a new regime on the North Atlantic - as regulatory and operating norms change
According to IATA, the North Atlantic provides the world's most profitable major international traffic flow. It is also the most tightly held, with three groups effectively controlling over three quarters of the seats and the bulk of the premium market. After several years of open skies on the North Atlantic and the introduction of LCCs such as Norwegian in its various incarnations, the impact of Brexit now requires a renegotiation of the agreement to restore the UK to open skies once it leaves the EU.
The major JVs depend on open skies for them to gain anti-trust immunity to operate in the UK market, the largest premium route. This will not be straightforward, as for example US pilot unions have opposed the freedom it provides for airlines to establish there. Aside from the UK there are many untapped opportunities for LCCs. New aircraft types are providing route opportunities that were not previously viable, for non-stop and one-stop service between Europe and the US (and Canada).
What issues are involved in the UK renegotiation and what are the positions of the protagonists?
How significant will the impact of narrowbody aircraft be on trans-Atlantic routes
How are the traditional operators responding to long haul low cost competition?
How are low cost airlines innovating to enhance long haul connectivity?
Moderator: McGill University Faculty of Law, Director, Institute of Air & Space Law, Brian Havel
Panel:
Lufthansa Group, Vice President Americas, Tamur Goudarzi Pour
U.S. Department of Transportation, Director, Office of International Aviation, Brian Hedberg
Summary: North Atlantic aviation: Long Haul LCCs mean change
For now, Norwegian and Primera Air are taking slightly different network approaches to long haul narrowbody operations.
US airlines believe basic economy is the best weapon to compete effectively with new low cost competition in the North Atlantic. European airlines are adopting different strategies.
Primera is the latest LCC to add new narrrowbodies in the North Atlantic
The Boeing 737 MAX and Airbus A320neo families have helped to create a resurgence in long haul low cost travel.

CAPA has previously reported that as recently as the summer of 2015 Boeing 757s represented 90% of the frequencies in the long haul narrowbody market in the North Atlantic; but with deliveries of new generation narrowbodies growing, the 737 MAX-8 will represent 18% of the frequencies in the summer of 2018, followed by the A321neo operating 14% of the frequencies.
Europe-North America*: narrowbody frequencies by aircraft type, summer 2008 to summer 2018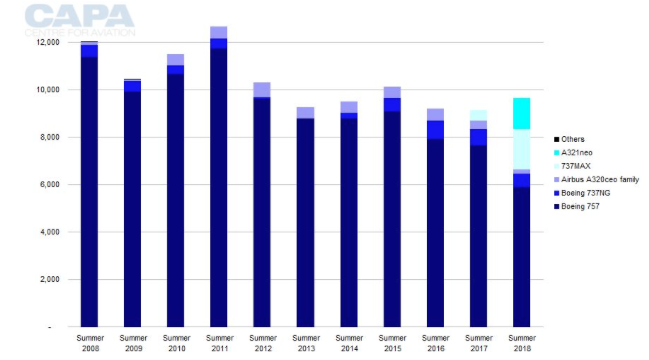 See related report: North Atlantic narrowbody aircraft routes: a dynamic niche segment undergoing transformation.
The MAX will be operated by Norwegian and Air Canada, while the -neo will be operated by Primera Air and SATA International across the Atlantic this summer.

Copenhagen-based Primera Air is the latest airline to launch low cost narrowbody flights in the North Atlantic, introducing numerous flights during the summer of 2018. From Birmingham, London Stansted and Paris CDG, Primera will operate services to Boston, Newark and Toronto.

Primera is taking a different approach from that of Norwegian Air International, which operates its 737 MAX 8s from Belfast, Dublin, Edinburgh and Shannon to secondary airports: Providence TF Green and Stewart airports.
Primera does not face competitors on flights from Belfast or London Stansted, but its rivals on flights from Paris include the major airlines Air France-KLM (Boston and Toronto), Delta (Boston and Newark) and Air Canada (Toronto). Norwegian also operates from Paris to Boston, La Compagnie offers fights from Paris to Newark, and Air Transat operates Paris-Toronto services.
Norwegian cut fights from Edinburgh to Hartford after the route failed to meet expectations.
US airlines combat LCCs with their Basic Economy; others use a hybrid path
From the US side, the competitive response to low cost encroachment in the North Atlantic is extending the basic economy option of their new pricing tiers on routes to Europe. Delta is charging for bags as part of its basic economy on international flights, and the airline recently stated that its lowest fare tier offering would allow it to be more competitive with low cost airlines in the North Atlantic.

Most of the low cost airlines operating in the North Atlantic charge for add-ons, including luggage and meals. So, the price matching by the majors, combined with their ability to offer more network breadth and schedule superiority could create obstacles for low cost airlines challenging those full service airlines on direct routes.

American is preparing to roll out its basic economy fares on trans-Atlantic routes in the spring of 2018. But even before debuting the fare class in the market, the airline has attributed improved execution of low cost carrier price matching as one factor for a 4Q2017 Atlantic unit revenue performance that was the best since the 2013 merger between American and US Airways.

European airlines are adopting different approaches in combating the low cost threat in the North Atlantic.
IAG has launched LEVEL, a low cost subsidiary that operates A330 widebodies (with a mix of premium economy and regular economy seats) from Barcelona to Boston, Buenos Aires, Los Angeles and Oakland. The IAG subsidiary British Airways is also expanding service from London Gatwick in response to low cost carrier growth from the airport in the North Atlantic: launching service from Toronto (served by WestJet and Air Canada rouge) in May-2018, and resuming flights to Las Vegas (operated by Virgin Atlantic and Norwegian).
Competition and LCCs over the long term: LCC codeshares could be the answer
With the influx occurring in the long haul low cost market, how are the new entrants distinguishing themselves from one another, and in what ways can they innovate in order to withstand price matching by major airlines?



For now, the new low cost entrants can distinguish themselves from one another largely based on network diversity. There are a lot of opportunities for connecting underserved markets in the US to Europe, and various ways to accomplish those connections. For example, WOW Air is adding flights from Cleveland to Reykjavik, creating numerous one-stop options to Europe through Iceland.

One option long haul low cost operators may want to consider as the market place evolves is forging codeshares with fellow low cost carriers in order to deepen their network breadth.
Spirit and Frontier have a solid presence in Cleveland, and an ability to market connections beyond Cleveland and Iceland could become attractive at some point. The cost and complexity may outweigh the benefits now, but as larger airlines continue to flex their muscle against start-up competitors in the North Atlantic, thinking outside the box could well be necessary in the not too distant future.
Slow progress in a UK-US open skies pact post-Brexit should be concerning
Obviously, the large full service network airlines remain dominant on the North Atlantic, evidenced by airlines participating in joint ventures that operate more than 75% of the seats on offer between North America and Western Europe for the week of 26-Mar-2018 (based on data from CAPA and OAG).

The UK-US market is the most lucrative in the North Atlantic, and Brexit is creating uncertainty as airlines attempt to navigate serving the two countries amid negotiations to create a new open skies pact post-Brexit.

The productivity of negotiations that occurred in early 2018 was reportedly low after the US offered a standard bilateral agreement, which requires airlines to be owned and majority controlled by countries of origin.

See related report: Aviation open skies: protectionism, conflicts of interest and outdated ideas

That obviously poses problems for British Airways, which is now a subsidiary of the European airline conglomerate IAG, and for Delta, Air France-KLM and Virgin Atlantic. Air France-KLM aims to take a 31% stake in Virgin Atlantic, in which Delta already has a 49% stake.

The entities that have the greatest stakes in negotiations are expressing a range of optimism about an open skies agreement between the UK and the US.
Reuters recently reported IAG head Willie Walsh saying that he firmly believed the situation would be resolved. According to data from CAPA and OAG, the IAG subsidiary British Airways is the largest operator between the UK and the US, holding a 35% seat share for the week of 26-Mar-2016.
UK-US airline seat share (% of one-way seats) for the week of 27-Mar-2017 vs week commencing 26-Mar-2018

Speaking recently at the recent UATP Distribution Conference Airlines for America in London, CEO Nick Calio stated that Brexit would be tricky, "but something will be worked out".

Mr Calio remarked that politicians and policy markets "will have to do something to keep that activity going", adding that the industry was in a period of uncertainty, with no WTO rules to fall back on.

As a result, airlines might need a disclaimer in their contract of carriage that tickets would be subject to the necessary agreements over traffic rights, he said. Mr Calio expected that a framework for a new EU-UK agreement might be in place by April, followed by one for a UK-US agreement.

Mr Calio noted that the standard text on ownership and control was included in the draft agreement by the US during a meeting between US and UK officials in Jan-2018. "I think they recognise that's a problem. The political will on both sides to get something done is strong", he remarked.

It is not clear when talks will resume, but the stakes remain high to achieve an agreement that reflects the modern aviation industry, and the outdated frameworks from agreements that date back decades need to be cast aside.
The North Atlantic paradox: high levels of maturity and uncertainty
Even with the North Atlantic having the label as one of the most mature aviation markets in the world, there is potential for significant change during the next few years as the effects of long haul low cost narrowbody operations, and the fallout from Brexit, start to materialise.

The shrewdest airlines operating in the market will attempt to anticipate the effect of both those important developments, either in order to maintain their strength, or to capitalise on niche opportunities in the North Atlantic.