Milan Malpensa is trying to get low-cost and full service to rebuild its lost glory
Analysis
Milan Malpensa Airport is betting on low-cost carriers as well as full service carriers to restore its lost glory but it will not be able to rebuild a hub owing to its lack of a local network carrier. LCCs now represent about 50% of total seat capacity at the airport while Alitalia accounts for only 4% of capacity as it has shrunk its Milan network to only seven routes, according to data from Innovata. Including its LCC subsidiary Air One Smart Carrier, Alitalia offers less than 13% of Malpensa's total seat capacity, which is not sufficient to fulfil a possible hub operator role. Most noteworthy is the decline of Malpensa as a transatlantic gateway.
Malpensa used to be a thriving Alitalia hub with the airline serving over 80 routes from the North Italian airport, including 10 transatlantic routes. But the Italian flag carrier's bankruptcy at the end 2008 and its restructuring under new private ownership from 2009 changed its fortunes. Alitalia now only operates two transatlantic routes from Malpensa while US carriers have also dropped several routes to Milan in recent years.
The "new Alitalia" dropped its dual hub strategy and started consolidating its core activities in Rome Fiumicino Airport while expanding at Milan Linate, Milan's city airport, for the high yielding point-to-point traffic. Before its restructuring, Alitalia served some 55 routes from its Rome base, distinctly less than from Milan Malpensa where it enjoyed a monopoly position on almost half of the routes it operated.
Alitalia's predisposition of late towards Rome is evident. The majority of the carrier's seats either arrive or depart at Rome Fiumicino while Milan Linate is a distant second. Milan Malpensa does not rank in the carrier's top ten hubs/bases.
Alitalia top ten hubs/bases based on capacity (seats): 14-May-2012 to 20-May-2012
Rebalancing act between low-cost and full service
The market share of LCCs and FSC is almost on par at Milan Malpensa, with the latter quickly gaining ground. Budget airlines were the first to fill the void left by Alitalia as Europe's major carriers downsized and concentrated on their own hubs in the wake of the depressed social economic environment.
EasyJet has been growing consistently since opening a base at the airport in Mar-2006 and is currently the largest carrier at Milan Malpensa, operating 1,056 weekly frequencies on close to 50 domestic and international routes. The London Luton-based LCC significantly benefitted from the withdrawal of Lufthansa Italia in 2011. In a conference call with analysts presenting its 1H2012 results, easyJet CEO Carolyn McCall said the Malpensa routes were showing strong unit revenue growth. The LCC is increasing frequencies in key business routes from the airport, such as to Rome Fiumicino, Paris Charles de Gaulle, Barcelona, Madrid and Brussels.
Lufthansa set up Lufthansa Italia at the airport in Feb-2009, initially with six Airbus A320s to fill the gap left by Alitalia in a strategic market as well as Lufthansa ending its cooperation with Air One following the merger with Alitalia. The Lufthansa subsidiary aimed to cater to the affluent business traveler on point-to-point routes and had hoped to counter easyJet's success at the airport. But Lufthansa Italia closed down in 29-Oct-2011 and was folded into Lufthansa mainline and its Milan-based regional subsidiary Air Dolomiti.
Lufthansa Group CEO & Chairman Christoph Franz admitted last year that "given the slump in prices on European routes and the competition, it was extremely difficult to establish a profitable European network under a separate brand. It therefore makes sense to focus the Lufthansa Group's offering on connecting the Italian market to the Group's hubs." Lufthansa is still Milan Malpensa's second largest operator in terms of frequencies with 291 flights per week.
Milan Malpensa Airport capacity share by carrier (% of seats): 14-May-2012 to 20-May-2012
Lost status as transatlantic gateway
Delta Air Lines will suspend its four times weekly seasonal service from Atlanta to Milan Malpensa with the start of the IATA winter schedule at the end of Oct-2012, leaving Milan's busiest airport with just two destinations to North America: New York JFK and Miami. This contrasts with its past vast transatlantic network that comprised a route to Philadelphia operated by US Airways, a route to Washington Dulles International Airport by United Airlines, a short-lived service (one summer season in 2000) to Detroit by Northwest and a daily to Newark by United Continental (pulled on 11-Mar-2012).
Malpensa also had services by Alitalia to San Francisco, Los Angeles, Newark, Boston, Washington Dulles, Toronto Airport Pearson Airport and Miami before the carrier's full privatization. Alitalia at present only operates from Milan to Miami and New York. The carrier previously also served South America from Malpensa with routes to Buenos Aires Ezeiza International Airport, Caracas and Sao Paulo Guarulhos International Airport.
While Alitalia is the sole operator on the Milan-Miami route, Milan Malpensa-New York still sees service from three airlines and two alliances. American Airlines, Delta and Alitalia all operate daily flights on the route, giving SkyTeam a 65% share of the seat capacity in the week of 14-May-2012 to 20-May-2012, according to Innovata. The Delta and Alitalia flights operate within the framework of the transatlantic joint venture agreement signed in May-2009 between Air France, KLM and Delta and enlarged to include Alitalia in July-2010. Under the terms of this agreement, the partners jointly operate and share the revenues and costs of their transatlantic routes.
Milan-Malpensa-JFK was Italy's seventh busiest international ex-EU route in terms of passenger numbers in 2011, according to Enac data.
Milan Malpensa to New York capacity by carrier (seats per week, one way): 19-Sep-11 to 4-Nov-12
Transatlantic traffic moved to other hubs, mainly Rome Fiumicino
Under its one hub strategy Alitalia is concentrating its long-haul network in Rome, from where it operates transatlantic routes to Chicago, Toronto, Boston, New York JFK and Newark, Miami and Los Angeles. Rome Fiumicino-JFK was Italy's busiest ex-EU route last year with 550,575 passengers, Enac data show. Alitalia and Delta have 77% of seat capacity on this route, leaving 23% for American Airlines.
Rome Fiumicino to New York capacity by carrier (seats per week, one way): 19-Sep-11 to 4-Nov-12
Alitalia is the sole operator on Fiumicino–Boston, Fiumicino-Miami and Fiumicino-Newark, but Innovata scheduling data indicates it is zeroing out of Chicago from 16-Jul-2012, leaving American as the only airline on the route.
Some of Malpensa's former transatlantic traffic no doubt also transferred to non SkyTeam hubs, with Lufthansa pulling traffic to its Frankfurt and Munich hubs, Austrian feeding Vienna and SWISS feeding Zurich. Lufthansa is the only carrier on Milan Malpensa-Frankfurt and SWISS the sole operator on Malpensa-Zurich. Austrian has a 62% seat capacity share to Vienna and Lufthansa a 78% share on the route to Munich. But only two of these feeder routes appear in Malpensa's top ten international routes with the highest weekly seat capacity.
Milan Malpensa Airport top ten international routes (in seats): 14-May-2012 to 20-May-2012
Air France is not pulling traffic to its CDG hub, at least not directly, as it does not operate from Malpensa to CDG. The route is an almost exclusive easyJet route. But Air France is pulling transatlantic traffic from Milan through Linate, where it operates a high frequency service to its CDG hub.
Feed is also taking place over Rome Fiumicino to Air France's hub in Paris and KLM's hub in Amsterdam and falls under the scope of the transatlantic JV. Both Air France and KLM have a larger North American network than their Italian partner. According to Innovata, Air France serves 13 destinations in North America with its own metal and KLM serves 12. This compares to seven for Alitalia.
Rome Fiumicino-CDG is Italy's second busiest route within the EU with 1.2 million passengers travelling between the two airports in 2011, according to Enac data. Alitalia and Air France represent 95% of the weekly seat capacity on the route, reflecting the close cooperation between the SkyTeam and transatlantic JV's partners' respective hubs. On the Rome Fiumicino-Amsterdam route Alitalia and KLM also now control 84% of the seat capacity.
Gulf carriers driving long-haul presence at Malpensa
While transatlantic routes at Milan Malpensa are slowly evaporating, Gulf carriers are pumping up their presence at the airport.
The UAE alone presently has a larger capacity share than North America. Emirates now operates a double daily service from Dubai with 777s and Etihad operates a daily service from Abu Dhabi with A330-200s. Meanwhile Doha-based Qatar Airways is upgrading its current 11-weekly services to Milan to double daily on 19-May-2012.
Milan Malpensa international capacity (seats) by destination country: 14-May-2012 to 20-May-2012
Traffic has not yet fully recovered
Milan Malpensa airport operator SEA (which also manages Milan Linate) has worked smartly to fill the gap left by the change of ownership and strategy of Alitalia. It now has a more diverse airline base, and thus is less dependent on the good or bad fortunes of one operator. The approach of Malpensa reflects the changing airline landscape in Europe, with LCCs and Gulf carriers taking a larger share.
But traffic is not yet back at pre-Alitalia bankruptcy levels. In 2007 Malpensa handled a record 23.9 million passengers. In 2011 traffic had slipped to 19.3 million passengers. Capacity is scheduled to increase by approximately 6% over the next six months, but this is primarily driven by typical seasonal adjustments. Passenger throughput growth in the first three months contracted year-on-year by 6% in Jan-2012, 3% in Feb-2012 and 5% in Mar-2012.
It is unlikely Malpensa's traffic will recover to 2007 levels. While the airport is well positioned for further LCC growth, including from easyJet, it will be very difficult for Malpensa to rebuild its transatlantic network. The recent growth in capacity to the east is promising and will allow Malpensa to tap into rising demand for services to and from Asia. But Malpensa has clearly lost out to other hub airports in Italy and elsewhere in Europe in the race to attract passengers heading to or from the Americas – an outcome which will be very difficult to reverse.
Background information
Milan Malpensa and Milan Linate airports annual passenger numbers: 2007 to 2011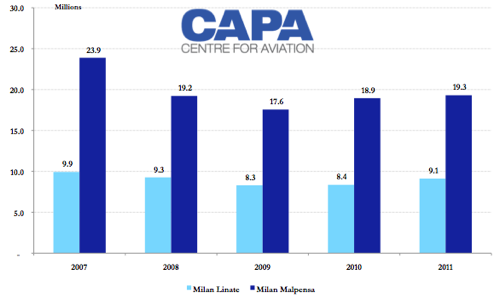 Milan Malpensa Airport planned capacity (seats per week): May-2012 to Nov-2012