Lessor run at Farnborough shows growing prominence of sector
Analysis
Aircraft lessors were prominent during the 2012 Farnborough International Airshow, accounting for approximately 46% of the commitments and pledges disclosed from 09-Jul-2012 to 12-Jul-2012 covering 627 aircraft. Removing the 150 aircraft order announced by United Airlines in Chicago on 12-Jul-2012, lessors represented nearly 61% of the business agreements tabled at the show. The results reflect salient growth of the aircraft leasing business during the last decade as airlines saw their ability to secure credit dwindle and banks preferred to forge financing deals with lessors with increasing portfolio diversification that lowered their risk profile.
A direct result of the rise of lessors in importance is the share of the world's commercial aircraft fleet financed through operating leases has grown from 25% to 35% since 2000, according to rating agency Fitch. "Aircraft lessors have filled important financing gaps that grew as debt capital markets tightened and airline credit quality weakened," the company recently concluded. Boeing estimates that between 1970 and 2000 the percentage of the global commercial aircraft fleet on operating lease grew from less than 1% to 36%.
Percentage of global aircraft fleet under operating lease: 1970 to 2010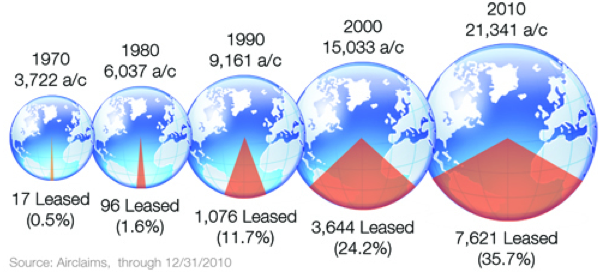 Fitch estimates during the first five months of 2012 lessors collectively raised approximately USD3.6 billion in unsecured debt financing, and that the pricing and structuring of those deals have been relatively favourable for those companies. In a recent commentary for an aircraft financing publication ORIX Aviation CEO David Power explained when banks lend to airlines, they are on the front line "no matter how prudent the lending is", as airline defaults require material commitments from banks to protect their interest. Banks lending to lessors have comfort in the portfolio diversification of leasing firms if an airline collapses, "plus it is the lessor that organises the default event response", Mr Power said.
Lessor aircraft deals announced: 2012 Farnborough International Airshow
| Company | Agreement |
| --- | --- |
| Air Lease | Order for 60 737 MAX 8s, 15 737 MAX 9s and two ATR 72-600s |
| Avolon | Commitment to purchase 30 737s – 10 737 MAX 8s, five MAX 9s, 10 737-800s and reconfirmation rights for five 737 MAX aircraft. Order for 15 A320neo aircraft. |
| ALAFCO | Commitment for 20 737 MAX 8 aircraft |
| China Aircraft Leasing Co | MoU for 36 current generation A320 aircraft |
| CIT | Firm order for 10 A330 aircraft. Deal includes five aircraft previously ordered and an new order for five aircraft. |
| GECAS | Order for 75 737 MAX 8 aircraft and 25 737-800s |
| Nordic Aviation Capital | A single ATR 42-600 |
| South American Leasing Panama Company | Contract covering the purchase of 15 AN-148 and AN-158 regional jets |
Airline deals announced: 2012 Farnborough International Airshow
Airbus opts to collaborate with lessors
While the Boeing 737 MAX dominated bulk orders from lessors during the show driven by Airbus debuting its A320neo a year ahead of Boeing settling on its re-engined MAX offering, Airbus has historically been more welcoming of lessors than Boeing. Unlike Boeing, Airbus has largely viewed lessors as partners and worked in collaboration with those companies. Boeing has approached lessors more cautiously in the past, as it took more of an active role in financing through its Boeing Capital financing arm.
During 2011 the 118 aircraft Airbus delivered to lessors accounted for 22% of the total 534 jets the company delivered, and the airframer predicts lessors will account for a similar share of deliveries in 2012.
Airbus deliveries by region: 2011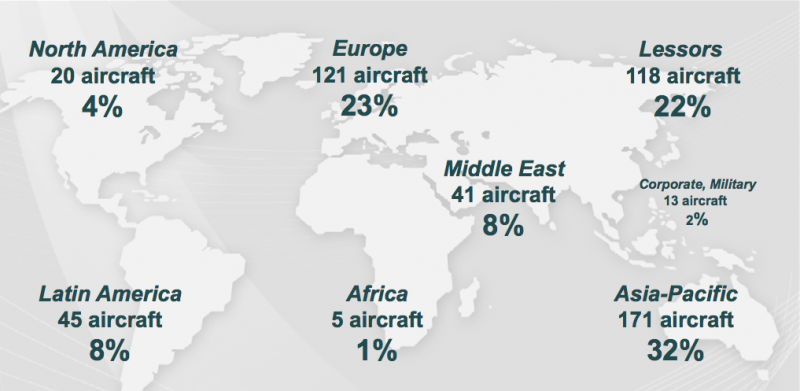 Geographical distribution of projected Airbus deliveries: 2012
Factoring in sale and leaseback transactions, Airbus estimates that 40% of its deliveries during 2011 were to lessors: 95 attached to sale and leaseback transactions and 115 direct deliveries to lessors. At the beginning of 2012, lessors accounted for 895 aircraft in Airbus' total backlog of 4437 aircraft, or about 19%.
Airbus deliveries to the top seven aircraft lessors: 2011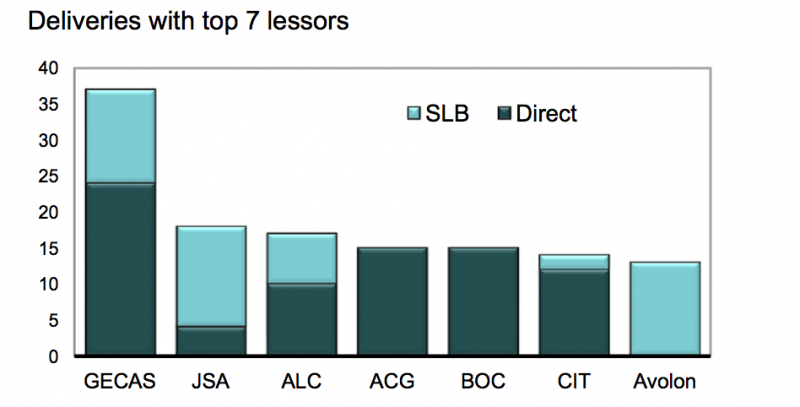 Breakdown of Airbus backlog by region as at 31-Dec-2011
Orders and deliveries comprised far less of Boeing's business during 2011, which could reflect the company's still conservative approach towards lessors. Based on standard generated reports from Boeing, during 2011 the aiframer secured approximately 111 orders from lessors, which accounted for roughly 13% of its yearly total.
Aircraft deliveries to lessors in 2011 reached approximately 86, which represented about 18% of the 477 jets Boeing delivered to customers last year.
Boeing deliveries to lessors: 2011
During the first two quarters of 2012 Boeing delivered 287 aircraft, of which 41, or 14%, were delivered to lessors.
Providing airlines fleet flexibility
The proliferation of aircraft lessors during the last two decades has also helped fuel low-cost carriers, which often cannot purchase aircraft outright and even then like to have turnover around every seven years to ensure efficiency. Lessors have also given all airlines more flexibility in managing their respective fleets, allowing for growth in the rare good times, and in recent years giving carriers avenues to cut capacity as oil price fluctuations have created a new level of uncertainty in fleet planning.
One of the world's largest carriers United Airlines highlighted the flexibility its leased aircraft provide on 12-Jul-2012 as the carrier tabled its 150 order for Boeing 737s split between 50 737-900ERs and the 737 MAX 9. Company CEO Jeff Smisek remarked United could leverage the aircraft it currently has on lease to either grow its fleet or keep the number of aircraft flat, depending on market conditions. As of 31-Dec-2011 340 of United 701 aircraft, or approximately 49%, were under lease.
See related article: United orders 737s while trans-Atlantic narrowbody replacement remains elusive
Boeing has concluded that one of the strategies airlines are pursuing to reduce their financial leverage is outsourcing their debt through leasing aircraft rather than purchasing those assets. Another tactic carriers are adopting is making larger down payments to reduce their overall borrowing.
Lessors face short-term uncertainty if growth slows
Similar to the airlines that serve as their primary customers, aircraft lessors in the near-term are operating in an uncertain environment driven by weakening global macro fundamentals and the risk of another rapid climb in jet fuel prices, Fitch states. As a result, global capacity could slow in the near term, which could expose lessors to risks if aircraft valuations and lease rates come under pressure. Fitch concludes in the near term market values and lease rates on some popular aircraft models remain soft, and does not predict a reversal in that trend in the near future.
In making predictions for 2012 during late 2011 Avolon head of risk and strategy Dick Forsberg in a commentary for Aircraft Finance remarked that aircraft market values "took a step back during the course of 2011" after a period of recovery and convergence toward base values. He predicted until the broader market shows signs of improvement, market values will likely remain low.
But while Mr Forsberg commented that the lower values would decrease near-term returns for aircraft sellers, the situation also extends the window of opportunity for investors for well-prices acquisitions, "which is further enhanced by the expedience for airlines to conserve cash thereby driving them to greater reliance on lessors to provide liquidity.
"It remains the case that investing in aircraft generates reliable and less volatile returns than most other asset classes through the cycle", he concluded.
Background information
Financing breakdown of Airbus deliveries: 2011