United orders 737s while trans-Atlantic narrowbody replacement remains elusive
Analysis
United's selection of Boeing to supply 737 aircraft to replace a portion of its narrowbody fleet is by no means shocking, and was expected given the deep and long-standing ties Continental management has with the US airframer. Post-merger, United's top management is dominated by former Continental executives that laud Boeing products while giving polite lip service to the Airbus aircraft they inherited as part of the tie-up.
United's decision to order 100 737 MAX 9s is an obvious boost to Boeing's re-engined 737 MAX programme while its decision to also order 50 additional 737-900ERs expands the footprint of the 737-900ER, which started off as a slow seller but has gained traction during the last couple of years - most recently through a 100 aircraft order in 2011 from United's rival Delta. While United's endorsement for the MAX timing capped off a successful week for Boeing at the 2012 Farnborough Air Show, the reality is the deal is nothing more than a business decision to replace aging assets with new technology and to improve operational efficiency.
Prior to the merger of United and Continental, legacy United had an ongoing campaign for narrowbody replacement after it split a widebody jet order between rivals Airbus and Boeing, ordering 50 Boeing 787s and 25 Airbus A350s. Boeing gained an advantage as Continental management settled into the top jobs of the merged carrier. Prior to merging with United, Continental was an all-Boeing carrier that exhibited little desire to give consideration to Airbus.
Unveiling the anticipated order on 12-Jul-2012 United CEO Jeff Smisek remarked the carrier spent nearly a year engaging in extensive discussions with airframers and engine manufacturers, but management's penchant for Boeing aircraft was a clear driver in the campaign. Responding to a question of about United moving to an all-Boeing fleet, Mr Smisek only stated the Airbus narrowbodies are represented in the United fleet, and commented that the carrier would operate those aircraft "for a while".
Mainline operating fleet at United: as of 31-Dec-2011

Expanding 737-900ER fleet for 757 replacement
United has opted to expand its existing fleet of 30-plus 737-900ERs by 50 aircraft with deliveries of the latest batch of aircraft beginning in late 2013. The -900ERs included in the latest order are pegged for replacement of Boeing 757-200s United now operates on US domestic routes. As of 31-Dec-2011 United operated 134 757-200s with an average age of 18 years.
Continental was the North American launch customer for the 737-900ER in 2008 and since that time Alaska Airlines and Delta have joined the operator ranks for the aircraft. United's decision to use the aircraft as a 757 replacement follows Delta's choice in 2011 of the 737-900ER to replace older 757s, 767s and Airbus A320s in its fleet.
The moves by Continental and Delta to the 737-900ER for 757 replacement lend credence to Boeing's calculus that the -900ER would be positioned for the 757 replacement market. The airframer has long-argued the -900ER is better suited for replacement of the out-of-production 757 than the A321, which according to Boeing's calculations has a range deficiency that weakens its case for 757 replacement.
Comparison of seating capacity and range of the 737-900ER and Airbus A321: 2006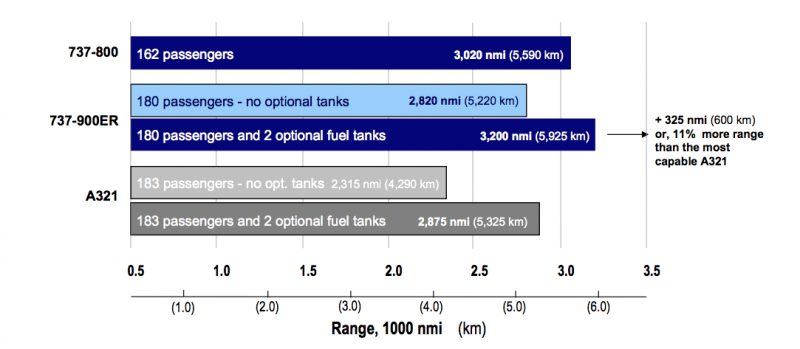 But the 737-900ER is not an exact replacement for the 757-200. The 3,235nm range of the -900ER is slightly less than the 3,900nm offered by the 757-200, and the maximum seating configuration for the -900ER is approximately 215 versus 228 for the 757-200. For United's domestic missions the differences should not be an issue as a transcontinental flight from New York JFK to Los Angeles is 2,150nm.
Even as Boeing was likely the favoured winner in United's narrowbody campaign, the carrier's decision does raise questions about the viability of the A321/A321neo as a 757 replacement.
United, Delta and American operate a large portion of their 757 fleets on international routes, particularly in the trans-Atlantic market. While there has been a push for a narrowbody to accomplish the trans-Atlantic mission, the airframers have largely ignored airline desires for a 757 replacement for trans-Atlantic services given the niche role.
American's 757s configured for international flights have the capability to operate on long distances in markets where demand is too small for widebody jets. American's forthcoming A321s fit some of those missions, but the aircraft has inherent difference in payload that do not make it an exact replacement for the 757. American told CAPA it will not replicate on its other narrowbodies the mission-specific capabilities of those longer-range 757s.
As airlines evaluate their options for 757 long-haul replacement, United's order for 50 firm 737-900ERs does expand the programme backlog. As of Jun-2012 Boeing had secured 448 firm orders for the 737-900ER, with almost half – around 219 – being ordered since Jan-2009. But one customer, Indonesia's Lion Air, accounts for nearly half of these orders.
United's follow-on order and Delta's selection of the 737-900ER have helped to give the aircraft traction during the last couple of years as carriers work to fill short-term aircraft replacement requirements that are necessary before the re-engined options from Airbus and Boeing are available.
737.png" alt="" width="344" height="360" />
United opts for the new 737 MAX 9
United's deal with Boeing also includes an order for 100 Boeing 737 MAX 9 aircraft powered by CFM International Leap-1B engines. United is the second carrier after Lion Air to opt for the largest version of the MAX family. Deliveries of the MAX 9 to United will commence in 2017.
The MAX 9 offers the greatest range of the three re-engined variants at 3,595nm, which is 540nm more than the 737-900ER. The MAX 9's 194,700lb maximum takeoff weight is a 7,000lb greater than the 737-900ER. During a presentation at the Farnborough Air Show this week Boeing characterised the 737 MAX 9 as a 757 replacement; however, the airframer explained the MAX 9 is not designed to replace the approximately 50 757s operating in trans-Atlantic markets. Boeing estimates the 737 MAX 9 should average a 30% improvement in trip costs compared to current short and medium-haul 757 jets.
Mr Smisek stated United aims to use its 737 MAX 9 aircraft to replace other less fuel efficient aircraft in the carrier's fleet, which could encompass additional 757-200s, the 97 A320-200s with average age of 13 years, A319-100s with an average 12 years in age and possibly 36 737-300s that feature a 13 year average age. The 737 MAX 9 seats 180-220 in a typical configuration, which means the aircraft could be a bit large to replace the A319s and 737-300s in United's fleet.
US carriers focus on fleet replacement, not growth
United's decision to order Boeing narrrowboides closes out the last outstanding major fleet decision by a US carrier for at least a few years. Delta has settled on the 737-900ER and AirTran's Boeing 717s to refresh its narrowbody fleet while American placed a large 460 aircraft order split between Airbus and Boeing in Jul-2011.
Delta and United's restraint underscores a conservative approach to fleet renewal. Mr Smisek remarked that depending on market conditions, United could leverage the aircraft it has on lease to keep its fleet flat or opt for additional growth. With a renewed focus on return on investment, it is unlikely any US carrier will embark on aggressive growth in the mature US market, which means the odds for additional narrowbody business for Airbus and Boeing from those carriers are slim.
While Boeing described the latest deal with United as historic after it tipped orders for the entire 737 portfolio beyond the 10,000 milestone, for United the deal is the normal course of business for a carrier attempting to balance the management of capital outlay with its responsibility to improve returns and pare down debt.
Background info
United's fleet projections for year-end 2012 as of Apr-2012