Mexico's Interjet continues transborder push as its domestic market share shrinks
Analysis
A subtle shift is occurring in the Mexican domestic market as market leader Interjet is opting to cede some domestic traffic to other airlines, most notably to fellow low-cost carrier Volaris. Interjet has been focusing on building up international traffic while Volaris has concentrated a significant portion of its growth in 2012 domestically, largely through a push from Guadalajara.
Interjet's international push has centred mainly in US markets and has resulted in Volaris and Aeromexico ceding their international market share as Interjet moves to balance its network. Interjet now has an almost 10% share of Mexico's international market (excluding foreign carriers), compared to only a 1% share a year ago. Interjet now serves six international gateways, all of which have been launched over the last 15 months. A seventh international destination will be added in Oct-2012 when Orange County in California will become the carrier's four destination in the US after Miami, New York and San Antonio.
The Mexican domestic market recorded 12% growth year-over-year during Jul-2012 to 2.8 million passengers, and by 11% for the first seven months of 2012 to 16 million passengers, according to data from Mexico's DGAC. During the first seven months of 2010, just prior to Mexicana's abrupt suspension of service in Aug-2010, Mexico's airlines transported 14.4 million passengers. The latest statistics show the void in the domestic market created by Mexicana's demise has already been filled.
Interjet's domestic market share during Jul-2012 fell 3 ppts to 23%. Interjet is still Mexico's domestic market leader when Aeromexico and its regional subsidiary Aeromexico Connect are counted as separate entities. But as a group, Aeromexico is the market leader and accounted for 35% of Mexico's domestic market in Jul-2012, based on the number of passengers transported.
Domestic passenger share for Mexico's carriers (% of passengers): Jul 2012 vs Jul 2011
Jul-2012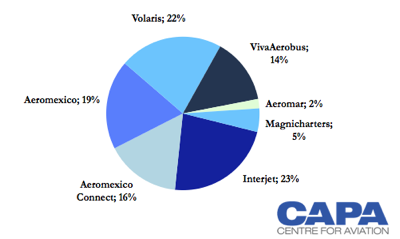 Jul-2011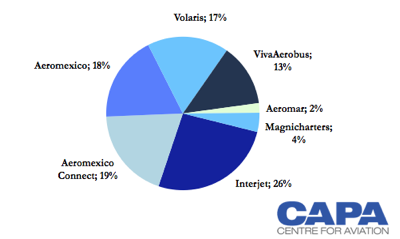 But the most significant jump recorded was from Toluca-based Volaris, which saw its domestic market share grow 5 ppts year-over-year from 17% to 22%, underpinned by its expansion at Guadalajara. During 2012 Volaris has launched five new markets from Guadalajara – Cancun, Chihuahua, Los Mochis, Monterrey and Puebla.
The carrier now accounts for 37% of the airport's weekly seating capacity, according to Innovata data. DGAC data show that Guadalajara's total passenger numbers increased 5% year-over-year in Jul-2012.
Guadalajara Miguel Hidal Airport capacity by carrier (% of seats): 24-Sep-2012 to 30-Sep-2012
See related article: Mexico's Volaris tweaks transborder flights as it makes a domestic push from Guadalajara
During 2012 Volaris has also launched domestic flights from Cancun to Leon and Aguascalientes, from Mexico City to Puerto Vallarata and from Tijuana to Colima. The carrier is uncontested in three of those markets (both Cancun routes and Tijuana-Colima). Aeromexico, Interjet and VivaAerobus all offer service from Mexico City to Puerto Vallarta.
Another wave of domestic routes launches for Volaris in Oct-2012
The rapid expansion by Volaris into the Mexican domestic market is continuing in 4Q2012 with new service from Queretaro to Cancun and Tijuana; from Tijuana to Tepic; and from Culiacan to Hermosillo.
Schedules in the Innovata database show that Volaris will become the second Mexican carrier to serve Queretaro. Presently, Aeromexico offers flights from Queretaro to Mexico City and Monterrey. United and American Airlines also serve Queretaro, offering transborder flights to their respective hubs in Houston and Dallas/Fort Worth.
Queretaro has reportedly been working to attract new air service, and officials of the state believe the direct links to Cancun could pull foreign tourists further into Mexico's interior and in particular to Queretaro, which is located near the popular colonial tourist town of San Miguel de Allende. Queretaro is also a fast-growing business destination, partly driven by a thriving aerospace sector that includes a large Bombardier plant and soon a new Aeromexico aircraft maintenance facility. The new service to Tijuana, which is a major border crossing point into the US, could help bolster Queretaro's economic activity.
Tepic also represents a new destination in the Volaris network. The only carrier currently serving Tepic is regional operator Aeromar, which offers flights to Mexico City.
Presently, Volaris holds a 70% share of capacity (seats) at Tijuana, which provides the carrier a strong base to launch services to the smaller markets of Tepic and Queretaro. With two weekly flights in each market, Volaris is not placing a huge amount of capacity into either destinations, but it is not proven if the carrier's 144-seat Airbus A319s and 174-seat A320s are the ideal aircraft for such thin markets.
Tijuana Rodriguez Airport capacity by carrier (% of seats): 24-Sep-2012 to 30-Sep-2012
Interjet could create new competition domestically in 2013
Interjet, despite ceding 3ppts in domestic market share over the last year, has made some new market entries during 2012, launching service to Oaxaca and Leon from Mexico City. It is competing with Aeromexico on the service to Leon and with VivaAerobus and Aeromexico on the flights to Oaxaca.
See related article: Mexico's Interjet plans further expansion with new Superjet fleet targeting thinner routes
Although Interjet has focused most of its effort throughout 2012 on US transborder markets, Mexico's domestic competitive landscape could intensify in 2013 when Interjet begins operating the first of 20 93-seat Superjet 100 narrowbody aircraft. While it appears Interjet will target the medium-density routes operated by Aeromexico Connect with Embraer 170/190 aircraft, Interjet could also operate those jets in competition with Volaris on some of the routes Volaris has launched in 2012 and is now the sole carrier. With a distance of 929nm between Tijuana and Tepid and 1,148nm between Tijuana and Queretaro, the smaller Superjet might be a more optimally-sized aircraft for those types of markets.
The Aeromexico Group also saw some of its domestic share diminish in Jul-2012. The group's regional subsidiary Aeromexico Connect saw its share fell 3 ppst from 19% to 16% while mainline Aeromexico's share grew 1 ppts to 19%. Recently, Aeromexico Group CEO Andres Conesa remarked that during 1H2012 demand in the Mexican domestic market was less dynamic, noting yields were under some pressure. He stated the bulk of Aeromexico's 8% capacity growth between Aug-2012 and Dec-2012 would be targeted towards international routes.
See related article: Aeromexico sees domestic slowdown as it places landmark aircraft order
But the carrier has introduced some new domestic services from its Mexico City base during 2012, including the new service to Queretaro. Other new markets from Mexico City include Saltillo, Chetumal and Manazillo. All of those routes are operated by Aeromexico Connect with regional aircraft.
Interjet continues transborder push with new flights to Orange County
Interjet's slide in domestic market share has been more than compensated by its nearly 8 ppts hike in international market share among Mexican carriers to 9%. The increase is a result of the introduction of new international services since Jul-2011 from Mexico City to Guatemala, Havana, San Antonio, Miami, New York and San Jose, Costa Rica. Interjet also serves San Antonio from its smaller Toluca base.
Aeromexico's mainline international passenger share fell from 70% to 55% year-over-year in Jul-2012, while Volaris' share grew 2 ppts to 23%.
International passenger share for Mexico's carriers (% of passengers): Jul 2012 vs Jul 2011
Jul-2012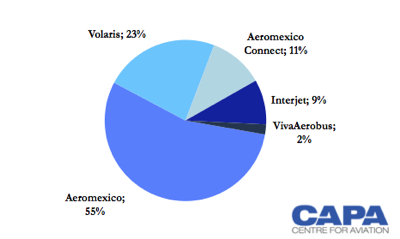 Jul-2011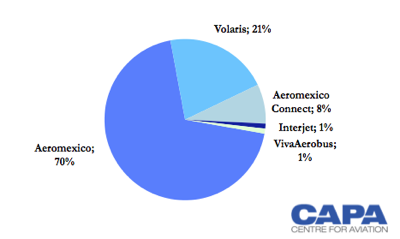 Interjet appears to be holding its own as it competes with both Aeromexico and AirTran between Mexico City and San Antonio. Based on current Innovata schedules (23-Sep-2012 to 29-Sep-2012), in the Miami market Interjet's competitors are Aeromexico and American Airlines. Interjet holds just a 20% seat share on the Mexico City-Miami route, compared with 32% for Aeromexico and a 49% share held by American.
In the Mexico City-New York JFK market, Aeromexico holds a 64% seat share, while its SkyTeam partner Delta has a 20% share. Interjet currently holds a 16% share.
Interjet is introducing its first transborder service outside Mexico City when it launches new flights from Guadalajara to Orange County in Oct-2012. All of the carrier's other transborder and international flights originate at its largest base at Mexico City International or at Mexico City alternative airport Toluca, where Interjet has its headquarters and its maintenance base.
The new service from Guadalajara to Orange County is coinciding with Interjet's launch of new service from Mexico City to Orange County, a route currently served by AirTran. Interjet will be uncontested in the Guadalajara-Orange County market, its only US route where it faces no competition. But Orange County is just 66km from Los Angeles International Airport, which is one of the transborder markets served by Volaris from Guadalajara. Interjet's new service from Guadalajara could be a test case for additional service from the airport, which would further intensify competition with Volaris.
Volaris also continues to expand US network
Presently Volaris serves from Guadalajara six US destinations – Chicago Midway, Las Vegas, Fresno, Los Angeles, Oakland and San Jose (the latter four are all in California). Despite its major domestic push in 2012, Volaris has still made considerable strides in transborder markets, and plans to expand its US presence from Guadalajara to Sacramento, California beginning in Nov-2012 with twice weekly flights.
Schedules in Innovata show that Aeromexico will offer roughly 670 one-way weekly seats in the Guadalajara-Sacramento market when Volaris launches service, and boost its offering to 938 seats in mid-Dec-2012. Aeromexico only launched Guadalajara-Sacramento service in 2011. Sacramento was previously served by Mexicana and is one of several ex-Mexicana markets in the US that Aeromexico and/or Volaris have picked up.
Volaris during 4Q2012 also plans to introduce flights from Mexico City to Denver, a route abandoned by Aeromexico in Apr-2012. The carrier is also launching service from Leon to Chicago Midway and from Uruapan to Los Angeles.
The new service from Leon and Uruapan is the first international flights Volaris is offering from those airports. United and American serve their Houston and Dallas hubs from Leon, while Volaris offers domestic service to Tijuana, and VivaAerobus serves Monterrey.
Volaris is now the only scheduled carrier serving Uruapan, according to Innovata data. Volaris currently links Uruapan and Tijuana with one daily flight. The carrier is marketing the new once-weekly service to Los Angeles as an improved connection for passengers in the region to visit family members residing in southern California.
Volaris has also launched transborder service during 2012 from Mexico City to Orlando, Florida, joining Aeromexico in offering flights on the route. Aeromexico is dominant on the pairing in terms of seat allocation with an 89% share compared with an 11% share held by Volaris.
Despite Aeromexico's international market share diminishing, the carrier has continued to add new markets, launching service to the Atlanta hub of SkyTeam partner Delta and service to Washington Dulles, breaking United's monopoly status on the pairing. Beginning in Nov-2012 Aeromexico is also launching flights from Mexico City to Dallas.
Mexico City-Dallas is now only served by American Airlines although in Jun-2012 Spirit Airlines launched a daily flight from Dallas to Mexico City alternative airport Toluca. When it launches its new Dallas service, Aeromexico will represent just 19% of the seating capacity in the Mexico City-Dallas market while American will hold an 81% share. Presently, Aeromexico has a 53% share on the Mexico City-Washington Dulles route while United holds a 47% share.
Mexico City to Dallas/Fort Worth capacity by carrier (seats per week, one way): 19-Sep-2011 to 17-Mar-2013
Mexico City to to Washington Dulles capacity by carrier (seats per week, one way): 19-Sep-2011 to 17-Mar-2013
While US carriers still account for the overwhelming majority of the transborder market between the US and Mexico, their passenger numbers increased just 3% year-over-year during the first seven months of 2012 to 13.2 million. Mexican carriers, meanwhile, logged 23% growth during the same period in the US-Mexico market to 3.2 million. But this is still short of the 4.4 million passengers transported by Mexico's airlines in the same period of 2010, when Mexicana was still in operation.
Mexicana was by far the largest Mexican carrier in the US market. While other Mexican carriers quickly filled the void left by Mexicana the void in the transborder market has still not been completely filled despite expansion by Aeromexico, Interjet, Volaris and to a lesser extent VivaAerobus. The new push from Interjet, which only launched its first US service in late 2011, in the US market is an indication that Mexican carriers still see an opportunity in the transborder market to carry passengers which prior to Aug-2010 flew on Mexicana.
Chicago, Houston and Las Vegas could become Interjet's next US destinations as the carrier recently applied to the US Department of Transportiation to serve these cities from Toluca. As the domestic market has now rebounded from the gaps created by Mexicana's exit, Interjet and other Mexican carriers will increasingly look for viable transborder markets to equalise their domestic networks.